An SNDA Agreement for the Peace of Mind
A subordination, non-disturbance, and attornment (SNDA) agreement is a legal document you might want to have if you want to protect your commercial property lease. If you have no idea what this agreement is, you're not alone—it's a complex matter.
DoNotPay is here to explain everything you need to know and give you all the information on how to write contracts that every tenant needs.
What Is the Purpose of an SNDA Agreement?
A subordination, non-disturbance, and attornment agreement serves to protect you in case the building where you're renting the space goes bankrupt, and the lender takes over the property. 
If you sign it, your lease will be honored, but if you don't, you won't be protected because regular lease agreements don't establish a direct relationship between the lender and the tenant. 
Your landlord might have asked you to sign an SNDA agreement when you signed your lease, but that scenario is not common. These agreements are hard to get since the lenders avoid them to protect their interests, and the landlords hate bothering the lenders—unless they don't want to miss out on a great tenant. 
Three Main Clauses of an SNDA Agreement
The SNDA agreement needs to include these three main clauses:
Subordination

Non-Disturbance

Attornment
You can find more details about each of them in the table below:
| | |
| --- | --- |
| SNDA Clauses | Meaning |
| Subordination | The subordination clause of an SNDA agreement states that the tenant agrees to subordinate their interest in the rented property to the mortgage of the lender. This is a security deed that protects the lender's interest |
| Non-Disturbance | The non-disturbance clause of the agreement makes sure that the tenant's rights are secured. The tenant has the right to stay on the leased premises even if the land goes out of the landlord's possession. In this section of the agreement, the lender agrees to recognize the tenant under the lease |
| Attornment | The attornment clause of the SNDA is there to ensure that the tenant will attorn to the lender or the lender's transferee as the new landowner. If they exclude this part of the agreement, the tenant is free to walk away from the lease in case the landlord loses their property to foreclosure |
When To Sign an SNDA Agreement
Prospective tenants should strive to secure the SNDA agreement before signing the lease. If you have enough leverage, the landlord will try to pressure the lender to finalize the SNDA agreement so that they won't lose good tenants. 
The lenders may also be invested in closing the deal so that they can secure your monthly payments. A serious tenant that pays on time will ensure the landlord has enough coverage for the loan.
How To Draw Up Your SNDA Agreement
You can try to create a subordinate, non-disturbance, and attornment agreement on your own, but it's probably going to be one of the most difficult contracts you'll ever draw up. You can either find a lawyer to draft it for a price or use a template to draft it yourself. Both options have their downsides since this agreement is complex, and legal help is not cheap.
Use DoNotPay To Create Other Legal Documents You Might Need
Renting an apartment or an office space involves much more than just the SNDA agreement. We can help you reduce the stress by creating other legal documents you may need along the way within minutes. 
If you , you'll gain access to the constantly expanding platform for drawing up various contracts. The best part is—it will save you enormous amounts of time and won't cost an arm and a leg!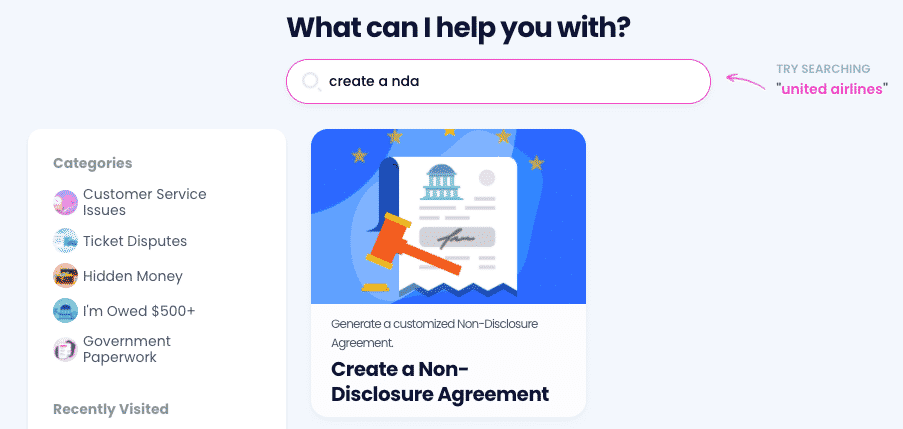 We can help you draw up:
Business Contracts
Real Estate Agreements
Other Legal Documents

General Business Contract

Estoppel Certificate

Residential Lease Agreement

Quitclaim Deed

Intent To Purchase Real Estate

Child Care Authorization Form

Promissory Note

General Affidavit
A Thorough Guide to Creating Your Legal Documents With DoNotPay
Drawing up legal documents doesn't have to be the dull, long, and grueling task that it usually is. DoNotPay's process of creating a legal document consists of three steps:
and type in the keyword into the search box—for example,

Lease Agreement

Answer a few questions to personalize your contract

Tap on

Proceed
Our platform will generate your document automatically, and you'll be able to download it to your device. You will have a well-written agreement ready for signing within mere minutes. 
If you need to have your paperwork notarized, DoNotPay has another helpful feature!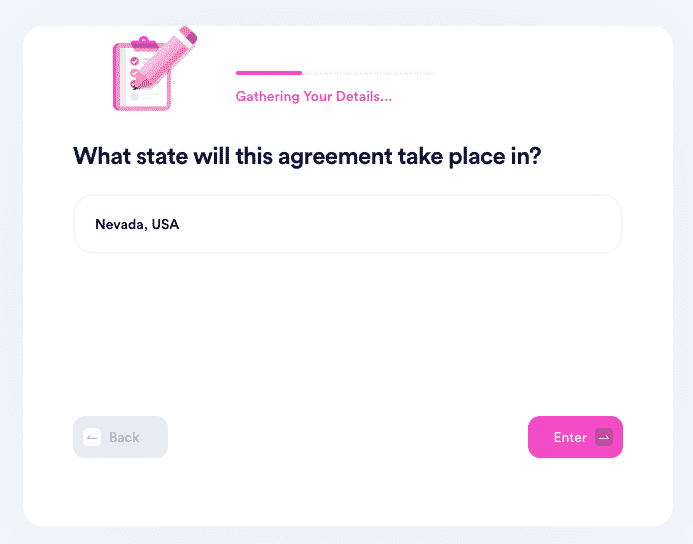 Notarize Your Document With the Help of DoNotPay
Whether you've generated your document with DoNotPay's help or written one on your own, our platform can help you get it notarized fast. Due to the COVID-19 pandemic, remote online notarization (RON) is now enabled in 28 states and counting. We can help you find online notary services and get your signature verified in no time.
You can follow these simple steps:
and search for the

Notarize Any Document

product

Upload your document

Leave your email address and wait for the link we'll send
After you get the link, click on it and schedule your appointment with a notary online. In your live video appointment, the notary will witness your signing of the document.
Tired of Bureaucratic Hurdles? Our App Will Step In
As soon as you sign up for the world's first robot lawyer, you won't have to worry about any administrative mess you find yourself in. We can help you resolve anything from reporting stalkers, robocalls, spam emails, and spam text messages to applying for clinical trials in any U.S. city.
With our AI-powered app's assistance, you can even get a refund from any merchant or airline you can think of. We can also help you save money by resolving your problems with high bills, canceling any subscription you no longer need, or assisting you with parking ticket appeals.
DoNotPay Helps You Fight for Your Right 
Do you feel like a company has wronged you? Don't let them win—sue them in small claims court with our assistance! Our app will prepare all of the necessary documentation and help you win the case stress-free!
Apart from helping you sue any firm or individual, DoNotPay also makes it easy for you to set up a DMV appointment, deal with any credit card issue, start a free trial without your credit card info, protect your work from copycats, and much more!
Sign up for our app to take advantage of all its features!