Why You Should Get a Small Business Trademark
Do you own or plan to start a small business? Your brand could be worth millions of dollars in the next ten years. Even before you reach this level of success, it would be useful to get trademark protection. The best way to protect your trademark is by registering with the United States Patent and Trademark Office (USPTO).
This guide will shine more light on the importance of registering your small business trademark and show you how to submit your trademark application hassle-free with DoNotPay.
What Is a Trademark?
A trademark or a service mark can be any symbol, text, or design that you use in promoting your business. It helps customers differentiate your products or services from those of your competitors.
Depending on the type of intellectual property you have, you can look into these forms of protection too:
Copyrights—This form of protection covers original authorship works, such as paintings and books
Patents—This type of protection covers inventions and manufacturing processes
Although it's easy to trademark some elements, others have special rules. For instance, you cannot trademark an idea while it's just an abstract concept. You can only trademark a tangible outcome of the idea, like a logo design or a phrase you will use as your slogan.
The table below contains guides to trademarking some of the elements you might be interested in:
Is It Mandatory To Have a Small Business Trademark?
You are not required by any law to register your trademark. When you start using your mark in business, you get common law trademark rights. These rights allow you to claim ownership of the mark in your geographic area only. If your business expands to other states, you may run into the following problems:
Having your trademark infringed upon by other businesses—It can be hard to prove your ownership of the mark if it is not registered for federal protection
Getting sued for trademark infringement—It is possible that a trademark similar to yours is already registered or pending registration by someone else, which can lead to lawsuits
The best way to avoid such problems after years of investing in your business is to register your trademark as early as possible.
Can I Register a Trademark Without a Company?
If you are the owner of a trademark that you use in commerce, you can apply to register it with the USPTO in your name. Only the owner of a trademark can file an application to register it. According to the USPTO, the owner of a trademark can be any type of legal entity, including:
Individuals
Sole proprietors
Partnerships
Corporations
Limited liability companies (LLC)
You can also file for a trademark under the intent-to-use basis if you have not used the mark in business but plan to use it in the future.
Benefits of Registering Your Small Business Trademark
Why should you register a trademark? Here are some of the benefits of registering your marks with the USPTO:
Filing lawsuits in a federal court if someone infringes on your trademark
Establishing the grounds for extending protection to foreign countries
Enforcing your ownership rights across the U.S.
Getting the grounds for registering with the customs office
Receiving a trademark registration certificate as proof of trademark ownership
How To Register Your Trademark in the United States
Before you file a trademark application, you should ensure the trademark is not in use by another company. You can do that by conducting a USPTO trademark search, which allows you to check already registered marks and those pending registration.
If you attempt to register a mark similar to one in the USPTO database, your application will be denied, and you will lose the application fees. The only exception under the trademark protection law is if the other business with a similar mark sells different products or services. If your mark turns out to be unique, you can proceed to register.
You can file with the help of a trademark attorney, but that can cost you up to $2,000. If you choose to do it yourself, you must create a USPTO account to access the TEAS application system. Once you are logged in, use any of these filing options:
TEAS Plus—This form can be easier and faster to complete since it requires you to use the goods or service descriptions available in the Trademark ID Manual
TEAS Standard—This form is ideal if your goods or services don't fit into any of the trademark classes or you need to write custom descriptions
How Much Does It Cost To Register a Trademark?
The trademark application cost varies depending on the:
Number of trademark classes
Trademark Application Form
If you use TEAS Plus, you will pay $250 per class of goods or services that you list in your application. Using the TEAS Standard will cost you $350 per class.
Number of Trademark Classes
You must specify the goods or services your mark will apply to. All goods or services have to be identified under the appropriate trademark classes. Depending on the nature of what you sell, you can list the same products under different categories. It is important to classify correctly because your trademark protection will only apply to the specified trademark classes.
For each class that you list, you must pay the corresponding fee. For instance, if you use TEAS Plus and list three trademark classes, you will pay $750.
Do You Want To Register the Right Way? Use DoNotPay!
If you get help with your first application, you will avoid rejection or many requests for amendments. With DoNotPay, you can avoid the costly trademark lawyers and maximize your chances of successful registration.
All you have to do is provide us with your trademark details, and we will:
Perform a comprehensive trademark search to ensure your mark is unique
List the requirements for your application
Fill out the application form
Submit the application on your behalf after you review and e-sign it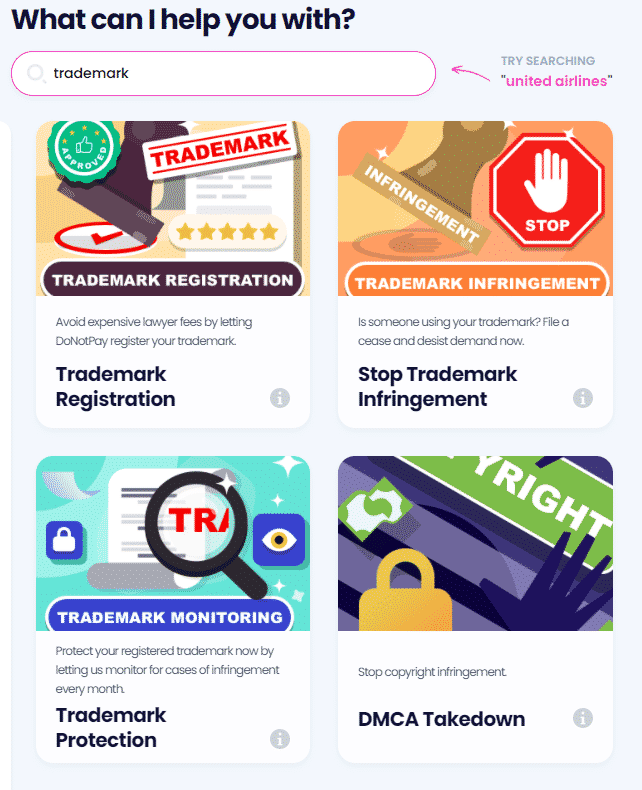 Don't miss out on the chance to protect your trademark with no fuss. Follow these steps to register using DoNotPay:
Select the Trademark Registration tool
Answer the brief questionnaire about your trademark
Pay the applicable USPTO fees
After submitting your application, you should monitor the progress in the Trademark Status and Document Retrieval (TSDR) system. If your trademark is successfully registered, the protection can last forever as long as you use the mark in commerce and file the required maintenance documents.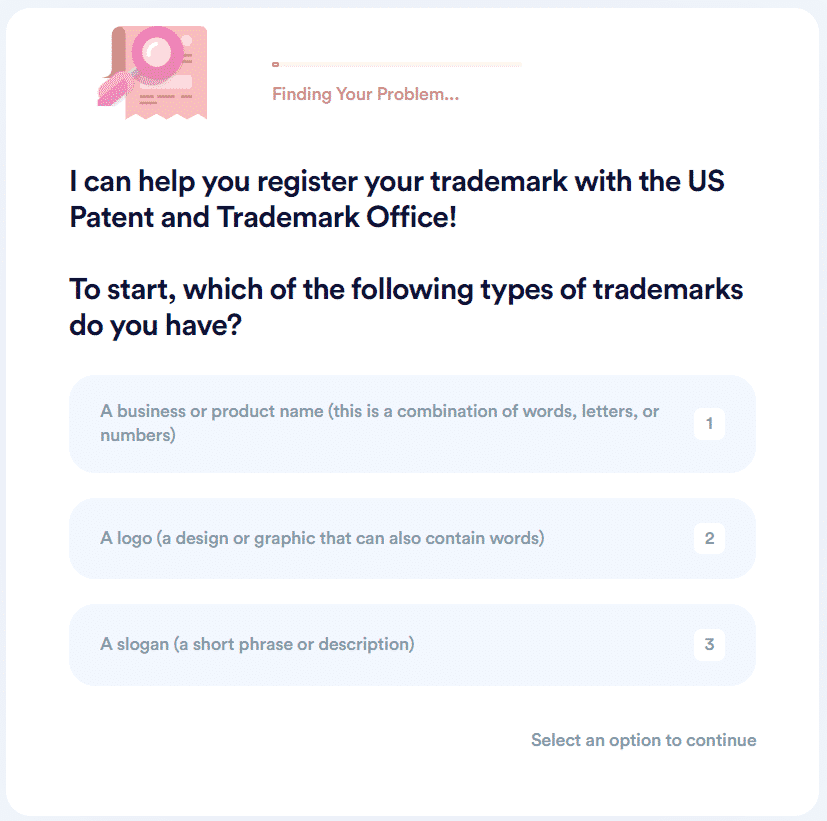 Protect Your Brand Name and Build Trust With Your Users!
One of the most challenging aspects of every business is building a trusting relationship with the customers and maintaining a good reputation. That is why it is crucial to protect your business name, logo, and slogan legally by registering it as a trademark. DoNotPay is here to help you do that hassle-free with our Trademark Registration tool. Need help checking for trademark violations once you register? There is no need to fret as we have a tool that can help you with that as well!
Now that your trademark is taken care of, you should consider complying with data protection requirements to take care of your users' privacy. You can do so by using our Privacy Shield Self-Certification product.
Are you dealing with fake negative online reviews that are harming your business? DoNotPay can help you by analyzing the reviews and reporting them until they are taken down!
Time Is Money, and DoNotPay Can Help You Save Both!
DoNotPay offers an array of time-saving features that you can use when you do not feel like dealing with business-related challenges on your own. We can help you:
Apply for your Employer Identification Number (EIN) Registration in a few clicks
Help your employees lower their taxes by filing 83(b) election forms from the comfort of their offices
Enjoy free faxing and mailing services and save time by not having to go to the post office
Complete a DMCA agent registration process to avoid dealing with copyright violations
Write a convincing letter when filing for a small business loan
Do you need help dealing with clients who do not want to pay for your services? Use DoNotPay's Breach of Contract product to send a letter of demand in a matter of minutes! Not sure what to do with unfair chargeback requests? We can help you by creating a chargeback rebuttal document for you to send to your payment processor.