A Comprehensive Guide to Small Business Term Loans
To make a significant investment in your business, you need a way to finance it without making a huge dent in your budget. One way to do that is by applying for a small business term loan. We offer the ultimate guide to how small business term loans work and how to request one without a hassle. In case you need assistance in writing a loan request letter, sign up for our app and get a personalized letter within minutes!
Small Business Loans in a Nutshell
Small and medium-scale businesses often require financing solutions to deal with short-term and long-term expenses, such as salaries, operating costs, or equipment and real estate purchase. This is where small business loans come into play. You can use them to create startups and cover related costs or fund already established businesses. These funds can also help maintain your cash flow when dealing with large-scale investments.
What Is a Small Business Term Loan?
A term loan is a subcategory of small business loans where the borrower receives a lump sum amount of money that they return in installments. These loans have repayment schedules with lower interest rates compared to other small business loans. Some term loans require a significant down payment to reduce the repayment period.
Term loans have the following attributes:
Flexible repayment schedule
Specified payments
Set maturity date
Fixed or variable interest rates
What Can You Use Term Loans For?
Business owners prefer term loans for long-term investments or fixed asset purchases, in particular:
Real estate
Equipment
Machinery
Vehicles
These assets are usually bought to generate income, which in turn helps pay back the loan and increase the business' profitability.
Some businesses acquire term loans to pay their operating costs or invest in working capital.
Types of Term Loans
There are three types of term loans, based on their lifespan:
| Types of Term Loans | Brief Details |
| --- | --- |
| Short-term | These loans run for approximately 12 to 18 months and are offered to companies that don't qualify for a line of credit |
| Intermediate-term | These loans have a lifespan of one to three years and are repaid in monthly installments from the company's cash flow |
| Long-term | Long-term loans can last up to 25 years and use collateral to reduce the risk to the lender. They are usually repaid in monthly or quarterly installments |
Pros and Cons of a Term Loan
Term loans are not the right solution for every business, so you need to consider the pros and cons before pursuing this option. Check out the advantages and disadvantages in the table below:
Pros
Cons

Flexibility in using funds
Favorable interest rates
Flexible payment schedule
Large loan amounts
Lower costs compared to other lending products

They are difficult to obtain for startups
These loans come with strict qualification requirements
You might need collateral or personal guarantees to secure the loan
Interest rate can be variable instead of fixed
How To Qualify for a Small Business Term Loan
To apply for a term loan, you need to choose a lender:
Online lenders
Commercial and community banks
Peer-to-peer lending sites
SBA-funded lenders
Before applying, it is crucial that you research your chosen lender's requirements to confirm that you are eligible for the loan. Most lenders have the following criteria:
A business that has been fully operational for at least two years
A good personal and business credit rating, especially if you require a larger loan amount
A business plan explaining how you intend to use and return the money
How To Apply for a Small Business Term Loan
To apply for a small business term loan, you need to follow these instructions:
Find a lender
Gather all the required paperwork, which usually includes:

A valid photo ID
Bank statements
Business incorporation documents
Income statements
Cash flow statements
Tax returns
Credit ratings
Collateral, if any

Fill out the loan application
Draft a loan request letter
Negotiate the loan terms
Alternatives to Term Loans
If you feel that a term loan is not the right fit for your business, here are some other options you can consider that are widely popular among small businesses:
Get Your Loan Request Letter in Minutes Using DoNotPay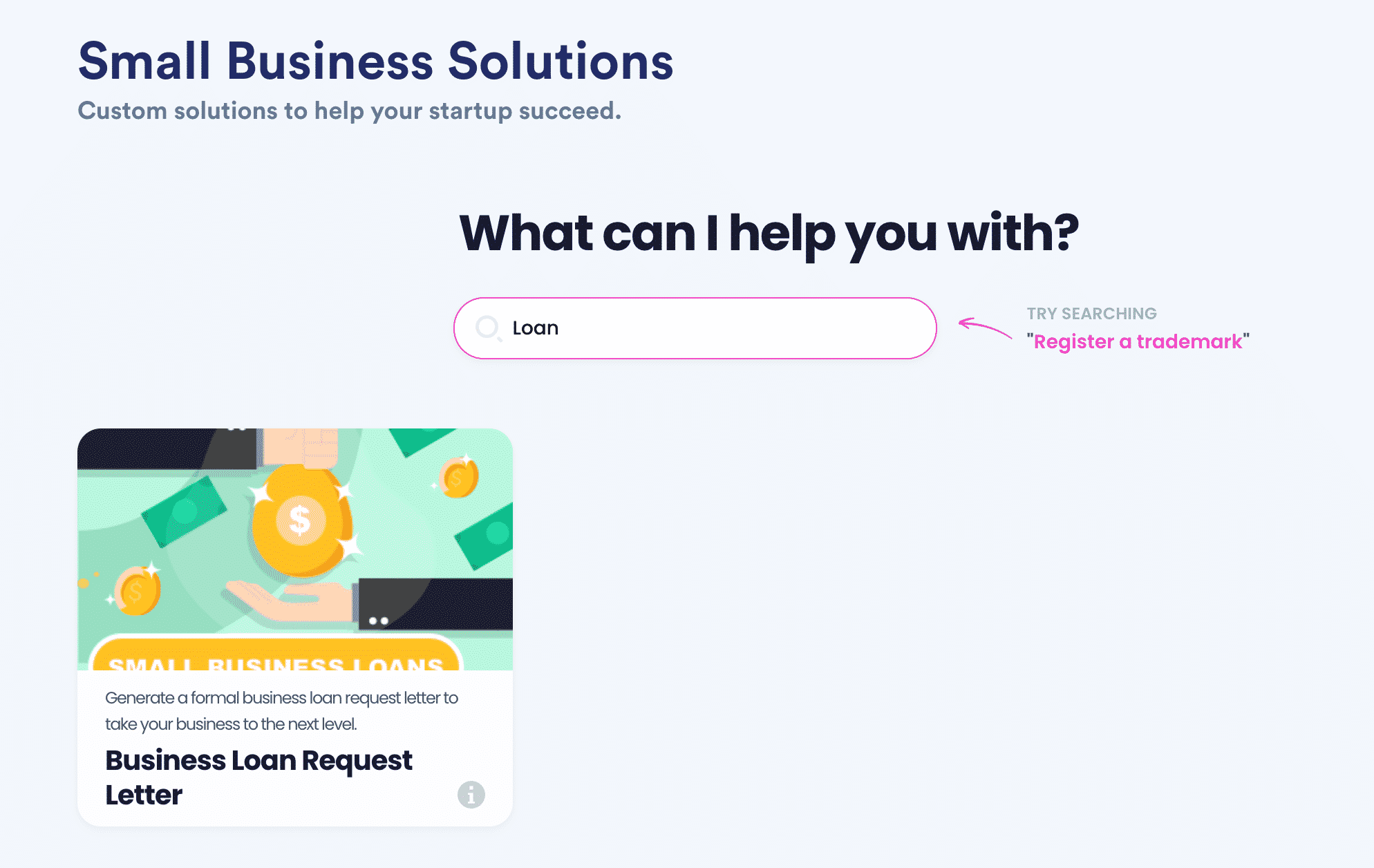 Are you having trouble drafting a loan request letter for your small business loan application? Worry no more because DoNotPay is here to help you out! With our Business Loan Request Letter product, we can assist you in writing a formal letter without breaking a sweat.
All you need to do is follow these instructions:
Select the Business Loan Request Letter tool
Enter information about your company and the amount you need to borrow
Upload the required financial documents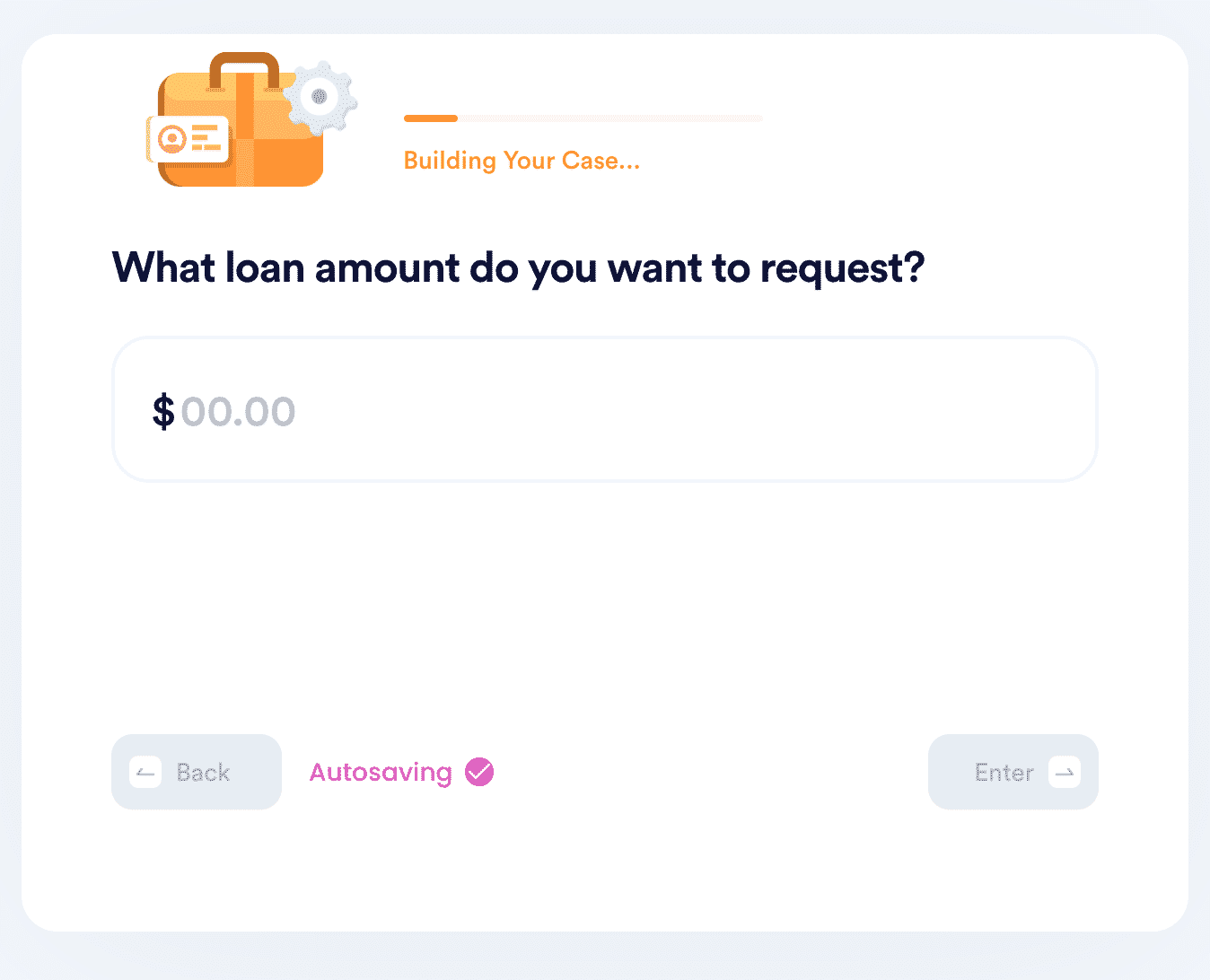 DoNotPay Can Find the Best Lender for Your Needs
DoNotPay will help you navigate the application process from start to finish!
If you aren't sure whether banks or other lenders offer better loan terms, input your requirements and details about your business in our app, and we'll find the best lenders for you!
You can use our Find Online Business Loan Lender product to enlist DoNotPay's help in finding the most suitable loan for your needs. This tool is also integrated with our Business Loan Request Letter feature, which means that we can find you the lender, draft the loan request letter, and send it to the chosen lender in your stead! How much easier can it get?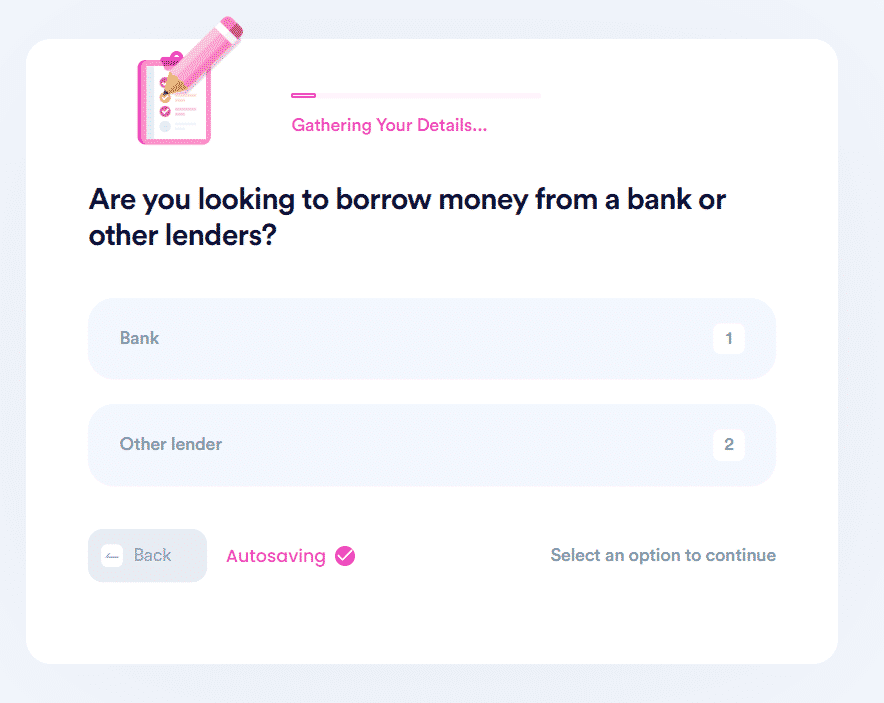 DoNotPay Has Everything You Need for Your Small Business
Navigating numerous business procedures can be overwhelming, especially if you don't have much experience. DoNotPay strives to make the situation easier for business owners, which is why we offer a number of simple-to-use products that can help you take care of various processes, including DMCA agent and Employer Identification Number registration, Privacy Shield program self-certification, and trademark registration and protection.
If you are not sure how to manage the filing of 83(b) election forms, DoNotPay has a solution that will automate the entire process and help you save time. Our app can even generate a convincing small business loan request letter for you. Don't feel like walking or driving to the post office to send the letter? Use DoNotPay to fax or mail any document in a matter of clicks!
DoNotPay Helps You Deal With Bad Clients
If you need help handling unpleasant situations with your clients, you can rely on DoNotPay. We have created various products to assist you in:
Making sure your business is free of negative, illegitimate online reviews—DoNotPay will analyze the review in question, estimate the best reason for reporting it, and report the review until it is deleted
Dealing with clients who breach the contract and refuse to pay—We will generate and send a demand letter requesting what's rightfully yours
Fighting unjustified chargebacks—Our app will create a personalized chargeback rebuttal document to help you keep your revenue
Resolve various business issues without wasting time or money—DoNotPay has got your back!