Small Business Tax Credit—What Is That?
As Benjamin Franklin put it—nothing is certain but death and taxes. When you run a business, it may seem like a tax awaits you on every corner and like every element of a company is taxable.
While a significant chunk of your budget has to be dedicated to paying tax-related expenses, you can rely on tax deductibles and credits to lower the eventual amount you have to pay to the Internal Revenue Service (IRS).
In this article, we will show you what small business tax credit options there are and how they work. We will also explain small business loans and show how you can obtain them with ease using DoNotPay.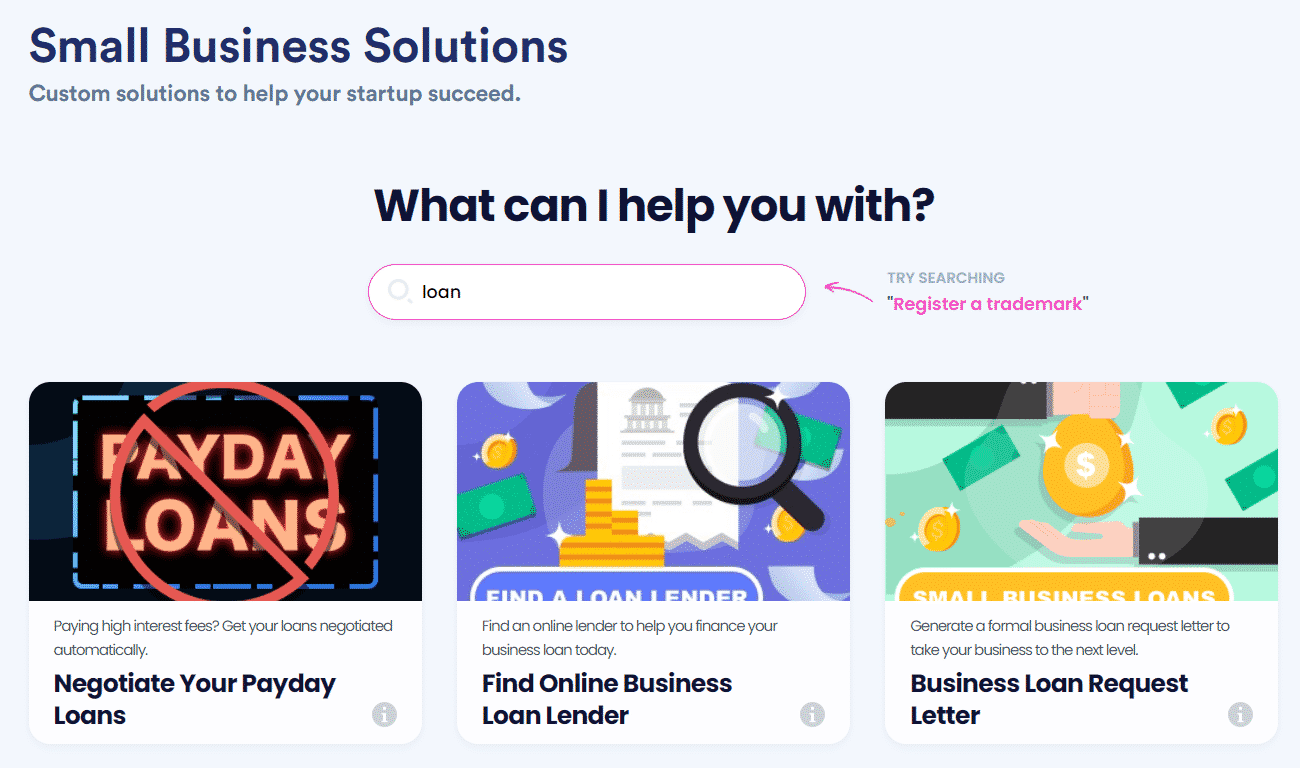 What Is a Small Business Tax Credit?
A tax credit for small businesses is an amount of money you can subtract from the taxes you owe to the IRS, meaning that you can lower tax due. The main difference between a tax credit and a tax deduction is that the latter reduces the amount of taxable income by the percentage of the tax owed.
The small business tax credit allows you to reduce your bill on a dollar-for-dollar basis, while the value of a tax deduction depends on your tax bracket.
For instance, if you are in the 24% tax bracket, the tax deduction lets you save $0.24 for every $1 deducted. If you obtain a $5,000 tax credit, your overall tax amount will be lower for that same amount—a $30,000 tax bill would go down to $25,000.
To claim a tax credit, you will need to fill out forms for each credit, as well as a general Form 3800 that lists all the credits you intend to apply for.
Tax credits you should be on the lookout for are:
Health care tax credit
401(k) plan startup tax credit
Payroll tax credit for small business
Small Business Health Care Tax Credit
Small business tax credit for health insurance lets you save up to 50% on employee premium costs. If you are a nonprofit employer, you can save up to 35%.
The percentage amount depends on the premiums you pay and the size of your company. The smaller it is, the bigger the credit you will receive. The full 50% goes to companies with fewer than ten employees who have an average salary of $25,000 at the most.
To qualify for the tax credit, you need to:
Have an average employee salary of no more than $50,000 per year
Employ 25 full-time employees—or full-time equivalent (FTE) employees—at the most
Cover at least 50% of your FTE employees' premiums
Provide Small Business Health Options Program (SHOP) coverage to all FTE employees
Fill out the Form 8941
Small Business Startup Tax Credit for 401(k) Plan
If you are setting up a 401(k) retirement plan for your team, you can ask for the tax credit if your business:
Did not have a retirement plan in place in the previous three years for the same employees
Employs no more than 100 people, all of whom earn at least a $5,000 wage
The value of the credit is $500, and you need to claim it to cover informing employees about the plan benefits and to pay for administrative costs of starting up the plan. You will need to fill out Form 8881 to apply for the credit.
Payroll Tax Credit for Small Business
When it comes to lowering your payroll taxes, you can look forward to two credits, based on:
Paid leave
Employee retention
If you own a 500-or-fewer-employee business and offer paid leave, you are eligible for a dollar-for-dollar tax credit of up to $5,000.
During the pandemic, the IRS offered a 100% tax credit for those on sick leave or in quarantine. To be eligible, you needed to provide up to 80 hours of paid leave capped at $511 per day.
Employee retention credit allows you to subtract your payroll tax of up to $7,000 per quarter for each employee, with the maximum being $28,000 per employee.
To become eligible, you will need to prove a gross-receipt decline of at least 20% during the quarter as this credit serves to help businesses who suffered from COVID-19.
Small Business Tax Credit Forms
As a business owner, you should do the research and see what tax credits you can apply for to lower the amount you owe and save money. Each tax credit comes with its own form, as shown in the table below:
| Tax Credit | Form Number |
| --- | --- |
| Work opportunity credit | 5884 |
| Small business investment tax credit | 3468 |
| Alcohol and cellulosic biofuel fuels credit | 6478 |
| Orphan drug credit | 8820 |
| New markets credit | 8874 |
| Credit for employer-provided childcare facilities and services | 8882 |
| Alternative motor vehicle credit | 8910 |
| Credit for employer differential wage payments | 8932 |
| Employer credit for paid family and medical leave | 8994 |
| Indian employment credit | 8845 |
| Credit for employer social security and Medicare taxes paid on certain employee tips | 8846 |
Need Additional Money To Pay Off Taxes? Take Out a Small Business Loan!
If you need some cash to keep your business going—or if you are a newcomer to the entrepreneurial world and want to cover startup costs—small business loans can provide it for you.
Lending institutions, such as banks and credit unions, provide financial help to businesses under specific terms—repayment schedules, interest rates, collateral, and so on.
The way these loans work is that you need to show a specific purpose for which you are going to use the loan money. You also need to prove you qualify for the loan by demonstrating that your business will benefit from the money and that you can repay the loan in the required time.
Depending on the terms and the source of the loan, there are different types you can take out. Some of the best loans include:
Credit for a small business
How To Get a Small Business Loan Using DoNotPay
Obtaining a small business loan is a complicated task as you will need to provide many details and paperwork about your company. Many owners fail to get a loan because they submit an incomplete or inaccurate loan request.
To avoid this happening to you, use DoNotPay! Our app will guide you through the entire process by making sure you submit all the necessary documents and information to create an impressive loan request.
Once you sign up for DoNotPay, all you need to do is:
Select the Business Loan Request Letter feature
Gather your personal and business credit scores
Prepare paperwork to prove your eligibility
Answer a few questions
Upload all the necessary paperwork
Our app can also help you find a lender that will offer you the best terms—use our integrated Find Online Business Loan Lender feature and see what options you have.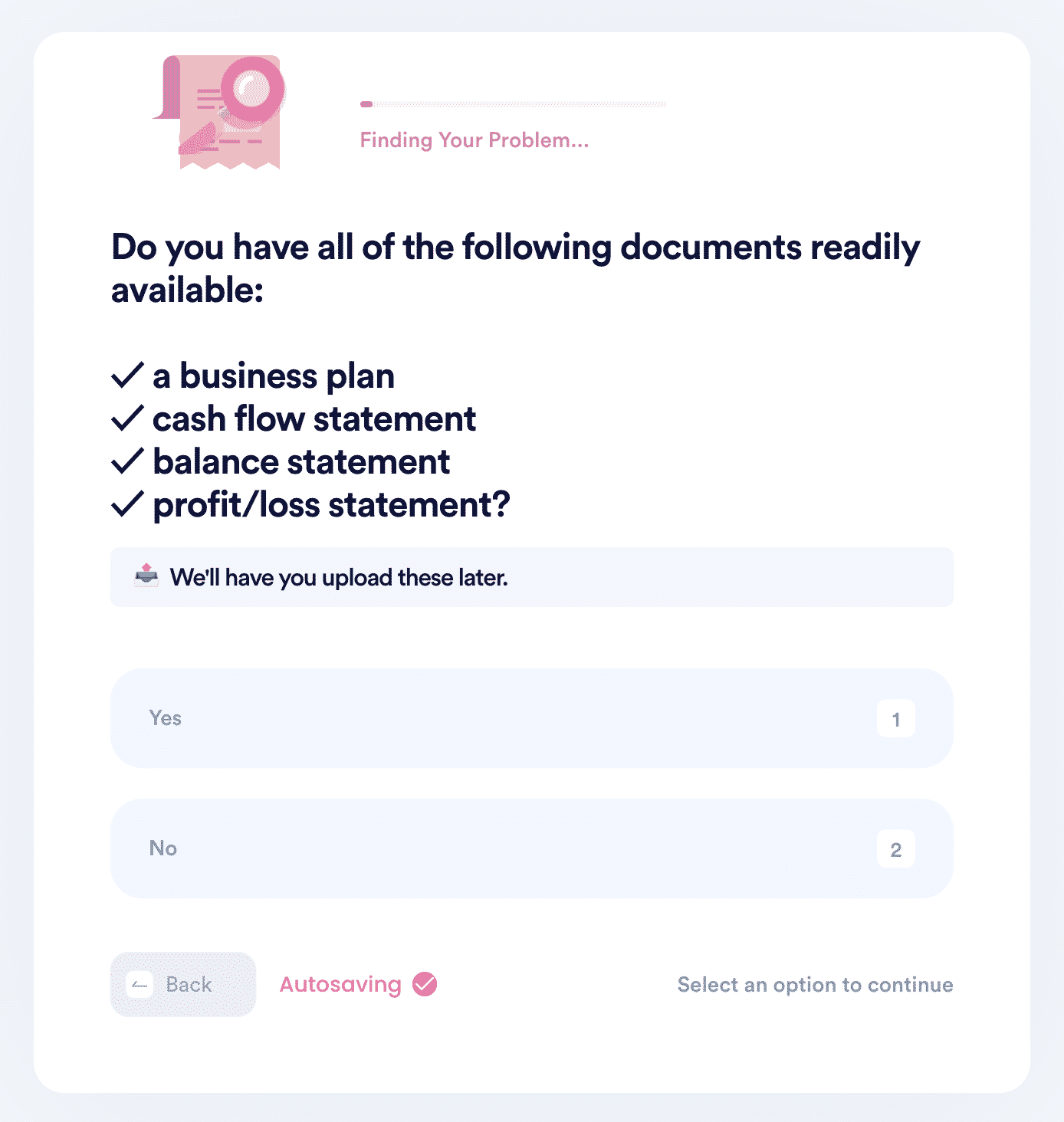 Let DoNotPay Help You With Boring Administrative Tasks While You Focus on Becoming a Business Mogul!
DoNotPay can assist you in dealing with a number of business-related tasks. We have developed a plethora of simple-to-use products that make running a business much easier and less stressful.
Do you need help registering your business name as a trademark? We have got you covered! Not sure how to write a convincing letter to request a small business loan? DoNotPay helps with that, too!
Use our app to get a perfectly generated chargeback rebuttal document, formally request payment from clients who breach the contract, and find out how your employees can file 83(b) election forms in a matter of clicks!
Check Out Our Other Nifty Products!
That is not all DoNotPay has to offer. Our awesome tools will make tedious administrative tasks easier to manage so you can concentrate on your business instead of wasting time waiting in lines and filling out forms. Rely on DoNotPay to:
Take care of DMCA agent registration and Privacy Shield program self-certification
Make sure no one else is using your trademark
Get rid of fake online reviews that harm your business reputation
Manage Employer Number Identification (EIN) registration
Enjoy the convenience of faxing and mailing from the comfort of your home or office