Learn Where To Look for Small Business or Startup Loans in Texas
If you realize that you need financial assistance to cover the costs and grow your business, you might first turn to your family and friends. While this might be the best option—as you could avoid unfavorable interest rates and loan terms—it could destroy your relationships.
To avoid this risk, you should explore small business and startup loans in Texas. This article presents some available options that could help you deal with business expenses and implement your planned projects.
Small Business Loans in Texas
Whether you need funds to start or scale your existing business in Texas, you can turn to different institutions that provide grants and loans.
The following list presents some lenders you could take into account when searching for the loan that best suits your needs:
Texas Capital Bank
Texas Trust Credit Union
PeopleFund Small Business Loans
Business and Community Lenders
Small Business Loans at Texas Capital Bank
Texas Capital Bank could be the right choice if you require a larger amount of money. This bank:
Has branches throughout the Lone Star State
Provides small business loans of up to $750,000
Offers the following types of loans:

Asset-based loans
Import-export business loans
Texas Capital Bank also provides financing to businesses in difficult-to-fund areas, including oil and gas, real estate, and brokerage.
Keep in mind that—since this is a bank—they have strict qualification requirements and ask for good credit and business history.
Texas Trust Credit Union
Credit unions typically provide affordable loans for startups and small businesses that—compared to banks—come with more:
Favorable interest rates
Flexible application processes
To get a loan from Texas Trust Credit Union, you must become a member and reside or have a business located in one of the following counties:
Ellis
Dallas
Denton
Tarrant
Johnson
Henderson
Tom Green
This credit union provides the following types of loans:
Construction loans
Term loans
SBA loans
Lines of credit
Texas Trust Credit Union might be suitable for you if you are a property investor and developer since you:
Can get up to 80% of the new construction costs
Make interest-only payments during the building period
Aside from favorable loan terms, this credit union also offers cash-back business credit cards you can use to supplement your capital and credit score.
PeopleFund Texas Small Business Loans
PeopleFund is a nonprofit lender that provides financial assistance to the following groups and under these conditions:
Eligible Business Owners
SMB Loan Terms
Loan Types
This lender caters to a variety of businesses, including:

Startups
Small businesses
Nonprofit organizations

PeopleFund puts focus on underserved entrepreneurial communities, e.g.:

Low down payments
No prepayment penalties
Flexible application procedures
Lenient collateral requirements

Some of the available loans include:
Business and Community Lenders
Business and Community Lenders (BCL) is another nonprofit organization that offers small business and startup loans in Texas.
These loans could be suitable for you if you:
Have had a company for less than two years—While startups can get BCL financial assistance—which can be a problem with other lenders—more seasoned businesses can also apply for these loans
Need business coaching—You can get free business training throughout the loan repayment time, which could be beneficial if you have recently started a business and need guidance
The following table outlines some BCL loan options:
Types of Loans
Specifics
New business loans

Eligibility—Businesses younger than two years
Loan amount—From $20,000 to $50,000
Purpose of a loan—Purchase of business basics, such as:

Equipment
Real estate
Inventory

Business growth

Eligibility—Businesses operating longer than two years
Loan amount—From $50,000 to $300,000

Small and diverse growth
Rural business

Eligibility—Companies in Texas rural communities with a population of up to 50,000
Loan amount—Up to $250,000
Aside from the above-listed loans, BCL also provides SBA 504 loans you can use to purchase real estate or equipment for your business.
How To Get a Small Business Loan in Texas
Once you understand how business loans function and what types of loans and lenders are available in the Lone Star State, you should be ready to apply for the required funds.
Before approaching the preferred lender, you should prepare the following:
Business plan—You should draw up a business plan to explain to lenders your products or services, commercial opportunities, target market, competition, and financial forecast. The plan will enable loan providers to:

Assess your business growth potential
Determine the amount of money you qualify for

Budget—You need to create a precise budget to:

Have a clear understanding of expected operating costs and income
Keep track of your business results and performance

Documentation—Since documentation depends on the loan or lender you apply for, you need to study the requirements carefully to know what documents to gather. Keep in mind that your application can be rejected if you fail to provide the necessary paperwork
Loan request letter—To increase your chances of success, you should draft a convincing request letter to enclose with your loan application
to get a:
List of lenders most suitable for your business requirements
Compelling loan request letter addressing the specific terms and conditions of the selected type of loan and financial institution
DoNotPay Assists With Small Business and Startup Loan Applications
We understand how challenging and lengthy the search for appropriate financial assistance can be. That is why we have designed two AI-powered products—Find Online Business Loan Lender and Business Loan Request Letter.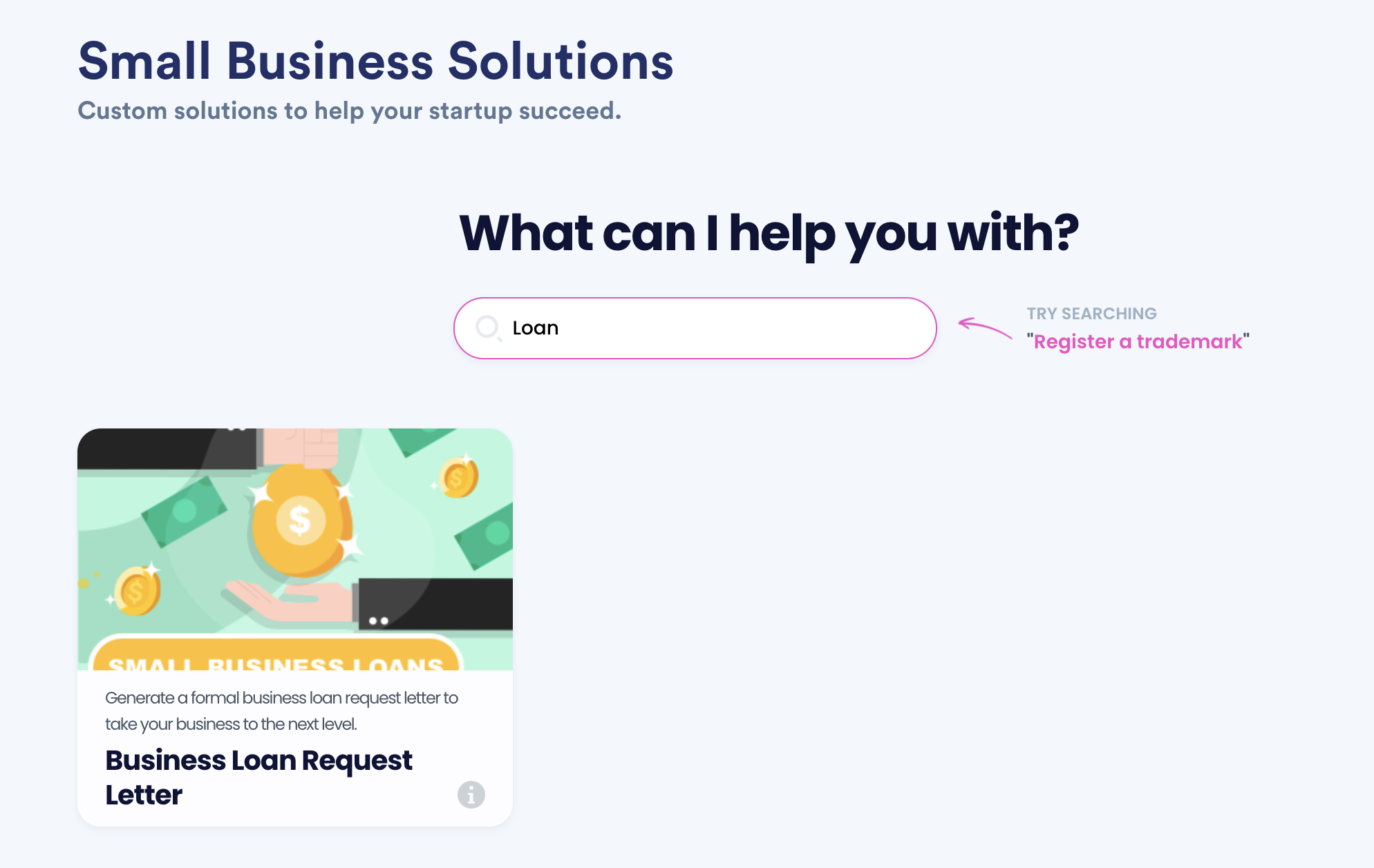 and take these steps:
Open the Business Loan Request Letter product
Provide details about your business and loan requirements
Enter the amount you need to borrow
Specify if you would like us to compile a list of the best loan providers for your case
Upload the required documents
When you are done, you will get a custom-made loan request letter that will impress the lenders and help you get the funding you need.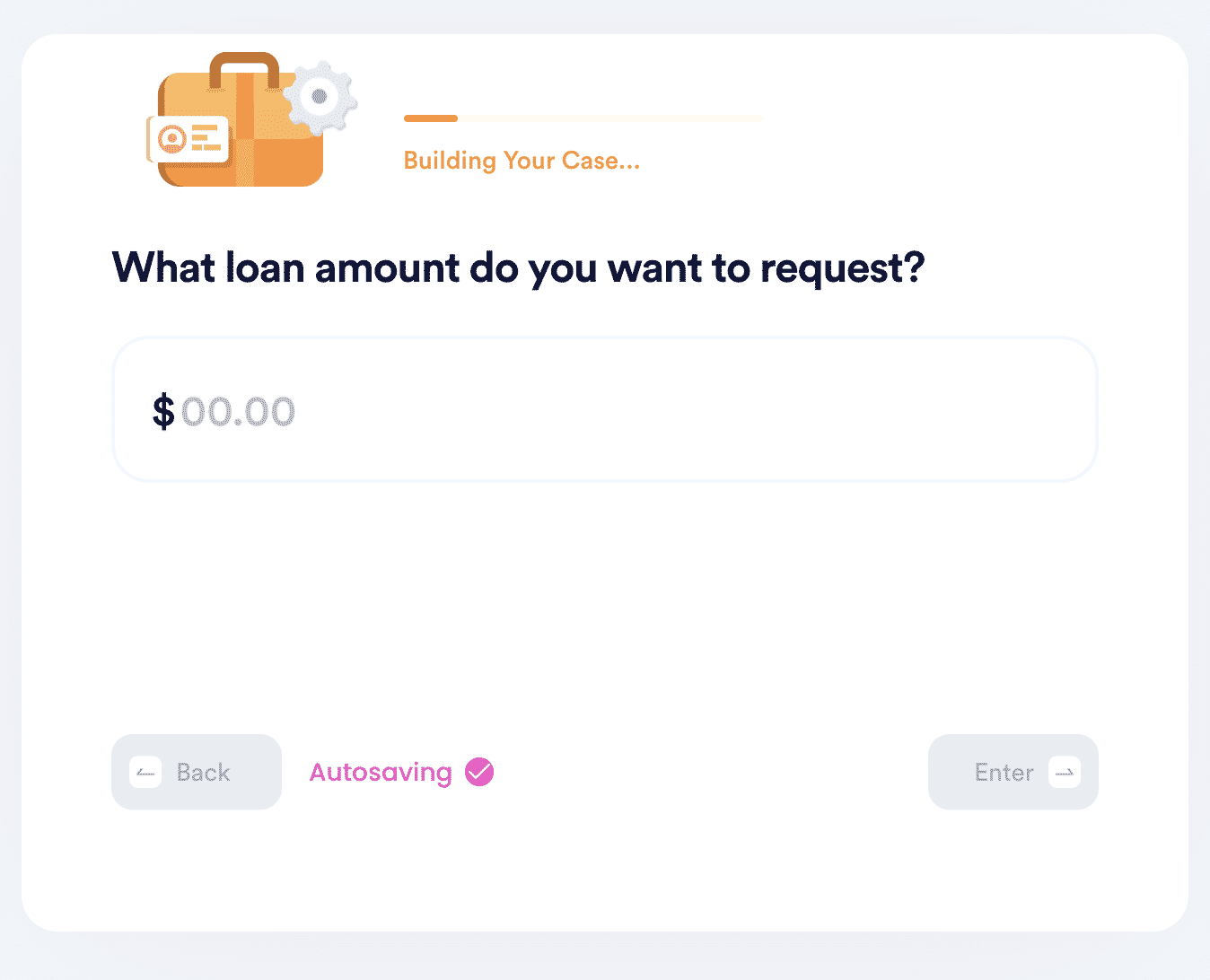 Get the Upper Hand With DoNotPay
The business world is extremely competitive—that is why it is always good to have some extra capital set aside when you need to invest in your company. You can leave the bureaucratic task to us—DoNotPay will draw up business loan request letters in your stead.
If your finances are taking a hit, rely on our app. With our assistance, you will be able to:
Fight fraudulent chargebacks
Remove fake negative reviews online
Register and protect your trademark
Send mail and faxes at no additional cost
Handle clients breaching contracts and get what you are owed
Whatever the task at hand, our AI-powered app will see it through successfully.
DoNotPay—The Assistant Every Business Needs
You cannot escape bureaucracy in business. What you can do is let DoNotPay deal with it. Whether you need to register a DMCA agent or complete an Employer Identification Number (EIN) registration, our app will lead the way.
Using DoNotPay, you will also not have to worry about 83(b) election forms or Privacy Shield self-certification. From generating to filing important documents and from dealing with employees to handling clients on your behalf, our AI-driven app is your go-to solution.
Grow and protect your business with the world's first robot lawyer!