What Are Small Business Retention Loans and How Do They Work?
The COVID-19 pandemic has created various challenges for small businesses. If your business budget was affected, and you need financial help, consider getting a retention loan to cover important expenses.
Our article will tell you everything you need to know about small business retention loans so you can decide whether they are the right choice for you.
You will also learn how to draw up a convincing and error-free loan request letter, so you can apply for a loan with ease!
The Corona Aid, Relief, and Economic Security Act (CARES)
Due to the impact of the COVID-19 pandemic in 2020, the Corona Aid, Relief, and Economic Security Act (the CARES Act) was signed into law. The CARES Act provides the following financing options
Employee Retention Credit
Small Business Loan Program
Employee Retention Credit
The Employee Retention Credit is a tax credit for businesses owners affected by the lockdown caused by the COVID-19 pandemic. Business owners can claim this refundable credit on qualified wages, including health insurance costs.
To get this credit, you must meet certain requirements, such as:
Carrying on a trade or business during the year 2020
Having liquidity to fund current operations
Employing a substantial number of part-time workers or workers with low salaries
Needing to lay off furlough employees
Having operations and businesses that were affected by COVID-19
Not claiming the work opportunity tax credit
If you are eligible for the Employee Retention Credit, you will receive a refundable payroll tax credit equal to 70% of the qualified wages that you paid during 2021. The maximum amount of qualified wages you can take into account for each employee during the period is $10,000. This means that the maximum credit for qualified wages equals $7,000 per employee, while the benefit for the full year is $28,000.
Small Business Loans Under the CARES Act
The CARES Act allows the Small Business Administration (SBA) to provide 100% federally backed loans. These small business loans can be used to cover expenses such as:
You can either borrow 2.5 times your monthly payroll expense or up to ten million.
To be eligible for the SBA program, you must:
Not have more than 500 employees
Be self-employed
Operate in the accommodation or food service industry
Have no plans to fire employees
Employ a substantial number of employees with high salary
Have revenues that weren't substantially affected by COVID-19
Claim the work opportunity tax credit
Other Programs That Can Help Small Businesses
Here are some alternative financing options that might help you cover your business expenses:
Economic Injury Disaster Loan (EIDL)—This program was created for businesses with less than 300 employees who have experienced a 30% reduction in any two months between March 2 and December 31, 2020. The amount a business can get is $10,000
Grants for Shuttered Venue Operators—This is a $15 billion grant program for certain businesses that have experienced at least a 25% drop in revenue during 2020, such as:

Live venue operators or promoters
Theatrical producers
Live performing arts organization operators
Museum operators
Motion picture operators
Talent representatives
Should You Apply for a Small Business Loan?
If you do not qualify for any of the above-mentioned programs, or if you would like a better solution for covering business-related expenses, consider applying for a small business loan or a startup loan.
The most popular types of loans are:
| Loan Type | Explanation |
| --- | --- |
| The United States Small Business Administration (SBA) loans | The SBA offers several small business loan programs through which you can borrow up to $5 million. To qualify for SBA loans, you must have a good credit score |
| Merchant cash advances (MCAs) | MCA loans require daily repayments during the period of three to 18 months. The amount you can borrow cannot exceed $250,000 |
| Microloans | If you opt for a microloan, you will be able to borrow up to $50,000 and pay an interest rate of around eight to 13% |
| Business lines of credit (LOC) | A LOC gives you access to a limited amount of money that you can spend whenever you want. The repayment terms depend on the bank, credit union, or any other lender you choose |
If you want to apply for a loan, you need to have a solid business plan and make sure you submit the necessary paperwork. On top of that, you need to file a loan request letter that should include all the necessary information about your business and convince the lender that you are a reliable borrower.
To draft this crucial document effortlessly and without wasting money on expensive lawyers, subscribe to DoNotPay! We will generate a loan request letter tailored to your needs.
Getting a Small Business Loan With DoNotPay Is a Breeze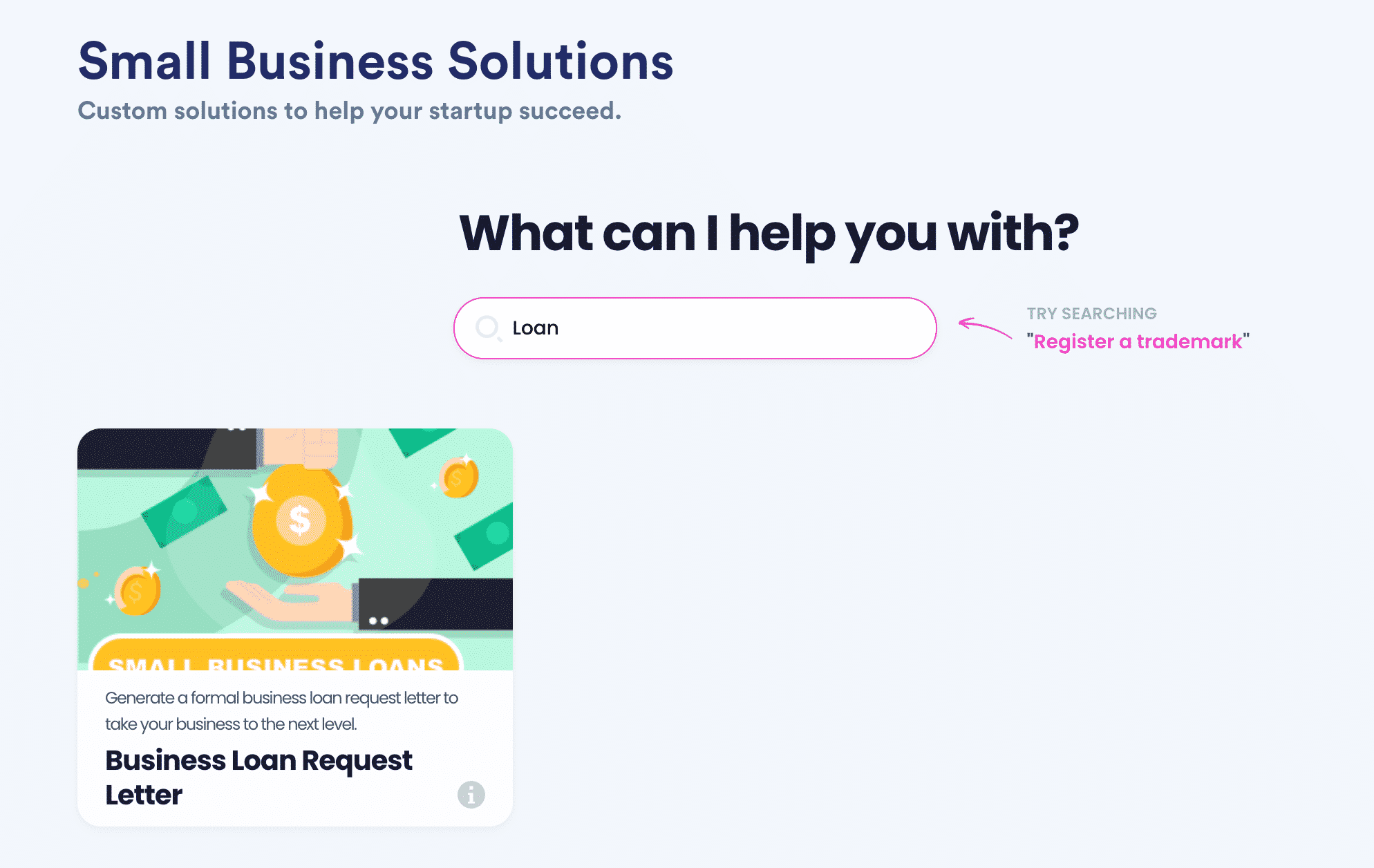 Why waste money on lawyers or spend hours writing a loan request letter yourself when you can use DoNotPay! To get the letter quickly and easily, you have to:
Locate our Business Loan Request Letter tool
Answer our chatbot's questions
Upload the required paperwork
Cannot find a suitable lender for your business? DoNotPay's Find Online Business Loan Lender tool can generate a list of the most suitable lenders for your needs.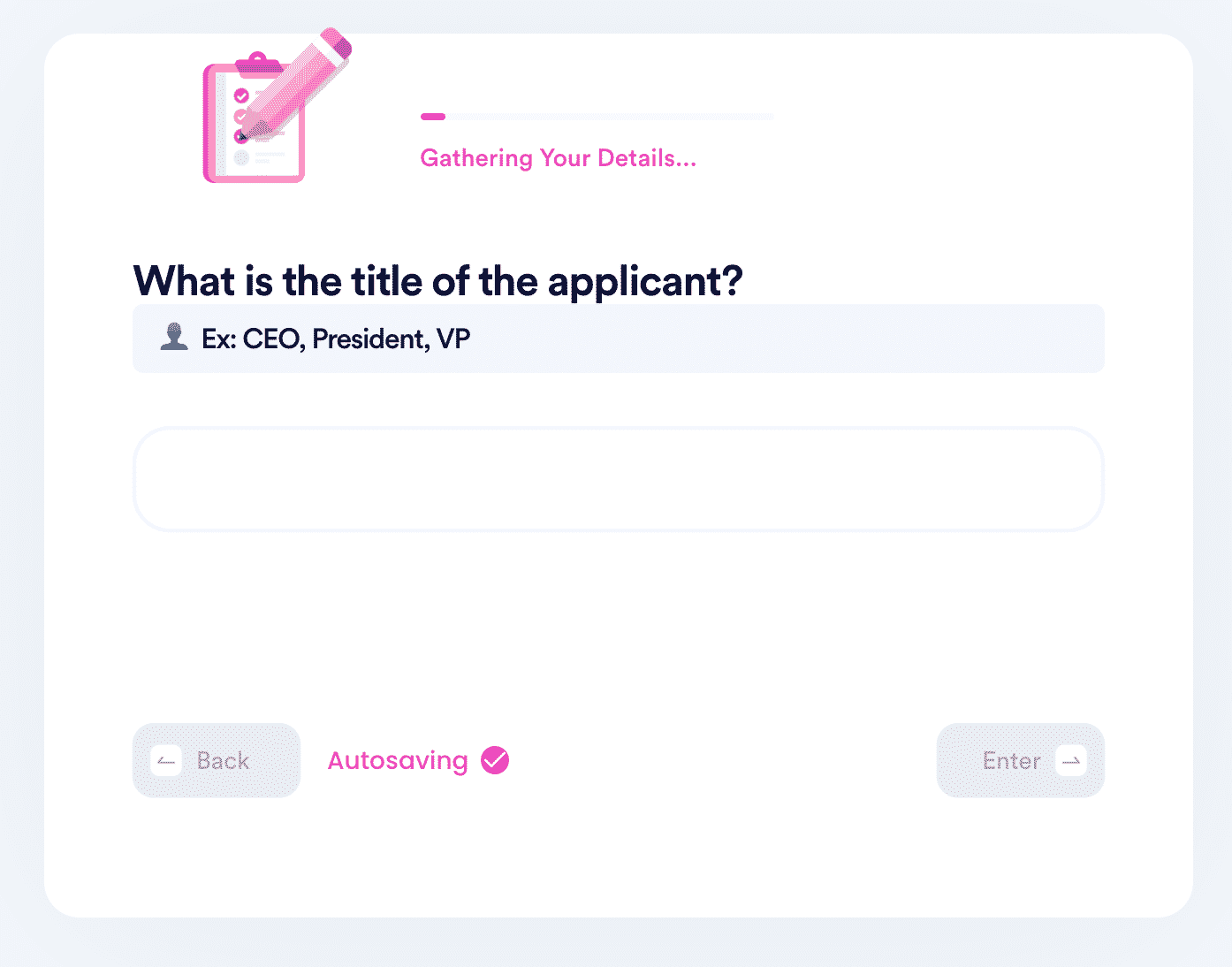 Resolve Various Business Problems With the Help of DoNotPay
Handling annoying administrative issues is the last thing you want to worry about while trying to build a business empire. The good news is that you do not have to! DoNotPay has developed many nifty products that make various pesky tasks easy to complete.
Some of the small-business-related matters we can help you with are:
Taking out business loans
Obtaining an Employer Identification Number (EIN)
Automating the filing of 83(b) election forms
Requesting your money from customers who won't pay
Registering a DMCA agent
DoNotPay can also make communication with your clients or business partners easier as we enable you to fax and mail your letters, forms, and other important documents without leaving your office.
Maintain a Good Business Reputation
It is no secret that building a trusting relationship with clients takes time and effort, so why have all that hard work ruined by negative online reviews that are fake? DoNotPay is here to help you remove illegitimate, fake reviews in a matter of clicks!
Want to dispute unfair chargeback requests but are not sure how to go about it? By using our Fight Chargebacks feature, you can have DoNotPay create a customized chargeback rebuttal document in a few minutes.
With our app, you can also protect your trademark from people trying to use it, file the self-certification request with the Privacy Shield program, and handle many other aspects of your business hassle-free!