What Is a Small Business Real Estate Loan and How to Apply For One
Purchasing real estate is not a small investment, but it certainly is a good one as the real estate prices keep going up. The vast majority of business owners are not in a position to invest huge sums of money for a parcel of the desired land, nor do they have means of getting the capital.
If you want to invest but do not have the means to do it, you should look into small business real estate loans. In this article, we will identify the best small business loans for purchasing real estate and:
What Are Small Business Loans?
Small business loans provide owners with capital that can be used on purchasing equipment, covering startup costs, or anything else that they do not have the budget for. Before you decide to apply for one, you should look into different types of loans to find one that best suits your business's needs.
Small Business Loans for Real Estate
The most important step in borrowing money for real estate is choosing the adequate loan type. One of the best loan options for purchasing real estate is the Small Business Administration (SBA) loans. SBA loans are government-backed loans that help borrowers enjoy lower interest rates and have better terms. The SBA offers two types of loans that are suitable for real estate purchases:
SBA 504 loan
SBA 7(a) loan
SBA 504 Loan
The SBA 504 loan can be used for the construction or purchase of:
Existing land or building
New facilities
Long-term machinery and equipment
You can also use the 504 loan for the improvement of land, streets, parking lots, and more, and you cannot use it for:
Working capital
Consolidating
Repaying debt
Investing in rental real estate
This type of loan is available through Certified Development Companies (CDCs) and the SBA's community partners and banks that regulate non-profit organizations and promote economic development. To qualify for the SBA 504 loan, you must:
Have a tangible net worth that is not over $15 million
Operate as a for-profit company in the U.S.
Have an average net income of less than $5 million after two years upon filing your application and federal taxes
The interest rate for the 504 loan depends mainly on the repayment term. For more details, consult the table below:
| Term | Interest Rate |
| --- | --- |
| 10-year | 2.4% |
| 20-year | 2.35% |
| 25-year | 2.41% |
SBA 7(a) Loan
The SBA 7(a) loan is the most commonly sought-after program for startups and the best option for real estate purchases. You can also use it for:
Increasing working capital
Refinancing business debt
Purchasing fixtures, furniture, etc.
Constructing new buildings or renovating existing ones
Establishing a new business or assisting in the acquisition of an existing ones
The biggest amount of money you can borrow through this program is $5 million, which should be enough to cover your expenses. To be eligible for the 7(a) loan, you must:
Operate for profit
Have a high credit score
Be considered a small business
Have reasonable invested equity
Be engaged in business in the U.S.
Demonstrate a need for a loan
Use alternative financial resources (e.g., personal assets) before seeking financial assistance
Use the funds for a business purpose
Not have any existing debt obligations to the U.S. government
Most 7(a) loans can be repaid with monthly payments and interest. The rate is around 2%, and you can require a different payment amount when it changes.
How To Get a Small Business Loan for Real Estate
To apply for a real estate loan, you will need to gather the required documentation and file it with the lending institution. Among the paperwork you need to prepare are:
The borrower information form
Background and financial statements
Business financial statements
Ownership and affiliations
Loan application history
Business license
Resumes
Income tax returns
Business lease
Business history and overview
Loan request letter
One of the most important documents that you will need to get is the loan request letter. It contains the details about you and your business, and the lender uses it to determine whether to approve your application or not. If you want to ensure that you get a supreme loan request letter, use DoNotPay! We will generate this document for you in no time and make sure it fits your needs perfectly.
Get a Small Business Loan for Real Estate the Easy Way—Use DoNotPay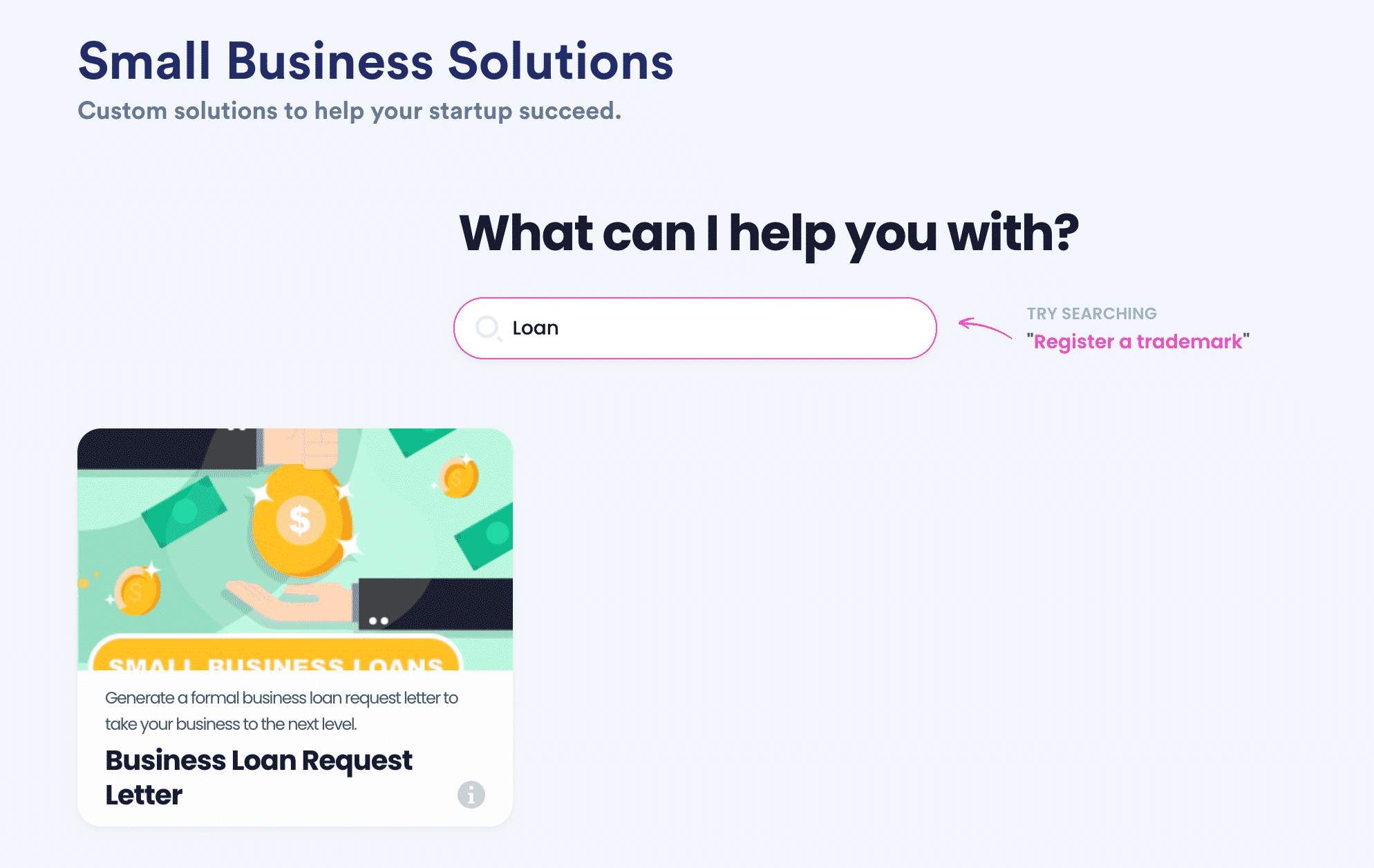 Why risk getting declined by a lender due to a poorly written request letter? If you do not want to take any chances, subscribe to DoNotPay and let us do all the work for you! Our AI-powered app will help you gather the required paperwork and generate a request letter in a matter of minutes.
All you have to do is follow a few steps:
Find our Business Loan Request Letter tool
Prepare your financial statements
Answer our chatbot's questions
Upload the gathered documents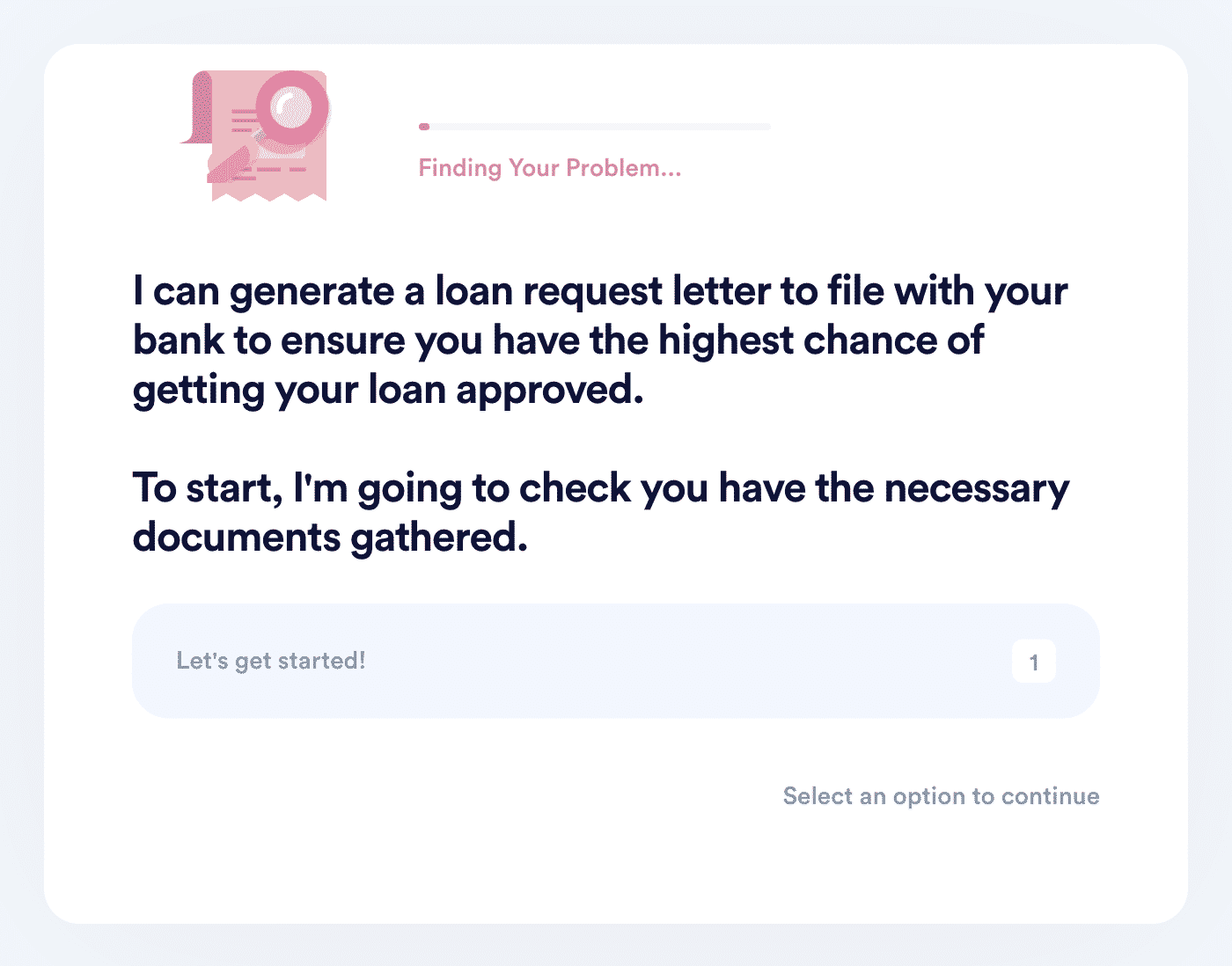 Finding a suitable loan provider is often a tedious endeavor, but you should not let that stop you from getting a loan. With our easy-to-use Find Online Business Loan Lender tool, you will get a list of the top three lenders, along with possible loan amounts, terms, and rates.
Run Your Business Worry-Free!
Every beginning is challenging, which is why DoNotPay has everything you need to start running your business stress-free! We have created numerous easy-to-use products that will make boring administrative tasks easier to manage.
To help you get started, DoNotPay will assist you in taking care of trademark, Employer Identification Number (EIN), and DMCA agent registration, Privacy Shield self-certification, and business loan requests.
We can even help you maintain a good business reputation by:
Monitoring your trademark and filing a cease and desist letter in case someone tries to use it
Reporting fake negative reviews that could harm your business
Disputing illegitimate chargeback requests in a matter of minutes
DoNotPay Helps You Create and File a Number of Legal Documents
Why waste time worrying about how to draw up and file various legal documents when you can have the world's first robot lawyer do that in your stead? You do not have to waste thousands of dollars on lawyer's fees—our extensive database has a myriad of documents on offer.
DoNotPay will help you automate the procedure of completing and filing 83(b) election forms, write a formal demand letter requesting payment from clients who try to avoid it, and deal with other important paperwork.
Don't want to waste time going to the post office to mail a contract? Now you do not have to! With DoNotPay, you can fax and mail any document in a matter of clicks!