How To Get Small Business Personal Loans
As amazing as running your business sounds, it comes with headaches. Any company, regardless of the industry, has different expenses that you must cover on time to keep your company afloat.
If you are new to the entrepreneurial world, you will be surprised by how many fees there are, from initial startup costs to daily expenses that make your business operational. In case you do not have enough money to keep the company going, you can take out a small business loan.
What happens if you cannot get it? You should check out other options.
In this article, you can learn what small business personal loans are and how they work.
What Is a Small Business Loan?
To get your business to a point when it starts raking in a profit, you will need to make significant investments without getting anything in return. You may have a hefty personal war chest, or you may sell equity for investment, but if the answer is no to both—what should you do?
You can turn to small business loans. These loans are dedicated to small businesses that need financial help to continue (or start) working or to improve their business.
You can receive a business loan for a variety of reasons, including:
New equipment
New supplies and inventory stock
Cash flow management
Day-to-day costs
Startup costs
Seasonal expenses
When you apply for a small business loan, you will need to specify its exact purpose. Aside from the purpose, loans also vary based on the following four aspects:
Interest rates

Loan amount
You should take into account each of the five aspects and see how they apply to your business model. Even the best loan can cripple your business if you are not fully compatible with its conditions, which can make a huge hole in your budget.
Each loan comes with specific terms and qualification requirements, resulting in various types of loans, such as:
Merchant cash advances (MCA)
Where To Find Small Business Loans
Loans can come from a variety of sources, such as:
If you cannot figure out which lender is the best for you, you can and select our Find Online Business Loan Lender tool that will do the research for you. You can use the tool as a standalone product or as an integrated feature within our Business Loan Request Letter option.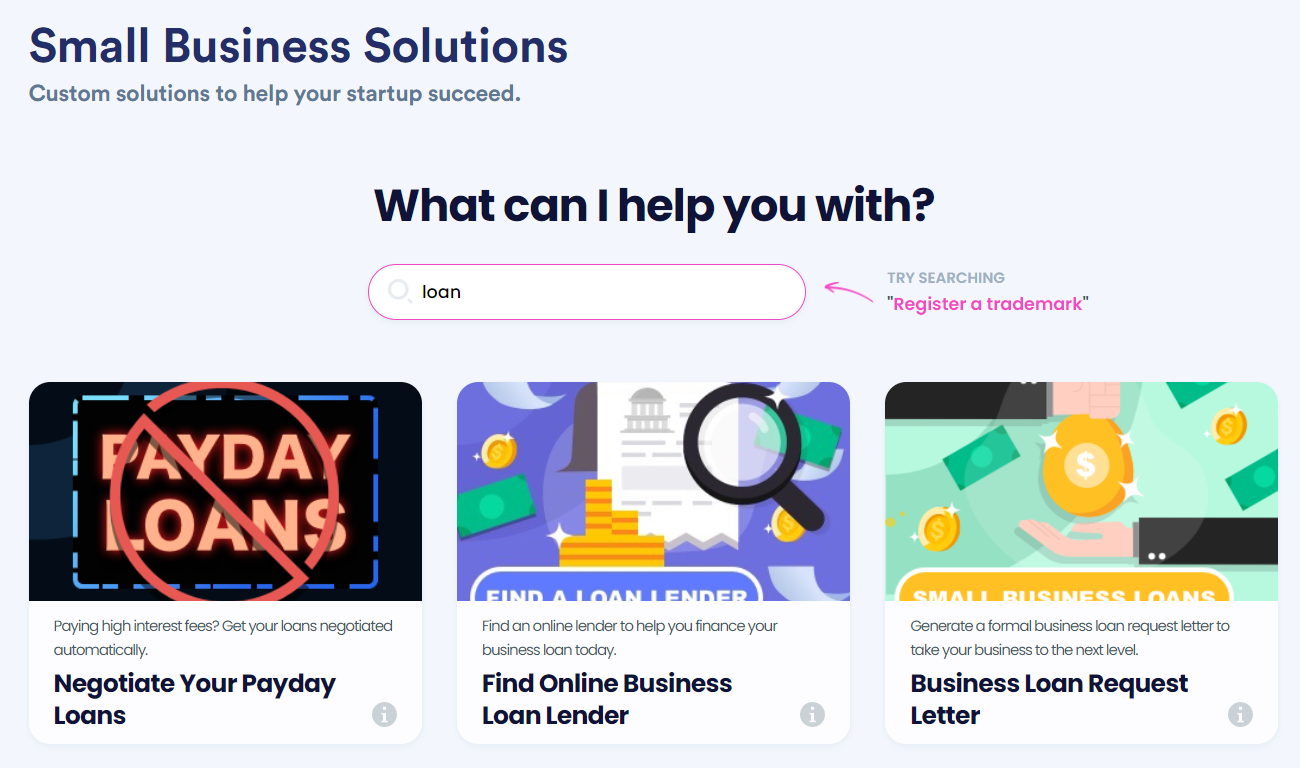 How Do Small Business Personal Loans Work?
Small business loans are not your only option for getting extra funds. You can also take out a personal loan for small business expenses. The majority of personal loan lenders do not require you to specify its purpose—once you get the money, you can do with it as you please.
If you fail to obtain a small business loan, you can apply for a personal loan and use the funds in the same way.
Business loans come with strict requirements, such as being several years in business, having a high revenue and good business credit score, and so on. For a personal loan, all you need is a personal credit score to be at an adequate level.
Small Business Loan vs. Personal Loan for Small Business—What Is the Difference?
The main difference between the two is who the legal loanee is. A small business loan will go in the name of your business, while a personal loan will be tied to yourself. Business loans are usually secured with an asset, which is not the case with small business personal loans.
If you are considering taking out a personal loan for a small business, check out this table to learn about its advantages and disadvantages:
Pros
Cons

Flexibility with what you can spend the money on
Lower interest rates
Collateral not required
Fewer application requirements
Fast approval

Personal risk
No effect on business credit score
Personal and business finances mixed
Small loan amounts
Not tax-deductible (usually)
Shorter repayment periods
Is There an Easier Way to Get Approved for Small Business Personal Loans?
Obtaining a loan—both personal and business—is a complicated process for which you need to submit a handful of documents and information sheets about you and your company. Lenders are strict with applicants—a tiny mistake can result in an instant refusal.
If you do not wish to end up reapplying and paying nonrepayable fees over and over again, you can use DoNotPay's help. Our app will make sure your request is foolproof by taking care of what documents and information you need to share.
All you need to do is and:
Select the Business Loan Request Letter feature
Gather your personal and business credit scores
Prepare documents to prove your eligibility
Answer a few questions
Upload all the required paperwork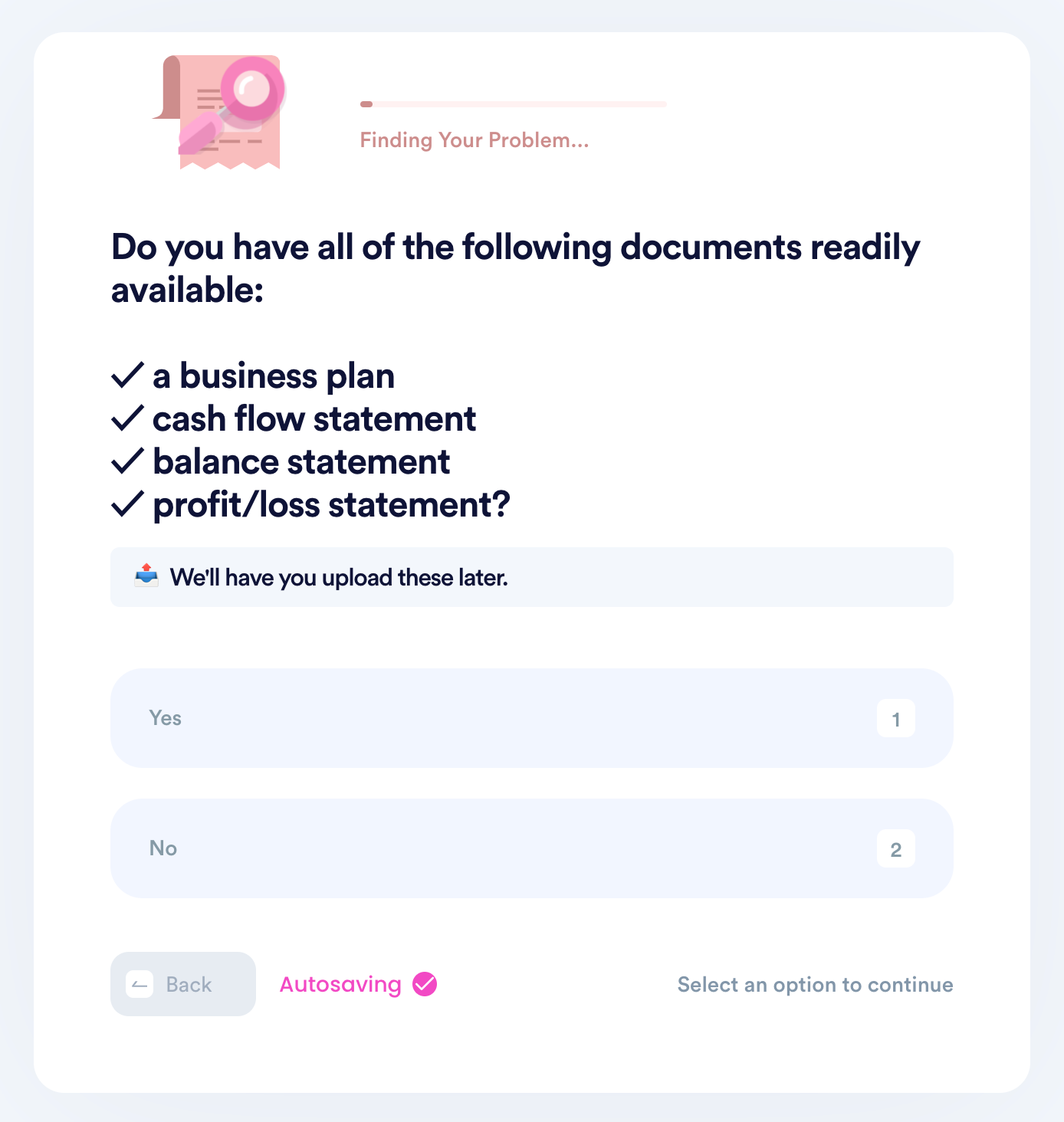 Take Care of Pesky Business-Related Procedures Effortlessly!
As a business owner, you are bound to deal with various complex processes. Luckily, DoNotPay can help you handle most of those procedures stress-free. Do you need to register your business name as a trademark, file the self-certification request with the Privacy Shield program, or report illegitimate and inappropriate negative reviews? Our app enables you to do it within minutes.
That is not all we can do for you! With our nifty products, you can make the filing of 83(b) election forms a breeze and take care of DMCA agent and Employer Identification Number (EIN) registration in no time.
Need a solution that will facilitate correspondence with your business associates or clients? DoNotPay has the right faxing and mailing product for you!
Don't Spend a Small Fortune on Lawyers—Draft Various Documents With DoNotPay's Help
Drafting legal documents does not have to be complicated or expensive. DoNotPay has a variety of tools that you can use to get a:
Letter requesting a loan for your small business
Cease and desist demand regarding your trademark (if someone tries to use your business name, logo, or slogan)
Formal demand letter requesting a client to pay for your services
Personalized chargeback rebuttal document based on the:

Chargeback reason
Chargeback code
Service you offer