A Guide to Small Business Loans in Virginia
Opening a startup or a small business, although exciting, can prove to be quite difficult. Dealing with initial costs and day-to-day expenses while staying on the budget can be challenging, especially if your funding is not sufficient. One of the ways to deal with this issue is to take out a small business loan.
In this article, we will tell you all about the best small business loans in Virginia and show you how they work and how you can apply for them. If you sign up for DoNotPay, we will help you prepare an airtight loan request letter in minutes!
Types of Small Business Loans in Virginia
Consult the table below to learn about the types of small business loans available in Virginia:
Type
Description
Interest Rates
Long-term loan

Longer than two years
Fixed amount up front (and you will be charged principal and interest)
Used for expanding or financing large projects
Requires monthly or bi-weekly payments
Requires good or excellent credit score
Loan terms are from two to ten years

Start at 5.50%
Short-term loan
Most business owners choose short-term loans when they do not qualify for long-term ones. These loans:

Should be repaid within six to 18 months
Require daily, weekly, or bi-weekly payments
Don't require a perfect credit score

1.09%–1.45%
Merchant cash advance

Demands daily repayments
Must be repaid within three to 18 months
Should be repaid from daily credit card sales
Don't require an excellent credit score

1.09%–1.45%
Business cash advance (BCA)

Used for the purchase of future sales agreement
Requires a fixed amount of payment
Has no time limits for payments
Requires daily or weekly payments
Allows any type of credit score

1.09%–1.45%
Equipment loan

Uses purchased equipment as collateral
Requires payments from two to seven years made weekly or daily
Requires excellent credit rating

1.09%–1.45%
Small Business Administration (SBA) loan

Provides a guarantee for approved lenders
Offers different types of programs:

Standard 7(a)
SBA loans program 504
SBA Disaster loans
Paycheck Protection Program (PPP)

Has fixed monthly payments
Requires good or excellent credit score

Start at 5.50%
What Are the Best Virginia Small Business Loans?
There are plenty of funding options you can choose from, including:
Virginia Economic Development Loan Fund
Virginia SWaM Business Microloan Fund
Atlantic Union Bank
Virginia Credit Union
Virginia Community Capital (VCC)
Virginia Economic Development Loan Fund
Virginia Economic Development Loan Fund is a state-funded direct loan program. Loan amounts start at $50,000 with a repayment term of ten years, and the money comes from the Virginia Small Business Financing Authority (VSBFA). It requires a personal guarantee from business owners who own 20% or more of the business.
This loan has a non-refundable application fee of $500 and requires a long list of financial documents for qualification.
Virginia SWaM Business Microloan Fund
Virginia SWaM Business Microloan Fund is supported by the VSBFA, but it doesn't require participation of a bank lender. You can use this loan for working capital, renovation, and equipment financing. The amount of money you can borrow goes up to $25,000. The maximum repayment term is four years. If you want to apply, you have to pay a non-refundable $100 application fee.
Atlantic Union Bank
Atlantic Union Bank is an SBA-approved lender that provides installment loans, lines of credit, commercial real estate loans, equipment financing, and business credit cards. It is fairly difficult to qualify for this loan if your business is not successful yet.
This loan requires strong personal credit and a history of business revenues. One of the benefits of this lender is that it has low interest rates.
Virginia Credit Union
Virginia Credit Union provides loans with low interest rates and is open to anyone in Richmond and surrounding cities. They offer term loans, commercial mortgages, equipment loans, lines of credit, and business credit cards with fixed variable interest rates.
Virginia Community Capital (VCC)
VCC is a nonprofit community development financial institution that provides financing and free advisory services to small businesses. They offer financing between $50,000 and $5 million in the form of business acquisition loans, debt consolidation loans, equipment financing, commercial real estate loans, and lines of credit.
Applying for these loans requires a lot of documentation, such as tax returns, financial projections, business plans, and financial statements.
Get Your Small Business Loan in Virginia With DoNotPay's Help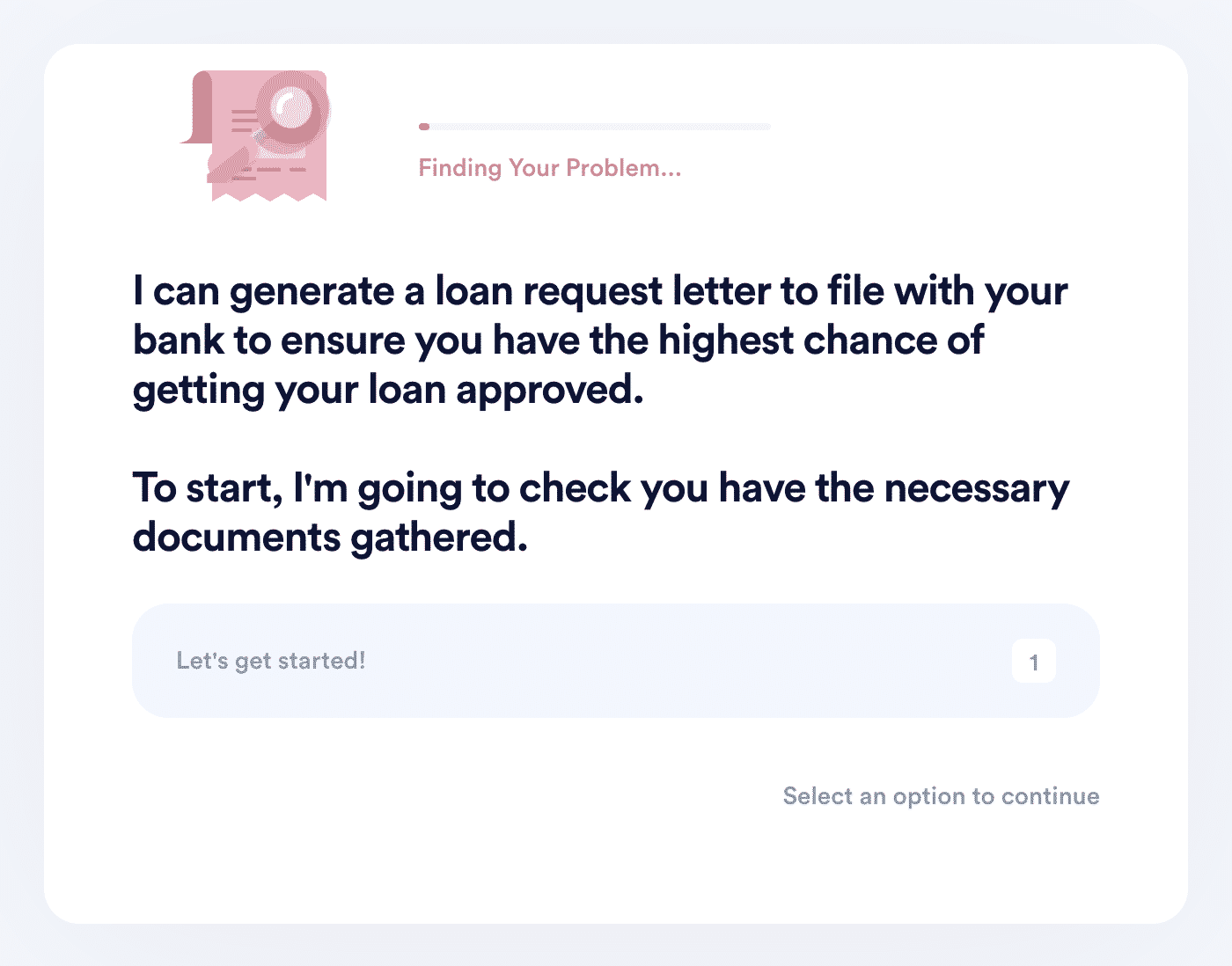 Applying for a small business loan is a complicated endeavor as lending institutions require you to submit countless documents and provide a great number of details about yourself and your company. It is easy to omit important information or a piece of paper, which is why many applications get rejected.
To avoid that, register for DoNotPay, and let us take care of your loan request. We will make sure your application is immaculate and contains all the required documents.
Follow these steps to apply:
Open the Business Loan Request Letter product
Provide information about your company, business needs, and loan qualifications
Prepare the required documentation
Indicate the loan amount you want to apply for
Upload the documents
If you cannot decide which lending institution is the best for your business, use our integrated Find Online Business Loan Lender feature.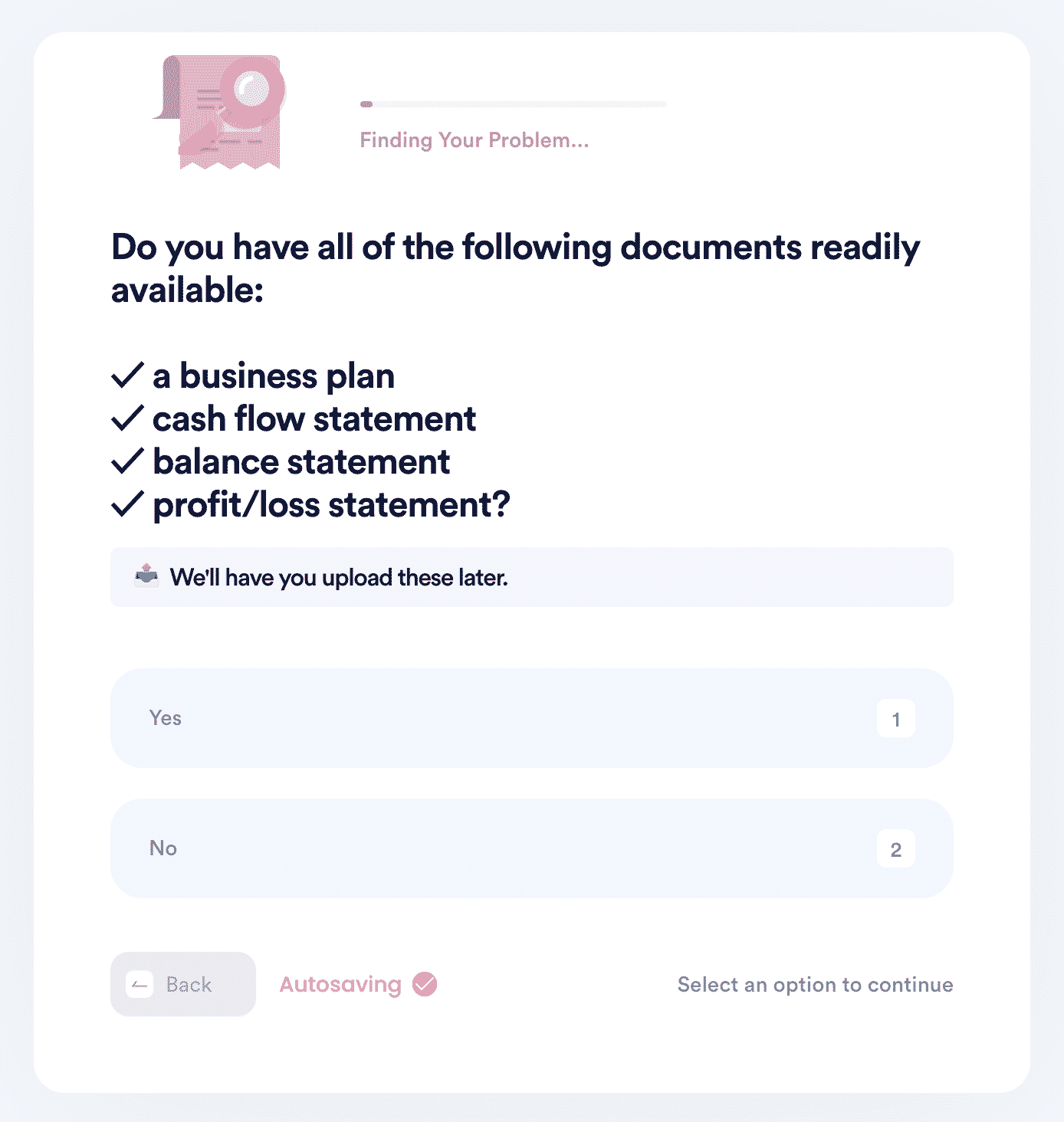 DoNotPay Offers More Help for Your Business
Running a small business is no small feat. When you're drowning in red tape, DoNotPay is here to lend a helping hand. Whether you need to register your trademark or protect it later on, we have got it covered. With our help, you will keep your logo, slogan, and business name safe.
Are you also yet to register for an Employer Identification Number (EIN)? Not to worry—our app can file the IRS SS-4 form in a few clicks. With the world's first robot lawyer at your fingertips, you will also be able to create your 83(b) election forms with ease—ready for your employees to sign them right away.
In case you are struggling financially, we can assist you with a business loan application.
Communication Has Never Been Easier With Our App
Keeping up with clients can be challenging, especially if each has a preferred method of communication. Luckily, our multifunctional app makes it easy to both fax and mail contracts, letters, and documents.
You can also count on our assistance when you need to:
Fight fake negative reviews online
Deal with a client regarding a breach of contract
Dispute fraudulent chargebacks
Thanks to DoNotPay, there is no need for back-and-forth communication. We will handle the necessary demand letters and forward them on your behalf.
We can also help you manage your DMCA agent registration and Privacy Shield program self-certification.