Small Business Loans in Utah—All You Need To Know
Utah is a state where small businesses thrive—the Small Business Administration (SBA) statistics show that the Beehive state has around 268,872 small businesses, which is approximately 99.3% of all state-based businesses. If you're wondering how to get small business loans in Utah, you are in the right place.
We will present the best small business loans, explain how they work, and show you how to get them if you sign up for DoNotPay.
Types of Small Business Loans in Utah
In Utah, you can get a small business loan from banks and nonprofits. Most local lenders offer some type of Small Business Administration loan. Check out the table below to find out which types of SBA loans exist in Utah:
SBA Loans in Utah
Details
SBA 504 Loan Program
This program is used for purchasing long-term fixed assets like equipment or real estate. It provides:

Fixed and variable loan rate options
Down payment for the project cost of 10%
Loan terms of up to 25 years
No prepayment penalties

SBA 7(a) Loan Program
The SBA 7(a) program enables you to purchase real estate, start a business, buy equipment, or increase working capital and inventory. This is a general-purpose variable-rate loan that has terms of up to 25 years
SBA Express Loan
You can expand your business or finance a franchise with this program. The following constitutes the SBA Express Loan:

You can borrow up to $350,000
It has fixed and variable rate options
You can have unsecured loans of up to $100,000
There are no prepayment penalties
Most Popular Small Business Loans in Utah
As a Utah small business owner, you can apply for funding from the following sources:
Utah Microloan Fund
Mountain America Credit Union Loan
Zions Bank Business Loan
Mountain West Small Business Finance
Utah Microloan Fund
The Utah Microloan Fund helps entrepreneurs that cannot get traditional forms of working capital. They are sponsored by Wells Fargo, Celtic Bank, Bank of America, Merrill Lynch, etc. There are three loan options available through the UMLF:
The traditional UMLF loan—Interest rates range from 4% to 7%, and there is a 60- to 72-month loan of up to $50,000
Seed loan with a collateral cosigner—To qualify for this loan, you need to have a cosigner and collateral. It is a 12- to 36-month loan of up to $10,000. The interest rates start at 7.5%
Seed loan without collateral and cosigner—You do not need to have a cosigner or collateral to qualify for this loan. It is a 12- to 36-month loan of up to $7,500 with interest rates starting at 7.5%
Mountain America Credit Union
The Mountain America Credit Union (MACU) is a loan provider approved by the SBA. The MACU provides low-interest business loans, equipment loans, and construction loans. The loan amounts vary between $10,000 and $50,000. The eligibility criteria are quite serious, and SBA loans are difficult to acquire. You have to book an appointment with a MACU representative to discuss your business's financing needs and apply for the SBA loan.
Zions Bank Business Loans
Zions Bank is well-known for SBA 7(a) loans, but they also provide:
Business access loans
Invoice factoring
Commercial real estate financing
Equipment loans
With Zions Bank's business access loans program, you can apply for:
Business access line of credit—This type of loan is unsecured, and it goes up to $50,000
Business access term loan—The loan amounts vary between $5,000 and $175,000
Mountain West Small Business Finance
This program is licensed by the SBA, and it provides SBA 504 loans for small businesses. Mountain West Small Business Finance offers working capital loans from $50,000 to $250,000. If you want to apply for the SBA 504 loan through Mountain West Small Business Finance, you will need to contact them via online form.
What Documents Do You Need To Submit?
It is important that you submit the right documents because if you don't, your loan request might be denied. The documents you'll need to submit are:
Business financial statement (startup costs, budget, and operating expenses)
Personal financial information
Income tax returns
Ownership and affiliations
Business certificate or license
Copy of the business lease
DoNotPay Can Help You Secure Your Small Business Loan
Preparing the loan request letter is what affects your chances of getting one. Many business owners fail to create the right loan request letter by forgetting to add all the required information. If you are requesting a startup or any other type of small business loan, DoNotPay is here to help you increase your chances of getting them. You do not have to worry about having all the required paperwork because our app will make sure you upload all the relevant documents.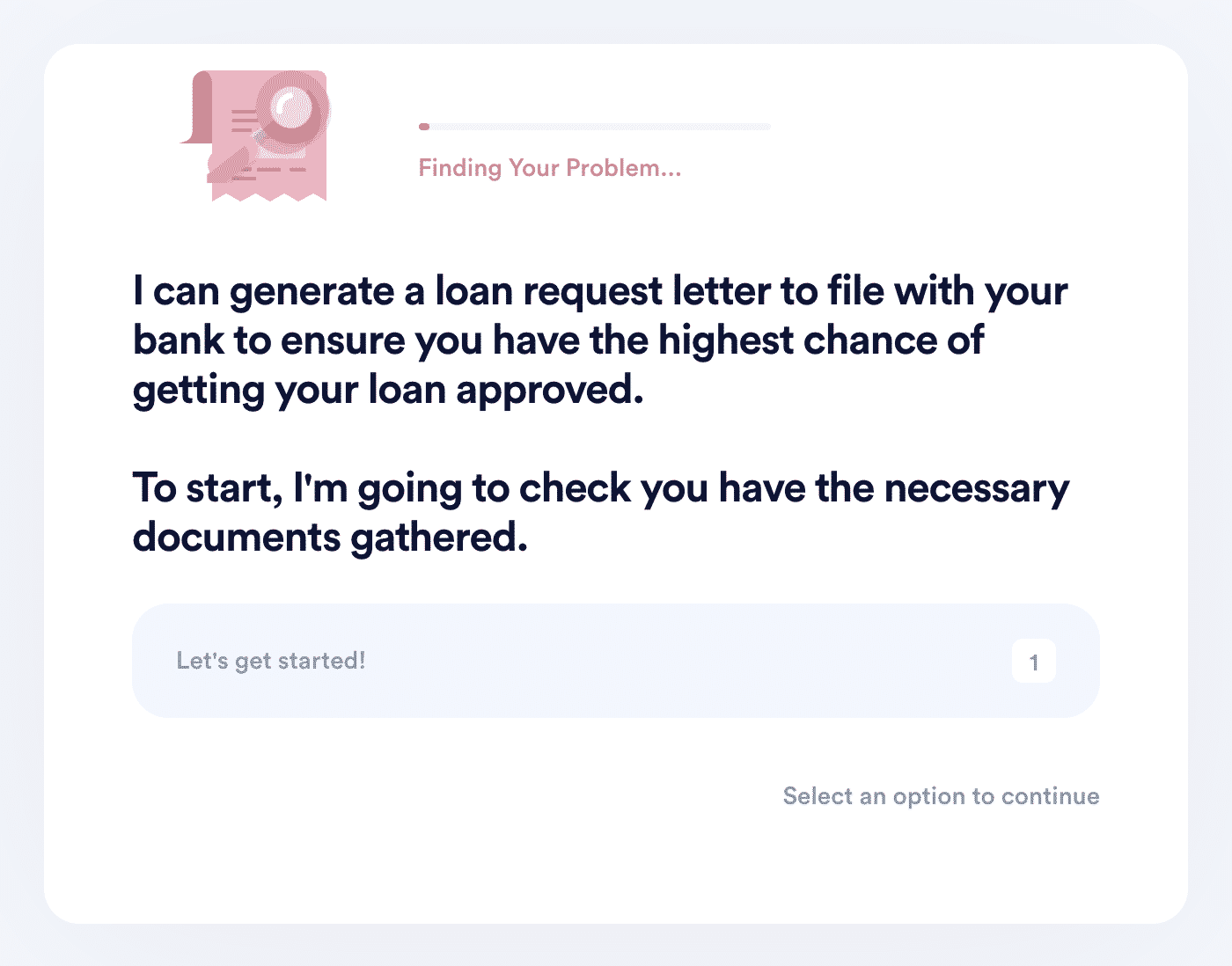 To use our product, you only need to register on our platform and follow these steps:
Choose the Business Loan Request Letter feature
Collect all your personal and business credit scores
Provide business financial statements, such as:

Balance
Cash flow
Profit and loss

Tell us about your company and the loan's purpose
Add all the necessary documents
After you complete these steps, DoNotPay will use the information to make the best loan request and help you get it approved! Not sure where to start looking for a loan provider? Use our integrated Find Online Business Loan Lender product to get a list of the most suitable lenders for you and your business.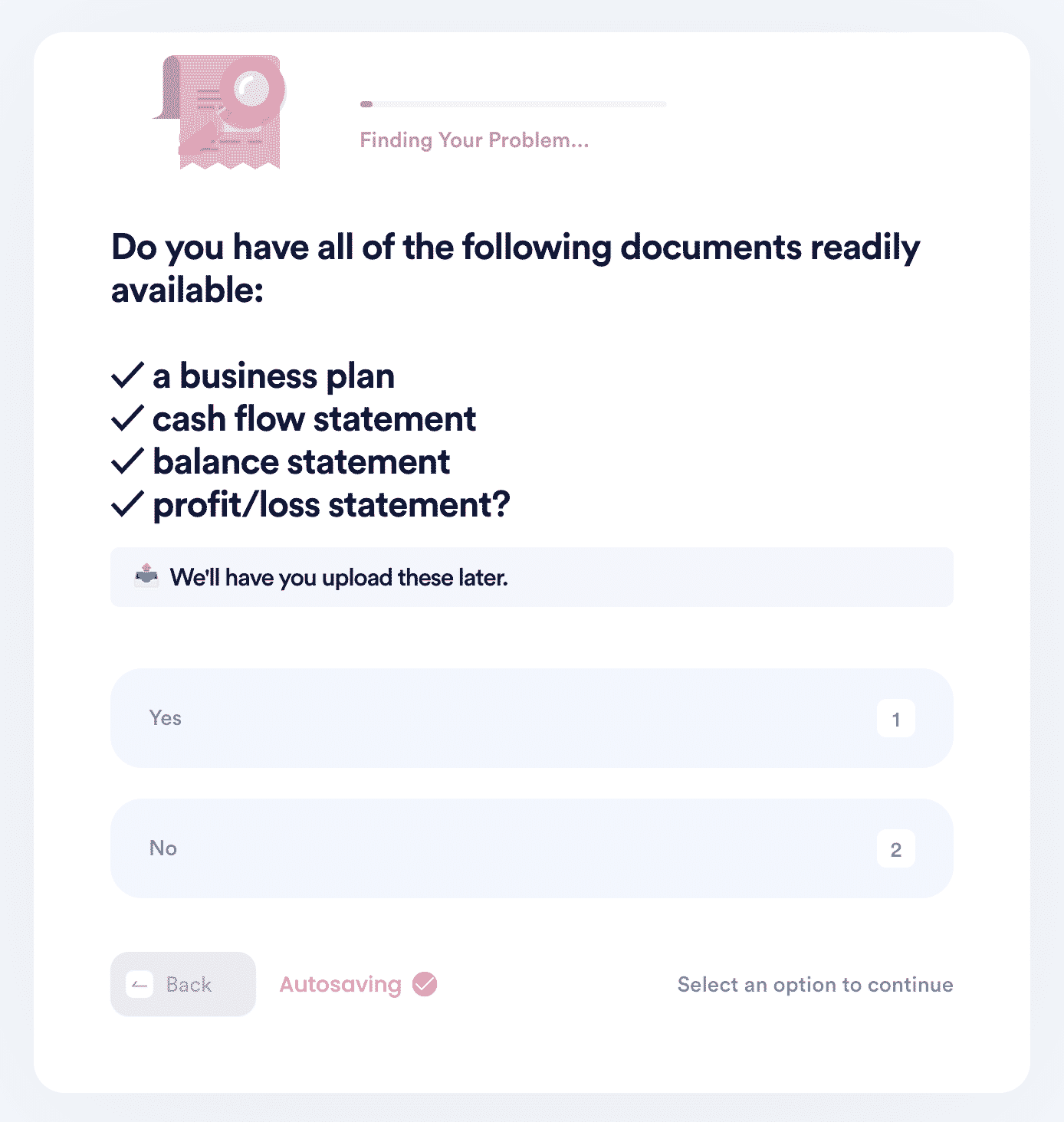 DoNotPay Offers More Help for Your Business
Running a small business is no small feat. When you're drowning in red tape, DoNotPay is here to lend a helping hand. Whether you need to register your trademark or protect it later on, we have got it covered. With our help, you will keep your logo, slogan, and business name safe.
Are you also yet to register for an Employer Identification Number (EIN)? Not to worry—our app can file the IRS SS-4 form in a few clicks. With the world's first robot lawyer at your fingertips, you will also be able to create your 83(b) election forms with ease—ready for your employees to sign them right away.
In case you are struggling financially, we can assist you with a business loan application.
Communication Has Never Been Easier With Our App
Keeping up with clients can be challenging, especially if each has a preferred method of communication. Luckily, our multifunctional app makes it easy to both fax and mail contracts, letters, and documents.
You can also count on our assistance when you need to:
Fight fake negative reviews online
Deal with a client regarding a breach of contract
Dispute fraudulent chargebacks
Thanks to DoNotPay, there is no need for back-and-forth communication. We will handle the necessary demand letters and forward them on your behalf.
We can also help you manage your DMCA agent registration and Privacy Shield program self-certification.