How to Get Small Business Loans Online
Did you know that you can apply for small business loans online? They might be a better solution for you, considering that traditional loans can take ages to get approved.
This article will show you what the most popular online loans are, explain how they work, and give you an overview of their requirements.
What Are Online Small Business Loans?
Unlike other loan types offered by banks or the Small Business Administration (SBA), online loans are easier to get and have a straightforward application process. Another benefit is that their terms are more flexible, and they do not require as much paperwork for the registration. You will usually be required to submit:
ID
Business tax ID
Your social security number
Connection to your business bank account
Financial statements
A major benefit of online small business loans is that they are processed quickly, and you can also expect your application to be reviewed fast.
What Are the Best Online Small Business Loans?
Here are some of the most popular small business loans that you can get online:
PayPal Small Business Loan
Headway Capital Loan
Kabbage Loan
PayPal Small Business Loan
PayPal has a business plan that lets you fill your budget with anywhere from $5,000 to $500,000. You will have 13 to 52 weeks to repay the amount of money you get (which depends on your credit score and your business's financial strength).
To get a small business loan from PayPal, you are required to have a minimum of $42,000 in annual revenue. You must also meet other requirements:
| Requirement | Explanation |
| --- | --- |
| PayPal Business account | You need to create a PayPal Business account by visiting the company's official website |
| Strong credit score | Your personal credit score needs to be at least 550 |
| Well-established business | Your business must be running for at least nine months |
You must sign a personal guarantee, and you must not have any personal bankruptcies. The signed guarantee will act as collateral if you fail with the repayment.
To check whether you meet PayPal's loan qualifications, you can complete a questionnaire on the company's website.
Headway Capital Loan
Headway Capital loans enable business owners to cover the costs of their startups (e.g., new equipment, utilities, and similar expenses) with a flexible and easy-to-get loan. You can borrow up to $100,000, which you can repay in 12, 18, or 24 months. The company offers clear payment terms, the interest does not compound, and you will not be penalized for early payoff.
To be eligible for this loan, you must have been in business for a minimum of one year with a revenue of at least $50,000. You will also have to check the company's Rates & Terms page to see whether the organization serves in your state.
Kabbage Loan
Kabbage allows you to borrow anywhere from $500 to $150,000, which you can repay in six or 12 months. To be eligible for a Kabagge loan, you must have:
An American Express card that you have used for at least two months
Been in business for at least a year
A valid business checking account
The loans are funded by the American Express National Bank. If you meet the criteria, you will be approved in a couple of days.
How To Find an Online Small Business Loan With DoNotPay
If you cannot find an online lender and Google is giving you dozens of unsatisfactory results, use DoNotPay! With our Find an Online Loan Lender tool, you can find the best loan provider for your small business's needs. Our application is not only effective but also simple to use as you only have to:
Answer our chatbot's questions
Specify your business industry and type
We will compare online lenders and send you a list of the top three lenders, along with possible loan amounts, rates, and speed of approval.
How To Apply for Small Business Loans Online
Besides gathering the required documentation when applying for a small business loan, you will also have to prepare a loan request letter. This is one of the most critical documents you need to file as the lender will review it to make sure you meet their qualifications.
The loan request letter has to be written with care and contain zero errors if you want your application to be approved. If you don't know how to write one, subscribe to DoNotPay and let our AI-powered app generate this crucial document for you in no time.
DoNotPay Helps You Get a Top-Notch Loan Request Letter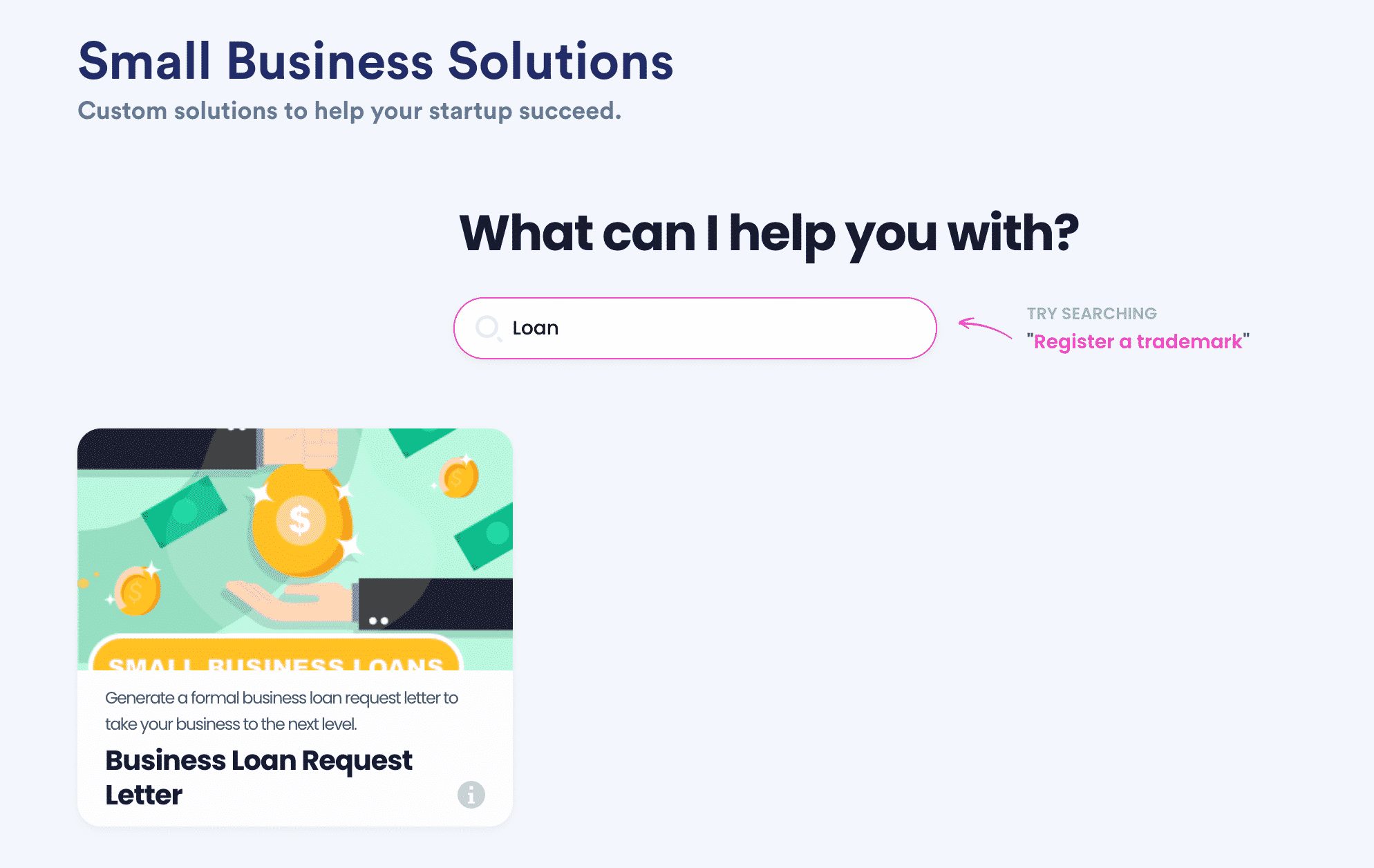 Do you want to make sure that your application for a small business loan gets approved? Use DoNotPay and get a sublime loan request letter. We will use the details you provide to generate a tailor-made document for you. All you have to do is:
Find our Business Loan Request Letter tool
Collect your personal and business credit scores
Tell us how much you want to borrow, provide details about your company, etc.
Upload the required paperwork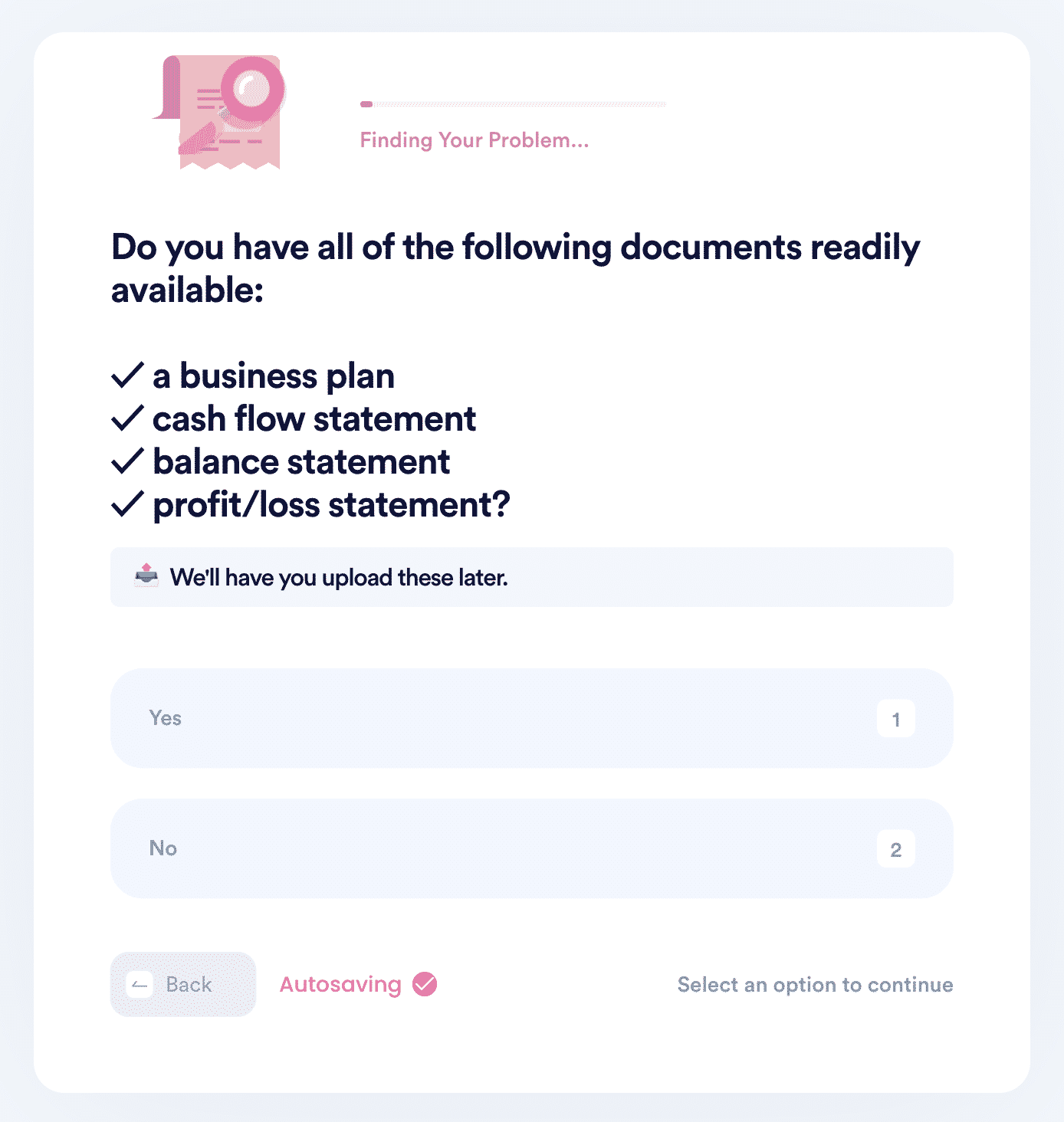 Resolve Various Business Problems With the Help of DoNotPay
Handling annoying administrative issues is the last thing you want to worry about while trying to build a business empire. The good news is that you do not have to! DoNotPay has developed many nifty products that make various pesky tasks easy to complete.
Some of the small-business-related matters we can help you with are:
Taking out business loans
Obtaining an Employer Identification Number (EIN)
Automating the filing of 83(b) election forms
Requesting your money from customers who won't pay
Registering a DMCA agent
DoNotPay can also make communication with your clients or business partners easier as we enable you to fax and mail your letters, forms, and other important documents without leaving your office.
Maintain a Good Business Reputation
It is no secret that building a trusting relationship with clients takes time and effort, so why have all that hard work ruined by negative online reviews that are fake? DoNotPay is here to help you remove illegitimate, fake reviews in a matter of clicks!
Want to dispute unfair chargeback requests but are not sure how to go about it? By using our Fight Chargebacks feature, you can have DoNotPay create a customized chargeback rebuttal document in a few minutes.
With our app, you can also protect your trademark from people trying to use it, file the self-certification request with the Privacy Shield program, and handle many other aspects of your business hassle-free!