The Particulars of Small Business Loans in NJ
Is your small business at the stage where you need to spend money to make money? Then you should consider small business loans in NJ.
Making that next big purchase or covering your expenses during a dry spell is challenging when your assets are not liquid. Oftentimes, a small infusion of financing can catapult a business to its next stage of development.
Various government programs and commercial banks offer different types of lending services, which can help you stay afloat or expand. The process of getting a loan is usually demanding and lengthy, so if you want to expedite the procedure, turn to DoNotPay for help.
All About NJ Small Business Loans
Despite its relatively small size, New Jersey is home to 767,233 small businesses, all of which require financial resources to operate and grow.
In addition to publishing annual ranked lender lists, the US Small Business Administration (SBA) New Jersey District Office also facilitates the process of finding the right partner for financial assistance. The SBA provides a single online location through which you can peruse the available programs and offers that may fit your business' needs.
The SBA has approved up to $822,000,000 in startup business loans in New Jersey in recent years.
Small Business Loans 101
Are you curious about how small business loans work? If you are going to enter into an agreement with a lender, you should know why it is worth their while.
The primary value of a loan is the interest that the lender earns. At its most simple, a business loan works like this:
A bank or financial institution lends you a large sum of money or extends a line of credit
You pay back that money or the debt on the line of credit in an agreed-upon timeframe
You pay additional money back according to the interest rate
An interest rate is generally a percentage of the owed amount added on top of the principal sum. The lower the rate and the longer the repayment window, the better the deal is for the borrower. These are the terms you must consider when evaluating which business loan is best for your organization.
There are two primary types of small business lending options:
Term loan—Intended to make capital purchases of high-value items, tools, and equipment
Line of credit—Helps you cover ongoing operating expenses
Do You Need a Small Business Loan?
Do not let the stigma associated with a lack of money keep you from applying for funding that could help your business. Loans and lines of credit are efficient business tools.
If you are not sure whether you need a loan, you should evaluate your small business budget. Consider the range of startup costs you face:
Property rentals
Maintenance fees
Bulk purchase of materials for products
Employee salaries
Taxes and governmental fees
You may need to consider a small business loan if you do not have the revenue to cover the above expenses.
How To Secure New Jersey Small Business Loans
The fact is that there is plenty of capital available for you to access, but to do so, you must meet specific requirements. Commercial banks and private investors will demand extensive documentation to determine your eligibility:
Your business plan
Your personal and business-wide credit scores
A record of your recent fiscal years' revenue
An inventory of your assets and other collateral
Without the right qualifications, you may not present a financially viable venture for the lender in question. If your business is not profitable enough, you will have to offer collateral property for seizure in case you cannot pay back your debt. Eligible assets may include:
Real estate
Computers and IT hardware
Specialized equipment
Vehicles
Product inventory
How To Apply for a Small Business Loan
To get a small business loan, you must first find a suitable lender. The SBA New Jersey District Office only offers online applications, but you can use also DoNotPay to find the best option:
| Lender Search Method | Yes/No |
| --- | --- |
| Online | Yes |
| DoNotPay | Yes |
| In person | No |
| Phone | No |
| Live chat | No |
| Hard copy catalog | No |
Using the SBA Lender Match tool, you can find an NJ-based organization with favorable loan options. Once you have chosen a lender, you can then attempt to secure funding following their specific process. They will require detailed information about your business, its profitability, and financial standing.
DoNotPay Will Help You Find a New Jersey Lender and Apply for a Loan Stress-Free
Instead of going through the separate processes of finding a lender and applying for the loan, you can let DoNotPay do it all for you.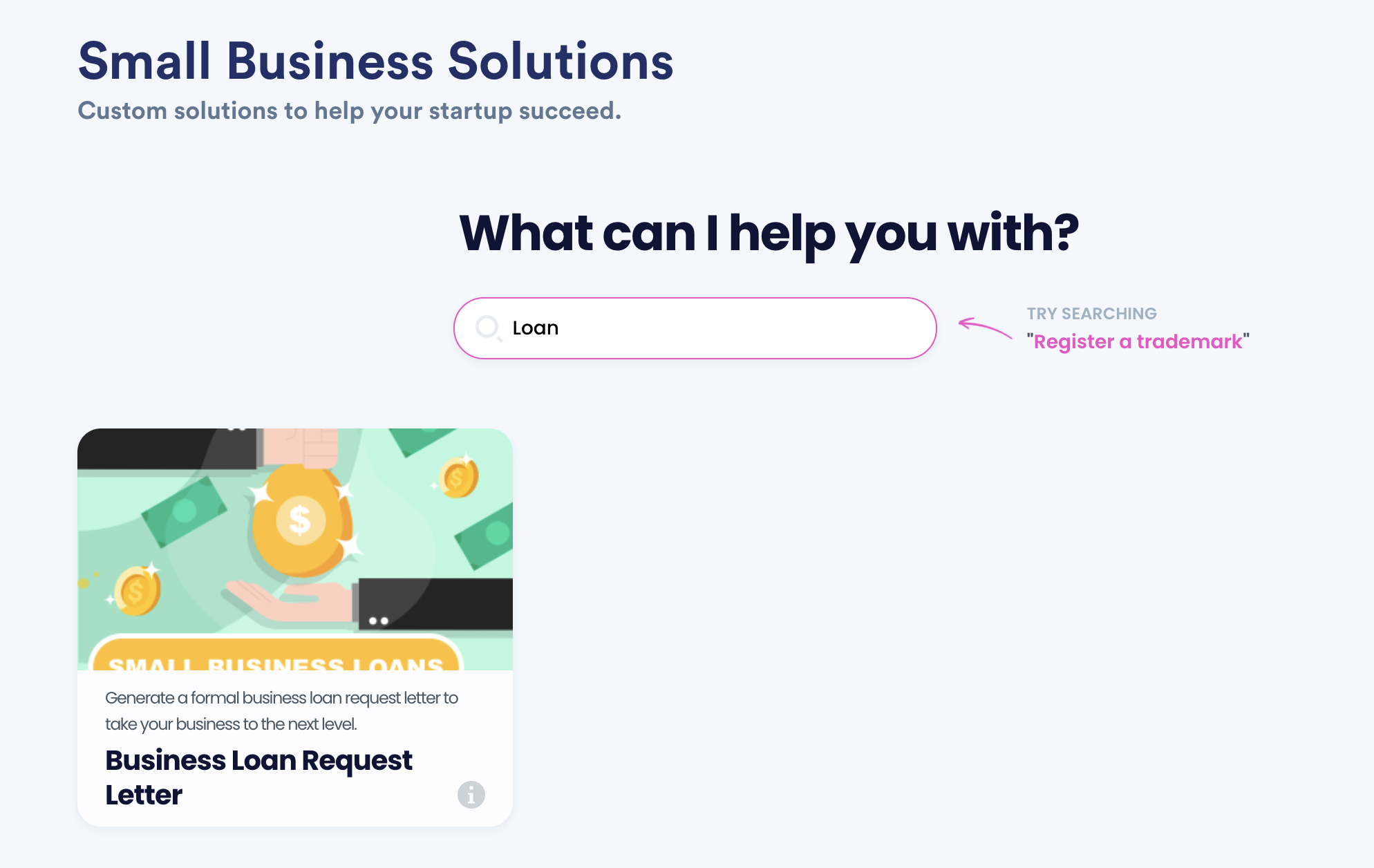 We offer an easy-to-use tool to assist with getting a small business loan. The Find Online Business Loan Lender feature will streamline your search, and our Business Loan Request Letter generator will automate the application process.
Here is how it works:
Select the Business Loan Request Letter tool
Input the necessary information about your business
Find your lender
Upload the documents (should you need additional papers, we will let you know)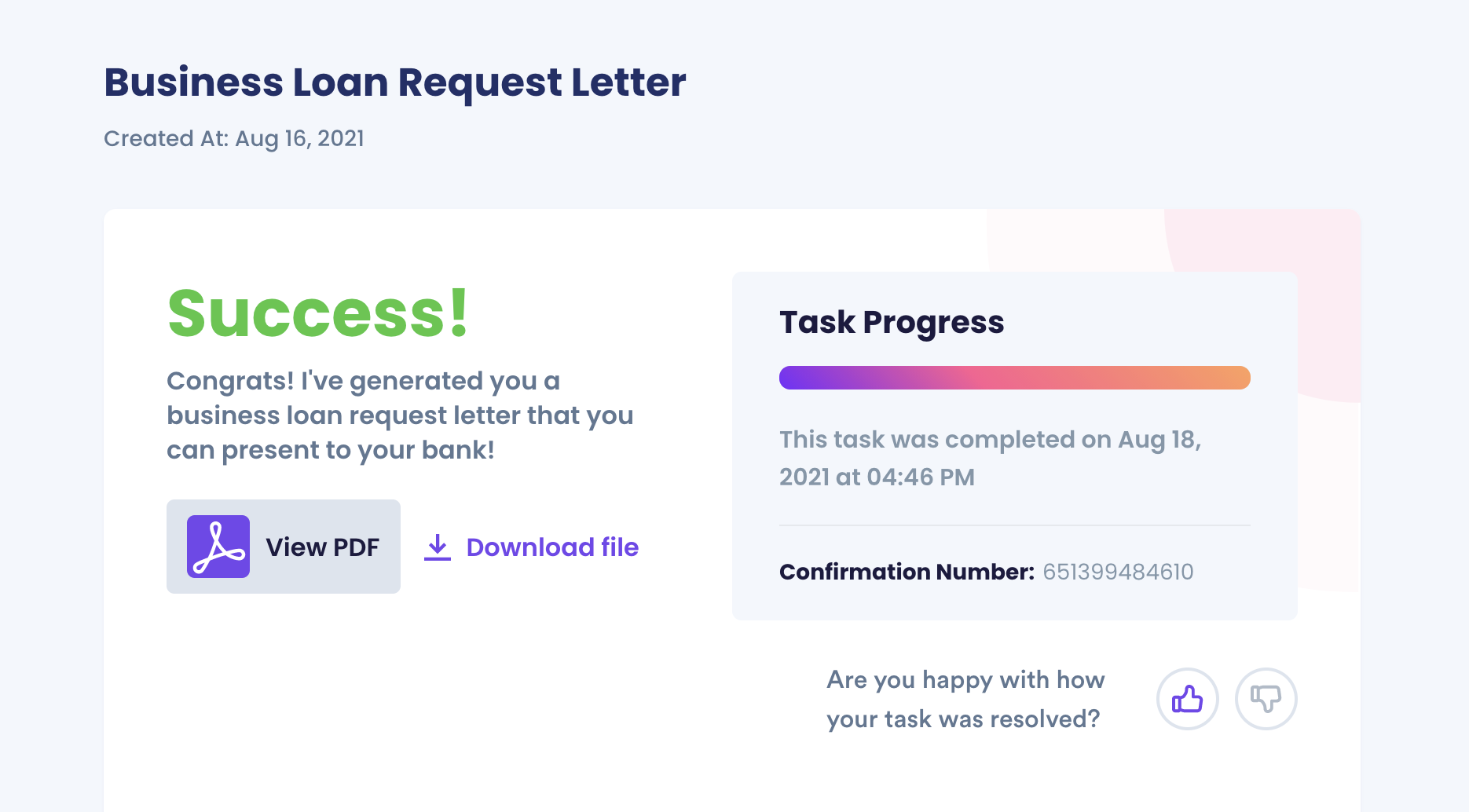 Let DoNotPay Help You With Boring Administrative Tasks While You Focus on Becoming a Business Mogul!
DoNotPay can assist you in dealing with a number of business-related tasks. We have developed a plethora of simple-to-use products that make running a business much easier and less stressful.
Do you need help registering your business name as a trademark? We have got you covered! Not sure how to write a convincing letter to request a small business loan? DoNotPay helps with that, too!
Use our app to get a perfectly generated chargeback rebuttal document, formally request payment from clients who breach the contract, and find out how your employees can file 83(b) election forms in a matter of clicks!
Check Out Our Other Nifty Products!
That is not all DoNotPay has to offer. Our awesome tools will make tedious administrative tasks easier to manage so you can concentrate on your business instead of wasting time waiting in lines and filling out forms. Rely on DoNotPay to:
Take care of DMCA agent registration and Privacy Shield program self-certification
Make sure no one else is using your trademark
Get rid of fake online reviews that harm your business reputation
Manage Employer Number Identification (EIN) registration
Enjoy the convenience of faxing and mailing from the comfort of your home or office