Everything You Need To Know About Small Business Loans in New York
Does your business need some funds to keep afloat? Consider taking out a small business loan. Whether you need money to pay for rent or utilities or funding to invest in the latest equipment, a small business loan can help sort out all your financial needs. But how do they work, and can you qualify? We can give you all the guidance you need.
This article will explain everything you need to know about the best small business loans in New York. If you want to accelerate the loan application process, and get a customized loan request letter in minutes.
Popular Types of New York State Small Business Loans
New York is one of the busiest business locations in the United States. Small businesses, especially startups, are rapidly growing, boosting the economy even further. To help these companies thrive, the government and other financial institutions offer small business loans.
Although small businesses are defined as ones with fewer than 500 employees, New York state defines small businesses as those with 100 or fewer employees. There are several types of small business loans that entrepreneurs can apply for, including:
Type of Small Business Loan
Details
Economic injury disaster loans
Catered to help small businesses that have suffered economically due to the pandemic
Term loans
Ideal as a long-term loans for businesses with a strong credit score
SBA loans
Suitable for financing long-term investments with favorable terms of repayment, and they have several programs, such as:

SBA 7(a)
SBA 504
SBA Express Loan

Business lines of credit
Ideal if you do not need a lump sum and need to borrow a small amount that you can repay with interest
Microloans
Suitable for short-term or urgent finances, such as rent, utilities, or payroll
Equipment loans
Used to purchase, repair, or upgrade machinery and equipment necessary for business operations
Where To Find a Small Business Loan in NYC
Some of the popular sources for the best institutions to take out a small business loan in New York City are:
NYC Capital Access Loan Guaranty Program—The program is run by NYC Economic Development Corporation and offers up to $250,000
TD Bank—Famous for providing Small Business Administration (SBA) loans, TD Bank is one of the most popular sources for funding small businesses. You need to have a credit score of 680 and have at least $180,000 in annual revenue to take out an SBA loan
WE Fund Credit—You can qualify for a loan at WE Fund Credit if you identify as female, have been in business for at least a year, and have earned $50,000 in annual revenue
The Brooklyn Fund—This caters to Brooklyn-based companies owned by U.S. citizens or permanent residents. The loan amount can be between $25,000 and $350,000 with an

interest rate

of six to eight percent. You can fill out and submit your loan application at the Brooklyn Chamber of Commerce's Business Solution Center
Excelsior Growth Fund—This fund lends money to small businesses in New York, New Jersey, and Pennsylvania. They are famous for the EGF Smartloan, which has a limit of $100,000 and can be accessed within a week of applying
Business Center for New Americans (BCNA)—If you want a microloan, you can submit a loan application at BCNA for an amount ranging from $500 to $50,000. This opportunity is open to all businesses run by immigrants, refugees, women, and minorities in Manhattan, Brooklyn, and the Bronx
How To Qualify for a New York Small Business Loan
You must meet specific requirements to apply for a loan in New York. Traditional lenders, such as banks, will require extensive documentation, such as:
Business plan
Credit scores
Financial statements—income statement, balance sheet, and cash flow statements—to show costs and budget
Business and income tax returns
Articles of incorporation
Business licenses
Commercial lease(s)
Documents of ownership and affiliations
In some cases, especially where larger amounts are involved, you might have to present collateral that the lender can confiscate if you do not repay the loan. It can include tangible assets, such as:
Machinery
Equipment
Real estate
Vehicles
Inventory
DoNotPay Can Help You Get a Small Business Loan in New York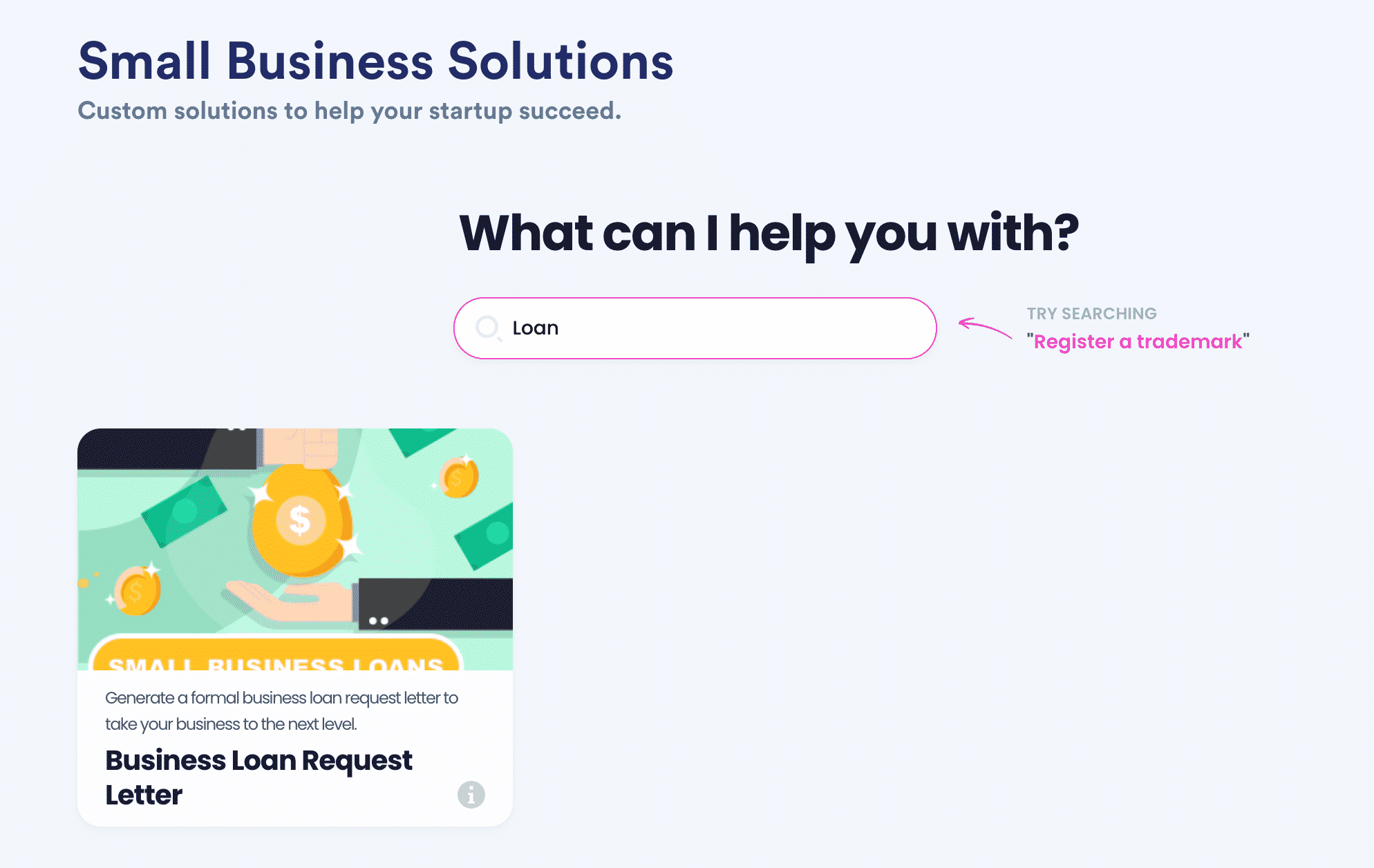 Since the loan application process can be tedious and time-consuming, we have created two products to help you:
Find Online Business Loan Lender—Find the top lender suggestions based on your requirements
Business Loan Request Letter—Prepare a professional request letter and maximize your chances of loan approval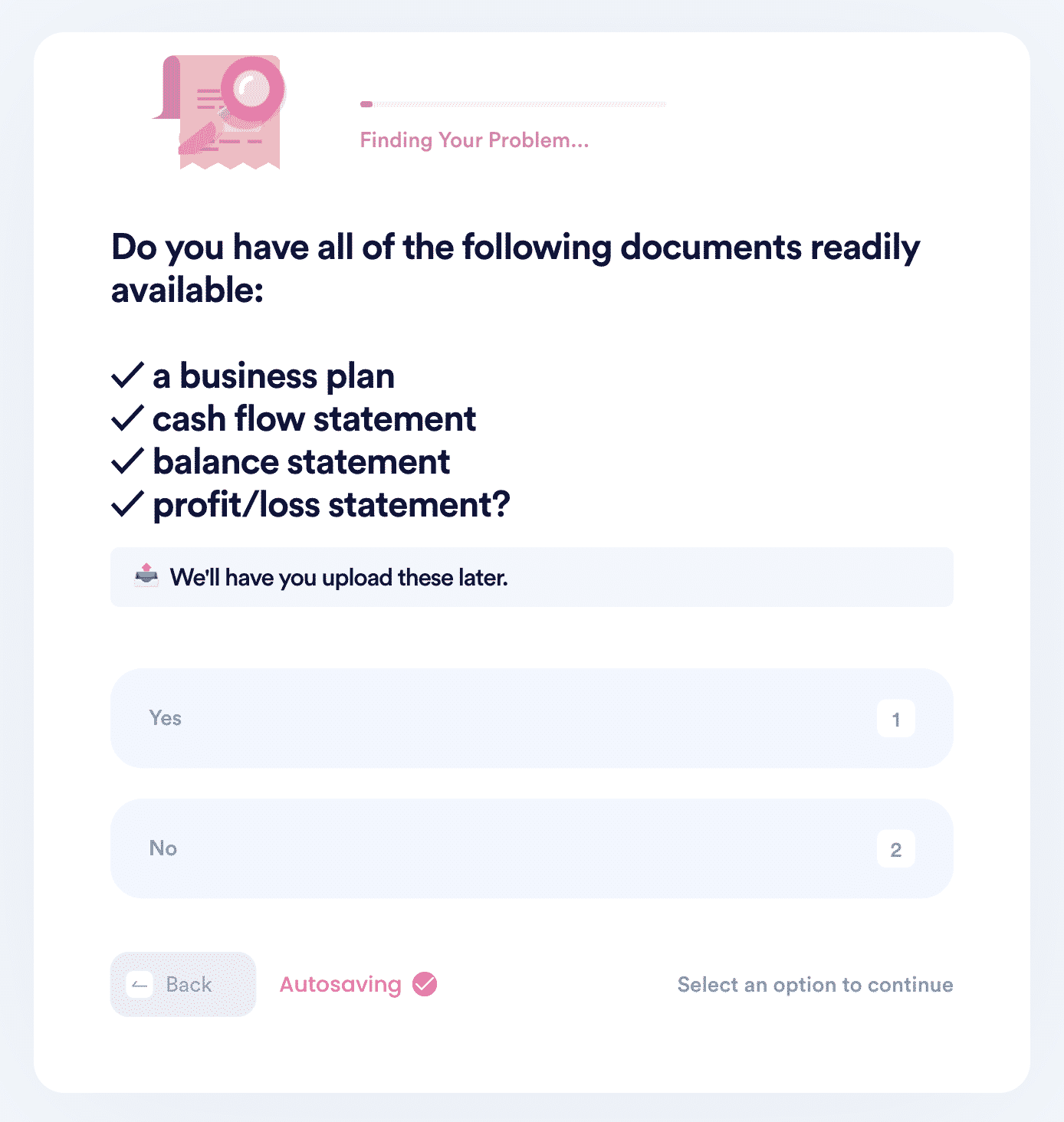 Follow these instructions to prepare a loan request letter:
Navigate to the Business Loan Request Letter tool
Answer a few questions from our chatbot
Upload the required financial paperwork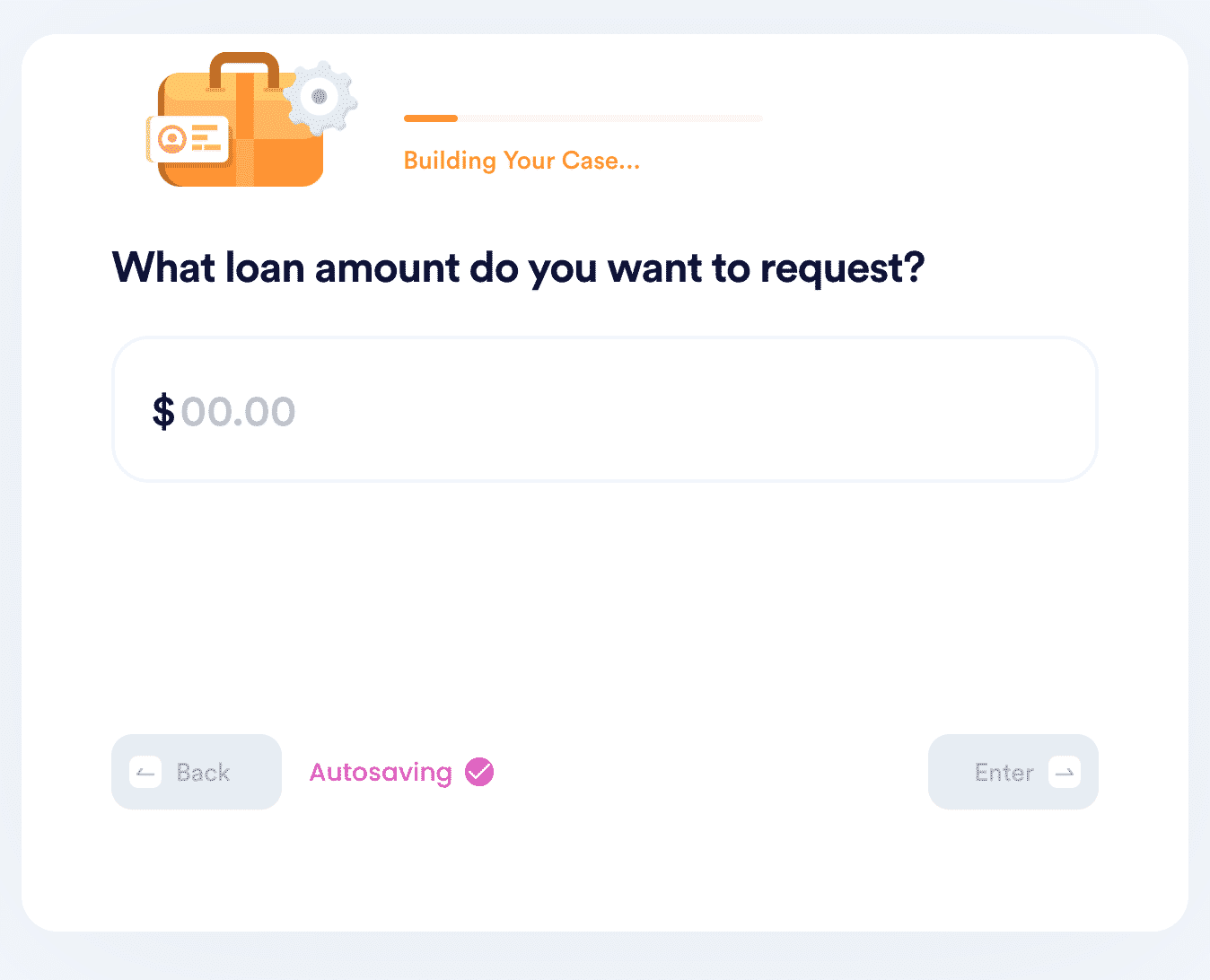 DoNotPay Helps You Do Everything by the Book!
Are you confused by the numerous business-related laws and procedures? If you cannot seem to get the hang of all of the processes, you should rely on DoNotPay. Allow your robot lawyer to help you take care of Employer Identification Number (EIN) and DMCA agent registration in a matter of minutes!
Once you handle those tasks, you should consider using DoNotPay to register your business slogan, name, or logo as a trademark and protect your brand by allowing us to check for trademark violations regularly.
Not sure how to handle 83(b) election forms? Automate the entire process and have your employees fill out and submit the forms in a few clicks! We can even help you protect the privacy of your clients by filing a self-certification request with the Privacy Shield program on your behalf so your website complies with data protection requirements.
Running a Business Is Smooth Sailing With DoNotPay
DoNotPay has a solution for any business issue. We can help you:
Draw up a professional and convincing small business loan request letter and get the necessary funds for your business
Report unjustified negative reviews that could damage your brand until they are taken down
Request payment from clients who break the contract
Dispute chargeback requests when they are unfair
Send letters or paperwork without going to the post office