Applying for Small Business Loans in MN Doesn't Have To Be Difficult—DoNotPay Can Help
SBA reports that Minnesota has more than 500,000 small businesses, making up 99.5% of all businesses in the state—which means the competition for loans is stiff. The North Star State is a fertile ground for small businesses, and there are several loan types available, but not all of them will meet your small business budgetary needs.
Since lenders can only approve so many small business loans in MN, you have to be sure that you are choosing the right lender from the onset. We will present the best Minnesota small business loans, explain how they work, and show you how to get them. Our AI-powered solution can also help you in a few minutes.
How Lenders Assess Your Application for Small Business Loans in MN
Minnesota has an assortment of small business loans available from national and local banks, nonprofits, and government institutions. Lenders look at several factors to determine if your business qualifies for a loan:
Your business's age
Purpose and amount of the loan
Your creditworthiness—business sales revenue, credit score, tax returns, bank statements, etc.
Your assets/collateral
The impact of your business on the local economy
What Are the Most Popular Types of Loans in Minnesota?
Financial institutions and agencies offer many types of loans, from a business line of credit and term loans to invoice financing, equipment financing, and SBA loans. Each one of these loan types can be useful to you under the right circumstances.
The table below summarizes the most popular Minnesota loans and the ideal businesses for each:
| Loan Types | Suitability |
| --- | --- |
| Term loans | Best for businesses with solid creditworthiness looking to expand and that don't want to wait too long for funding |
| Equipment loans | Businesses that need to buy and own heavy equipment or machinery that they can use to build equity |
| Real estate loans | Businesses that want to renovate, buy, or build new facilities |
| Microloans | Enterprises and startups that do not need a lot of money or that operate in disadvantaged communities |
| SBA loans | Businesses with strong credit that do not need funds urgently or businesses that want to refinance or expand existing debt |
| Business lines of credit | Small businesses that need a periodic financial injection and do not want to be tied down by a traditional term loan |
| Working capital loan | Borrowers that want funds to meet daily business budgets and provide cash flow to cover business expenses |
The Best Small Business Lenders in Minnesota
Some Minnesota business owners prefer national lenders because they can finance a larger number of loans, which could mean a higher chance of approval. Others prefer local lenders because they understand Minnesota's business landscape better and may adopt a more personalized approach to approving loans.
This list includes the best small business lenders of both kinds:
U.S. Bank

Minnesota Business Finance Corporation
Members Cooperative Credit Union
U.S. Bank
Financing loans is just one of the many financial solutions this national bank brings to Minnesota's small businesses. In 2021, the bank financed loans for 308 small businesses totaling over $33 million. U.S. Bank provides several loan types:
Equipment loans
SBA loans
Business term loans
Real estate loans
Business credit cards
Wells Fargo
This bank offers a range of loan solutions with attractive terms, rates, and amounts for small businesses. Across all Wells Fargo's business loan options, customers can obtain amounts from $5,000 to $1 million and sometimes more. They also offer both SBA 504 and 7(a) loans as well as other financing products, including
Business credit cards
Lines and letters of credit
Commercial real estate financing
Minnesota Business Finance Corporation (MBFC)
The MBFC is a nonprofit organization with SBA licensing. They have been working with lenders for more than 30 years to bring SBA 504 loans to small businesses in Minnesota that need it. The MBFC focuses solely on SBA 504 loans where they provide 40% of the loan amount, a lender fronts 50%, and the borrower makes a down payment of 10%.
Members Cooperative Credit Union (MCCU)
This financial institution provides equipment financing, term loans, SBA loans, lines of credit, and real estate loans. They are also one of the relatively few credit unions that offer a wide range of business banking solutions so business owners can consolidate their banking needs in one place.
What Documents Do I Need for a Small Business Loan Application?
Applications for different types of loans will require slightly different paperwork, but a missing or wrong document can make a lender deny your application. There are a few cornerstone documents that you will need for any loan application:
Business and personal income tax returns
Articles of incorporation
Business license or certificate
Balance sheets, profit and loss statements, and cash flow statements—to show your business's costs, expenses, and operational budget
Business plan
Ownership and affiliation documents
Commercial leases
DoNotPay's AI Solution Can Make Your Loan Application a Breeze!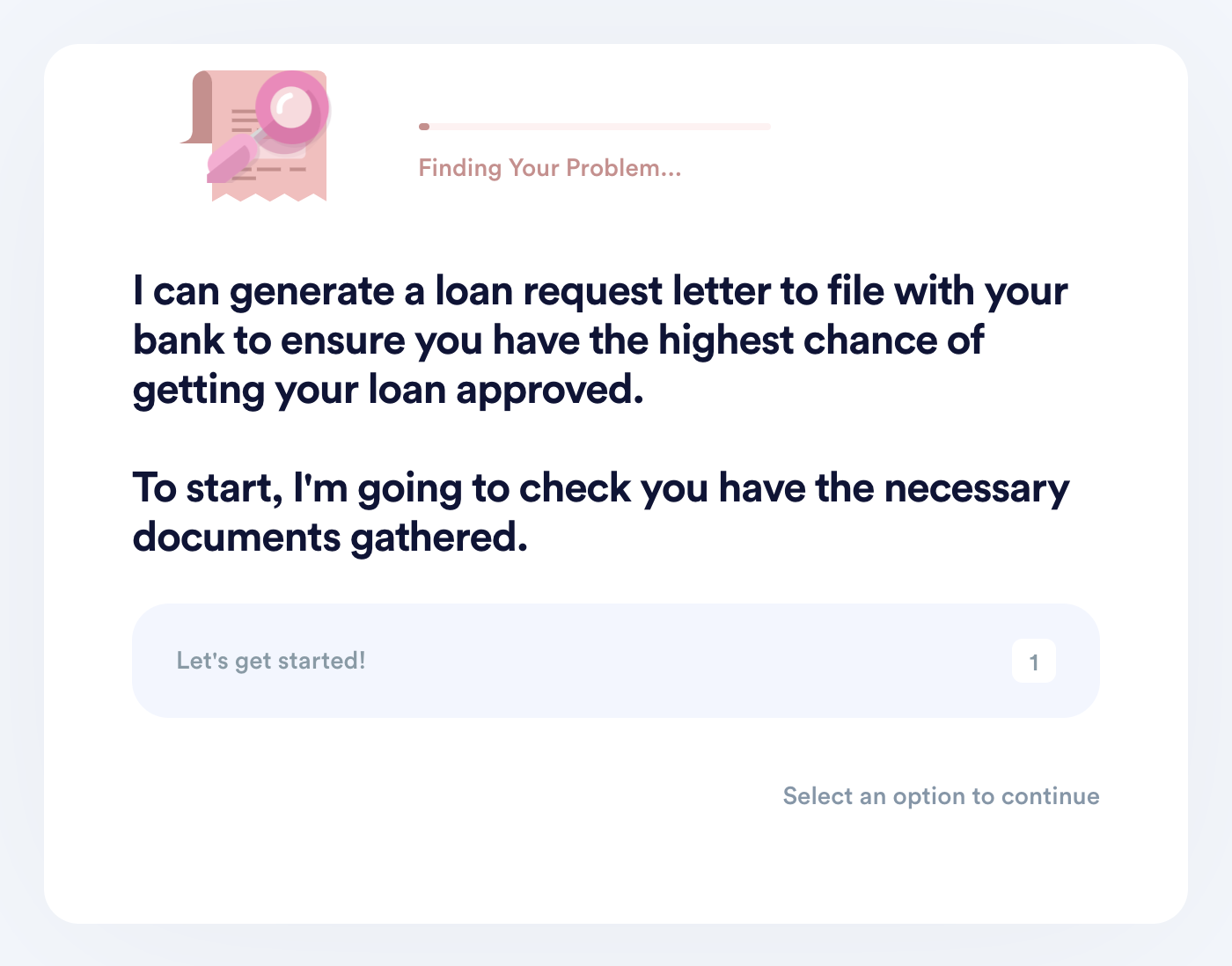 DoNotPay's Business Loan Request Letter product can serve as a checklist for your loan application process. It can also draft a watertight loan request for you and send it to the lender. You can complete your loan request in minutes with these steps:
Check that you have your personal and business credit scores and required business financial statements
Select the Business Loan Request Letter product
Provide the requested details about your company and the loan
Upload the documents
DoNotPay will use the information you've provided to create your loan request letter.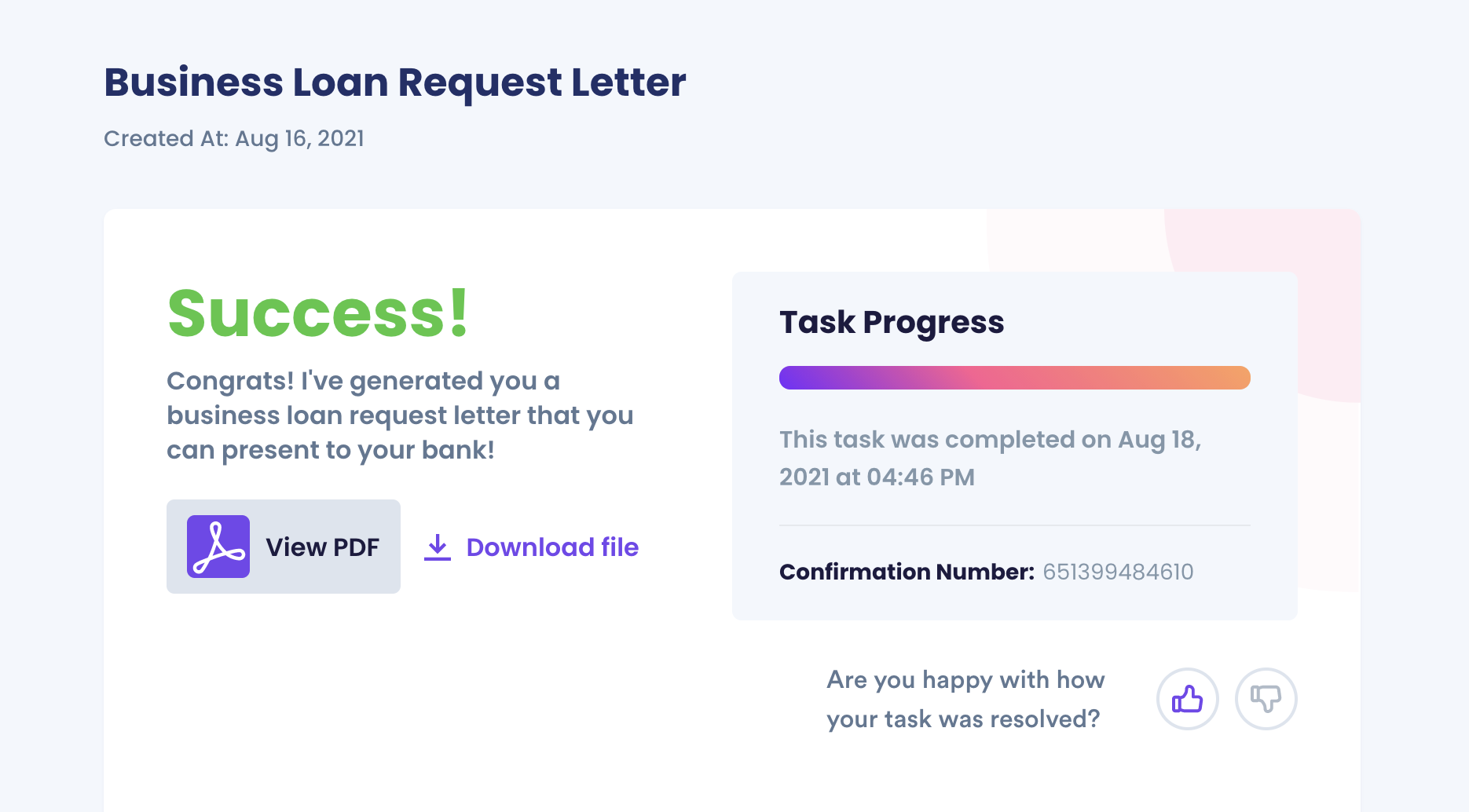 Not all lenders are compatible with your loan needs. If you are having trouble finding the right lender, you can use our Find Online Business Loan Lender product to find the right match for you.
Small Business, Big Issues—Resolve Yours With DoNotPay
DoNotPay is here to offer a helping hand in your business endeavors. We can help you handle various procedures as effortlessly as possible. Want to make sure you get a small business loan for real estate purchases, job creation, debt repayment, and similar? DoNotPay is here to assist you in writing a convincing request letter! Want to make sure your employees and shareholders save money on taxes by filing 83(b) election forms? We can help with that too!
The world's first robot lawyer has a myriad of nifty features at your disposal. Use your precious time to work on your brand while we take care of most business-related issues for you. Our app can help you:
Fight unfair chargebacks
Deal with illegitimate online reviews
Send formal demand letters to clients who won't cover the cost of your services
File the self-certification request with the Privacy Shield program in a matter of clicks
Send documents to your customers or business associates from the comfort of your office with our faxing and mailing tools
DoNotPay Helps You Deal With Various Registration Processes!
One of the first tasks you should complete as a business owner is to obtain an Employer Identification Number (EIN). Applying for it is usually a tedious process unless you use DoNotPay! We can file your application on your behalf and notify you accordingly.
Does your business have a website that allows users to share or store content? An important aspect you should take care of is registering a DMCA agent, and DoNotPay is here to make the process easier!
If you wish to register your business name, slogan, or logo as a trademark but you're not sure how the process goes, rely on DoNotPay and finish your registration in no time! We can also help you protect your trademark by monitoring it every month and filing a cease and desist demand if anyone tries to steal it.