What Are the Best Small Business Loans in Michigan?
Whether you need to cover your startup costs or company's day-to-day expenses, getting a small business loan might go a long way. Depending on your business's needs, a small loan can help you purchase equipment, pay utilities, or acquire real estate.
We will explain how small business loans in Michigan work and show you what some of your best options are. You can also learn how to generate a perfect loan request letter, which will ensure you get approved by any bank or online lender!
What Is a Small Business Loan?
A small business loan is a type of financing provided to business owners and companies for different purposes. If you get a small business loan, you will receive funding to cover your business's expenses, while:
Ensuring that your business keeps growing—By having capital, you will be able to expand your company, hire additional staff, and more
Diminishing seasonal cash flow gaps—If you get a small business loan, you will handle your off-season easier and ensure you have a constant cash flow
Having more opportunities—Having a bigger budget will enable you to catch an unexpected discount or land a similar deal
Michigan Small Business Loans
In Michigan, you can apply for several business loan programs, including:
Michigan Small Business Grants
Michigan Small Business Association (MSBA)
Small Business Administration (SBA) 7(a) Loan
SBA Express Loan
Express Loan
Small Business Line of Credit
Small Business Term Loans
Michigan Small Business Grants
This program was established to help businesses recover from the impact of the COVID-19 pandemic. The MSBA gives grants to companies affected by the pandemic, but if you cannot secure a grant, there is a chance that you can get a loan.
Michigan Small Business Association (MSBA)
The MSBA offers loan programs to cater to various small business owners' needs. The organization's goal is to bring owners together, share knowledge, and create collaboration and partnerships. To qualify for the MSBA loan, you will need a solid credit score and an already running business.
SBA 7(a) Loan
The 7(a) loans are backed by the SBA and can have multiple purposes. You can use the borrowed money on:
Improving working capital
Refinancing business debt
Constructing new buildings
The amount of money you can borrow cannot exceed $5 million, and you need to repay it in monthly payments with interest. The rates are around 2% and depend on the amount you borrow.
SBA Express Loan
The SBA Express loan is a type of loan backed by the government, and you can take it out to cover various business expenses, such as inventory, equipment, utilities, etc. The loan has a variable rate that can be fixed, and the SBA sets the maximum rates.
Express Loan
Michigan Business Express Loan can get you up to $150,000 for the purchase of vehicles or equipment. You need to pay 20% of the loan upfront (the $450 fee will be included in the loan).
If you want to borrow money through this program, you must have the Automated Clearing House (ACH) and eStaments (monthly statements that can be viewed online) set up.
Small Business Line of Credit
This is a flexible loan that gives you access to a fixed amount of capital, from which you can draw money as needed. It is perfect for financing short-term assets or paying for receivables.
Small Business Term Loans
Term loans are one-time capital loans that have a fixed monthly rate and can be used for various purchases (e.g., vehicles, equipment, etc.). The interest is either variable or fixed, and the average term is five years.
How To Get a Michigan Small Business Loan
To get a small business loan in Michigan, you must:
Have a business plan prepared
Prove that you can afford the payment
Choose collateral if needed
Prepare some of the following documentation:

A color copy of your driver's license and ID
Business application acknowledgment and agreement
Personal financial statement
Business tax returns
Business debt schedule
Proposed project cost (if applicable)
Small business loan request letter
Once you have everything ready, you can visit the U.S. Small Business Administration headquarters in Michigan. If you want to go through the process as smoothly as possible and ensure that your application gets approved, use DoNotPay! We will help you gather the required paperwork and draw up an error-free loan request letter for you!
Use DoNotPay To Apply for a Michigan Small Business Loan Fast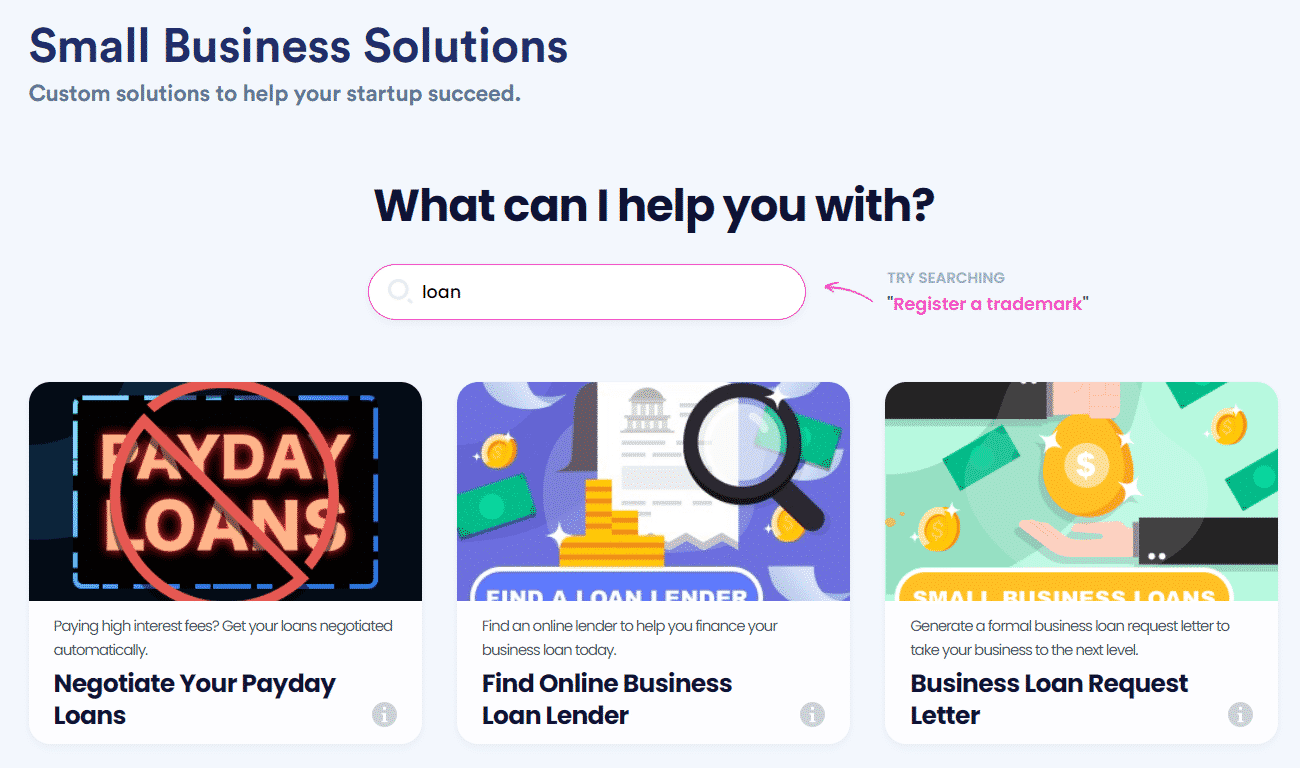 Going through the application process for a startup or small business loan is difficult, especially if you do not have experience in writing loan request letters. That is why you should rely on DoNotPay for help! Our AI-powered app will make sure you gather all the necessary documents and generate a tailor-made loan request for you.
All you have to do is:
Gather your credit scores
Answer our chatbot's questions about you and your business
Upload the necessary documents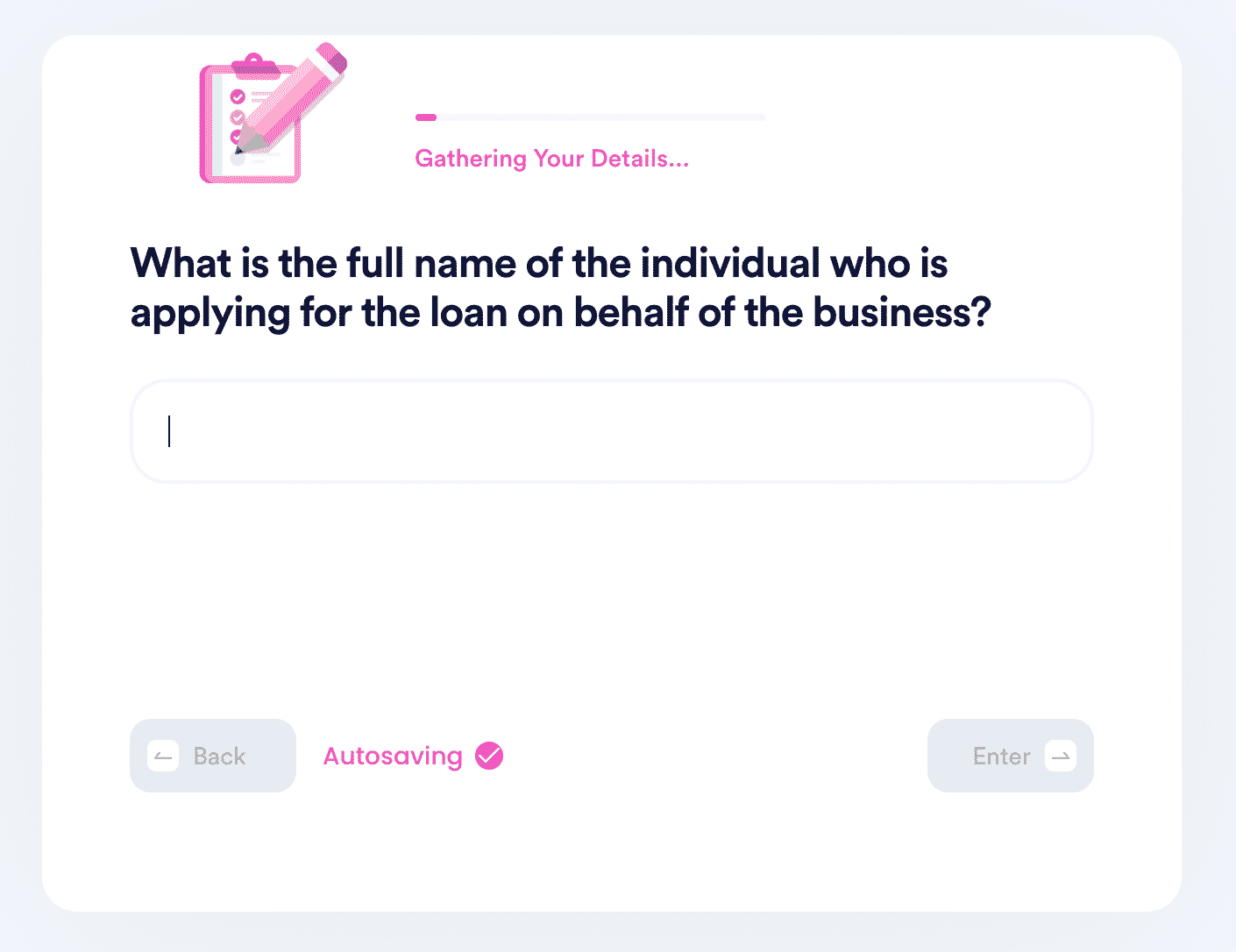 If you need help finding a lender, use DoNotPay's Find Online Business Loan Lender tool. With this feature, you can find the best loan provider in Michigan, as well as in:
Run Your Business Worry-Free!
Every beginning is challenging, which is why DoNotPay has everything you need to start running your business stress-free! We have created numerous easy-to-use products that will make boring administrative tasks easier to manage.
To help you get started, DoNotPay will assist you in taking care of trademark, Employer Identification Number (EIN), and DMCA agent registration, Privacy Shield self-certification, and business loan requests.
We can even help you maintain a good business reputation by:
Monitoring your trademark and filing a cease and desist letter in case someone tries to use it
Reporting fake negative reviews that could harm your business
Disputing illegitimate chargeback requests in a matter of minutes
DoNotPay Helps You Create and File a Number of Legal Documents
Why waste time worrying about how to draw up and file various legal documents when you can have the world's first robot lawyer do that in your stead? You do not have to waste thousands of dollars on lawyer's fees—our extensive database has a myriad of documents on offer.
DoNotPay will help you automate the procedure of completing and filing 83(b) election forms, write a formal demand letter requesting payment from clients who try to avoid it, and deal with other important paperwork.
Don't want to waste time going to the post office to mail a contract? Now you do not have to! With DoNotPay, you can fax and mail any document in a matter of clicks!