What Small Business Loans in Kansas City Are There?
It is hard to make your business profitable, especially during the COVID-19 pandemic when many companies are losing clients and revenue. Luckily, you can turn to small business loans and use them to cover your expenses and keep your business afloat.
In this article, we will show you what small business loans in Kansas City are available and how these loans work. We will also explain how you can and make sure you get a loan with an error-free loan request letter.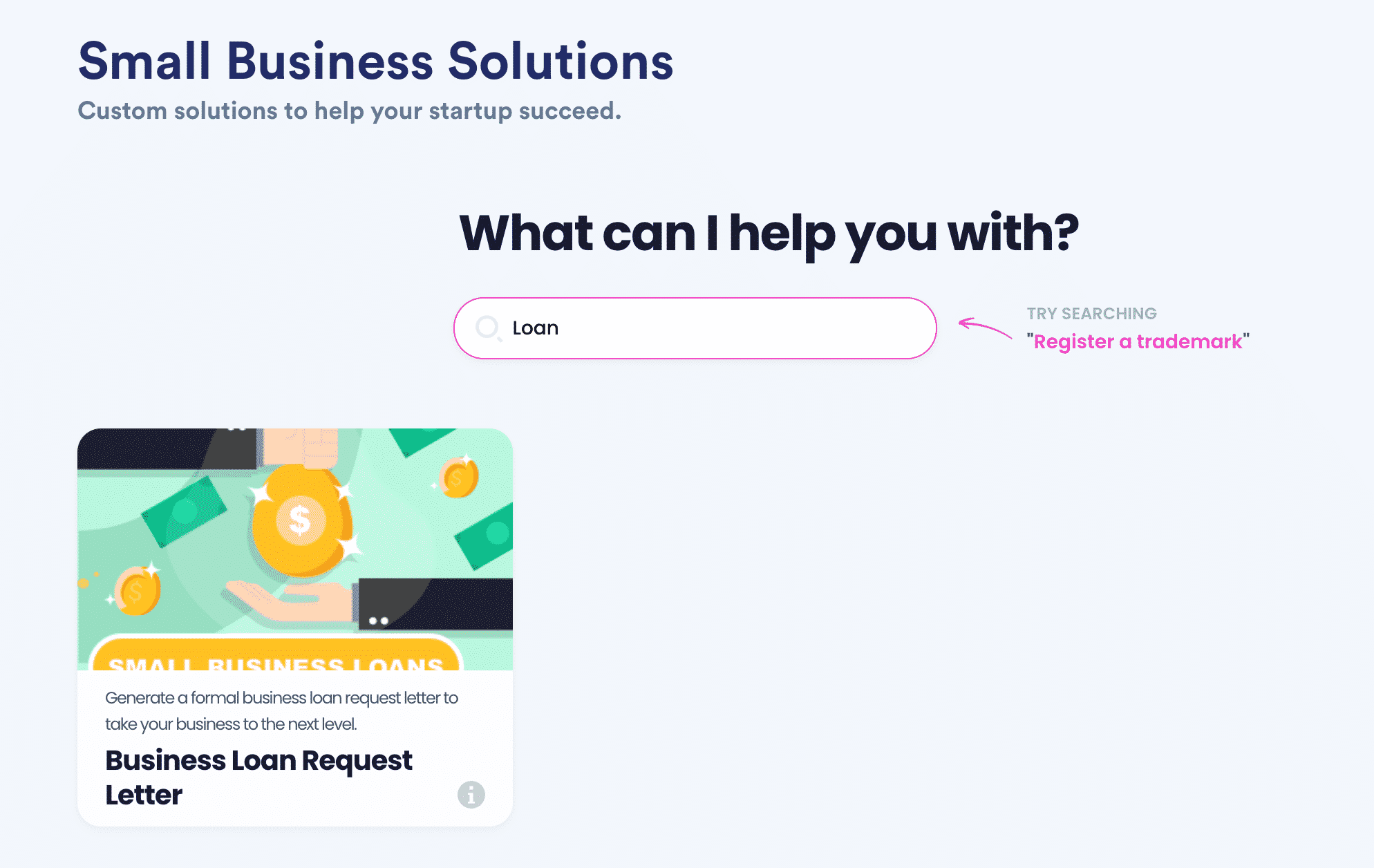 How Small Business Loans in Kansas City Work
Let's say you need to buy new supplies, manage cash flow, buy a business license, or cover startup costs. If you do not have enough money, you can turn to small business loans, which exist to help out entrepreneurs in need.
Taking a loan can benefit your business and push it in the right direction, but make sure you know what you are getting into.
Many businesses have gone down because they were reckless and had taken out loans for inessential purposes or did not have the budget to meet the loan schedules. You should estimate how much of a toll the loan will take on your business and whether you can carry that out.
Various institutions offer small business loans, including banks, credit unions, and online lenders. All lenders have different terms, which revolve around the following four aspects:
Repayment schedule

Interest rate

Loan amount
Many banks will also demand that you are an established company with at least several years in business. If you are looking for an initial investment, you can still find startup loans, but they are scarcer.
Types of Loans
Another aspect of a loan you should consider is its type. Loans differ based on the terms, source, and loan amount. Check out the following table to learn more about some of the best loans offered:
Business Loan Type
Terms
Maximum Loan Amount
Credit for a small business

Repayment period of six months to five years
An interest rate of 10–99%
Instantly receivable
Good for cash flow management

$250,000
Merchant cash advance (MCA)

Repayment period of three to 18 months
An interest rate of 20–250%
Daily payments
Credit score irrelevant

$250,000
The United States Small Business Administration (SBA) small business loans

Repayment period of up to 25 years
An interest rate of 2.75–4.75%
Long-term loan
The SBA acts as a guarantee

$5 million
Microloans

Repayment period of six to eight years
An interest rate of 8–13%
Small top-up for the books

$50,000
Equipment loans

Repayment period of the equipment's lifespan
An interest rate of 2–20%
Approvable after several weeks
To be used for equipment acquisition only

100% of the equipment cost
Small Business Loans in Kansas City
Kansas small business loans are available to both KCK and KCMO residents. If you are looking for an SBA loan, you can apply via the Kansas City District Office, which covers 89 counties in western Missouri and eastern Kansas.
The main types of loans Kansans can look forward to if they decide to go local are as follows:
Line of credit
Commercial bank loans
Cash advances
Factoring
Aside from federal and state resources that are available to a wider demographic, Kansas City, MO residents can apply to several loan funds, including:
How To Qualify for a Small Business Loan in Kansas City
First, you will need to show that your company is based in Kansas City by showing you registered it at the Kansas City BizCare Office. Then, if you are willing to apply for a COVID-19 relief program, you will need to demonstrate that your business suffered because of the pandemic.
The rest is standard for all small business loans—you will have to meet the qualifications to assure the lender that giving you a loan is not too much of a risk. To do that, you must provide a myriad of documents, including:
Resume
Personal and business credit score reports
Business plan
Budget sheets
Collateral
Accounts payable and receivable
Financial statements on:

Cash flow
Profit and loss
Balance

Legal documents—bank statements, third-party contracts, licenses, leases, etc.
You will also need to fill out a loan application form that will require you to provide in-depth information about yourself and your business.
How To Get a Loan Using DoNotPay's Help
The application process for a small business loan is not straightforward—many companies do not receive the necessary funds because they leave out tiny details or a piece of paper. Do not let this happen to you—use DoNotPay's expertise to guide you through the process. Our app will make sure you submit all the required documents and provide the necessary details.
All you need to do is and:
Search for the Business Loan Request Letter product
Gather your personal and business credit scores
Prepare paperwork to prove your eligibility
Answer a few questions from our chatbot
Upload all the necessary paperwork
If you need help deciding on the lending institution, use our integrated Find Online Business Loan Lender feature—we will compare online lenders and make a list of the most suitable options.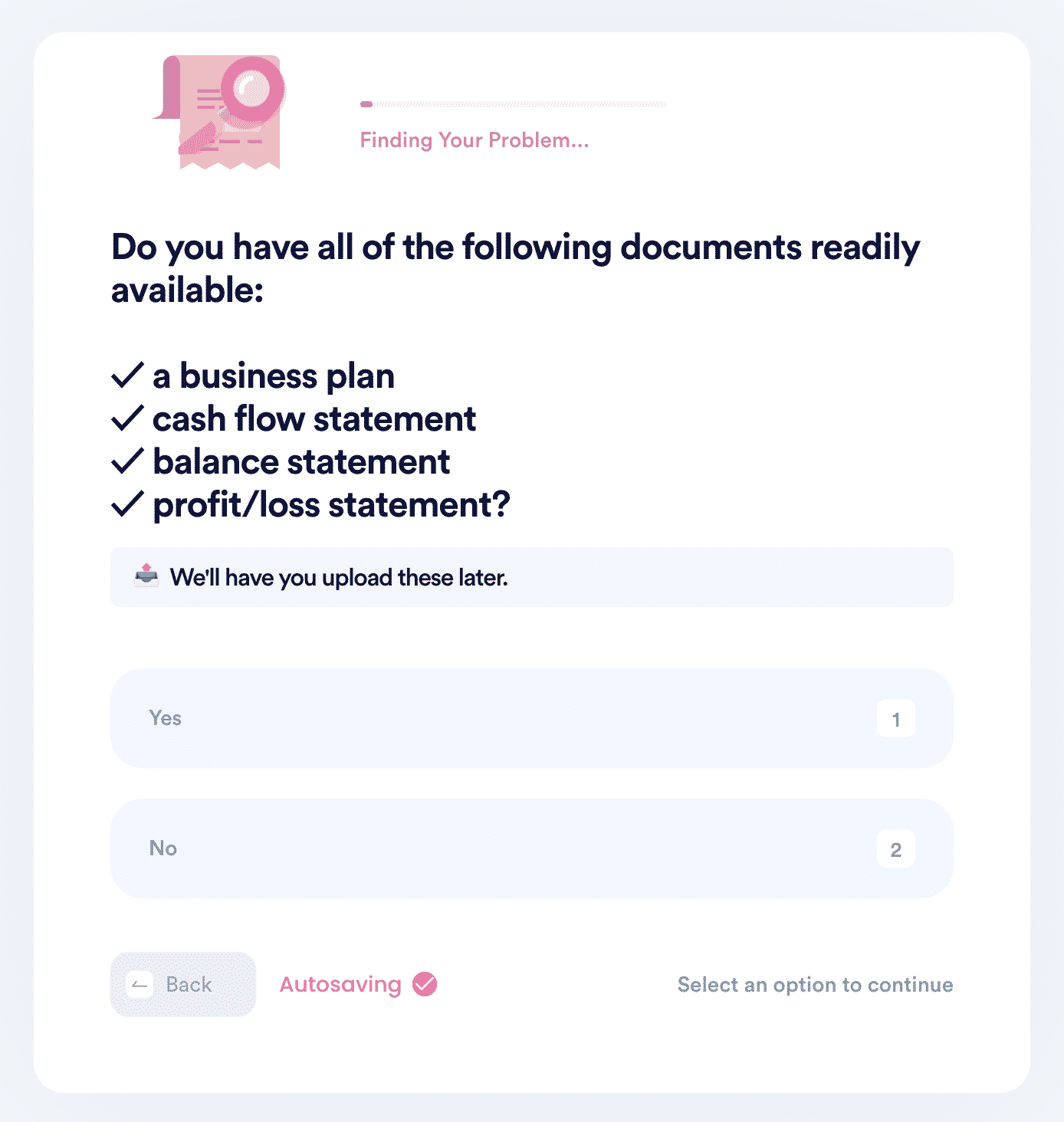 Don't Waste Ages on Tedious Administrative Tasks—Rely on DoNotPay
Running a small business can be a challenging endeavor, but you can count on DoNotPay to make the situation easier! We have developed a number of handy features that you can use to deal with your business-related hurdles. With our help, you can:
Send mail to your customers, investors, or business associates without wasting time going to the post office
Register your business slogan, logo, or name as a trademark to prevent brand infringement
Avoid copyright violations on your website by registering a DMCA agent
Protect the privacy of your clients' data by filing the Privacy Shield program self-certification request
Contest unjust chargebacks and keep the revenue
Deal with clients who breach the contract without wasting money on collection agencies or lawyers
Worked Hard on Creating a Good Business Reputation? Don't Let It Go to Waste!
Has one of the angry clients or envious competitors decided to leave a mean online review that could have a negative impact on your business? DoNotPay is here to help you remove it! We will analyze the problematic review and report it until it is taken down.
Don't know how to protect your trademark and make sure no one else is using it? Our app can monitor the trademark on a monthly basis and send cease and desist letters if necessary.
Let our app take care of many other issues—such as filing 83(b) election forms, registering for an Employer Identification Number (EIN), taking out small business loans, and similar—while you concentrate on the creative side of your business.