Small Business Loans in PA—What You Need To Know
Starting and running a small business is not as easy as it sounds. You need to invest a lot of time and money into it. But what if you don't have enough funds to cover your basic expenses? You can consider taking out a small business loan that will help kickstart your business. What are small business loans, and how do they work? We will provide all the necessary details.
DoNotPay offers a comprehensive guide to small business loans in PA and explains how to get one without a hassle. You can also use our app to maximize your chances of getting a loan by creating an air-tight loan request letter in no time.
How Do Small Business Loans Work?
Do you need money to pay for the initial costs of launching a startup or recurring expenses such as rent and utilities? You can turn to banks or other lenders and take out a small business loan.
Here are a few types of small business loans in Pennsylvania to choose from:
Small Business Administration (SBA) loans—The SBA is a government agency that offers low-interest loans through banks or credit unions
Business lines of credit—A business line of credit allows you to use funds up to a certain limit and repay the loan with interest
Microloans—These are small loans (up to $50,000) that can be used to pay for daily expenses
Credit cards—Many credit card issuers offer 0% Annual Percentage Rate (APR) in the first year and have reward systems to encourage you to use them
Disaster loans—Loans such as the Economic Injury Disaster Loans (EIDL) are available for small businesses and startups who have been economically affected by the COVID-19 pandemic
When deciding what type of loan is best for your business, you should consider the following factors:
Loan amount
Your budget
Where Can You Get Small Business Loans in Pennsylvania?
In Pennsylvania, you can get loans from various organizations, such as banks, credit unions, and peer-to-peer lending websites. Most traditional lenders have specific eligibility criteria that you must meet to qualify for their loans. Typically, you need to have:
Good credit score
At least two years of business experience
Solid financial documentation
Business plan
Best Banks for Small Business Loans
Here is a list of banks that provide the best options for small business loans in Pennsylvania:
Banks
Small Business Loan Offers
PNC Bank

Unsecured loans ($20,000–$100,000)
Auto loans ($10,000–$250,000)
Secured and real estate loans ($100,001–$3 million)

Northwest Bank
You can get the following types of loans at Northwest bank:

Business lines of credit
Term loans
Business construction loans

InFirst Bank
The following small business loans are available at InFirst Bank:

SBA loans
Real estate loans
Business lines of credit
Fixed asset loans

Centric Bank

Centric Bank offers a variety of funding options, including SBA loans
Other Options To Get a Business Loan in PA
If you cannot fulfill the strict qualification requirements of banks, you can get a small business loan from a different lender, such as:
Pennsylvania Industrial Development Authority (PIDA)—The PIDA loan program provides various small business loans to help companies retain jobs and develop their businesses. You can use these loans to:

Buy or expand real estate
Purchase machinery
Invest in working capital

FINANTA—Financial and Technical Assistance is a nonprofit organization that provides business loans ranging from $1200 to $250,000
Community First Fund—This is also a nonprofit organization that assists businesses with low income in central and eastern Pennsylvania
Small Diverse Business Capital Access Program—SDBCA is a program that gives loans to minorities, women, veterans, and people with disabilities
You can also opt for getting a loan through:
Online lenders
Peer-to-peer lending websites
These lenders have quick approval processes and do not have strict requirements. Since the risk element is higher, these lenders typically provide smaller loans with high interest rates and short repayment periods.
What Documents Do You Need To Submit To Apply for a Loan?
Whether you choose a traditional or an online lender, you need to provide some financial documentation when applying, such as:
Credit score report
Bank statements
Tax returns
Budget sheets
Income statement
Cash flow statement
Business incorporation document
You also need to submit a loan request letter with detailed information about your business and the loan you want to get.
Get a Loan Easily With the Help of DoNotPay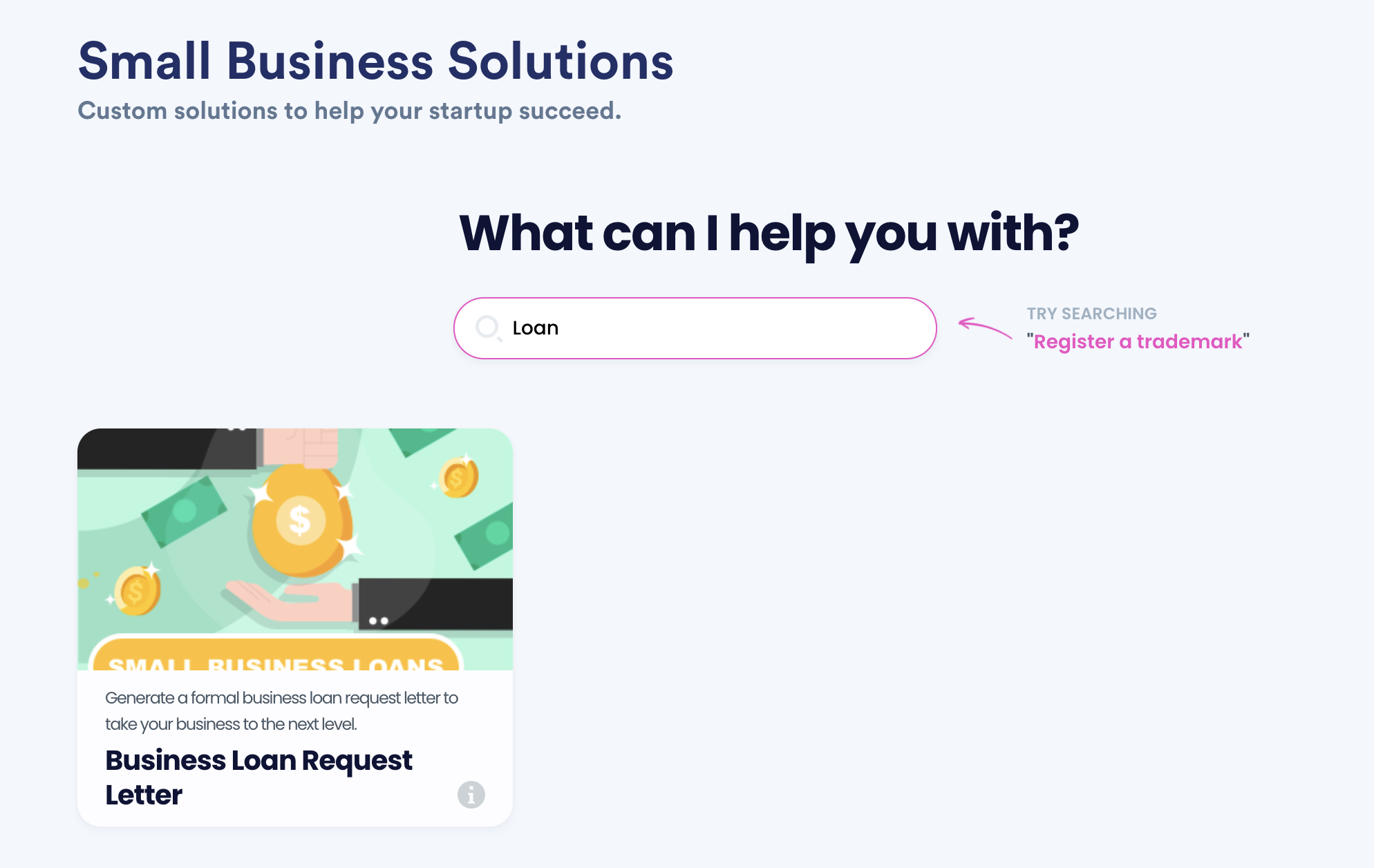 Getting a loan might seem easy in theory, but it can be extremely challenging in practice—many businesses are rejected daily because of various errors in their application. To avoid this, rely on DoNotPay to help you with the process.
Our Business Loan Request Letter tool will assist you in submitting all the required documentation and creating a formal request letter with all the relevant information.
Here is what you need to do:
Open DoNotPay in your web browser
Choose the Business Loan Request Letter product
Answer a brief questionnaire
Upload all the necessary financial documentation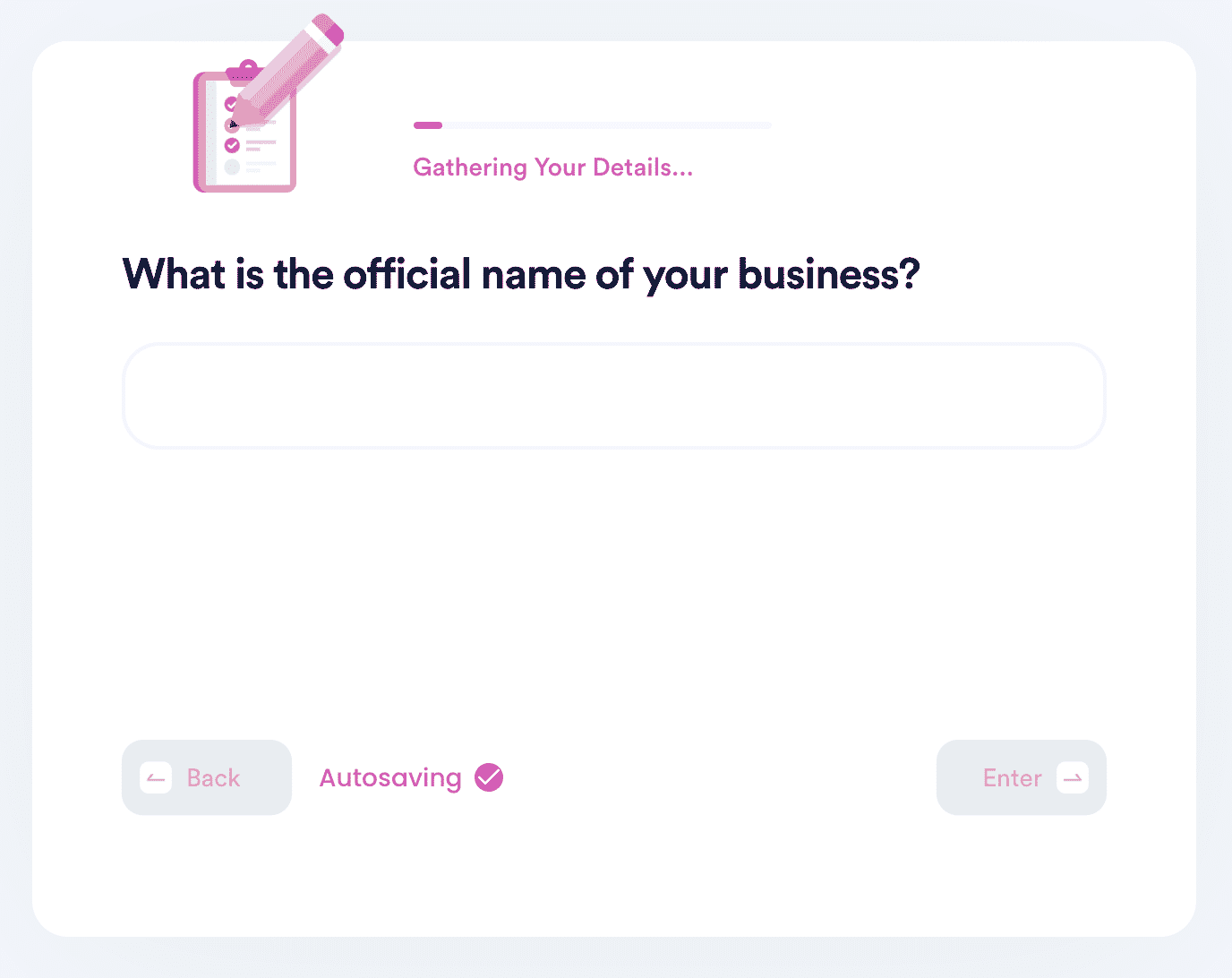 That's not all we can do! DoNotPay's Find Online Business Loan Lender feature can also help you find the most suitable online lender to get a loan from.
DoNotPay Has Everything You Need for Your Small Business
Navigating numerous business procedures can be overwhelming, especially if you don't have much experience. DoNotPay strives to make the situation easier for business owners, which is why we offer a number of simple-to-use products that can help you take care of various processes, including DMCA agent and Employer Identification Number registration, Privacy Shield program self-certification, and trademark registration and protection.
If you are not sure how to manage the filing of 83(b) election forms, DoNotPay has a solution that will automate the entire process and help you save time. Our app can even generate a convincing small business loan request letter for you. Don't feel like walking or driving to the post office to send the letter? Use DoNotPay to fax or mail any document in a matter of clicks!
DoNotPay Helps You Deal With Bad Clients
If you need help handling unpleasant situations with your clients, you can rely on DoNotPay. We have created various products to assist you in:
Making sure your business is free of negative, illegitimate online reviews—DoNotPay will analyze the review in question, estimate the best reason for reporting it, and report the review until it is deleted
Dealing with clients who breach the contract and refuse to pay—We will generate and send a demand letter requesting what's rightfully yours
Fighting unjustified chargebacks—Our app will create a personalized chargeback rebuttal document to help you keep your revenue
Resolve various business issues without wasting time or money—DoNotPay has got your back!