A Detailed Look at Small Business Loans in NC
Are you weighing the potential of small business loans in NC? Your company is one of well over 100,000 like it that need to overcome their small business expenses. External financing is a direct way to access the financing you need.
Whether your organization needs a new vehicle to make deliveries, or short-term assistance covering employee wages during the busy season, there are many types of small business loans that can help. You need to understand how small business loans work and how to apply for one.
This guide will walk you through the terms of repayment and the qualifications needed for the application process. You can use DoNotPay to speed up the procedure.
A Primer for Small Business Loans—North Carolina
Banks and government-backed lenders offer startup business loans to help new companies make important purchases or cover operating expenses. There are two primary types of loans:
Term loans
Lines of credit
Determining which is right for you depends on what type of startup costs you are trying to cover. Many loan agreements stipulate that you must offer collateral such as your car, home, or another business asset. If you cannot pay back the borrowed amount, the lender will take the collateral in lieu.
Provided that you have a good credit score, reliable revenue, and present no significant red flags, you will almost certainly qualify for a small business loan. That is why you need to know how to evaluate an offer. You should understand what the terms are and how much you will owe in interest over the course of the repayment period.
The best small business loans offer low interest rates and as few additional fees as possible.
What Are Term Loans?
Term loans are lump sums, which makes them ideal for large purchases, such as:
Manufacturing equipment
Property
Building renovations
Computers
Vehicles
These types of capital expenditures are often necessary when starting a new company, but your small business budget may not be able to accommodate them. Term loans usually offer low interest rates but can take up to six months to process.
Do You Need a Line of Credit?
A business line of credit offers less funding than a term loan but grants you more flexibility. You can use your line of credit on an ongoing basis to support your cash flow. You only owe interest in the credit you use.
Common expenses to which you can apply your credit include:
Employees' wages
Property rentals
Monthly service fees
The downside of lines of credit is that they tend to impose higher interest rates. While you can borrow smaller amounts as needed when compared to a term loan, you will pay more money back on whatever you use.
Exploring Small Business Loans in NC
To get a small business loan, you must first determine its source. There are a limited number of ways to review available lenders:
| Find a Lender | Yes/No |
| --- | --- |
| Small Business Administration (SBA) website | Yes |
| DoNotPay | Yes |
| Live chat | No |
| Phone | No |
| In-person | No |
North Carolina lenders include banks, third-party funds, and government programs. If you cannot qualify for a loan with a commercial bank, you can instead apply for financing with the SBA.
The SBA's Most Popular Type of Loan
The SBA's most commonly used lending options are 7(a) small business loans:
Maximum amount—$350,000
Acceptable use—Real estate, renovations, equipment, maintenance, and working capital
Repayment Window—7–25 years
Applying for a Small Business Loan
Make sure to gather the following information prior to starting your application:
Business and personal contact information
Professional and private financial statements
Business licenses
Income Tax Returns
Stakeholder resumes
Business plan
Lease
Bank statements
You can get an SBA loan by applying with an approved lender. Follow these steps to initiate the process:
Use the SBA's Lender Match
Find a lender that fits your business plan
Apply for a loan following their process
It can be difficult to find fast small business loans, as the SBA and banks can take over six months to process your application.
DoNotPay Makes It Easy To Find a Small Business Loan in NC
You have a lot on your plate as the founder of a new business—do you have time to manage the lender search and loan application process manually? There is a better way—use DoNotPay.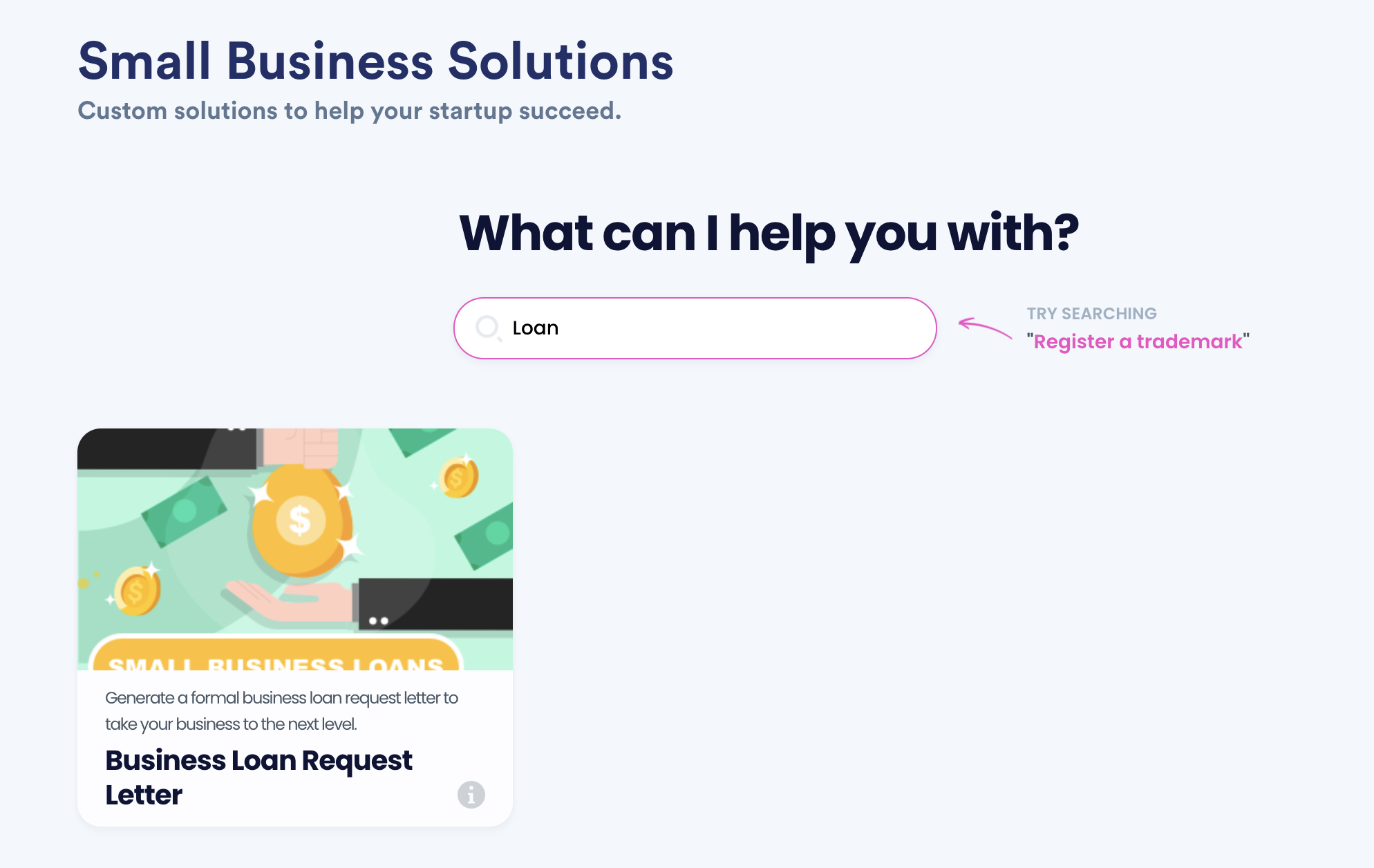 DoNotPay comes with two invaluable tools to optimize the loan application process:
Find Online Business Loan Lender—finds the right lender for your needs
Business Loan Request Letter Generator—assembles your business and financial particulars to put together a professional letter
Here is how to kickstart the process:
Find the lender you want to work with
Provide information about your business and loan request
Upload your documentation (we will point out any errors or omissions)
Don't Waste Ages on Tedious Administrative Tasks—Rely on DoNotPay
Running a small business can be a challenging endeavor, but you can count on DoNotPay to make the situation easier! We have developed a number of handy features that you can use to deal with your business-related hurdles. With our help, you can:
Send mail to your customers, investors, or business associates without wasting time going to the post office
Register your business slogan, logo, or name as a trademark to prevent brand infringement
Avoid copyright violations on your website by registering a DMCA agent
Protect the privacy of your clients' data by filing the Privacy Shield program self-certification request
Contest unjust chargebacks and keep the revenue
Deal with clients who breach the contract without wasting money on collection agencies or lawyers
Worked Hard on Creating a Good Business Reputation? Don't Let It Go to Waste!
Has one of the angry clients or envious competitors decided to leave a mean online review that could have a negative impact on your business? DoNotPay is here to help you remove it! We will analyze the problematic review and report it until it is taken down.
Don't know how to protect your trademark and make sure no one else is using it? Our app can monitor the trademark on a monthly basis and send cease and desist letters if necessary.
Let our app take care of many other issues—such as filing 83(b) election forms, registering for an Employer Identification Number (EIN), taking out small business loans, and similar—while you concentrate on the creative side of your business.