Small Business Loans in Hawaii—Can DoNotPay Help?
The Aloha State has more than 100,000 small businesses. With a thriving economy, considerable labor market, and a wide range of government-issued incentives, it is among the most entrepreneurial states in the U.S.
The pro-business environment creates many opportunities for acquiring additional working capital or getting the necessary financial aid.
In this article, we'll tell you everything you need to know about small business loans in Hawaii, including:
What the necessary qualifications are
How to apply for a loan using DoNotPay
What Is a Small Business Loan?
Should you find yourself without the means to acquire equipment, renew your business licenses, or cover startup costs—you can try applying for a small business loan. Loans present a quick fix for financial struggles but also an opportunity for growth.
Hawaii has an avid number of prospect lenders that offer a wide range of financing programs. It is your responsibility to choose a loan that's best suited to your current circumstances. Pay attention to the following aspects when researching different programs:
Loan terms (i.e., repayment window)
Maximum loan amount
Types of Small Business Loans in Hawaii
You can find examples of some of the common types of loans in the table below:
Loan Type
Description
Term loans
Term loans are mostly used for one-off expenses, such as purchasing real estate or refinancing debt.

You request a certain amount from a chosen lender and receive a lump sum within a few days.

The maximum amount is $600,000, and the interest rates start at 6%

Business line of credit
This financing option works great if you can't pinpoint your budgetary needs.

Instead of receiving the entire amount at once, you gain access to a line of credit, allowing you to tap into the resources at will

SBA loans
The Small Business Administration (SBA) is not a direct lender but a mediator between borrowers and a network of partnering federal and non-profit organizations.

The number of SBA lenders in Hawaii is quite substantial, so you can choose between a wide range of programs

Microloans
With a maximum amount of $50,000, microloans are a quick solution for various financial difficulties.

The interest rates range from 8% to 13%, depending on the capital
Where To Apply for a Loan in Hawaii
The main sources of funding for small businesses loans in Hawaii include:
Commercial and community banks
Some of the most prolific organizations with the best loan programs include:
Hawaii District Office of the SBA
Bank of Hawaii
Pacific Gateway Center
Hawaii State Federal Credit Union
The Aloha State also hosts a handful of organizations that offer grants for women in business. Each month, the Amber Grant gives out a symbolic incentive to a chosen entrepreneur, along with an end-of-year grant worth $2,500.
How To Qualify for a Small Business Loan in Hawaii
In terms of lender requirements, Hawaii is no different than the rest of the United States. If you want to qualify for a small business loan in Hawaii, you should:
Maintain a good personal and business credit score
Develop a comprehensive business plan (with financial projections and market analysis)
Compose financial statements (cash flow, profit and loss, and balance)
Gather the legal documentation (bank statement, business licenses, active leases, and ID)
Provide collateral
To avoid using your company assets as collateral, you can apply for an unsecured loan. Note that you will probably have to accept other forms of a loan guarantee.
DoNotPay Can Help You Apply for a Loan Wherever You Are!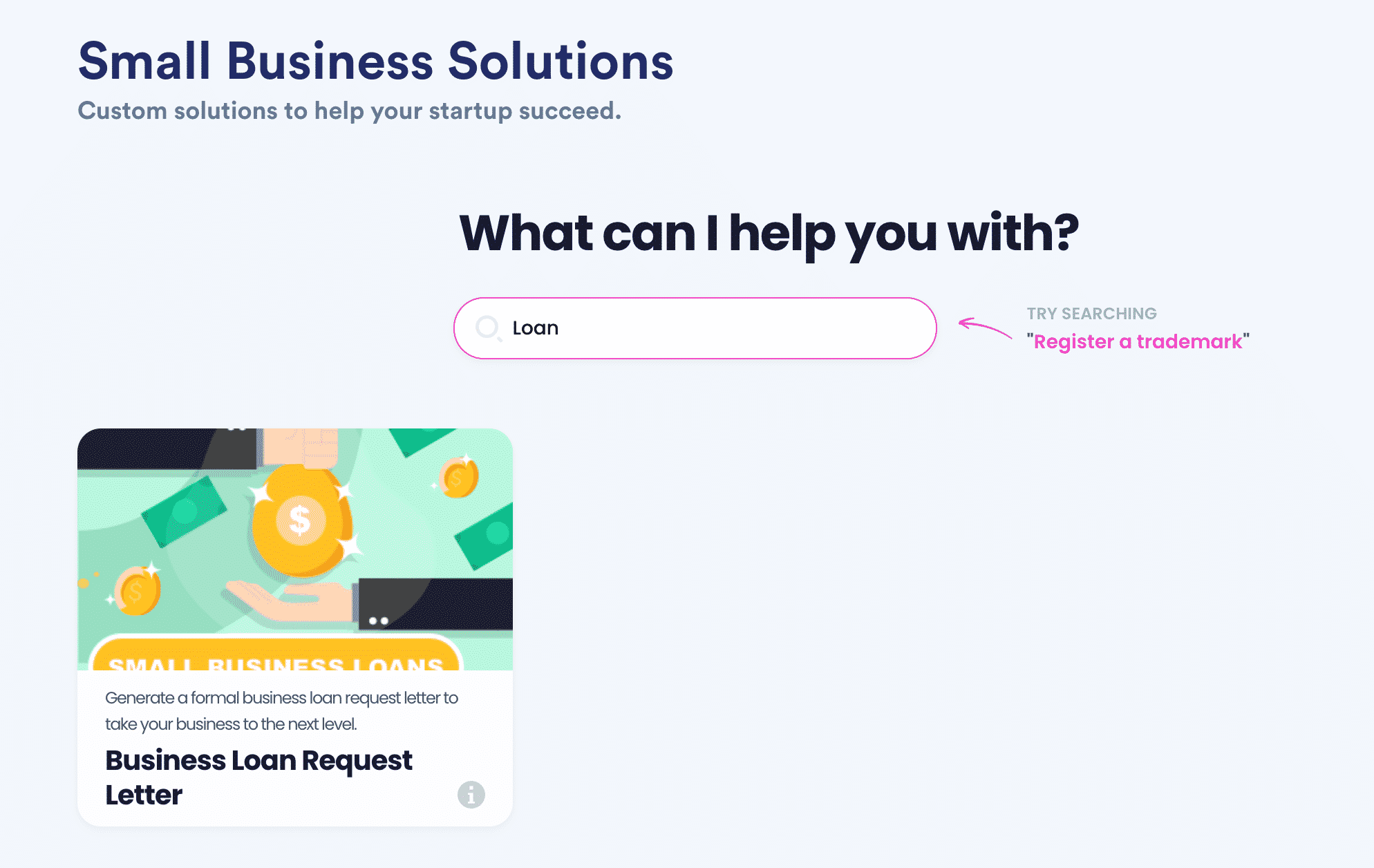 The fastest way to secure a small business loan in Hawaii is by using DoNotPay's streamlined services. Our AI-operated app allows you to compose and submit your loan request letter in minutes! Whether it is a startup loan or disaster aid, we can increase your chances of getting the funds you need.
To access the service, follow these simple steps:
Sign up for DoNotPay and select the Business Loan Request Letter product
Answer some questions about your business and provide the details about the loan
Upload the paperwork
After you answer all the questions from our chatbot, DoNotPay will generate your loan request letter. You can rely on the efficient algorithm to forward the application to your chosen lender.
Find the Perfect Lender With DoNotPay
Helping you write the loan request letter is merely the beginning. DoNotPay can also guide you through your search for prospect loan providers.
Our Find Online Business Loan Lender feature will sift through potential lenders based on your requirements and select the perfect candidate! The feature is seamlessly integrated with the Business Loan Request Letter product, enabling you to save valuable time and resources.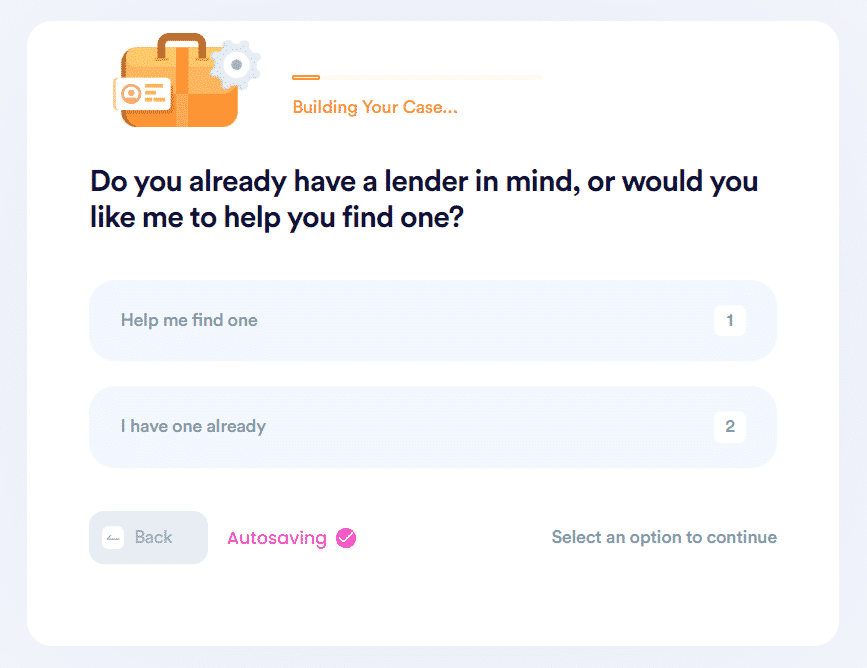 Run Your Business Worry-Free!
Every beginning is challenging, which is why DoNotPay has everything you need to start running your business stress-free! We have created numerous easy-to-use products that will make boring administrative tasks easier to manage.
To help you get started, DoNotPay will assist you in taking care of trademark, Employer Identification Number (EIN), and DMCA agent registration, Privacy Shield self-certification, and business loan requests.
We can even help you maintain a good business reputation by:
Monitoring your trademark and filing a cease and desist letter in case someone tries to use it
Reporting fake negative reviews that could harm your business
Disputing illegitimate chargeback requests in a matter of minutes
DoNotPay Helps You Create and File a Number of Legal Documents
Why waste time worrying about how to draw up and file various legal documents when you can have the world's first robot lawyer do that in your stead? You do not have to waste thousands of dollars on lawyer's fees—our extensive database has a myriad of documents on offer.
DoNotPay will help you automate the procedure of completing and filing 83(b) election forms, write a formal demand letter requesting payment from clients who try to avoid it, and deal with other important paperwork.