How to Get Approved for Small Business Loans for Women
Women in the United States own forty percent of businesses and are a driving force of the nation's economy. If you would like to join them, you might be interested in small business loans for women. Don't know how they work or what the best small business loans are? Read our article to get the information you need and kick-start your business!
What Are Small Business Loans?
Getting a small business loan will give you capital that you can use to invest in your startup or cover your business expenses. The benefits of small business loans are many as they:
Ensure your business keeps growing—Having capital allows you to expand your company, invest in marketing, hire additional staff, and more
Diminish seasonal cash flow gaps—A small business loan makes your off-season easier to handle and ensures you have a stable cash flow during the slow period
Allow you to take advantage of various opportunities—A loan enables you to purchase discounted inventory or cover other unexpected expenses that might help your business
What Types of Small Business Loans are Available for Women?
There are various types of small business loans women can apply for, including:
Women-specific loan programs
Bank and credit union small business loans
Business loans from online lenders
Women-Specific Loan Programs
There are several small business loan programs dedicated to female entrepreneurs. For more details, consult the table below:
Loan Program
Details
Kabbage
Through Kabbage, you can borrow up to $250,000 if you have been in business for at least one year. On top of that, your business must have been making at least $4,200 per month over the last three months
The Tory Burch Foundation Capital Program
Founded by the American fashion designer Tory Burch, this program allows female entrepreneurs to borrow up to $100,000. To be eligible for this loan, you must have a:

Business that can be maintained
Solid credit score rating
Business that has been running for at least two years

Accio Women-Owned Business Loans
You can borrow up to $50,000 through this program, but you must:

Not be more than 30 days late on any payment
Not have declared bankruptcy in the last year
Have a credit score of at least 575

Grameen America Microloans for Women Entrepreneurs
Grameen offers microloans of up to $1,500 for individuals living below the poverty line. The company also provides:

Training
Networking
Further education
Opportunity for larger loans
Small Business Administration Loans for Women
The SBA offers the Standard 7(a) program and SBA Export Express loan. Through the Standard 7(a) program, women can borrow up to $5 million and usually have to repay it in five to ten years. Women also have lower interest rates than men.
To qualify for the loan, your business must:
Be based in the U.S.
Operate for-profit
Earn less than $7.5 million annually in average revenues
You can use this loan to:
Cover day to day working capital needs (e.g., managing payroll or hiring new employees)
Refinance business debt (credit cards, loans, etc.)
Purchase business equipment
Buy real estate and land for your business
Open a new business location
If you don't need a sizable amount of capital for your business or startup, you should opt for the SBA Export Express loan. It allows you to borrow up to $350,000 and requires you to have an established business that has been operating for two years and has substantial revenues. Keep in mind that due to the faster approval process of the SBA Export Express loan, the interest rate is slightly higher
Bank and Credit Union Small Business Loans
The amount you can borrow depends on the bank and the credit union's guidelines. The biggest benefit of borrowing from banks is that they offer lower fixed interest rates. Note that to get the lower rates, you need to have outstanding credit or an established personal or business banking relationship.
A downside of getting a loan from banks is that you need to fill out an unnecessary amount of paperwork, and you have to wait for quite a while to get a loan.
Business Loans From Online Lenders
If you need to have money in your hands faster, online business loans might be the thing for you as the loan can be approved within 48 hours. You also do not need to have a perfect credit score, and the interest rates are only slightly higher compared to those offered by banks.
Depending on the type of loan, borrowing limits can be generous, and the terms are flexible as you can repay an online lender either in a few months or several years.
Small Business Microloans for Women
If you are a female business owner who is just getting started, microloans could be a solution. They do not require big capital, and you can usually borrow up to $50,000. You can take up to six years to repay a microloan.
The downside is that they have limited uses, and you cannot purchase real estate or refinance other business loans.
Getting a Small Business Loan for Women
To get a small business loan, you will need to follow these steps:
Step
Details
Determine whether you qualify for a loan
You need to consider the following:

Your credit score
Your budget
How long you have been in the business
Whether you make enough annual revenue
Whether you can afford the payments

Decide on the type of loan
Consider what you are planning to spend your money on and decide what type of loan you need to fund your business
Gather your documents
You must gather all the required documentation, such as:

Business and personal tax returns
Bank statements
Financial statements
Business plan

Prepare a business loan request letter
You need to write a request letter that is convincing. Writing one on your own can be challenging, and hiring a lawyer can be an expensive option. That is why you should subscribe to DoNotPay! Our app will draw up this crucial document for you in no time and make sure it is error-free
How To Get a Small Business Loan for a Woman With DoNotPay's Help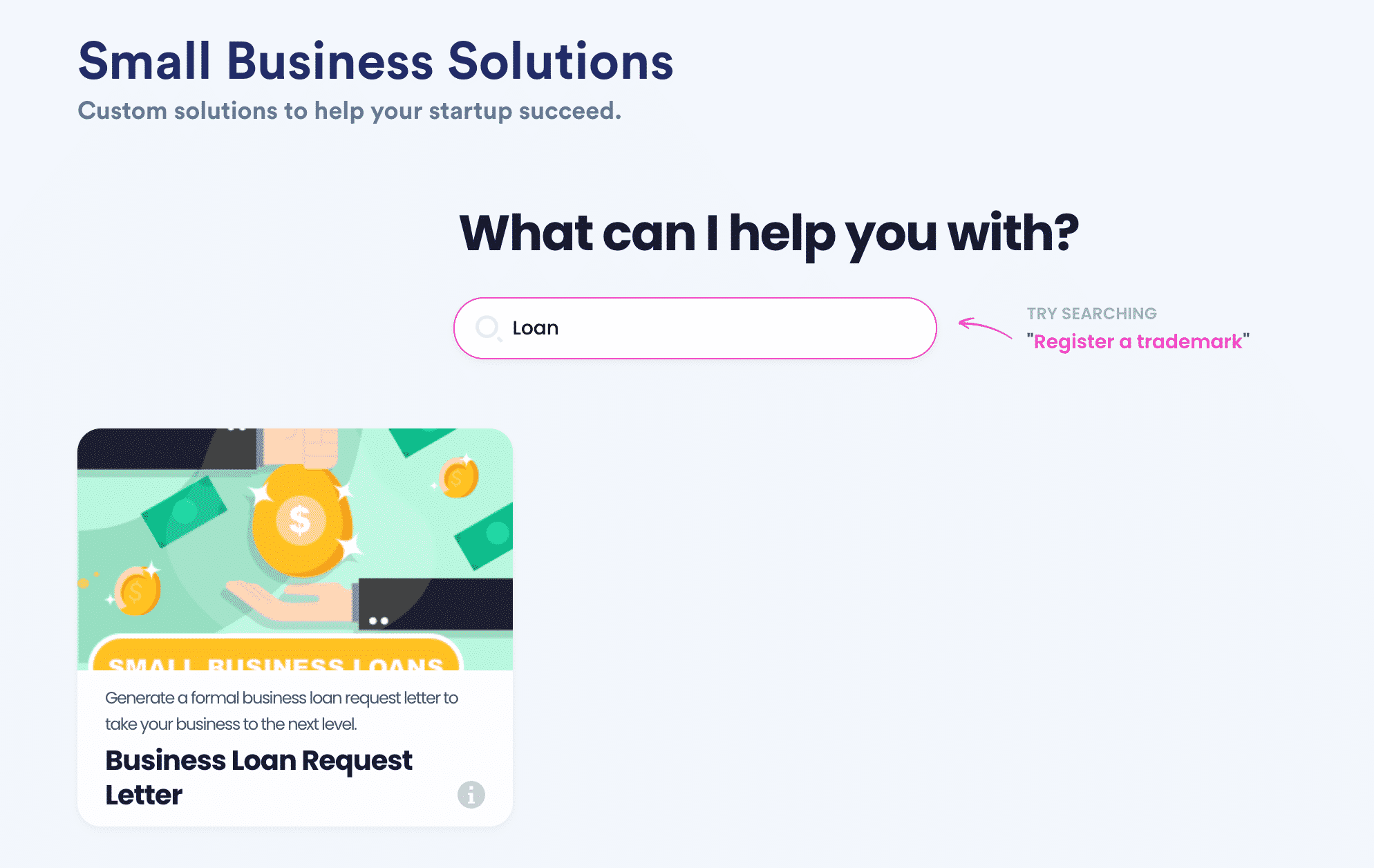 If you want a flawless business loan request letter that will ensure you don't get rejected by the lender, use DoNotPay! Our AI-powered app will generate this document for you instantly, and all you have to do is:
Gather your credit scores
Prepare other important documents
Give us the crucial details, such as:

The amount you want to borrow
Information about your company
The purpose of your loan

Upload the gathered documents
If you have not found a suitable lender for your business needs, use our Find an Online Business Loan Lender tool! With it, you will get a list of the best lenders for your specific business needs.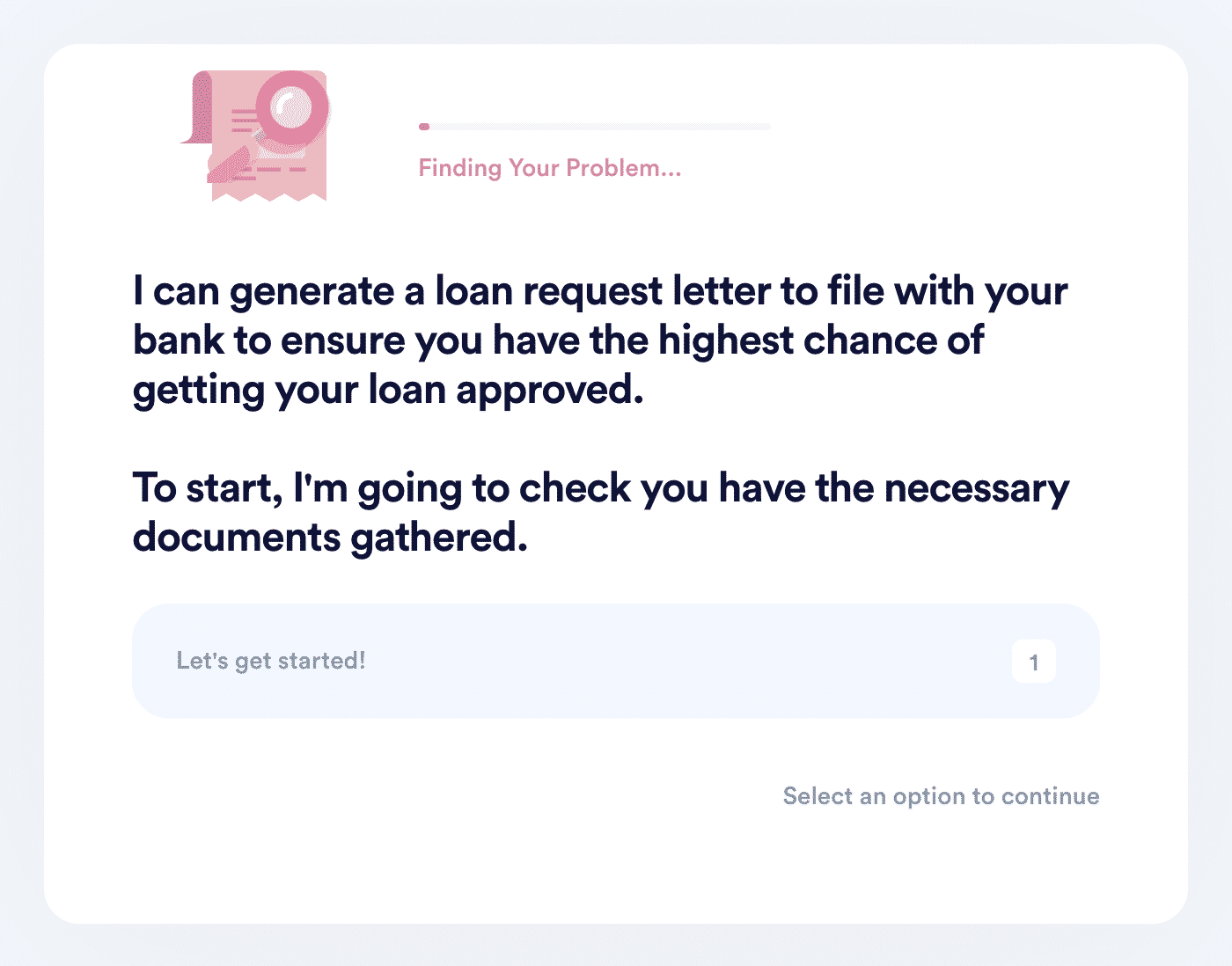 Run Your Business Worry-Free!
Every beginning is challenging, which is why DoNotPay has everything you need to start running your business stress-free! We have created numerous easy-to-use products that will make boring administrative tasks easier to manage.
To help you get started, DoNotPay will assist you in taking care of trademark, Employer Identification Number (EIN), and DMCA agent registration, Privacy Shield self-certification, and business loan requests.
We can even help you maintain a good business reputation by:
Monitoring your trademark and filing a cease and desist letter in case someone tries to use it
Reporting fake negative reviews that could harm your business
Disputing illegitimate chargeback requests in a matter of minutes
DoNotPay Helps You Create and File a Number of Legal Documents
Why waste time worrying about how to draw up and file various legal documents when you can have the world's first robot lawyer do that in your stead? You do not have to waste thousands of dollars on lawyer's fees—our extensive database has a myriad of documents on offer.
DoNotPay will help you automate the procedure of completing and filing 83(b) election forms, write a formal demand letter requesting payment from clients who try to avoid it, and deal with other important paperwork.
Don't want to waste time going to the post office to mail a contract? Now you do not have to! With DoNotPay, you can fax and mail any document in a matter of clicks!