How Do Small Business Loans for Veterans Work?
Veterans represent 9.1% of all businesses in the U.S. If you would like to be a part of the statistics but don't know where to start, you have come to the right place!
We will tell you all about small business loans for veterans and explain how they work and which terms they impose. We will also show you how to draft a rock-solid loan request letter with DoNotPay's help!
Requirements for VA Small Business Loans
To qualify for a small business loan for military veterans, you must fit into one or more of the following groups:
Honorably discharged veterans (e.g., post 9/11 period)
Service-disabled veterans participating in the TAP (Transition Assistance Program)
Active duty military members
Reservists
National Guard members
Current spouses of veterans
Active duty service members
Widowed spouses of service members who died while in service or due to service-connected disabilities
United States Department of Veteran Affairs (VA) Small Business Loans—Top Lenders
As a veteran, you can choose from multiple small business loan lenders, including:
The U.S. Small Business Administration (SBA)
Banks and credit unions
Crowdfunding
Veteran-focused funding firms
The U.S. Small Business Administration (SBA) Loans
The SBA is a government-backed loan organization that allows you to apply for a loan of up to $5 mil, depending on your qualifications and circumstances. The upfront fee is zero for all veteran loans of up to $350,000. The SBA doesn't have any restrictions for the uses of the borrowed money, which means you can either use it for your startup or cover your running business' expenses.
Depending on your status, you must present the following paperwork to apply for an SBA loan:
Status
Documents
Veteran
Service-disabled veteran

Copy of Form DD 214
Department of Veteran Affairs documentation that confirms that you have a service-connected disability

Transitioning active duty military member

DD Form 2
U.S. Armed Forces Identification Card (Active)
Armed Forces of the United States Geneva Conventions Identification Card (Active)
DD Form 2648 (Active Duty Military member)
DD Form 2648-1 (Reserve Component member)

Reservists and National Guard member

DD Form 2
Armed Forces of the United States Identification Card (Reserve)

Current spouse of a veteran

The veteran's form 214
Evidence of status as a current spouse

Current spouse of a transitioning active duty member or current Reservist/National Guard member

DD Form 1173
Department of Defense Guard Reserve Family Member Identification Card
Evidence of status as the current spouse

Widow of an active duty service member who died in service or widowed spouse of a veteran who died of a service-connected disability

Documentation from DOD or from DVA showing this to be the case
Banks and Credit Unions
If you have a solid credit score, you might be able to get a loan from a bank or credit union. The interest rate, provided that you get approved, will be low, and you will also know how much you have to repay over time. Another benefit is that you will build up your business credit by making monthly installment payments.
Microlenders
If having a budget of $50,000 would help you meet your financial needs and get your company up and running, this loan type is for you. The interest rate for veterans is usually between 8% and 13%, and you might have to provide collateral.
Crowdfunding
Crowdfunding might help you raise some money online with the help of backers who want to support veterans and small businesses. It is usually lending-based, meaning that you promise to repay the money you borrowed. Crowdfunding can also be:
Reward-based—Anyone who contributes to your campaign will be rewarded
Equity-based—You offer shares in your company to those who invest in it
Donor-based—The donations you receive come from people who only want to support your business
Online Lenders
Veterans have twice the chances of getting an online loan approved as opposed to other business owners. You can find many online lenders who offer various loan options. The money you borrow can be used for multiple purposes (e.g., equipment financing or covering startup costs).
Veteran-Focused Funding Firms
You can also choose from one of several lenders that offer loans specialized for veterans, such as:
Hivers and Strivers—This company helps businesses founded by people who graduated from the United States Military Academy, Naval Academy, Coast Guard Academy, Air Force Academy, or Merchant Marine Academy. If you are a graduate from any of these schools, you can get a loan of up to $1 million through this program
StreetShares Foundation—StreetShares offers short-term loans and monthly grants for veteran-owned businesses
How To Apply for a VA Small Business Loan
Applying for a small business loan is a tedious task. You have to make sure you have all the required documents as the lenders will go through them to make sure everything is valid and that you meet the criteria. Lenders might require different documents, but the paperwork you typically need to prepare is as follows:
Your Federal Tax ID
Your ID
Type of business (whether you are an LLC or an S Corporation)
Business and personal tax returns
Bank statements (personal and business)
Financial statements for the past two to three years (e.g., balance sheets, cash flow, etc.)
Projected financial statements
A detailed business plan
A loan request letter, which must specify:

How you will spend the borrowed money
The loan amount you wish to take out
Positive attributes about yourself to make sure you are trustworthy
How you intend to repay the loan
Get a VA Small Business Loan Easily With DoNotPay's Help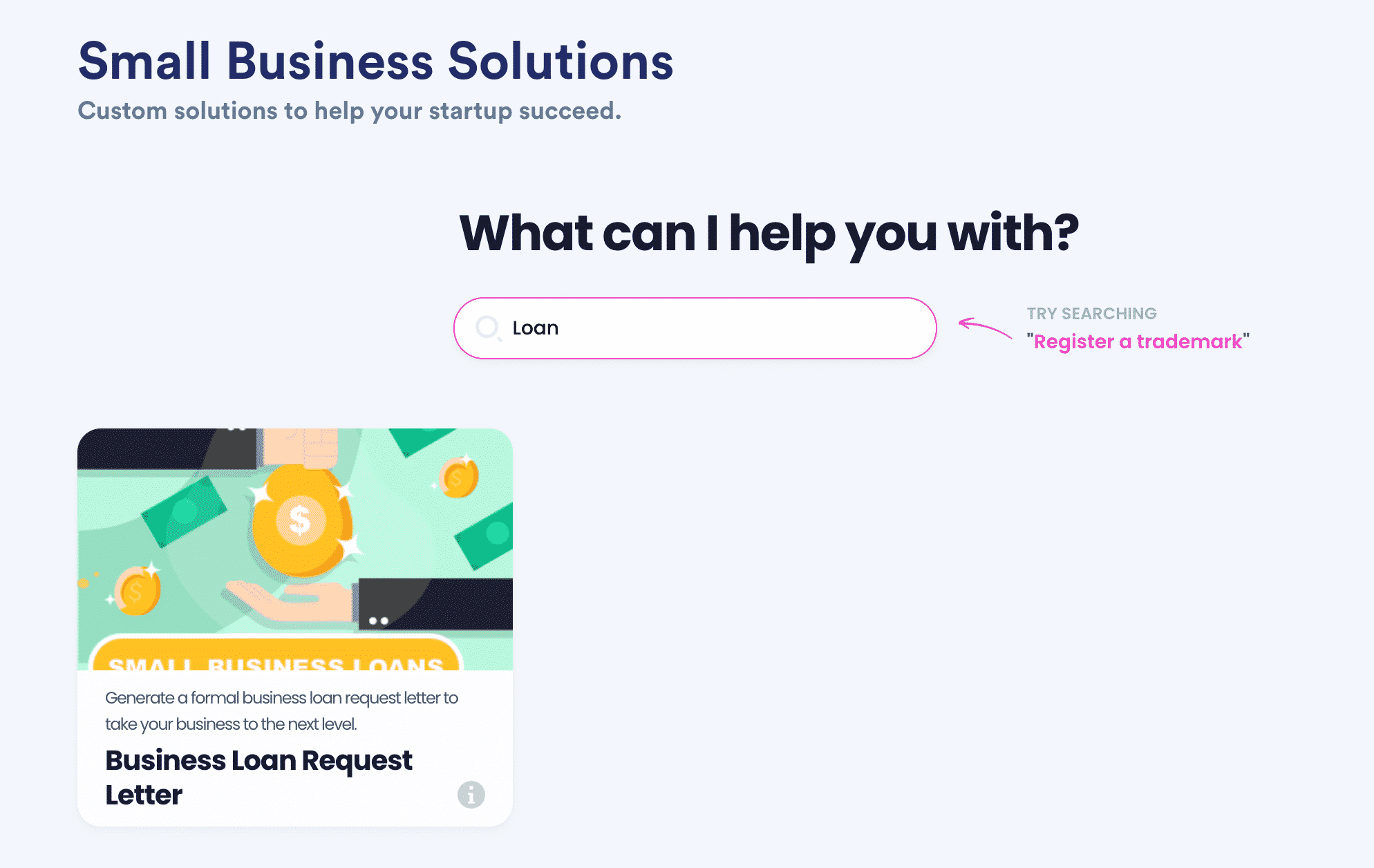 If you want to go through the small business loan application process as smoothly as possible, subscribe to DoNotPay. We will generate a personalized business loan request letter for your application. To draft the letter hassle-free, follow these steps:
Gather your credit scores
Prepare the required documents
Answer a few questions about your business
Upload the paperwork
Need help finding a potential lender? Use our integrated Find an Online Business Loan Lender tool when filling out the questionnaire to get a list of the top three lenders for you.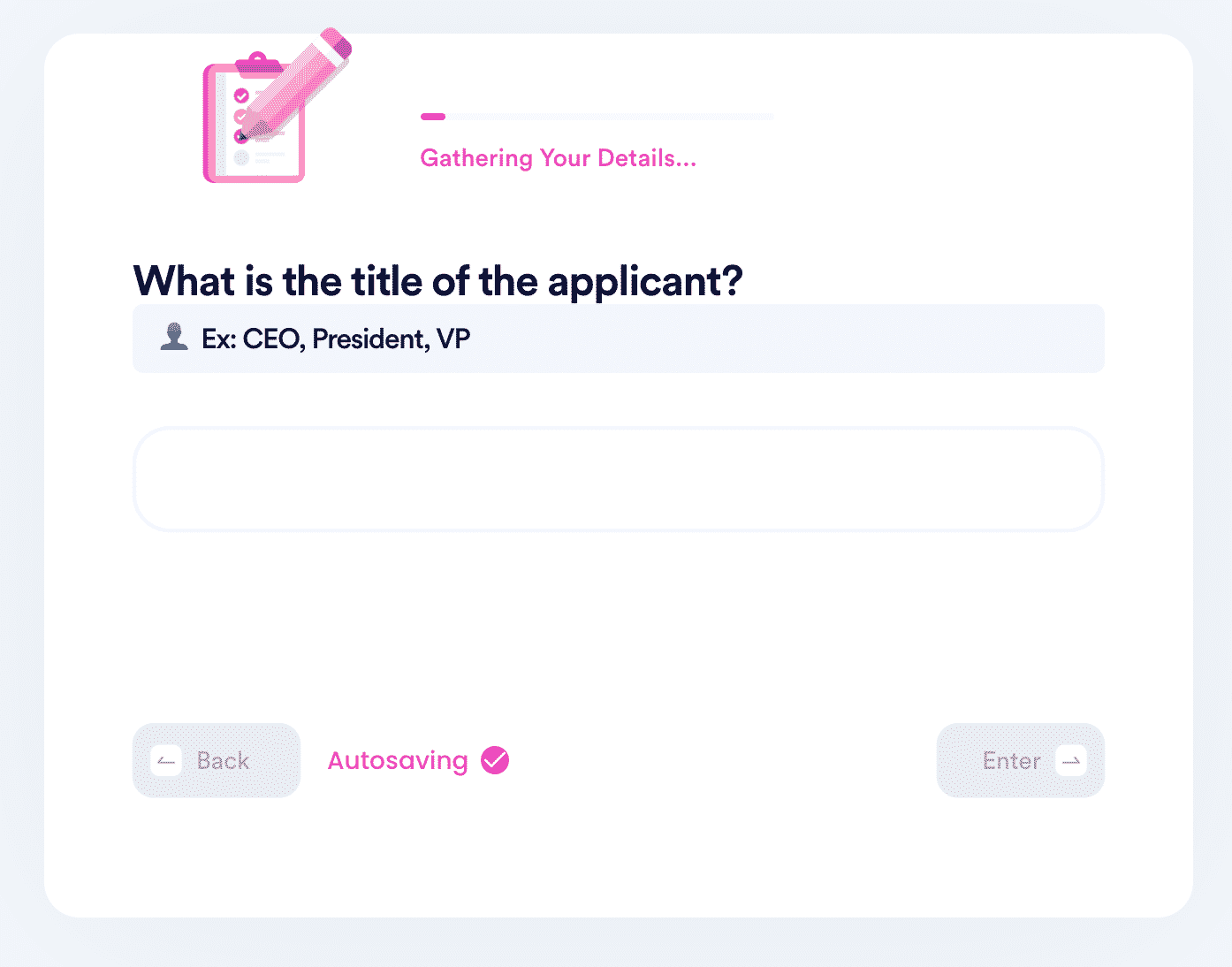 We Have All the Resources You Need
DoNotPay has created a plethora of simple-to-use features that will help you run your business the best way possible. Here are some aspects we can help you take care of:
Registrations
Legal Documents

Get an Employer Identification Number (EIN)
Register a DMCA agent to avoid copyright violations

Send a cease and desist demand if someone is using your trademark
Draw up a watertight letter requesting a loan for your business
Draft a demand letter to send to a client who refuses to pay you
Get a customized chargeback rebuttal letter and fight unfair chargeback requests hassle-free
What Else Does DoNotPay Have in Store for Your Business?
You can use our app to resolve many other business-related issues. DoNotPay can help you deal with fake reviews that are ruining the reputation of your business by analyzing the harmful review and figuring out the best way to go about it.
Do you wish to protect the privacy of your clients and prevent their data from being collected while they are on your website? Use our app to file a self-certification request with the Privacy Shield program.
If you need help automating the filing of 83(b) election forms, DoNotPay has the right solution for you and your employees or shareholders! With our app, you will be able to finish the entire process with a few clicks.
Another perk of using our app is that we can help you fax and mail any documents or letters without having to leave your home or office.
DoNotPay will help you handle all your business tasks in the blink of an eye!