The Ultimate Guide to Small Business Loans for Minorities
Access to funding can mean the difference between flourishing and surviving, especially for minority-owned small businesses. Although entrepreneurs from disadvantaged communities own more than eight million businesses in the U.S., they still struggle to secure funding more than other small business owners. Government and private organizations are continuously creating funding opportunities specifically designed for minority-owned businesses to bridge that gap.
Whether you want a small business loan for startup costs, expenses, or scaling, this guide will help you discover the best small business loans for minorities. For better chances of loan approval, use DoNotPay to draft your flawless loan request letter.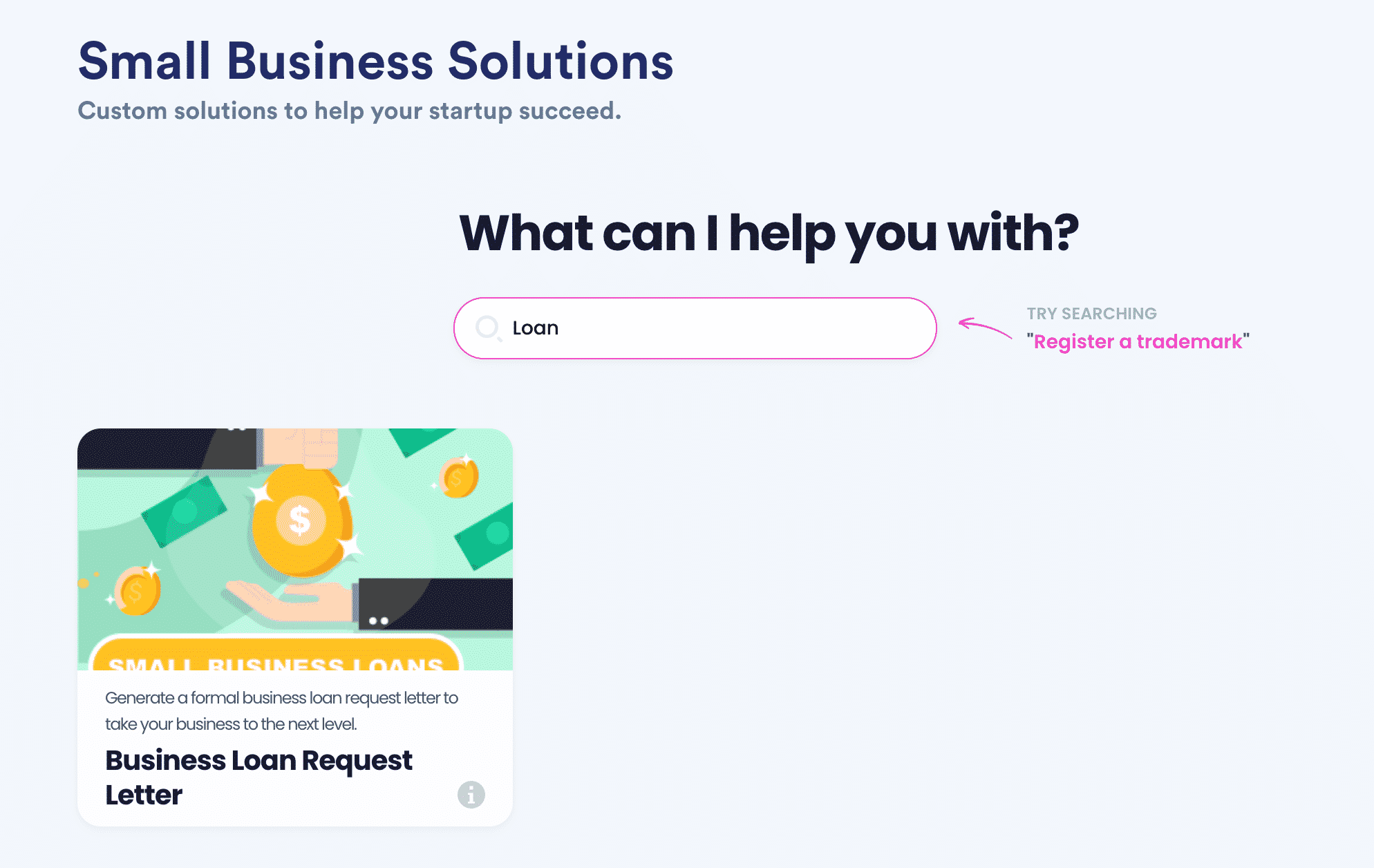 What Are Small Business Loans for Minorities?
Small business loans for minorities are funding opportunities designed to help minority-owned small businesses. These loans come from different providers, such as:
Federal and state agencies
Community Development Financial Institutions (CDFIs), such as banks, venture capital funds, and credit unions
Microlenders
Non-profit organizations
Online and alternative lenders
Do You Qualify for Minority Small Business Loans?
To be considered a minority, you need to claim ancestry from at least one of the minority ethnic groups:
Asian-Pacific
Alaskan Native
Black American
Native American
Hispanic
Asian-Indian
Many minority small business loan providers will also require that you:
Own and manage at least 51% of the business
Have a minority-owned business certification
Every lender can also set up other requirements for the loans they provide, for instance:
A minimum personal and business credit score
Age of the business
Purpose of the loan
Minimum yearly cash flow
Business and personal net worth
Minority Small Business Loans—What Are Your Options?
Unfortunately, there aren't many small business loans for minorities out there, but that doesn't mean you can't get sufficient funding. Besides the opportunities designed exclusively for minority business owners, you can also qualify for general small business loans.
When checking out the available options, pay attention to the following loan terms and conditions:
Loan processing time
Repayment schedule
Loan amount
Here are some of the types of minority small business loans you can look into depending on your needs and budget:
Small business loans for particular ethnic groups
NGO and bank loans for minorities
Government small business loans for minorities
Small Business Loans for Particular Ethnic Groups
Some funding opportunities are limited to certain ethnic groups, for instance:
The Indian Loan Guarantee program—Provides affordable loans to federally registered American Indian tribes and Alaskan Natives groups. The loans have an interest rate of 4% APR and are meant for various uses, like buying pieces of equipment
The Office of Hawaiian Affairs (OHA) Malama Loan—This loan ranges from $2,500 to $100,000 and is meant to support small business owners who reside in Hawaii and have proof of Native Hawaiian ancestry
The National African-American Small Business Loan Fund—This fund's loans are offered to African Americans who have owned small businesses for at least two years in New York, Chicago, and Los Angeles
NGO and Bank Loans for Minorities
Some banks and non-governmental organizations create loan funds for minority-owned small businesses, for instance:
The Union Bank's Business Diversity Lending Program—The union bank offers loans of up to $2.5 million for women, veterans, and minority-owned small businesses with less than $20 million in annual sales. The entity needs to have been operational for at least two years
Business Consortium Fund Loans —The National Minority Supplier Development Council Business Consortium Fund offers loans to NMSDC-certified minority-owned businesses. You can get anywhere from $250,000 to $750,000 with a repayment term of five years
Government Small Business Loans for Minorities
Government loans are the most coveted but also hard to secure. They typically have longer processing periods than other types of loans.
The U.S. Small Business Administration (SBA) provides numerous funding opportunities for underserved communities. The SBA doesn't offer the loans directly but guarantees to partially pay the lenders if a small business owner doesn't repay. If you are looking for small business startup loans for minorities, the SBA loans can be ideal for you.
Take a look at the options available for funding:
| SBA Loan | Details |
| --- | --- |
| Microloans | The SBA helps startups owned by women, veterans, and minorities to secure up to $50,000 through the microloan program |
| SBA Community Advantage loans for minority business owners | These loans are managed by community-based lenders, and amounts range from $50,000 to $250,000 |
Create the Best Loan Request Letter Using DoNotPay
Securing a small business loan for minorities is not easy, even after you learn how they work. To ensure you don't miss out on any funding opportunities, you should get all the help possible. DoNotPay can help you draft an error-free request letter that will maximize your chances of loan approval.
To get your custom-made letter in a matter of minutes, proceed as follows:
Find the Business Loan Request Letter product
Fill out the brief questionnaire
Upload your credit score and financial documents
Once you hit Submit, your loan request letter will be on the way to your chosen lender in no time.
DoNotPay can even help you find the best online lender for your business needs with our Find an Online Loan Lender tool.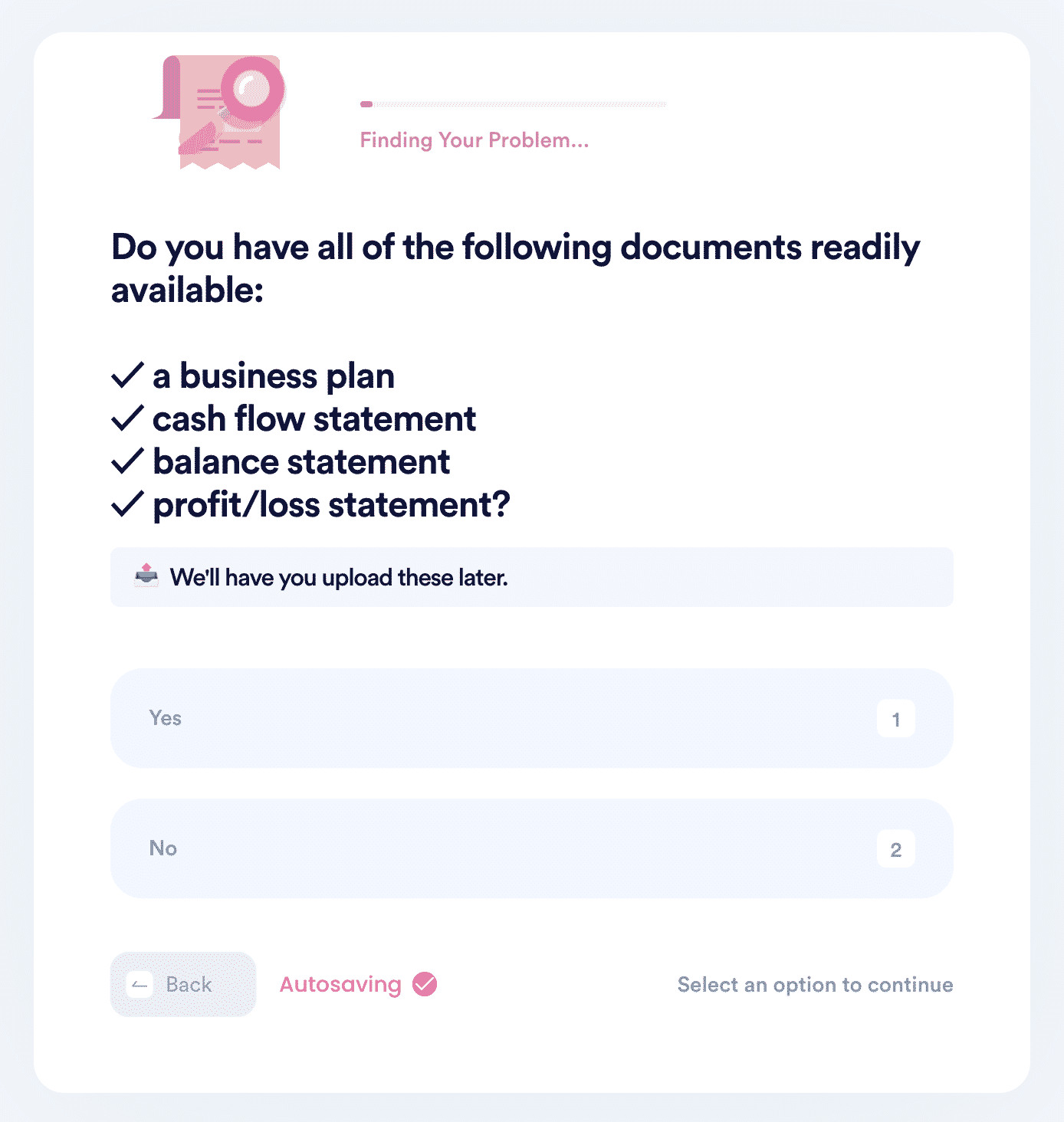 Protect Your Brand Name and Build Trust With Your Users!
One of the most challenging aspects of every business is building a trusting relationship with the customers and maintaining a good reputation. That is why it is crucial to protect your business name, logo, and slogan legally by registering it as a trademark. DoNotPay is here to help you do that hassle-free with our Trademark Registration tool. Need help checking for trademark violations once you register? There is no need to fret as we have a tool that can help you with that as well!
Now that your trademark is taken care of, you should consider complying with data protection requirements to take care of your users' privacy. You can do so by using our Privacy Shield Self-Certification product.
Are you dealing with fake negative online reviews that are harming your business? DoNotPay can help you by analyzing the reviews and reporting them until they are taken down!
Time Is Money, and DoNotPay Can Help You Save Both!
DoNotPay offers an array of time-saving features that you can use when you do not feel like dealing with business-related challenges on your own. We can help you:
Apply for your Employer Identification Number (EIN) Registration in a few clicks
Help your employees lower their taxes by filing 83(b) election forms from the comfort of their offices
Enjoy free faxing and mailing services and save time by not having to go to the post office
Complete a DMCA agent registration process to avoid dealing with copyright violations
Write a convincing letter when filing for a small business loan
Do you need help dealing with clients who do not want to pay for your services? Use DoNotPay's Breach of Contract product to send a letter of demand in a matter of minutes! Not sure what to do with unfair chargeback requests? We can help you by creating a chargeback rebuttal document for you to send to your payment processor.