Small Business Loans for Independent Contractors—Find Out if You Qualify
Is your business too small to get a loan? Not necessarily—small business loans for independent contractors are designed for one-person operations.
Just because you do not have staff does not mean you do not count as a business. Both the United States Small Business Administration (SBA) and a range of financial institutions offer different types of loans to support self-employed professionals like yourself.
Even though you need help covering your small business expenses does not mean you will automatically qualify. Learning how to get a small business loan will make you that much more likely to succeed with your application.
If you would rather skip the hard work, you can ease the process with .
How Do Loans Benefit Lenders and Borrowers?
Small business loans for self-employed professionals offer a number of critical benefits to the economy:
The growing self-employed workforce can access the finances they need to survive and thrive
These workers can provide more services, produce more goods, and stimulate the economy
Financial institutions can invest their clients' money and expand their portfolios through earned interest
Loans work by allowing businesses with exorbitant initial expenses or periods of low revenue to survive, which promotes a more active economy. The SBA has facilitated the lending of hundreds of billions of dollars to help entrepreneurs pad out their small business budgets. A considerable portion of bank profits comes from the interest they bring in on borrowed money.
When the terms are equitable, small business loans are a win-win for everyone involved. Under the wrong conditions, a loan may put your company in a worse position than the one it started from, which is why you need to make sure you find the best small business loan for your specific needs.
Independent Contractor Small Business Loans—Do You Need One?
You should not apply for a small business loan if you do not need it. Two situations in which a loan may be beneficial to your organization include the following:
You need to make a major purchase for which you do not have the funds
Your revenue is temporarily low and prevents you from covering your expenses
Even if you qualify for a loan, you should not necessarily take what is offered. Unfair terms can cost you a lot of extra money and make it very difficult to follow the repayment schedule. That is why you should ask the following questions about any loan agreement presented to you:
How much is the proposed investment capital worth?
What is the Annual Percentage Rate?
How big is the average monthly interest payment?
What is the general interest rate on the total loan?
Will you be subject to additional fees if you repay ahead of schedule?
You need to be skeptical of any loan agreement—do not accept bad terms because you are struggling to deal with your startup costs.
Accessing Small Business Loans for Independent Contractors
While taking out loans has traditionally been difficult for independent contractors, the SBA recently changed the terms of the Economic Injury Disaster Loan (EIDL). Due to the economic effects of the COVID-19 pandemic, even self-employed professionals can apply.
Here is what you need to know about EIDL loans:
| Term | Details |
| --- | --- |
| Acceptable use | Operating expenses or debt repayment |
| Maximum amount | $2,000,000 |
| Repayment timeline | 30 years |
| Interest rate | 3.75% fixed |
| Deferment | First two years |
| Fees | $100 for loans greater than $25,000 |
| Personal guaranty | Required for loans exceeding $200,000 |
How To Apply for an EIDL Loan
Follow these steps to submit your EIDL loan application:
Visit the SBA EIDL application portal
Answer the Eligible Entity Verification questionnaire
Provide information about your business
Input personal financial information
Submit your application
The SBA estimates that loan applications can take as long as an hour and forty minutes to fill out.
How To Find Other Small Business Loans for Independent Contractors
Provided that you have a viable business plan, confirmed revenue, and an acceptable credit score, you can apply for a startup business loan with a range of different lenders—banks, credit unions, or alternative online lenders. While you can use the SBA's lender database, doing so can be time-consuming. Here is what the process entails:
Go to the SBA Lender Match tool
Peruse the available options
Select the lender that best meets your needs
Apply for a loan
If that sounds like too much work, consider using DoNotPay instead—it streamlines the process and finds you your three best lender options.
DoNotPay Will Be Your Loan Manager
You work for yourself, which means you cannot delegate loan application management to a subordinate on your staff. That does not mean you have to handle it independently—DoNotPay will take the work off your hands.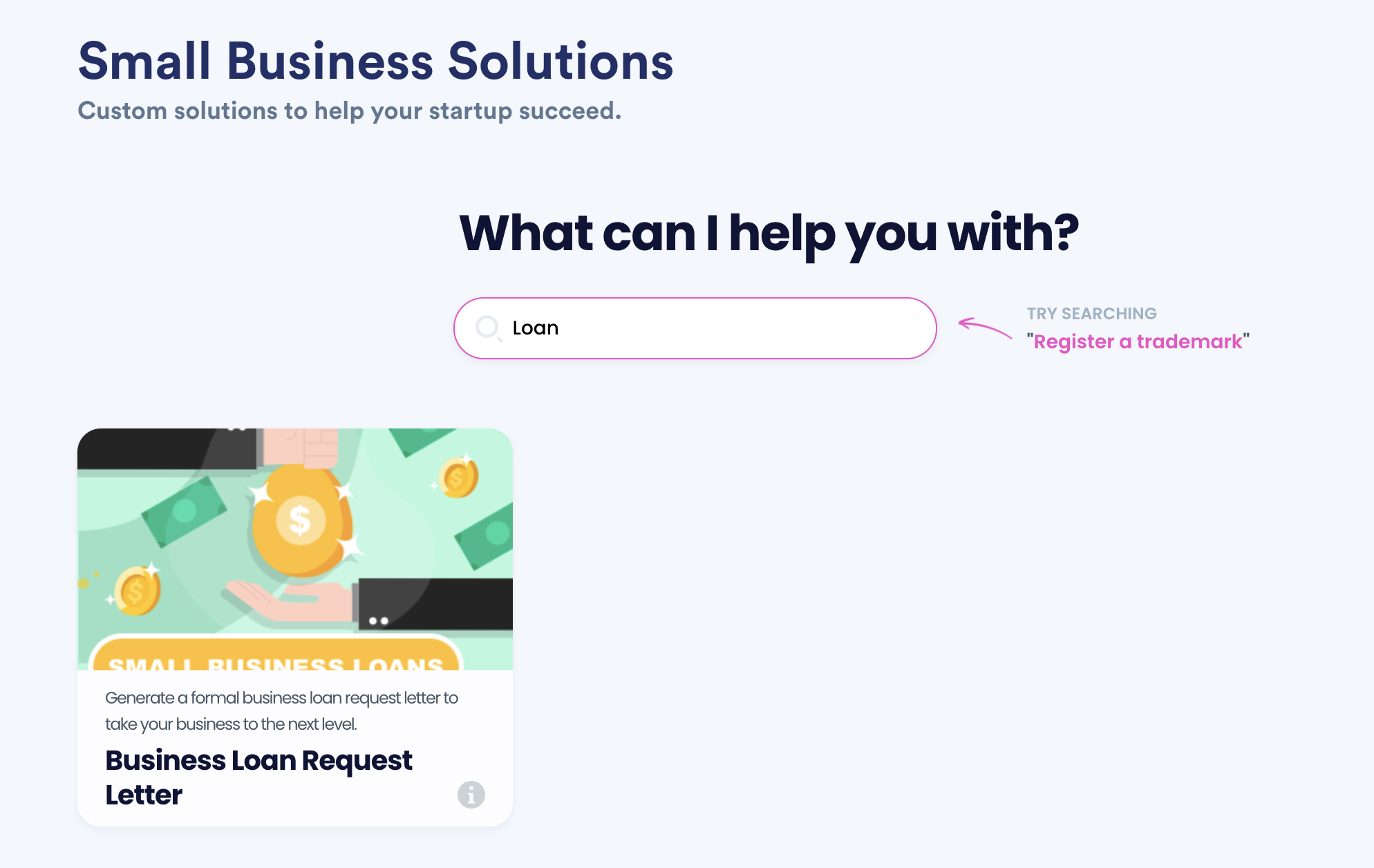 Our AI-powered platform comes with two essential tools to help with loan acquisition:
Business Loan Request Letter generator
Find Online Business Loan Lender tool
With these two features, DoNotPay will expedite the procedure of determining the best lender for your business and then the loan application process. Here is how to get started:
Choose whichever tool you need
Provide the necessary business details
Specify the loan amount and purpose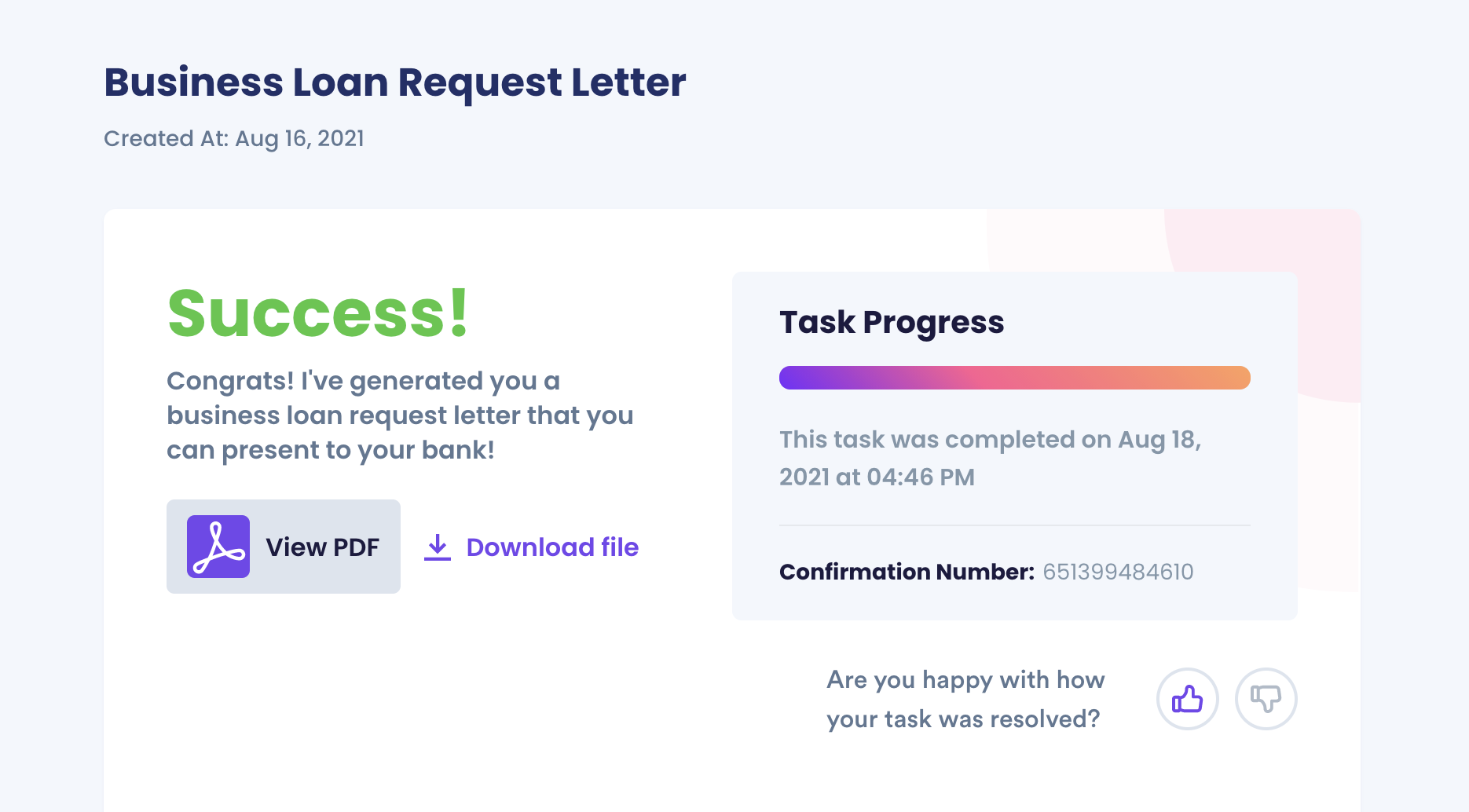 After you have given us the necessary information about your business, we will take care of the rest.
DoNotPay will determine the three lenders best suited to your financing needs to maximize your chances of approval and send your loan request letter to the lender you opt for.
Let DoNotPay Help You With Boring Administrative Tasks While You Focus on Becoming a Business Mogul!
DoNotPay can assist you in dealing with a number of business-related tasks. We have developed a plethora of simple-to-use products that make running a business much easier and less stressful.
Do you need help registering your business name as a trademark? We have got you covered! Not sure how to write a convincing letter to request a small business loan? DoNotPay helps with that, too!
Use our app to get a perfectly generated chargeback rebuttal document, formally request payment from clients who breach the contract, and find out how your employees can file 83(b) election forms in a matter of clicks!
Check Out Our Other Nifty Products!
That is not all DoNotPay has to offer. Our awesome tools will make tedious administrative tasks easier to manage so you can concentrate on your business instead of wasting time waiting in lines and filling out forms. Rely on DoNotPay to:
Take care of DMCA agent registration and Privacy Shield program self-certification
Make sure no one else is using your trademark
Get rid of fake online reviews that harm your business reputation
Manage Employer Number Identification (EIN) registration
Enjoy the convenience of faxing and mailing from the comfort of your home or office