Ways To Get Small Business Loans for Franchise Businesses
Starting or purchasing an existing franchise isn't cheap. Besides the typical startup costs, you must pay franchise fees—which can range anywhere from $20,000 to $30,000—and regular royalties. Luckily, small business loans for franchises can help you jump over these financial obstacles.
This guide has all the necessary details that will help you understand how the small business loans work. If you need help with writing a loan request letter, use DoNotPay to get it done within minutes.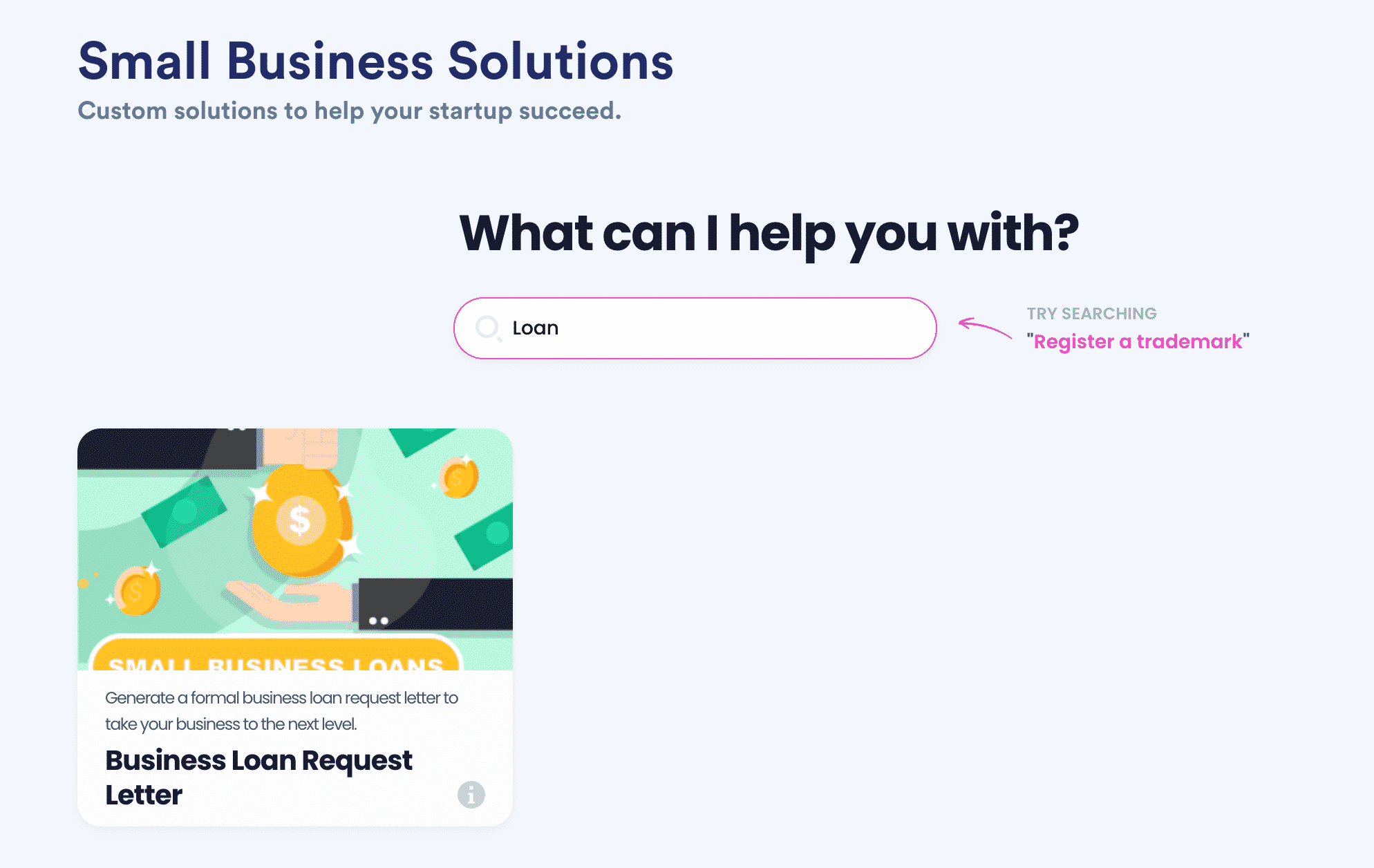 Franchise Startup Loans—What Are Your Options?
While there are no small business loans specifically designed for franchises only, you still have several financing options. Lenders set the terms for the loans they provide—for example, what the loan can be used for—which can open some opportunities. Here are some of the best small business loan providers that can support you to open, buy, or run a franchise:
Small Business Administration (SBA)
Commercial banks
Alternative lenders
Franchisors
SBA
The SBA small business loans are issued by different lenders who partner with the SBA. This government agency guarantees a portion of the loan to make it easier for small businesses to access funding.
If you want a longer loan repayment term, lower interest rates, and flexibility of use, SBA loans might be a good choice for you. They can be used to purchase equipment, pay daily business expenses, and more.
Although the SBA loans are not meant for franchises specifically, here are the two great options you can take advantage of:
SBA Loan
What To Use the Loan For
Important Information
SBA 7(a)

Amount—$5 million
Interest rates—8 to 11.25%
Repayment terms—10 years (for working capital) and 25 years (for real estate)

CDC/504

Purchasing long-term machinery and equipment, real estate, and facilities
Improving facilities and landscape

Cannot be used for:

Funding working capital
Paying other debts
Investing in rental real estate

Amount—$5 million
Interest rates—between 7.25% and 9.75%
Repayment terms—25 years
Before applying, you should confirm if your chosen brand is listed in the SBA Franchise Directory, which is updated weekly. If it is not, check with the franchiser if they intend to be listed soon.
It can take two to three months to know if your loan has been approved.
Commercial Banks
Banks can provide general business loans for any business-related expense. You can also get specialized financing, like equipment loans. Equipment loans can be easier to get since the bank can collect the equipment if you fail to pay the loan.
Some of the best bank loans also have fair interest rates because of the competition. To get small business loans from banks, you have to meet strict eligibility requirements and complete lengthy application processes.
Alternative Lenders
If you need smaller amounts and a quick solution, you should consider alternative lenders. They typically offer loans with shorter repayment terms (3–18 months) and high interest rates. Such funds usually don't have a defined purpose of use.
You can even receive the funds on the day of the application for loans of up to $250,000. Although they may require a good credit score, these loans have less strict requirements, and you can apply online.
Franchisors
Some franchisors provide direct financing options as an incentive for joining the business. You should find out if the brand you are interested in provides in-house financing. If they do, compare the requirements and terms with external options to determine the best one for your budget and other needs. You can also find out if the franchisor has lending partners that you can approach.
How To Get a Small Business Loan for a Franchise
The reliable way to secure any type of small business loan is to ensure that you meet the requirements. Meeting the application requirements includes submitting all the required documentation—which varies from one lender to another. Failure to submit even one document can result in a loan denial.
For most lenders, you will need to submit the following documents:
Business plan
Copy of a signed franchise agreement and lease
Personal financial statements
Business license
Personal credit report
Records of loans you previously applied for
Personal and business income tax returns
Personal resume
Get an Error-Free Loan Request Letter Using DoNotPay
As a part of your loan application, you need to write a request letter explaining important details—for example, how the loan will support your business. Even if you have all the necessary documents, the letter can help you sell the franchise idea to the lender.
Do you need help with drafting a convincing letter? DoNotPay has a simple-to-use feature that will help you generate a professional request letter in less than five minutes. All you need to do is:
Find the Business Loan Request Letter feature
Provide your loan details and upload the required documents
Once you are done, your loan request letter will be on the way to your lender in no time.
If you haven't found the right lender for your business, you can use DoNotPay's integrated Find Online Business Loan Lender feature to get the best suggestions.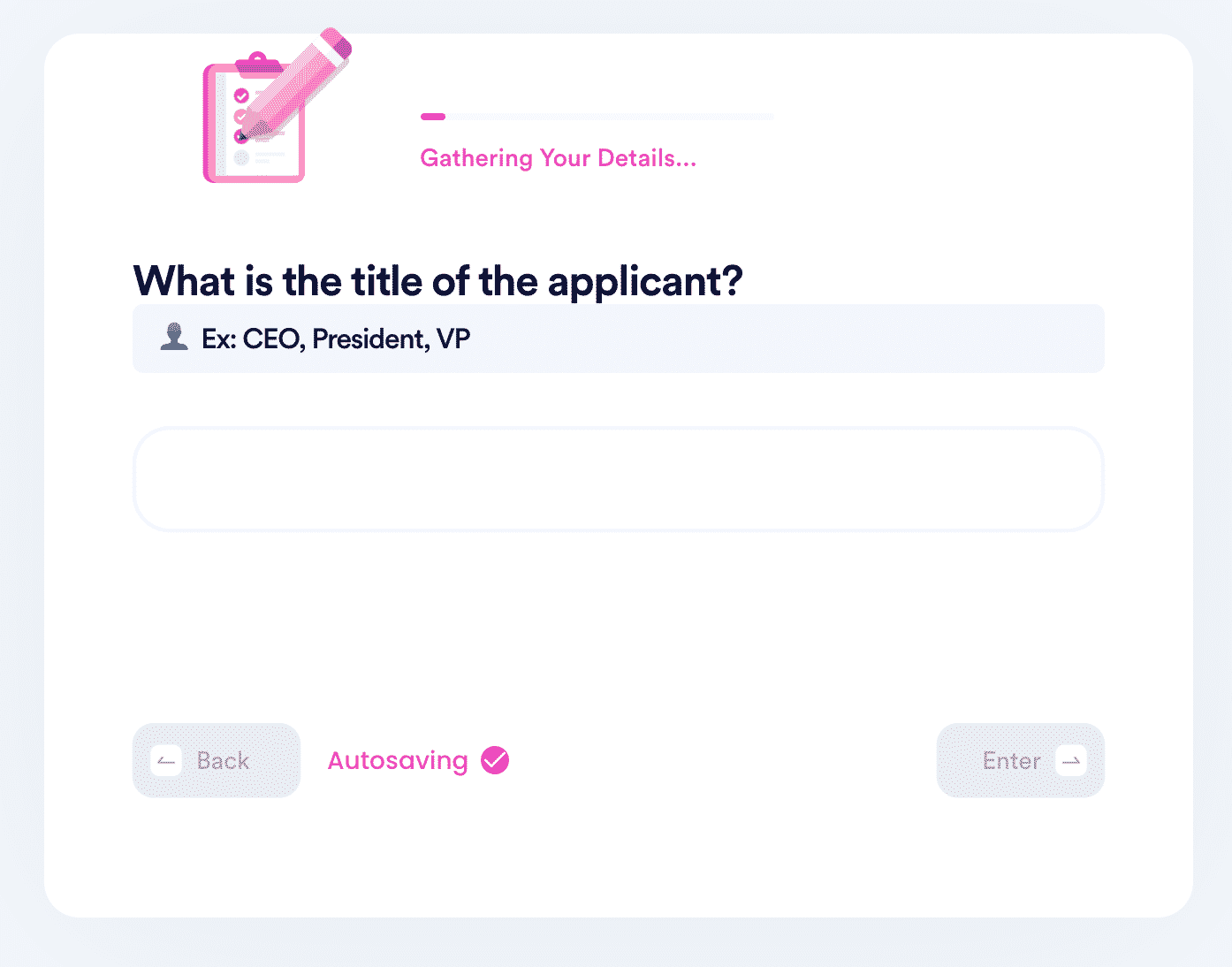 Protect Your Brand Name and Build Trust With Your Users!
One of the most challenging aspects of every business is building a trusting relationship with the customers and maintaining a good reputation. That is why it is crucial to protect your business name, logo, and slogan legally by registering it as a trademark. DoNotPay is here to help you do that hassle-free with our Trademark Registration tool. Need help checking for trademark violations once you register? There is no need to fret as we have a tool that can help you with that as well!
Now that your trademark is taken care of, you should consider complying with data protection requirements to take care of your users' privacy. You can do so by using our Privacy Shield Self-Certification product.
Are you dealing with fake negative online reviews that are harming your business? DoNotPay can help you by analyzing the reviews and reporting them until they are taken down!
Time Is Money, and DoNotPay Can Help You Save Both!
DoNotPay offers an array of time-saving features that you can use when you do not feel like dealing with business-related challenges on your own. We can help you:
Apply for your Employer Identification Number (EIN) Registration in a few clicks
Help your employees lower their taxes by filing 83(b) election forms from the comfort of their offices
Enjoy free faxing and mailing services and save time by not having to go to the post office
Complete a DMCA agent registration process to avoid dealing with copyright violations
Write a convincing letter when filing for a small business loan
Do you need help dealing with clients who do not want to pay for your services? Use DoNotPay's Breach of Contract product to send a letter of demand in a matter of minutes! Not sure what to do with unfair chargeback requests? We can help you by creating a chargeback rebuttal document for you to send to your payment processor.