Best Small Business Loans for Felons
The United States has always faced the same question—can felons integrate into society and become business people? It turns out the answer is yes.
In a paper published in 2021, the RAND Corporation estimated that over a million small business owners had some type of criminal history, while over 433,000 had a felony record.
If you are an ex-felon and want to start a new business, you will need a lot of capital to cover the startup costs and the expenses that come later on. If you do not have a large personal budget, you can opt for a small business loan.
In this article, we will cover small business loans for felons and show you how they work. We will also explain how you can get a small business loan effortlessly by using DoNotPay.
What Are Small Business Loans?
Running a business comes with never-ending expenditures—you may need to buy new equipment, improve your office space, obtain a new license, or you may need money only to cover day-to-day operations.
If you do not have enough money on the books to cover these expenses, you will need to look for funding elsewhere, and that is where small business loans come in. These loans serve to help struggling or incoming companies press on with their business despite not having enough money.
In return, loans come with set terms—a business owner agrees to pay the money back with interest and a strict repayment schedule. This is why it is important you do your research and find the best loan for your business plan.
If you are struggling to do that by yourself, do not worry—you can register for DoNotPay and let our app conduct the search via our Find Online Business Loan Lender product.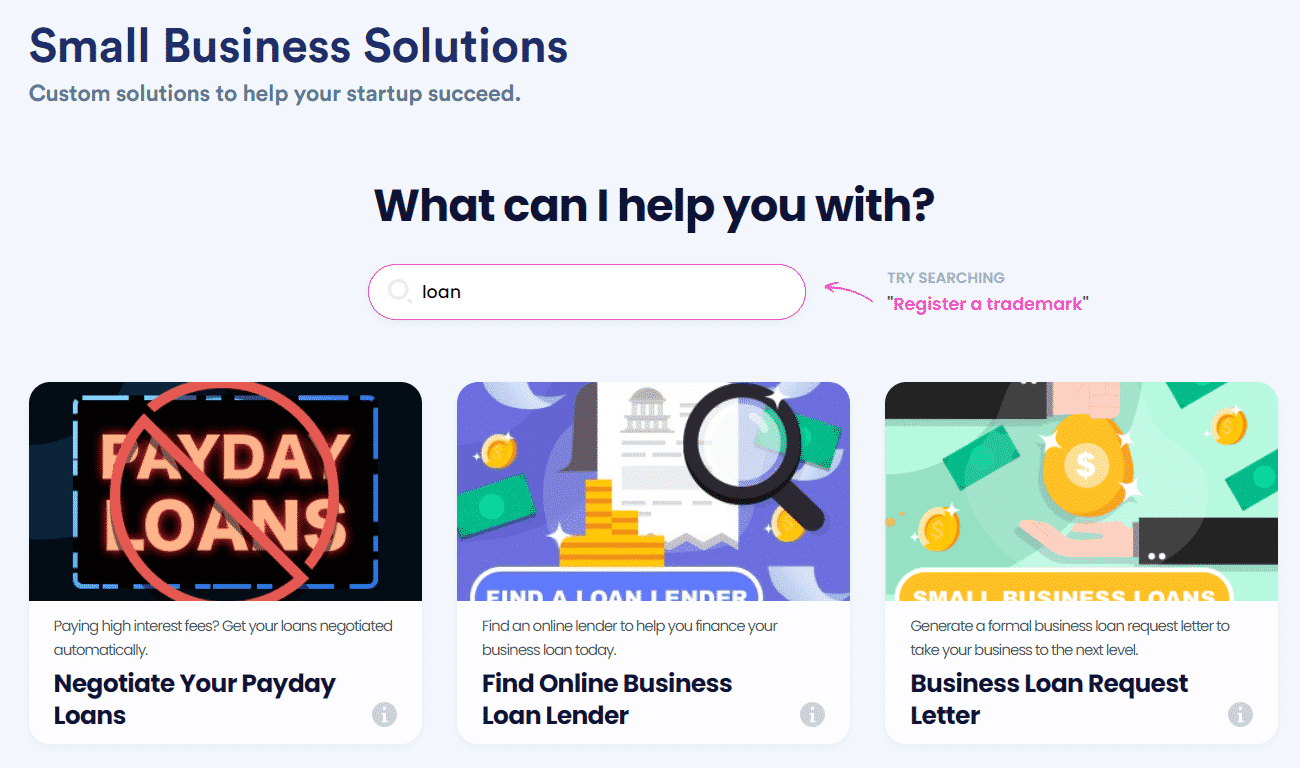 Another aspect of small business loans you should consider is their type. Loans differ based on:
Interest rates
Repayment schedule
Lender
Loan amount
The most common loan types include:
Merchant cash advance (MCA)
Invoice factoring
Capital loan
Small Business Loans for Felons
Credit unions and banks have high demands when it comes to loanee qualifications, such as a good credit score, no other outstanding loans, and several years of being in business. Sadly, being an ex-felon is also a dealbreaker for many of them.
That is not to say you are doomed and that you'll have to give up on your entrepreneurial idea. Many other lenders—usually online ones—do not look into credit scores and criminal records when giving out loans.
While there are not many small business loans for ex-felons exclusively, you can get a loan without your background check becoming an issue. Take a look at the table below to see examples of grants and small business loans for convicted felons:
Ex-Felon Small Business Loans
Grants for Felons

$1,000 Personal Grant from MicroGrants
$500 Cystic Fibrosis Recreation Grant
$5,000 Boots to Business Grant for Felons
$1,000 Modest Needs Self Sufficiency Grant
$5,000 Walmart Grant
$5,000 Southern Filmmaker Grant
$1,000 First Hands Medical Expense Grant
$5,000 Government Grants for Arts, Business, and Community Programs
$5,000 Doris Day Animal Foundation Grant
$50,000 Creative Capital Artist Grant
While grants usually do not offer substantial amounts, they are non-repayable and can help you get on your feet. Even better, they can help you prepare yourself for a small business loan application.
How To Qualify for a Small Business Loan
When you apply for a loan, you will need to:
Show the purpose of the loan
Choose collateral if necessary
Prove that you can repay on the given schedule
To do all of that, it will take more than signing a statement of intent. Lenders will ask you to submit a myriad of documents, such as:
Business plan
Budget sheets
Resume
Collateral
Financial statements on balance, profit and loss, and cash flow
Accounts payable
Accounts receivable
Legal documents:

ID card
Leases
Licenses
Third-party contracts
Bank statements
Apart from the documents, you will also need to fill out a loan application form with in-depth information about yourself and the company.
How To Obtain Small Business Loans for Felons With DoNotPay
Getting a small business loan is a complicated process that asks for dedication and precision. Every year, business owners remain without financial aid because they submit an incomplete or inaccurate loan request. You will need to make sure you do not leave out a single detail.
This can be overwhelming, especially if you are not experienced in the matter. That is where DoNotPay comes in!
Our app will walk you through the entire process, and we will make sure you do not leave out any details and submit all the necessary documents. You can also find lenders within our app and compare their terms.
Once you sign up for DoNotPay, all you need to do is:
Select the Business Loan Request Letter feature
Gather your personal and business credit scores
Prepare paperwork to prove your eligibility
Answer a few questions
Upload all the necessary paperwork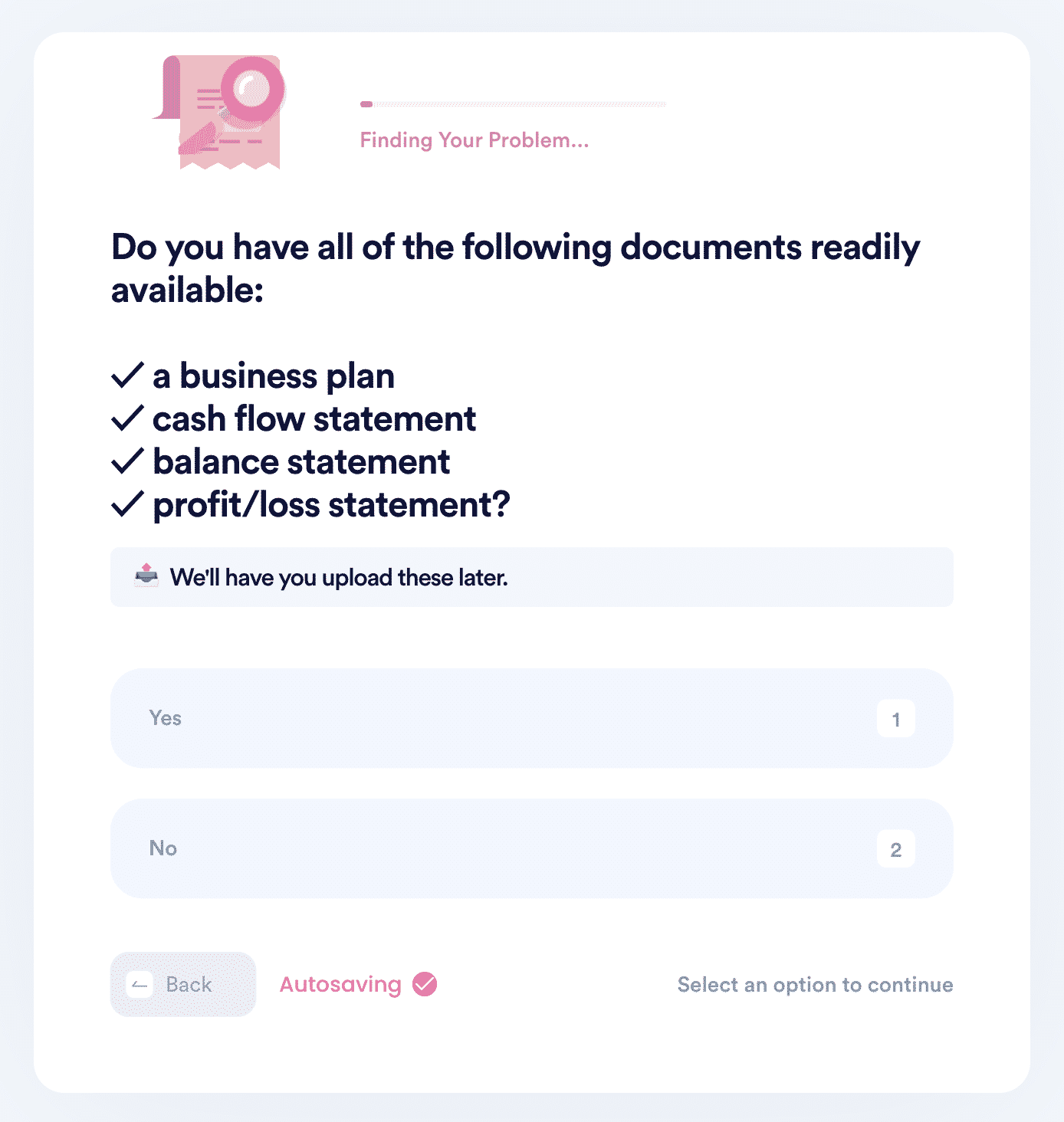 Let DoNotPay Help You With Boring Administrative Tasks While You Focus on Becoming a Business Mogul!
DoNotPay can assist you in dealing with a number of business-related tasks. We have developed a plethora of simple-to-use products that make running a business much easier and less stressful.
Do you need help registering your business name as a trademark? We have got you covered! Not sure how to write a convincing letter to request a small business loan? DoNotPay helps with that, too!
Use our app to get a perfectly generated chargeback rebuttal document, formally request payment from clients who breach the contract, and find out how your employees can file 83(b) election forms in a matter of clicks!
Check Out Our Other Nifty Products!
That is not all DoNotPay has to offer. Our awesome tools will make tedious administrative tasks easier to manage so you can concentrate on your business instead of wasting time waiting in lines and filling out forms. Rely on DoNotPay to:
Take care of DMCA agent registration and Privacy Shield program self-certification
Make sure no one else is using your trademark
Get rid of fake online reviews that harm your business reputation
Manage Employer Number Identification (EIN) registration
Enjoy the convenience of faxing and mailing from the comfort of your home or office