Where To Find Small Business Loans for Bad Credit
Business owners often rely on small business loans to keep their companies running smoothly in case they lack liquidity, cannot cover expenses, or need to invest in new equipment. To get a small business loan, you need to qualify for it by presenting—among numerous documents—a healthy budget and clean bank statements.
What happens when you have a bad credit score? That does not mean you have to shut down your business. In this article, we will show you what small business loans for bad credit scores there are and how you can apply for them.
We will also explain how these loans work and introduce DoNotPay—a quick, convenient way to prepare yourself for the loan application process.
What Is a Credit Score?
A credit score—also known as the FICO score—represents your creditworthiness by assigning it a numerical value from 300 to 850. Many factors determine the score, and they fall into five categories known as the five C's:
Character
Capital
Capacity
Collateral
Conditions
Depending on your score, you will receive a rating as follows:
Poor—300 to 579
Fair—580 to 669
Good—670 to 739
Very good—740 to 799
Exceptional—800 to 850
Any score between 300 and 629 will be labeled as bad credit.
Similar to the FICO score, there is also a business credit score that judges your company's creditworthiness. This score ranges from zero to 100, and many lending institutions, such as banks and credit unions, ask for both credit score reports when they review a loan request.
When determining a business score, lending institutions take into account the age and size of your business, past loan repayments, balance statements, legal filings, company information background, and many other factors.
How To Improve Your Credit Score
While you can apply for small business loans with bad credit, you will have a harder time getting your application accepted without a good score. To increase your credit score, you should:
Avoid opening too many credit accounts
Build your credit file
Avoid late payments
Avoid poor marks
Not use the whole loan amount at once
Build up a portfolio of on-time business loan repayments
How Small Business Loans Work
Running a business is a costly endeavor. You will come across startup costs, daily expenses, maintenance and utility bills, and so on. If you do not have enough capital for any of them, you can rely on small business loans to help you overcome the financial hurdle.
Before you decide to apply for a loan, you should do your research and find out about loan terms. Loans come with different terms that may be more or less agreeable to your financial situation. The terms include:
Purpose of the loan
Loan amount
Collateral
Loans can differ significantly based on their types. They might come with various terms, ranging from a two to 250 percent interest rate, from a three-month to 25-year schedule, and so on. You can find a loan that gives out $500, while some pay up to $5 million.
The best small business loans are as follows:
How To Get a Small Business Loan With Poor Credit
Many respectable lending institutions will require a high credit score as a condition for their loans. For instance, SBA loans are the most popular ones as the Administration offers a guarantee to lenders in case the company is not able to pay up. While it is not entirely impossible to get an SBA loan with bad credit, it is almost certain it will not happen.
That does not mean that you should give up on the idea of getting a loan. You can still get one, but bear in mind that the terms will not be appealing.
As these lenders do not consider your credit record, they take on a greater risk of giving you the money. To offset that, they raise interest rates and ask for collateral. The collateral is an asset that you will have to give to your lender in the event you fail to repay the loan.
Bad-credit owners can look forward to several loan types, including:
Merchant cash advance
Equipment loan
Short-term small business loan
Business expansion
Working capital
Invoice factoring
A small business line of credit with bad credit
Best Small Business Loans for Bad Credit
Take a look at the following table to learn about some of the best small business loans for bad credit:
Lender Name
Type of Loan
Annual Percentage Rate (APR)
Minimum Credit Score
BlueVine
Line of credit
15–78%
600
Invoice factoring
15–68%
530
OnDeck
Line of credit
11–61.90%
600
Online loan
9–99%
600
PayPal
Short-term loan
2.9–18.72% borrowing fee—no APR
550
If you have trouble finding the most suitable loan for your business, you can subscribe to DoNotPay and use our Find Online Business Loan Lender feature to find lenders with ease.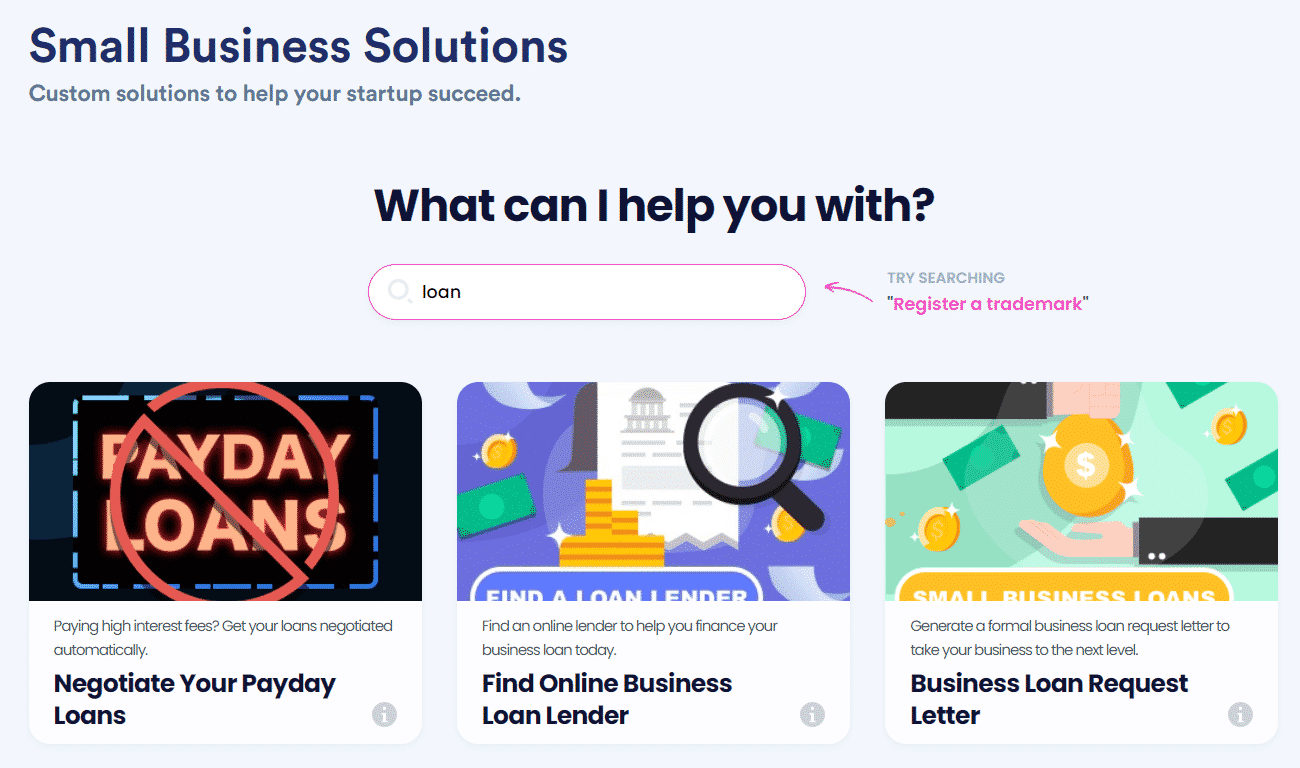 How Can You Get a Small Business Loan With Bad Credit Using DoNotPay?
Getting a small business loan—regardless of your credit score—is a daunting task. Lenders ask for extensive paperwork and many details about your company. Many small business owners fail to prepare for the loan request and miss out on much-needed help due to the complicated process.
You do not have to go through the same experience. Register for DoNotPay, and we will make sure you create a watertight loan request letter by helping you:
Find the right lender for you
Submit your documents
Gather all the necessary information
All you need to do is access DoNotPay and:
Select the Business Loan Request Letter feature
Gather your personal and business credit scores
Prepare paperwork to prove your eligibility
Answer a few questions
Upload all the necessary paperwork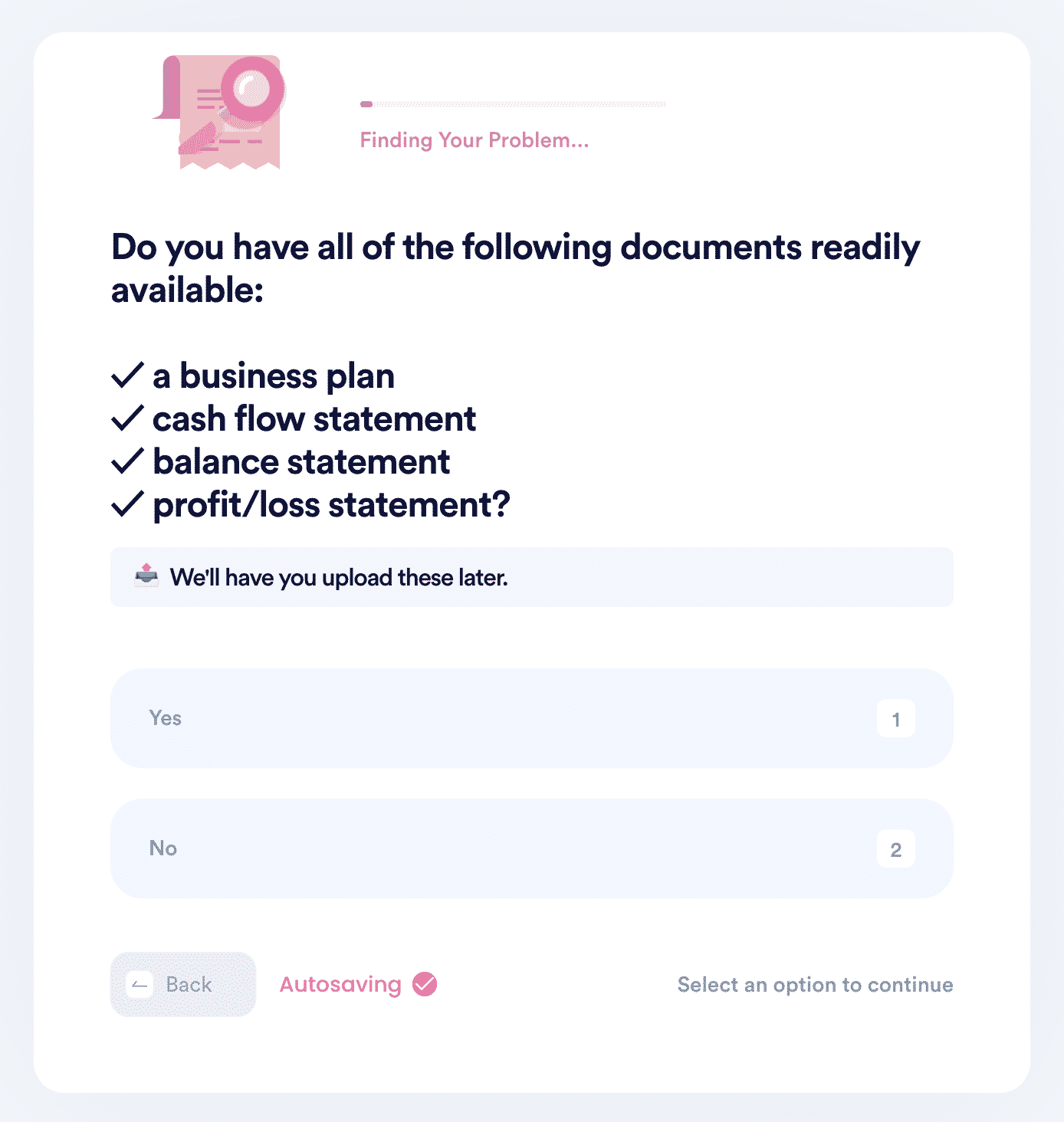 Don't Waste Ages on Tedious Administrative Tasks—Rely on DoNotPay
Running a small business can be a challenging endeavor, but you can count on DoNotPay to make the situation easier! We have developed a number of handy features that you can use to deal with your business-related hurdles. With our help, you can:
Send mail to your customers, investors, or business associates without wasting time going to the post office
Register your business slogan, logo, or name as a trademark to prevent brand infringement
Avoid copyright violations on your website by registering a DMCA agent
Protect the privacy of your clients' data by filing the Privacy Shield program self-certification request
Contest unjust chargebacks and keep the revenue
Deal with clients who breach the contract without wasting money on collection agencies or lawyers
Worked Hard on Creating a Good Business Reputation? Don't Let It Go to Waste!
Has one of the angry clients or envious competitors decided to leave a mean online review that could have a negative impact on your business? DoNotPay is here to help you remove it! We will analyze the problematic review and report it until it is taken down.
Don't know how to protect your trademark and make sure no one else is using it? Our app can monitor the trademark on a monthly basis and send cease and desist letters if necessary.
Let our app take care of many other issues—such as filing 83(b) election forms, registering for an Employer Identification Number (EIN), taking out small business loans, and similar—while you concentrate on the creative side of your business.