Small Business Loans in Florida—What Options Are There?
When you start your own business, you will find out that there are far more expenses going into it than one imagines. To keep your company operational, you will have to face initial startup costs, recurring expenses, and day-to-day fees. Depending on your business, you may need north of $1 million.
That does not mean you have to be a millionaire to become an entrepreneur. If you do not have enough capital, you can turn to small business loans to get the money in exchange for interest.
Most small business loans work throughout the United States, but some are localized. In this article, we will go over small business loans in Florida and explain how they work. We will also show you how you can use DoNotPay to take out a loan successfully.
What Is a Small Business Loan?
To operate a business, you need consistent cash flow so that you can pay various costs that come along on a daily basis. If you do not make enough profit to fund these costs by yourself, you can take out a loan.
Small business loans are financial aid programs that help business owners overcome financial hurdles. Loans can differ based on the following five aspects:
Loan amount
Loan purpose
You will need to consider all five aspects before you commit to a certain loan. You have to figure out which loan works best for your business model so that you can take one that will not make an insurmountable impact on your budget.
When it comes to the purpose of the loan, lenders will require you to show exactly what you need the money for. Some loans offer aid only for certain purposes, such as:
Buying equipment
Buying supplies and inventory stock
Covering startup costs
Obtaining licenses and insurance policies
Managing cash flow and day-to-day expenses
Paying seasonal expenses
Buying or renting a place
Small Business Loans in Florida—Lenders and Types
Another aspect of a loan you should consider is its source. Florida small business loans come from:
Some lenders require additional qualifications from loanees, such as having a good credit score and being in business for several years. The more qualifications needed, the better the terms you get. Bear in mind that others do not look at business credit scores—you can find a startup loan even before you officially start a company.
If you do not know which lender you should choose, you can register for DoNotPay and let our app do the research for you via our Find Online Business Loan Lender product. It is a standalone tool that you can also use as an integrated feature while making a loan request.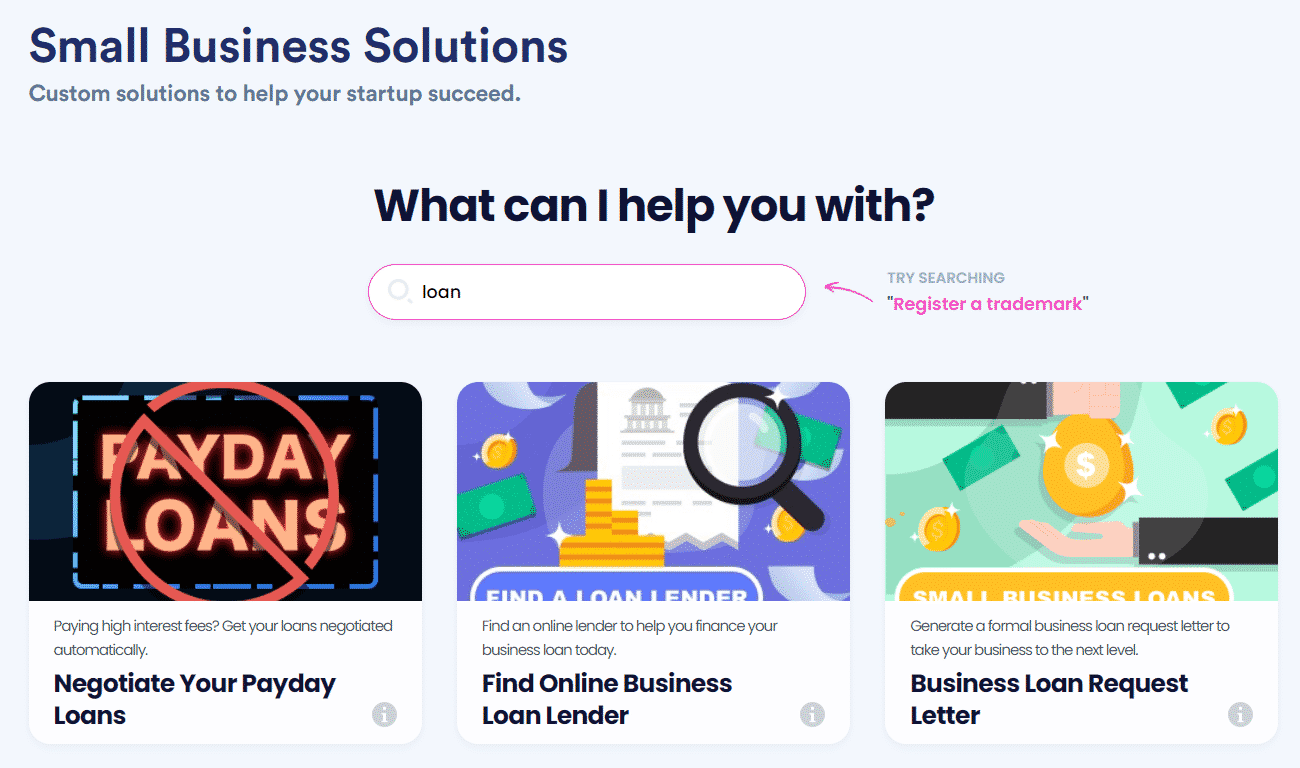 Loan Types
As there are several factors that make loans different from each other, you can choose from various types of loans to see which one fits your business model best. Take a look at the following table to see some of the best small business loans available:
Type of Loan
Description
Maximum Loan Amount
Interest Rates
The United States Small Business Administration (SBA) small business loans

No collateral—the SBA acts as a guarantee
A loan for long-term planning
A 25-year repayment period

$5 million
2.75–4.75%
Equipment loans

Equipment acquisition is the only acceptable purpose
Repayment period equals the lifespan of the equipment

100% of the equipment cost
2–20%
Credit for a small business

Repayment period of six months to five years
Instantly receivable

$250,000
10–99%
Microloans

The repayment schedule of six months to eight years
Small loans for cash flow management

$50,000
8–13%
Merchant cash advance (MCA)

Daily payments
Credit score not considered
Repayment completed in three to 18 months

$250,000
20–250%
Florida Small Business Loans
If you want to apply for a Florida-based loan to avoid the competition, you can do so—bear in mind, though, that there were 2.5 million small businesses in Florida in 2020.
Some of the most sought after small business loans in Florida are:
State Small Business Credit Initiative (SSBCI) in Florida
The Florida Venture Capital Program (FLVCP)
Enterprise Florida Microfinance Guarantee Program
LiftFund loans for Florida Businesses
Rural and Urban Job Tax Credit Program
Florida Black Business Loan Program
Florida Credit Union (FCU) loans
How To Get a Small Business Loan in Florida With DoNotPay's Help
Getting a small business loan is not a straightforward process, regardless of whether you are looking for an FL small business loan or a universal one. You will need to submit information about your company and a variety of paperwork, including financial statements, budget sheets, credit score reports, a business plan, and so on.
Many business owners fail to secure a loan due to an inaccurate or incomplete application. If you want things done efficiently—use DoNotPay.
Our app will make sure you fill out the application form optimally, and we will run a checklist to ensure your loan request includes all required documents. Once you open DoNotPay, you only need to:
Select the Business Loan Request Letter feature
Gather your personal and business credit scores
Prepare documents to prove your eligibility
Answer a few questions
Upload all the required paperwork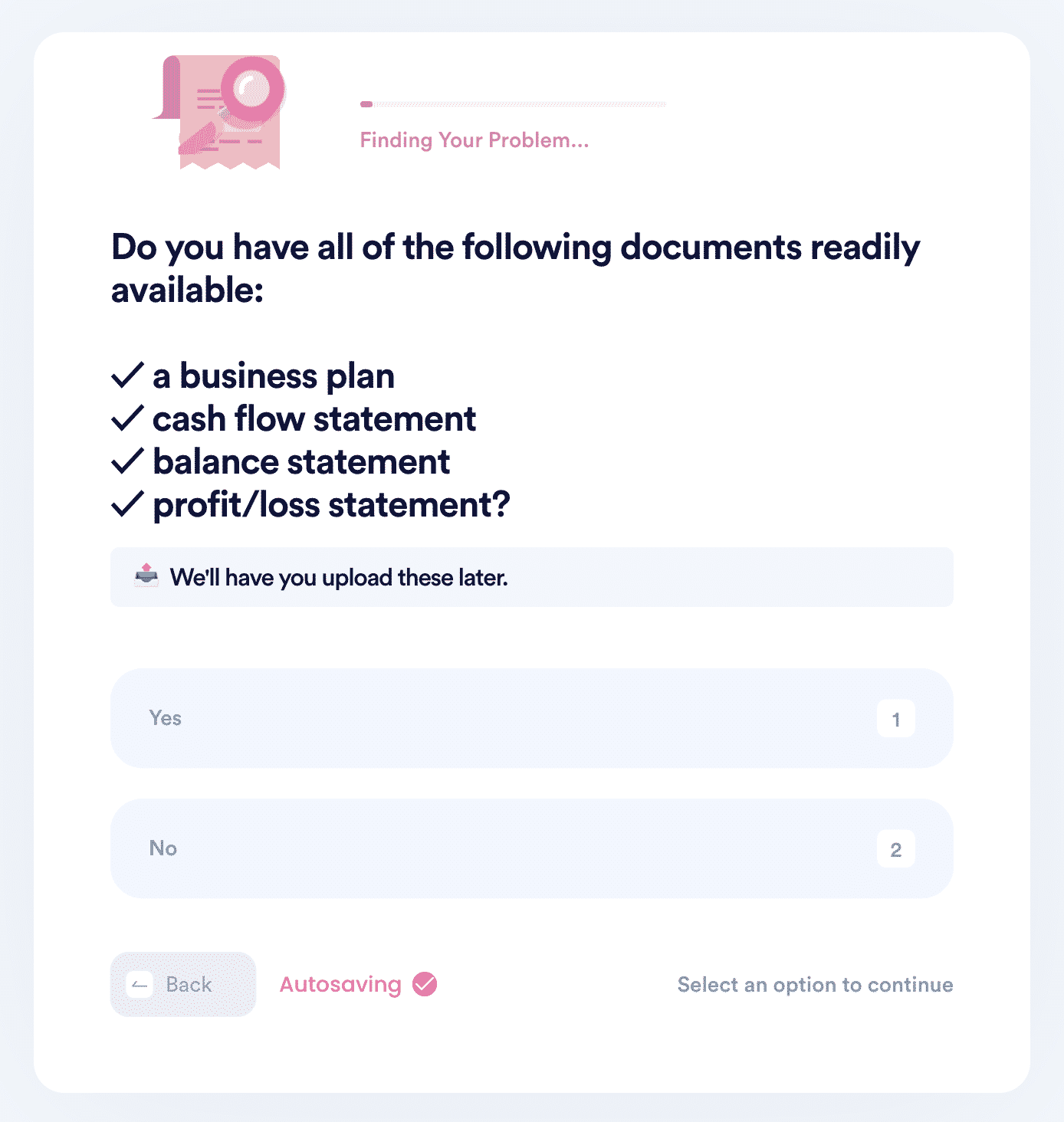 Take Care of Pesky Business-Related Procedures Effortlessly!
As a business owner, you are bound to deal with various complex processes. Luckily, DoNotPay can help you handle most of those procedures stress-free. Do you need to register your business name as a trademark, file the self-certification request with the Privacy Shield program, or report illegitimate and inappropriate negative reviews? Our app enables you to do it within minutes.
That is not all we can do for you! With our nifty products, you can make the filing of 83(b) election forms a breeze and take care of DMCA agent and Employer Identification Number (EIN) registration in no time.
Need a solution that will facilitate correspondence with your business associates or clients? DoNotPay has the right faxing and mailing product for you!
Don't Spend a Small Fortune on Lawyers—Draft Various Documents With DoNotPay's Help
Drafting legal documents does not have to be complicated or expensive. DoNotPay has a variety of tools that you can use to get a:
Letter requesting a loan for your small business
Cease and desist demand regarding your trademark (if someone tries to use your business name, logo, or slogan)
Formal demand letter requesting a client to pay for your services
Personalized chargeback rebuttal document based on the:

Chargeback reason
Chargeback code
Service you offer