The Ins and Outs of Small Business Loans in Colorado
Colorado has over 600,000 small businesses with fewer than 500 employees that sometimes struggle to make ends meet. Many financial institutions offer funding opportunities to such companies to help them flourish. If you want information on small business loans, we can help you out.
DoNotPay will show you the ins and outs of small business loans in Colorado. If you want to increase the odds of securing a loan, to generate a loan request letter in record time.
What Types of Small Business Loans Can You Count On?
Whether you need to cater to startup costs or invest in equipment and machinery, you should be able to find a suitable Colorado small business loan. The type of loan you should look for depends on the following factors:
Reason for taking out the loan
The scale of your business
Terms and conditions of your loan
The Best Places To Find Colorado Small Business Loans
Some of the best small business loans in Colorado include SBA loans, term loans, USDA loans, equipment, and real estate loans. Here are a few funding options you can consider to cover your small business expenses:
Colorado Business Loan Fund
Colorado Lending Source
Colorado Enterprise Fund
Community Banks of Colorado
Bank of Colorado
Colorado Business Loan Fund
The Colorado Office of Economic Development and International Trade (OEDIT) runs the Colorado Business Loan Fund to help small businesses. You need to meet a job retention requirement to secure the loan. For every job that you maintain, you can request $20,000 as a loan. At least 51% of the jobs maintained must be filled by workers who have a low or moderate income.
You can get approximately $100,000 from this program but if you want a smaller amount, consider opting for a microenterprise loan.
Colorado Lending Source
This is a nonprofit organization that helps business owners start or expand their business in Colorado. They are famous for their Small Business Administration (SBA) loans, provided by the federal government through an intermediary.
The loans provided by Colorado Lending Source usually go to low-income and minority community members who cannot get a loan from a traditional lender.
Colorado Enterprise Fund
The Colorado Enterprise Fund is also a nonprofit organization that offers small business loans along with coaching, mentorship, and online tools to help business operations.
Small business loans are not all they provide. The Colorado Enterprise Fund also specializes in niche loans—for example, the Healthy Foods Fund Program caters to grocery stores and other food businesses.
Community Banks of Colorado
You can consider getting a loan from Community Banks of Colorado because it offers a wide range of small business loans, such as term loans or business lines of credit. Their focus is to give loans to businesses in industries that are hard to fund, such as health care and community associations.
Bank of Colorado
Bank of Colorado is another small business loan provider you can check out. Since they offer larger loans, you will need to provide collateral as a guarantee to the bank. Their loans come with favorable interest rates and easy repayment terms.
How To Qualify for a Small Business Loan
Once you find the lender, the next step is to establish whether you qualify and how to apply for the loan. Every lender has its own eligibility criteria, but you need to fulfill some general requirements as mentioned below:
| Eligibility Criteria | Brief Description |
| --- | --- |
| Good credit score | Having a good credit score will ensure that you pay back your debts timely and will increase the lender's confidence in you |
| Strong business plan | Lenders prefer giving loans to business owners who have a clear business plan and concept, with information about your target market, forecasted sales, and competitive advantage |
Documents Required To Submit a Loan Application
You need to provide extensive documentation for your small business loan application. Even if you forget one document, the chances are that your application will get rejected.
You need to hand over the following documents for almost all basic loan types:
Solid business plan
Financial statements to showcase your budget and expenses, including:

Income statement
Balance sheet
Cash flow statement

Business incorporation documents
A valid photo ID
Business licenses
Tax returns (personal and business)
You also need to present a loan request letter along with your paperwork, which includes your reason for borrowing the money and the way you plan to pay it back. This is where DoNotPay can help you out.
Apply for Small Business Loans in Colorado With DoNotPay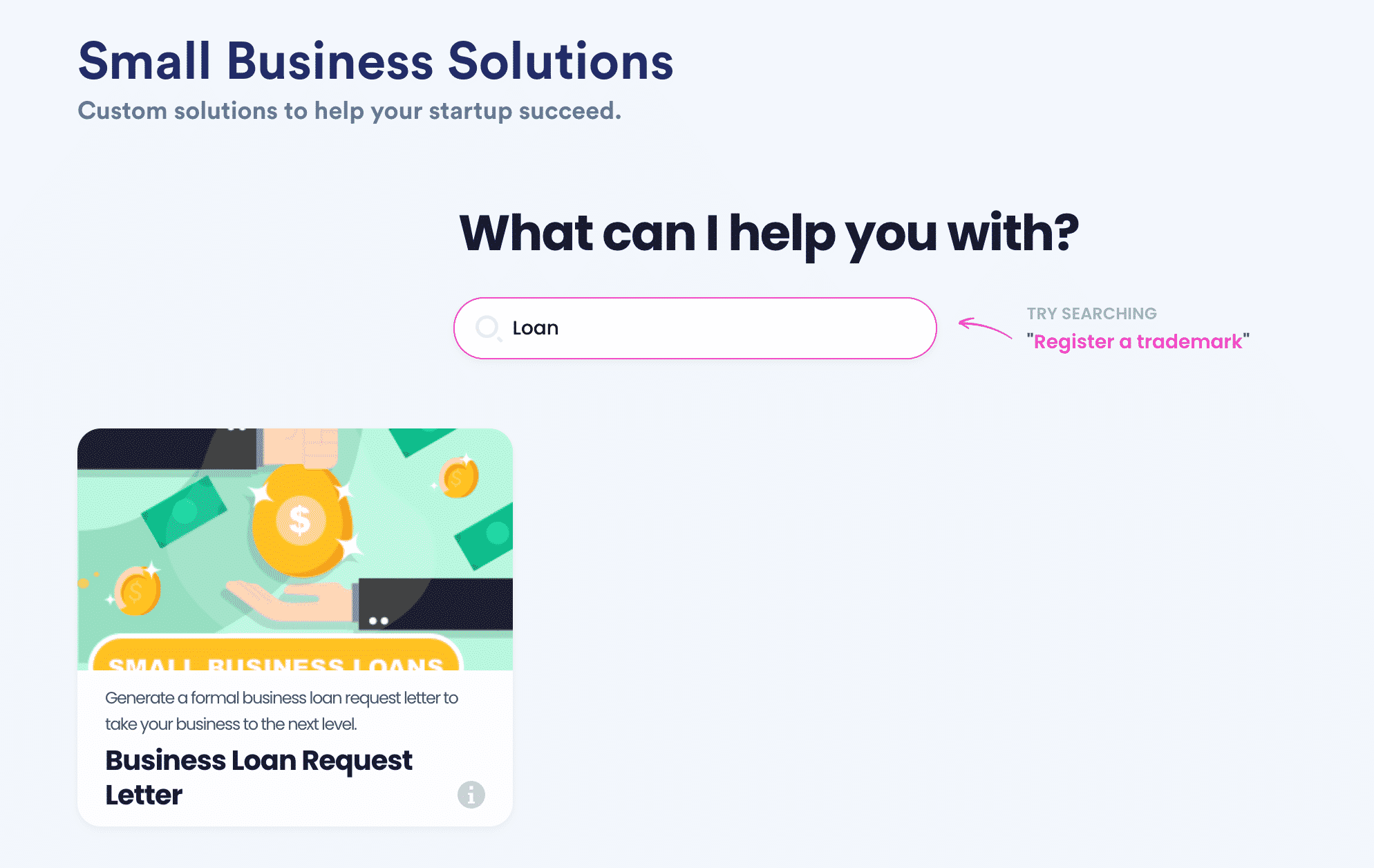 Many business owners are not sure how to apply for a loan. They worry about wrong steps and rejection. DoNotPay can assist you in writing a mistake-free loan request letter within minutes. All you need to do is follow these instructions:
Navigate to the Business Loan Request Letter tool
Answer a brief questionnaire from our chatbot
Upload the applicable financial documents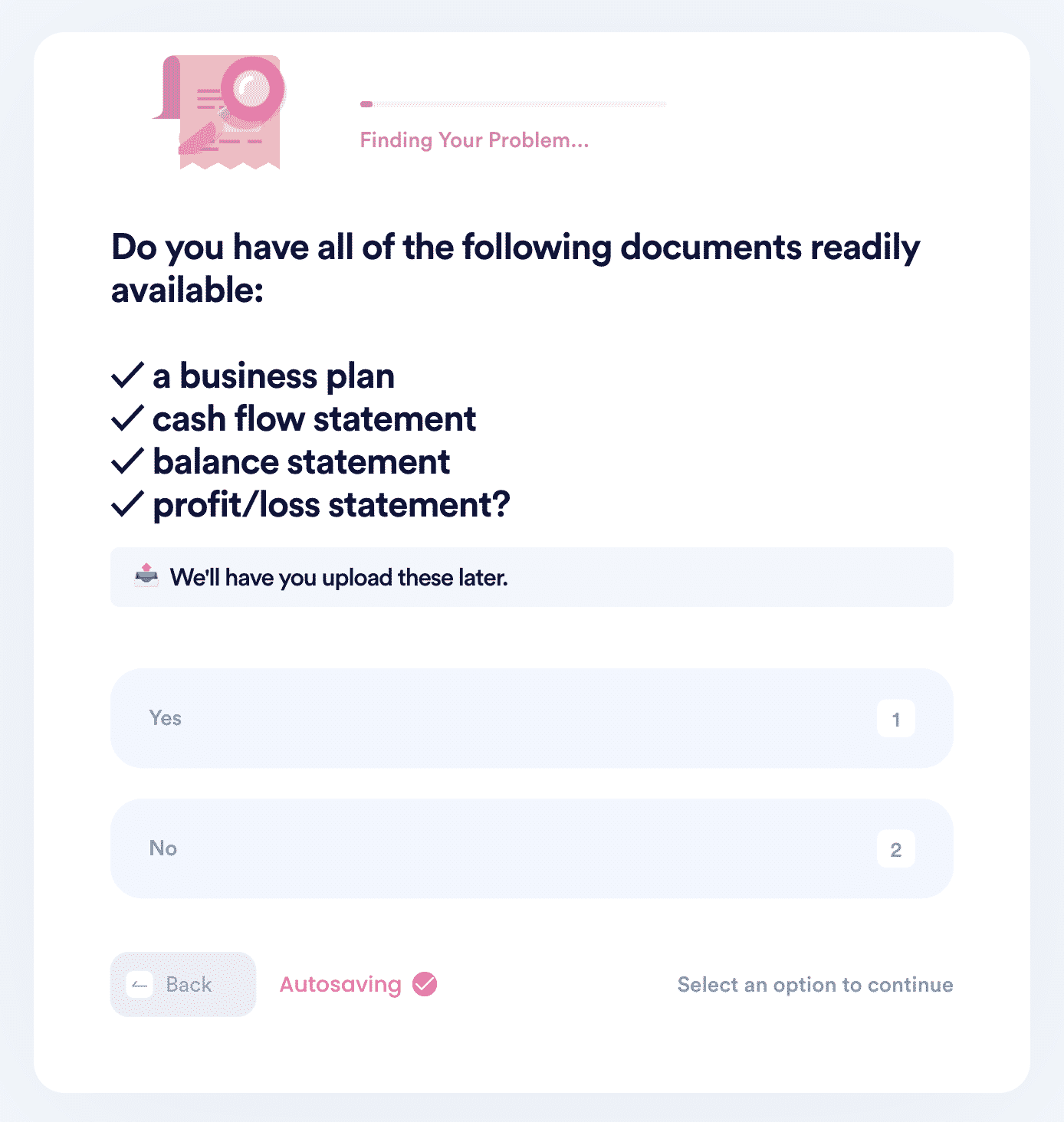 Once you submit the information, we will generate a letter and send it to the lender of your choice. If you need to find an online lender, DoNotPay's Find Online Business Loan Lender feature can identify the top lenders for your specific loan requirements.
DoNotPay Has Everything You Need for Your Small Business
Navigating numerous business procedures can be overwhelming, especially if you don't have much experience. DoNotPay strives to make the situation easier for business owners, which is why we offer a number of simple-to-use products that can help you take care of various processes, including DMCA agent and Employer Identification Number registration, Privacy Shield program self-certification, and trademark registration and protection.
If you are not sure how to manage the filing of 83(b) election forms, DoNotPay has a solution that will automate the entire process and help you save time. Our app can even generate a convincing small business loan request letter for you. Don't feel like walking or driving to the post office to send the letter? Use DoNotPay to fax or mail any document in a matter of clicks!
DoNotPay Helps You Deal With Bad Clients
If you need help handling unpleasant situations with your clients, you can rely on DoNotPay. We have created various products to assist you in:
Making sure your business is free of negative, illegitimate online reviews—DoNotPay will analyze the review in question, estimate the best reason for reporting it, and report the review until it is deleted
Dealing with clients who breach the contract and refuse to pay—We will generate and send a demand letter requesting what's rightfully yours
Fighting unjustified chargebacks—Our app will create a personalized chargeback rebuttal document to help you keep your revenue
Resolve various business issues without wasting time or money—DoNotPay has got your back!