A Comprehensive Guide to Small Business Loans in Arizona
Are you looking into the feasibility of small business loans in Arizona? You are not alone—more than 550,000 small businesses in the state seek additional funding for their operations.
Arizona offers various small business focused lending programs. As long as your startup meets basic qualifications, you can secure the funding for the next step in your business plan.
To pay for capital expenditures or manage your cash flow, you may need a line of credit or another type of loan. By learning the general terms and conditions of the available lending options, you can make a wise decision suited for your particular business.
You can also streamline this somewhat complicated process with DoNotPay.
How Do Small Business Loans Work in Arizona?
Small business loans allow entrepreneurs to found, purchase, or improve organizations typically staffed with fewer than 500 employees.
Small business budgets cannot always accommodate the purchase of a new vehicle or the compensation for seasonal staff. These startup costs would otherwise bankrupt a small enterprise, which is why many financial institutions and government programs offer lending products.
Loans may be secured by working with commercial banks, the United States Small Business Administration (SBA), or third-party lenders.
A small business loan allows you to access financing and then pay it back with interest over an agreed-upon period. The best small business loans will offer you a lower interest rate and a longer repayment window.
General Types of Small Business Loans in Arizona
There are two lending options for small businesses:
Term loans
Lines of credit
Term Loans
This type of financial assistance is ideal for capital expenditures, including:
Retail or storage property
Manufacturing equipment
IT assets
Vehicles
These big-ticket items can be too expensive for a new organization to cover, which is why they are often financed through startup business loans.
Lines of Credit
Either through a banking service or with a credit card, lines of credit are ideal for covering ongoing expenses. Operating expenses may include:
Rent
Utilities
Employee salaries
Maintenance and repair fees
For example, you run an agriculture business with a high overhead during the harvest season due to additional staff. A line of credit will allow you to pay salaries during the harvest. Once the season is over and you begin selling your produce, you can pay off your debt relatively easily.
Do You Qualify for a Small Business Loan in Arizona?
To get a small business loan, your company must meet specific conditions stipulated by the lender. The most common are:
Number of years in business
Annual revenue
Credit score (business and personal)
Available collateral
Startups often fail to meet these conditions. In that case, you will need to put up collateral on the loan, which can include:
Property
Equipment
Inventory
Cash
Personal assets
The bottom line is that you need to demonstrate your ability to pay the loan back or offer equally valuable assets in lieu—that is how small business loans work. You can also turn to online lenders because their requirements tend to be less demanding for developing businesses.
Popular Small Business Loan Providers in Arizona
The state of Arizona offers several different programs—SBA-based and otherwise—to help small businesses fund their significant purchases and ongoing operations:
| Lending Program | Business Purpose | Funding Range | Area Coverage |
| --- | --- | --- | --- |
| PPEP Microbusiness and Housing Development Corporation (PMHDC) | General | $500–$250,000 | Arizona and the Navajo nation |
| Préstamos CDFI | General | Up to $500,000 | Arizona |
| Arizona Technology Access Program, Self-Employment for Entrepreneurs with Disabilities (S.E.E.D.) | Capital expenditures (offered to individuals with disabilities) | $500–$10,000 | Arizona |
| Local Initiatives Support Corporation Phoenix | Project development | $50,000–$5,000,000 | Metropolitan Phoenix |
| Verde Valley Regional Economic Organization (VVREO) | Startup and new businesses only | $25,000–$150,000 | Verde Valley |
| Arizona SBA Lender List | General | Ranges vary among lenders | Arizona |
| Commercial Banks | General | Ranges vary among institutions | Arizona |
DoNotPay Will Help You Get the Funding You Need
Are you intimidated by the amount of work involved in securing a small business loan in Arizona? The many steps involved in the process may be more work than you have time for as a new business owner, so allow DoNotPay to take care of it for you.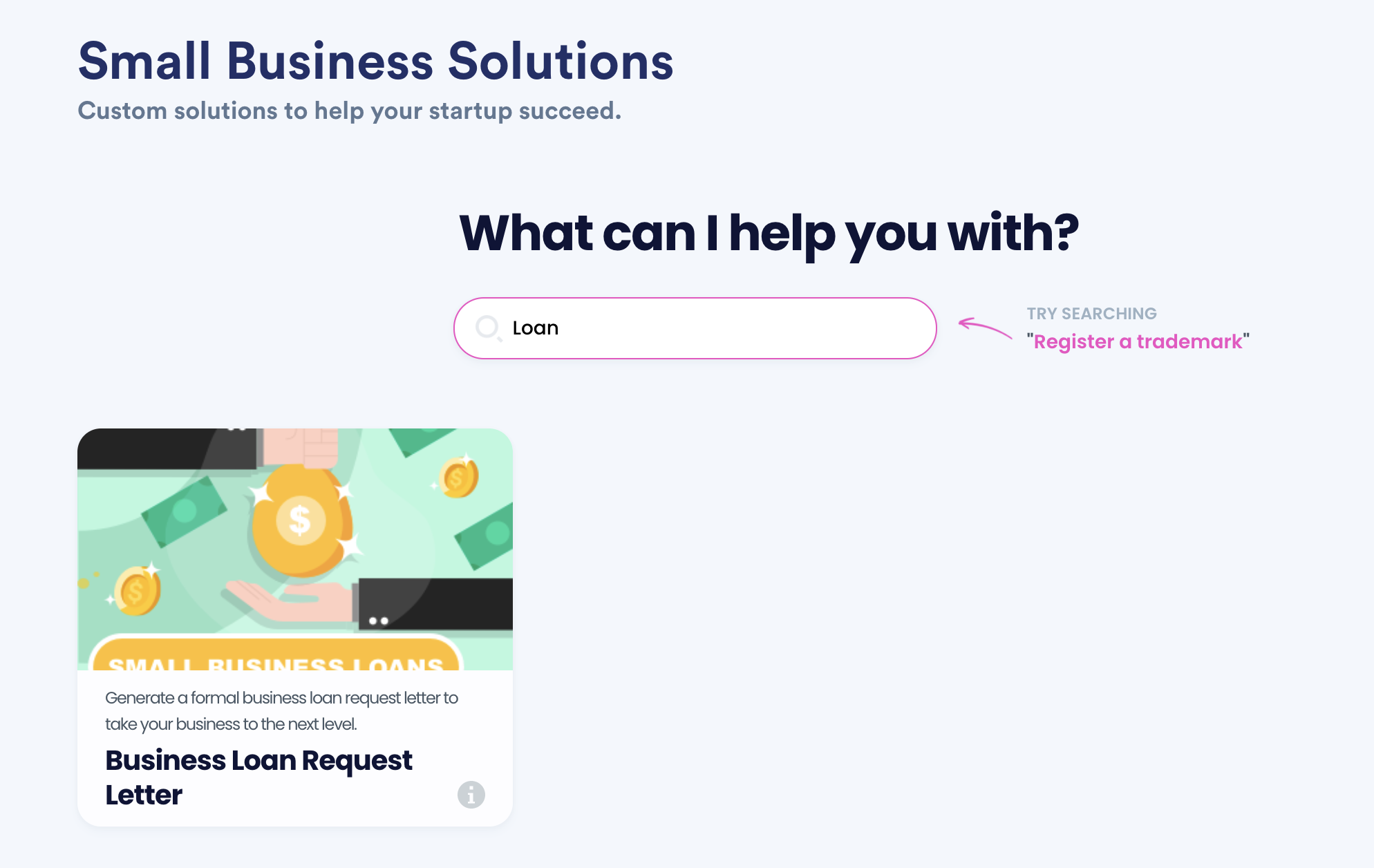 Our AI-powered robot lawyer offers two key tools to assist with the process:
Our Find Online Business Loan Lender tool helps smaller companies find a suitable lender when commercial bank loans are not an option
The Business Loan Request Letter generator creates a professionally drafted letter to present your business in the best possible light with the lender you select
Here is how to get started:
Select the Find Online Business Loan Lender tool or Business Loan Request Letter generator
Answer a few questions about your business
Upload the required documents (if you don't have the proper paperwork, DoNotPay will warn you)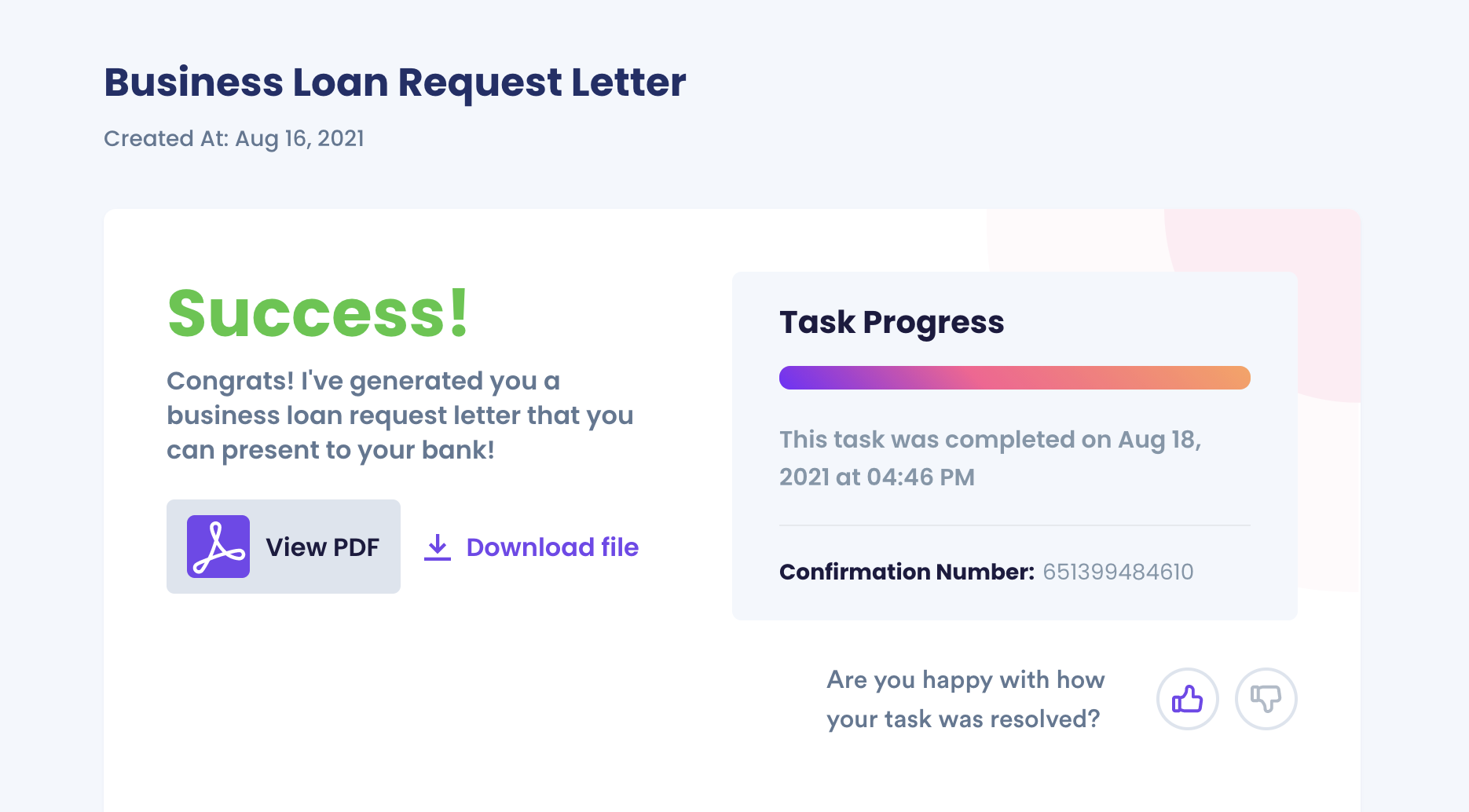 Alternative Ways To Apply for an Arizona Small Business Loan
While you can approach any local banking institution and inquire about a small business loan, the most popular way to discover lending opportunities is through the SBA Arizona District Office. Here is how to get started:
Go to their Lender Match tool
Input the requisite information about your business
Allow up to two days for processing
Connect with the suggested lender
Follow the lender-specific procedure to apply
Don't Waste Ages on Tedious Administrative Tasks—Rely on DoNotPay
Running a small business can be a challenging endeavor, but you can count on DoNotPay to make the situation easier! We have developed a number of handy features that you can use to deal with your business-related hurdles. With our help, you can:
Send mail to your customers, investors, or business associates without wasting time going to the post office
Register your business slogan, logo, or name as a trademark to prevent brand infringement
Avoid copyright violations on your website by registering a DMCA agent
Protect the privacy of your clients' data by filing the Privacy Shield program self-certification request
Contest unjust chargebacks and keep the revenue
Deal with clients who breach the contract without wasting money on collection agencies or lawyers
Worked Hard on Creating a Good Business Reputation? Don't Let It Go to Waste!
Has one of the angry clients or envious competitors decided to leave a mean online review that could have a negative impact on your business? DoNotPay is here to help you remove it! We will analyze the problematic review and report it until it is taken down.
Don't know how to protect your trademark and make sure no one else is using it? Our app can monitor the trademark on a monthly basis and send cease and desist letters if necessary.
Let our app take care of many other issues—such as filing 83(b) election forms, registering for an Employer Identification Number (EIN), taking out small business loans, and similar—while you concentrate on the creative side of your business.