Everything You Need To Know About the Small Business Loan Terms
A lot goes into choosing the most suitable small business loan, including the loan type and terms. This article provides the ultimate guide to the small business loan terms and tools that you can use to qualify for a loan without breaking a sweat. Use DoNotPay to write a loan request letter and increase your chances of getting the loan approved!
What Are Small Business Loans?
Small and medium-sized businesses require a lot of capital to fund their expenses and need all the financial assistance they can get. A small business loan provides such companies with the capital to cover their short-term and long-term expenses, such as:
Daily expenses
Equipment and real estate purchase
Other business projects
What Are the Typical Terms of a Small Business Loan?
A loan repayment term is the amount of time that a borrower has to pay back the loan. Here is a brief overview of the small business loan terms based on the different loan types:
Type of Loan
Loan Amount
Repayment Term
Interest Rate
Approval Time
SBA loan
$5 million

Maximum ten years for working capital
25 years for real estate loans

Can be fixed or variable, ranging from 2.75–4.75%
Ranges between 36 hours to two weeks
Term loans
Ranges from $50,000 to $1,000,000

Short-term:three to 24 months
Mid-term: up to five years
Long-term: up to ten years

Depends on the lender type
Between a few days and a few weeks
Bank loans
$500,000
Three to ten years
3–22%
From one week to two months
Business line of credit
Between $1,000 to $250,000
Six months to five years
10–99%
Within a few days
Microloans
Up to $50,000
Up to six years
8–13%
Online lenders take up to 24 hours, while banks can take a longer time
Equipment loans
Up to 100% of the equipment cost
Same as the life of the equipment
2–20%
Online lenders might approve within a day, but banks take approximately a few weeks
Inventory financing
20–65% of the inventory cost
Up to a year
0–80%
Between a day to a month, depending on the lender type
Merchant cash advance
$500,000
Three to 18 months
A factor rate is between 1.1 and 1.5
As little as 24 hours
How To Decide if the Business Loan Terms Are Right for You
To decide if a business loan has suitable terms and conditions, you need to consider the following factors:
Reason for getting a loan
The total amount of money that you require
Repayment terms and conditions, including how you plan to cover your regular business expenses
Current working capital
The type of lender that you choose
If you have a good credit rating and require a large amount of money, you can opt for a bank loan. Banks provide a higher amount of loan, with favorable repayment terms and interest rates. In case you own a new business or have a low credit rating, you can search for lenders online or visit peer-to-peer lending sites.
Requirements for Getting a Small Business Loan
Depending on the type of lender you choose, there are several requirements that you need to fulfill to qualify for a small business loan approval. Here is a list of the essential ones:
Personal credit score—For many lenders, a personal or business credit score is a deal maker or breaker. If you have a good credit score, you guarantee the repayment of the loan, and more lenders will offer to give you a small business loan. A poor credit rating reduces your chances of getting loans from reputable organizations
Cash flow—Your bank statements, cash flows, and budget sheets let the lender know that you're capable of returning the loan and represent your business's health
Age of business—Most banks and traditional lenders require a business to run for at least two years before the owner can apply for a loan. If you have started your business recently, you can look for online lenders to cover startup costs
Collateral—To approve a loan, some lenders may require collateral, which can be any tangible asset already owned by the business owner, as a guarantee for repayment
Business industry—The type of industry your business operates in is also a major factor for lenders to consider. Some lenders avoid industries they consider risky or markets that have unsteady cash flows. Examples of such businesses can include gambling or adult entertainment industries
DoNotPay Can Help You Create a Loan Request Letter Within Minutes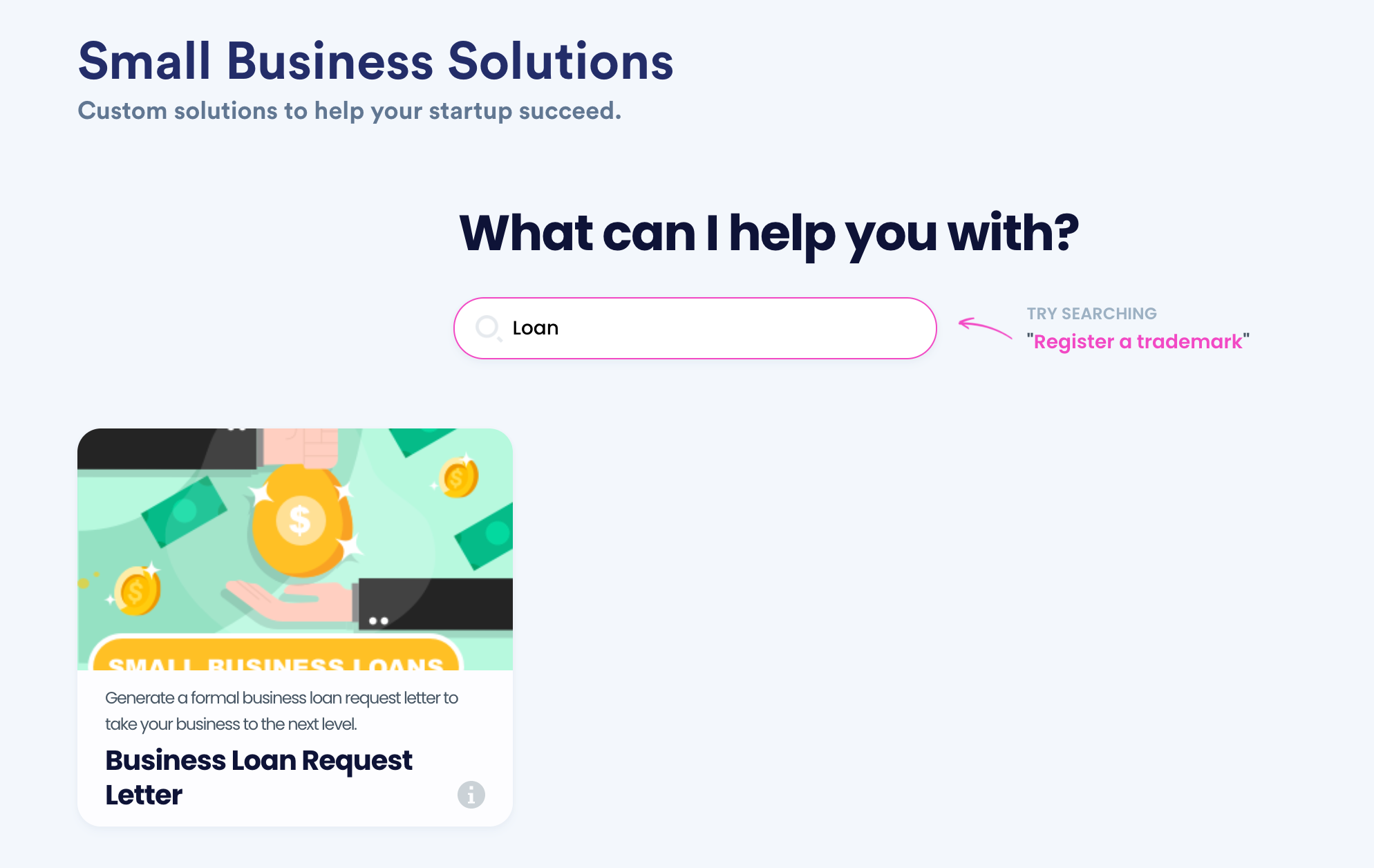 Do you want to secure a loan from a lender without any complications? Our app is here to help you write a loan request letter within minutes. Here is what you need to do:
Open DoNotPay in your web browser and find the Business Loan Request Letter tool
Gather and prepare your credit scores and financial statements
Enter the details about the type of loan you want to secure
Upload all the required documents
Once you've provided us with all the information, we will create a personalized demand letter that you can use to apply for the loan.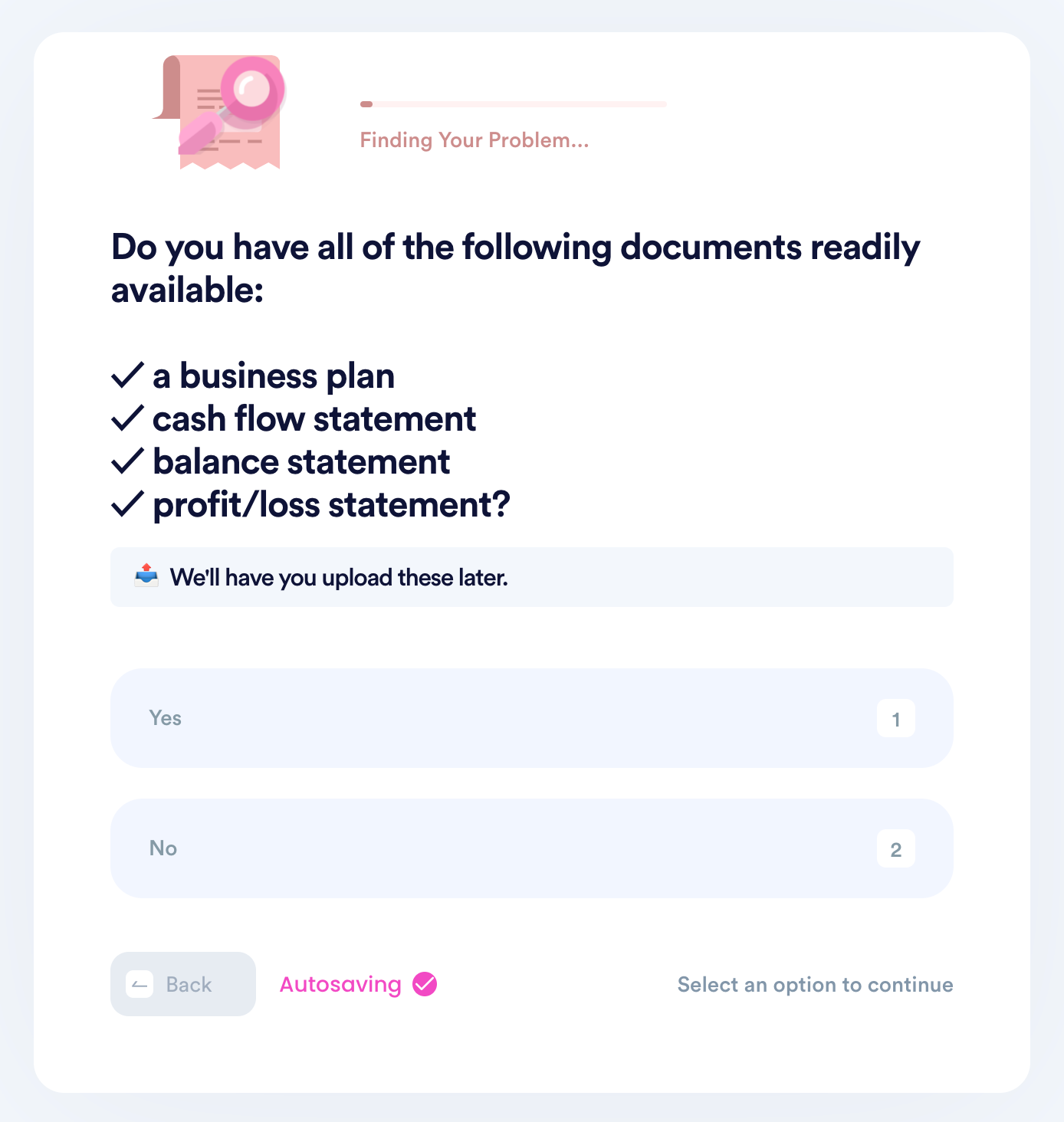 DoNotPay Can Find the Best Lender for Your Needs
DoNotPay will help you navigate the application process from start to finish!
If you aren't sure whether banks or other lenders offer better loan terms, input your requirements and details about your business in our app, and we'll find the best lenders for you!
You can use our Find Online Business Loan Lender product to enlist DoNotPay's help in finding the most suitable loan for your needs.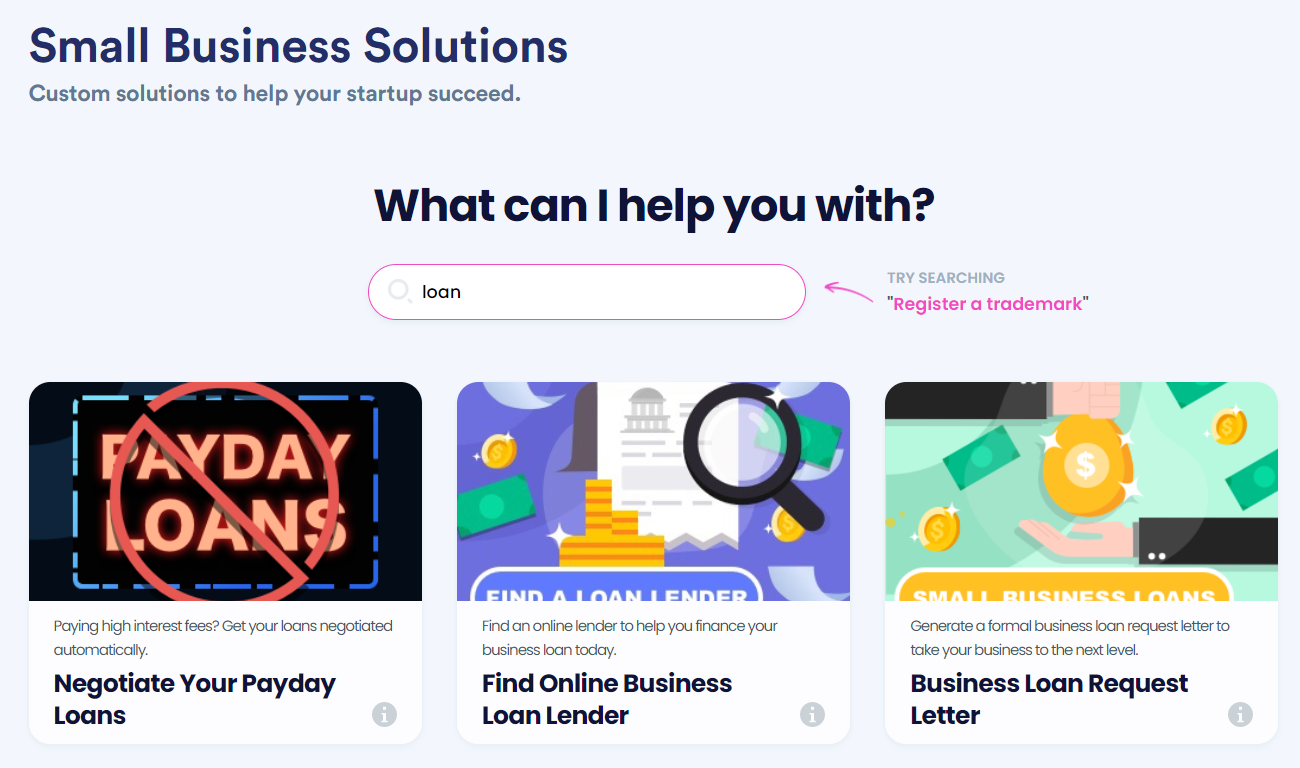 This tool is also integrated with our Business Loan Request Letter feature, which means that we can find you the lender, draft the loan request letter, and send it to the chosen lender in your stead! How much easier can it get?
DoNotPay Helps You Do Everything by the Book!
Are you confused by the numerous business-related laws and procedures? If you cannot seem to get the hang of all of the processes, you should rely on DoNotPay. Allow your robot lawyer to help you take care of Employer Identification Number (EIN) and DMCA agent registration in a matter of minutes!
Once you handle those tasks, you should consider using DoNotPay to register your business slogan, name, or logo as a trademark and protect your brand by allowing us to check for trademark violations regularly.
Not sure how to handle 83(b) election forms? Automate the entire process and have your employees fill out and submit the forms in a few clicks! We can even help you protect the privacy of your clients by filing a self-certification request with the Privacy Shield program on your behalf so your website complies with data protection requirements.
Running a Business Is Smooth Sailing With DoNotPay
DoNotPay has a solution for any business issue. We can help you:
Draw up a professional and convincing small business loan request letter and get the necessary funds for your business
Report unjustified negative reviews that could damage your brand until they are taken down
Request payment from clients who break the contract
Dispute chargeback requests when they are unfair
Send letters or paperwork without going to the post office