The Essentials of Small Business Loan Qualifications
Qualifying for a small business loan might seem daunting, but this article explains everything you need to know about small business loan qualifications and the ways to apply for one without breaking a sweat.
Our platform can provide an easy solution to your problems—use DoNotPay to write a loan request letter within minutes. We also have valuable insights on:
Interest rates for small business loans
What Are Small Business Loans?
Small business loans are funds offered to small and medium scale businesses to cater to their short-term and long-term expenses, such as daily operating costs, working capital, and real estate purchase. Business owners can also use them to cover the startup costs of a new business or expand a flourishing one.
Depending on your budget needs and other criteria, you can take out various types of small business loans, such as:
What Are the Qualifications for a Small Business Loan?
Banks and traditional lenders have strict requirements for loan applications. Here are some of the usual qualifications that matter the most:
| Qualification | Description |
| --- | --- |
| Time in business | The longer you are in business, the more chances you have of getting a loan |
| Good credit rating | A good business and personal credit score confirms that you will pay your debts |
| Profitable financial statements | Lenders review your personal and business financial statements to evaluate your business health and confirm that you can repay the loan |
How Do You Qualify for a Small Business Loan?
You can increase your chances of qualifying for a small business loan by taking these necessary steps:
Build credit scores
Know the lender's requirements
Gather documents
Develop a business plan
Provide collateral
Build Credit Scores
Both personal and business credit scores are essential when trying to secure a small business loan. A personal credit score refers to your ability to pay off debts, such as mortgages and credit card bills. A business credit score does the same for a business—it proves the business' creditworthiness.
To increase your credit ratings, ensure that your debts are paid off on time and that there are no outstanding amounts on your credit cards.
Know the Lender's Requirements
You must meet the minimum criteria set by a lender to qualify for a small business loan. The criteria can include:
Credit scores
Annual revenue
Years in business
Each lender has a different set of required qualifications, so make sure to study them thoroughly before applying for a loan.
Gather Documents
Most banks and traditional lenders require potential borrowers to present the following documents:
A valid photo ID
Income tax returns (personal and business)
Cash flow statements
Income statements (personal and business)
Bank statements (personal and business)
Business incorporation documents
Business licenses
Commercial leases, if any
If you opt for an online lender, they might not require such extensive documentation and might offer you a loan based only on your credit ratings.
Develop a Business Plan
Before lending the money, lenders want to know how you plan to use the money and how you intend to return it. This may require you to come up with a business plan, which includes the following items:
Business description
Market analysis
Current and projected financials
SWOT (strength, weakness, opportunities, and threat) analysis
Marketing and sales strategy
Potential revenue forecast
Your business plan should clearly indicate how you plan on repaying the loan while covering your business expenses.
Provide Collateral
Some traditional lenders require a borrower to provide collateral to back the loan. The collateral could be any tangible business asset, such as inventory, equipment, or real estate, that can be seized by the lender if you cannot pay back the loan.
If you do not have collateral to acquire a loan, consider opting for unsecured business loans.
Where To Apply for a Small Business Loan
You can request funding from several lenders, including the following:
Direct lenders
Commercial banks
Community banks
Peer-to-peer lending sites
SBA bank lenders
How To Apply for a Small Business Loan
Once you have decided which lender to opt for, here are the steps you need to follow to get a loan:
Gather all your personal and financial documents
Review your small business loan application
Write a loan request letter
Negotiate the loan terms
Get a loan approval
Do you need help in drafting a loan request letter? Look no further! Sign up for DoNotPay and prepare a killer loan request letter within minutes!
DoNotPay Can Assist You in Writing a Loan Request Letter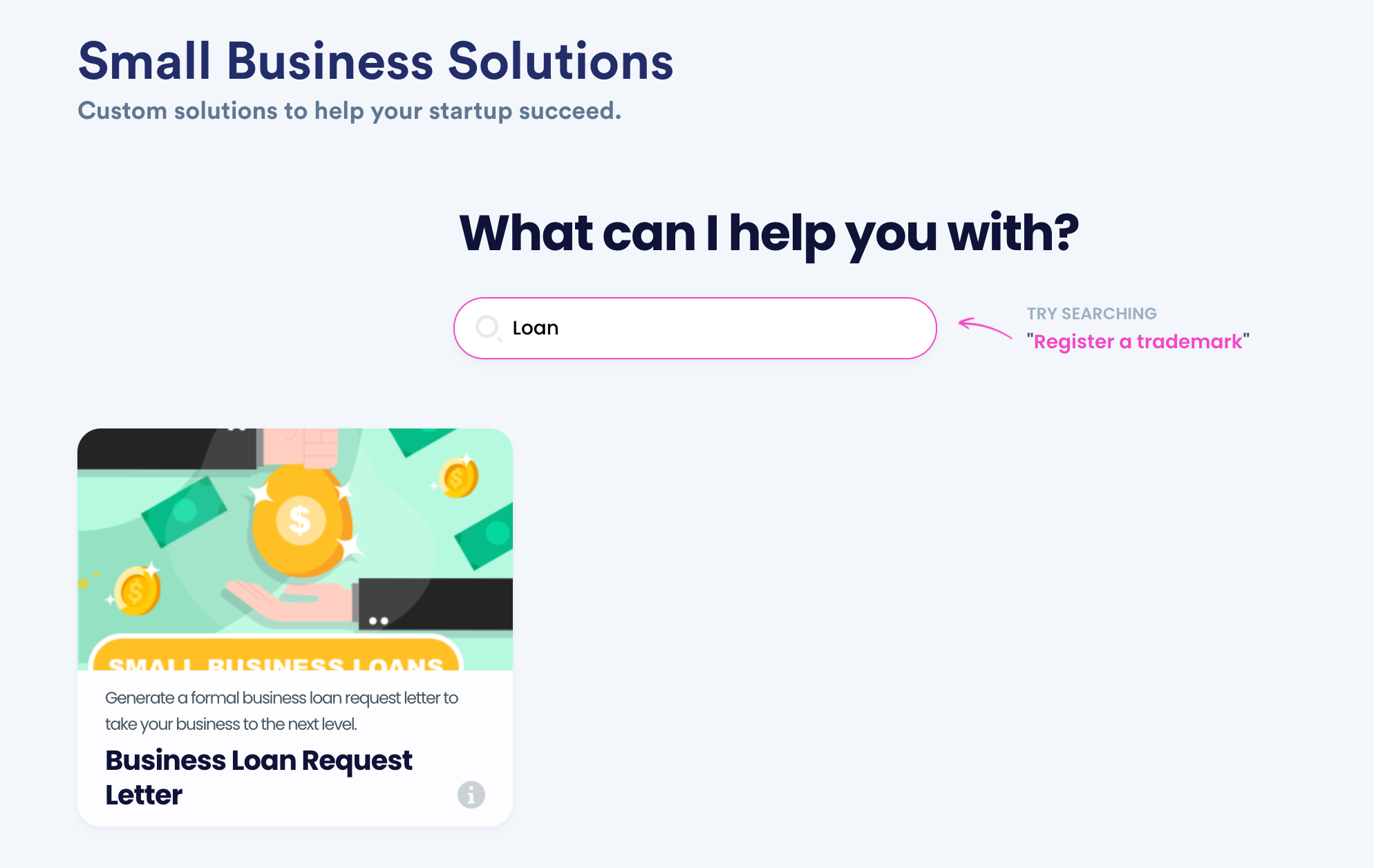 Getting funds for your business is no easy task. If you are looking for a reliable way to start the process, DoNotPay can help you out! Our AI-powered app can help you generate a professional loan request letter and increase your chances of getting the funds you need.
All you need to do is follow these instructions:
Open DoNotPay in your web browser
Navigate to the Business Loan Request Letter tool
Enter the details about the loan and confirm that you have all the required paperwork
Upload the necessary documents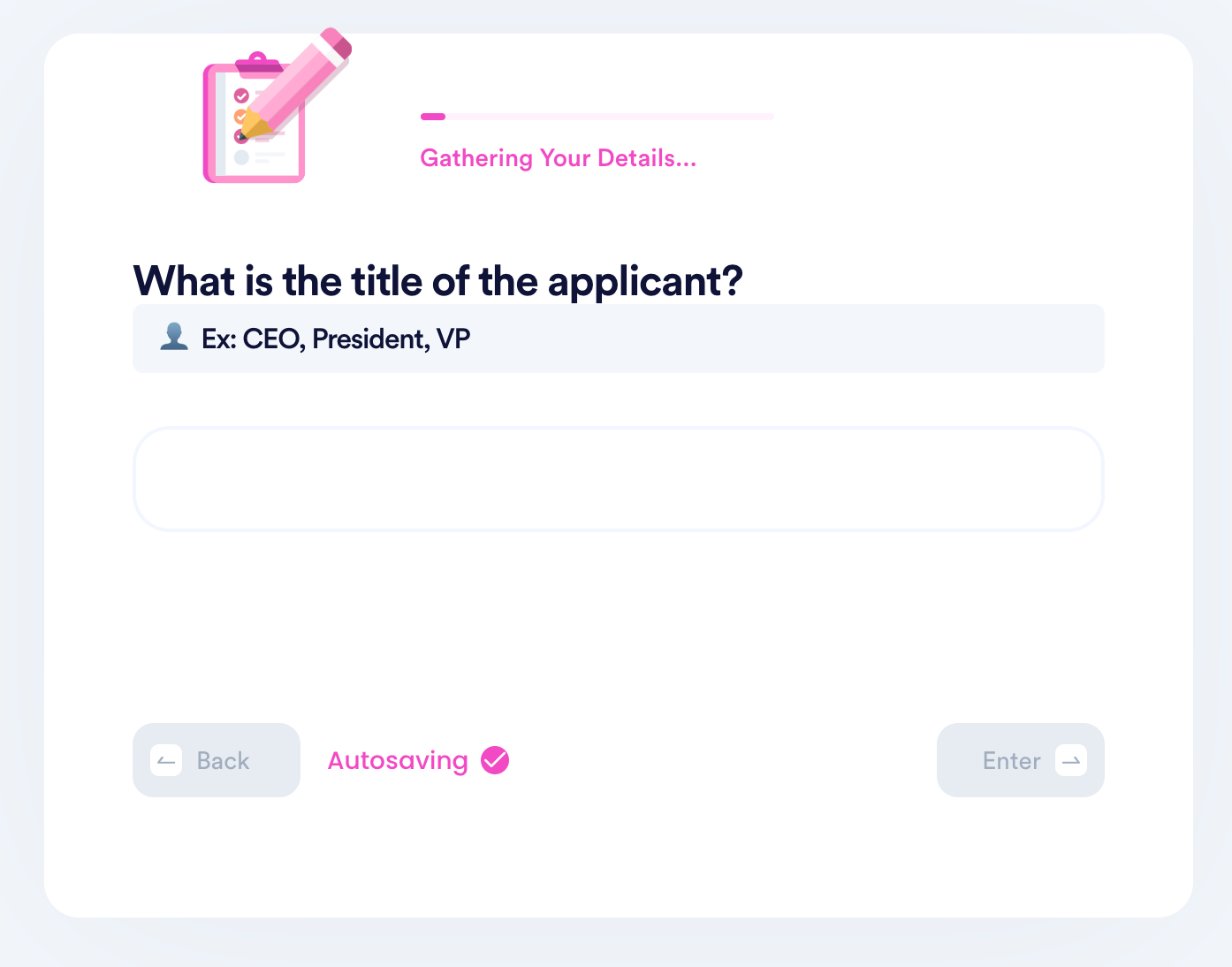 DoNotPay Can Find the Best Lender for Your Needs
DoNotPay will help you navigate the application process from start to finish!
If you aren't sure whether banks or other lenders offer better loan terms, input your requirements and details about your business in our app, and we'll find the best lenders for you!
You can use our Find Online Business Loan Lender product to enlist DoNotPay's help in finding the most suitable loan for your needs. This tool is also integrated with our Business Loan Request Letter feature, which means that we can find you the lender, draft the loan request letter, and send it to the chosen lender in your stead! How much easier can it get?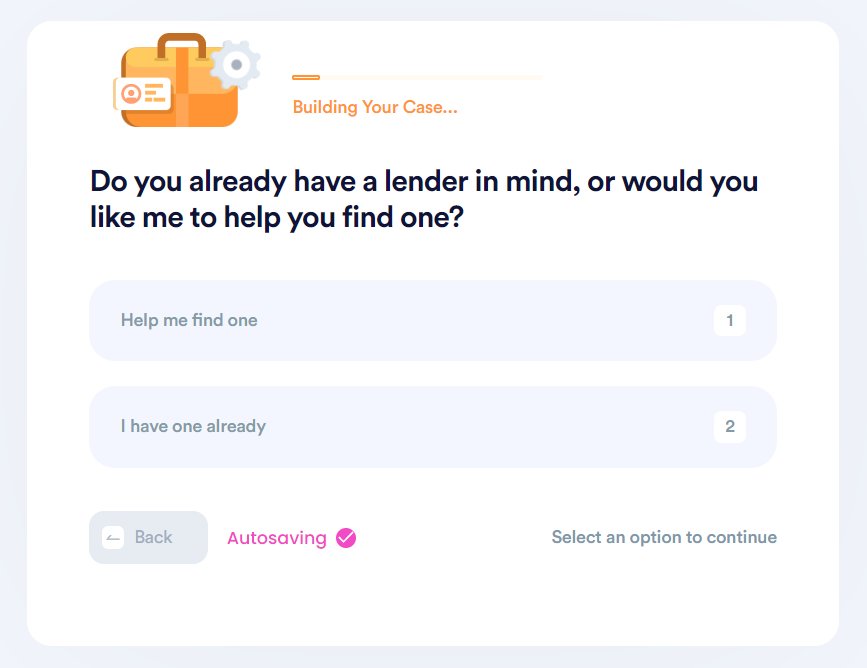 Build Your Business From the Ground up With Your Reliable Pocket Assistant!
To make the running of your business less stressful, DoNotPay has created numerous handy products that can help you deal with any issue right from the start. With our assistance, you can:
Get the perfect letter requesting a loan for your business
Handle the Employer Identification Number and DMCA agent registration procedures in a few clicks
Manage Privacy Shield program self-certification to make sure your clients' privacy is protected while on your website
If you are considering completing trademark registration, DoNotPay will be your trusty companion and help you finish the whole process in no time! We can even make sure no one uses your trademark as their own by performing routine checks and sending cease and desist letters to the offenders instead of you.
Resolve Pesky Business Issues With DoNotPay
Our app boasts many other useful and easy-to-use products that will help you resolve an array of business-related problems. Whether you need help filing 83(b) election forms as effortlessly as possible or wish to communicate with your clients and business partners without heading over to the post office, we have got you covered!
DoNotPay can also help you remove bad, fake online reviews that could harm your business reputation, deal with clients who avoid paying for your services, and contest unjustified chargeback requests.
Rely on our app and stay on top of your work while we deal with business issues on your behalf!