The Cost of Loans—Small Business Loan Interest Rates
If you need a kickstart for your business but do not have money of your own, you can seek out small business loans and help your company grow with them.
While the funds are there to keep your business afloat, lending companies do not do it out of the kindness of their hearts—they do it to make money themselves.
All business loans have terms that include a repayment schedule and interest. In this article, we will go through small business loan interest rates and show you how much money you will need to pay on top of the base amount.
Don't know how to secure a loan? We will also show you how to get one using DoNotPay.
How Small Business Loans Work
Small business loans help companies that struggle with covering expenses and having enough liquidity to run day-to-day operations. You can get a loan for a variety of purposes, including:
Before you apply, you should know that every loan comes with an interest rate that you will have to pay by a predetermined deadline. As is the case with any other loan, you will pay back more money than you take out. Make sure that a loan is a necessity before you get one.
Another aspect you should consider is the source of the money. Small business loans can come from:
Some sources, such as online lenders, do not set a lot of requirements but have higher interest rates. Banks, for instance, have lower small business loan rates, but it takes weeks and months to get approved, and it is more difficult to obtain one.
Types of Loans
Aside from the purpose and source of a loan, you should also look at its type. Check out the following table to see examples of some of the best small business loans:
| Business Loan Type | Description | Maximum Amount |
| --- | --- | --- |
| The United States Small Business Administration (SBA) small business loans | SBA loans are the most popular because the SBA acts as a guarantee for the lender—if you fail to repay the loan, the Administration will bail you out. This loan is for long-term planning and is difficult to obtain. The repayment period can last up to 25 years | $5 million |
| Microloans | These loans serve businesses that need only a top-up to their liquidity. They come from nonprofit and governmental organizations | $50,000 |
| Equipment loans | You can use funds received from this loan exclusively to buy equipment. The repayment period is equal to the equipment lifespan, and it takes a few weeks for lenders to review and accept an application | 100% of the equipment cost |
| Credit for a small business | Credit is good for businesses that struggle with cash flow management and immediate expenses. You can take out credit frequently, receive it instantly, and repay it in up to five years | $250,000 |
| Merchant cash advance (MCA) | An MCA allows you to borrow money and repay with future earnings. Most MCAs ask for daily repayments and want the loan repaid in three to 18 months. They are not ideal but do not ask for a high credit score | $250,000 |
Current Small Business Loan Interest Rates
All loan types require owners to prove they qualify for the loan, but the conditions vary and so does the risk factor for the lender. This is why various small business loans have different interest rates that can go from 2% to over 100%.
For instance, the current interest rates for the SBA 7(a) business loan depend on the amount of money you receive and are as follows:
Under $25,000—7.5% if repaid in under seven years, 8% otherwise
Between $25,000 and $50,000—6.5% if repaid in under seven years, 7% otherwise
Over $50,000—5.5% if repaid in under seven years, 6% otherwise
Check out this table to see small business loan interest rates for other loans:
| Small Business Loan | Interest Rate for the Small Business Loan |
| --- | --- |
| Traditional bank loans | 2–13% |
| Online loans | 7–100% |
| Invoice financing | 13–60% |
| MCA | 20–250% |
| Startup loans | 8–13% |
| Equipment loans | 2–20% |
| Credit | 10–99% |
| Microloans | 8–13% |
Securing a Loan With DoNotPay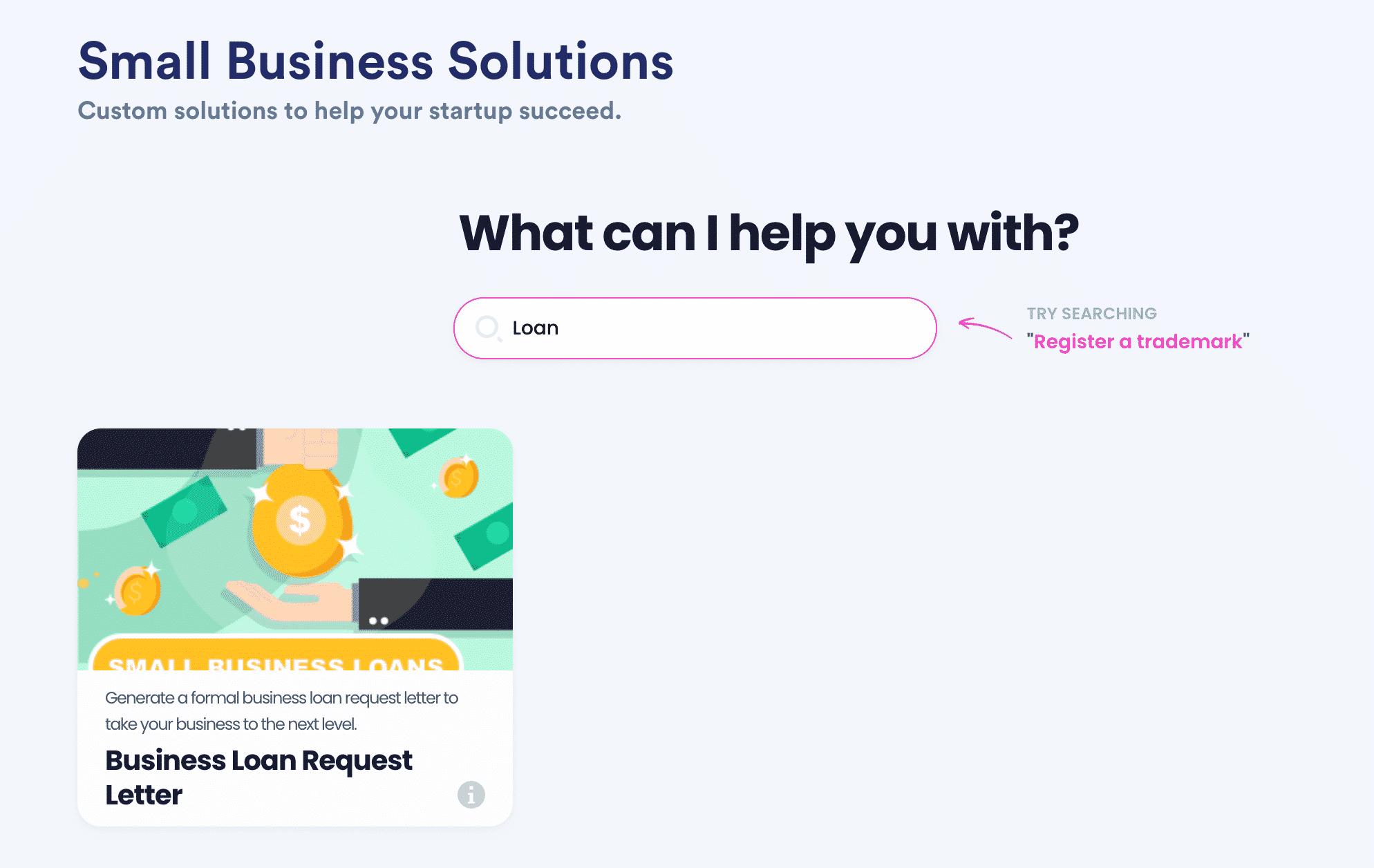 Before you begin the application process for a small business loan, you need to prepare thoroughly. Depending on the loan, lenders may ask you to submit some of the following documents:
Business plan
Business budget sheets
Resume
Collateral
Loan application form
Credit score reports
Financial statements
If you are not sure what the application form should consist of and what documents exactly you need, DoNotPay has your back!
Our app will guide you through the process, and we will make sure you do not omit any important piece of paperwork or detail about yourself and your company. All you need to do is sign up for DoNotPay and:
Select the Business Loan Request Letter product
Gather your personal and business credit scores
Prepare paperwork to prove your eligibility
Answer a few questions from our chatbot
Upload all the necessary documents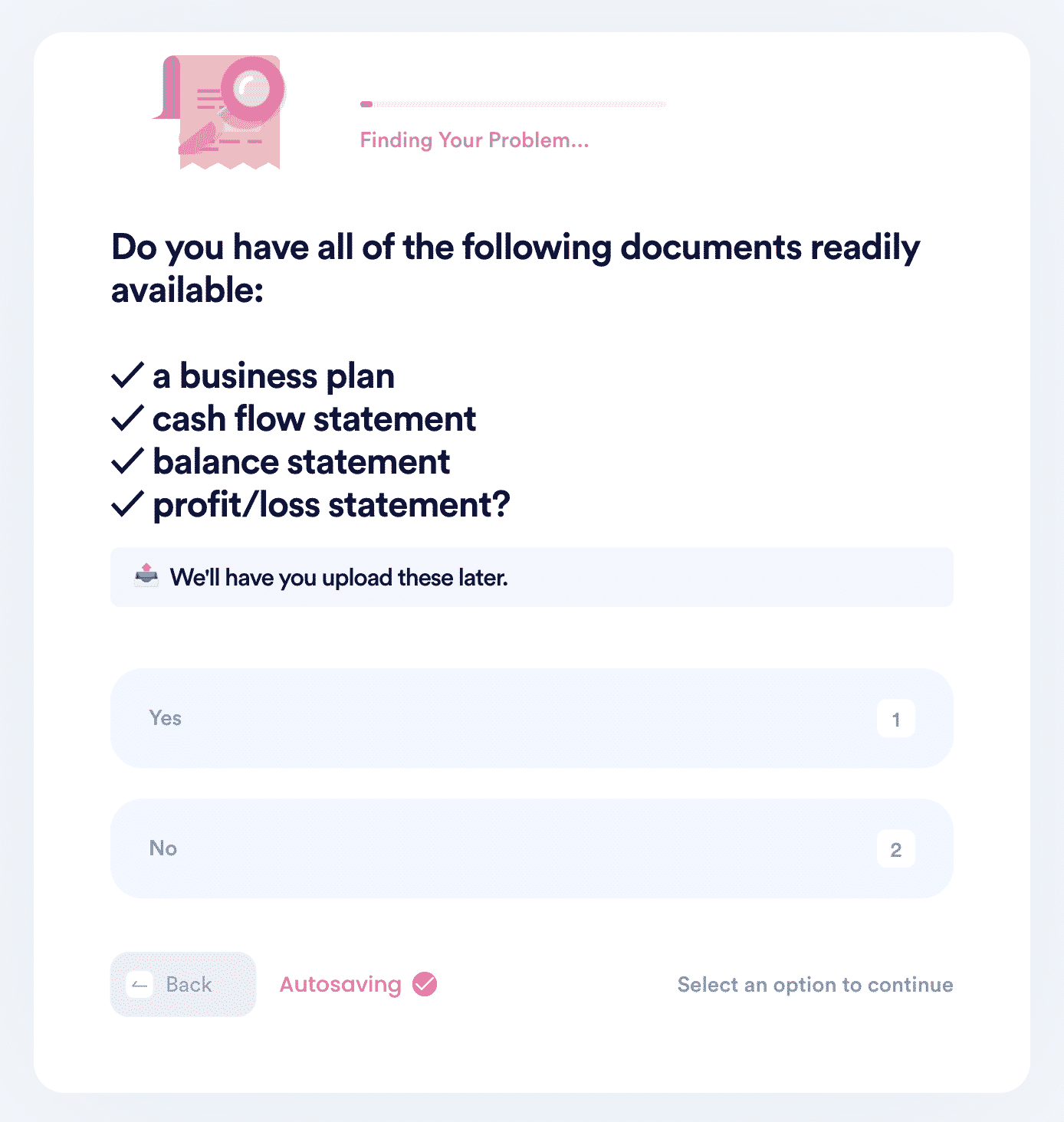 Let DoNotPay Help You With Boring Administrative Tasks While You Focus on Becoming a Business Mogul!
DoNotPay can assist you in dealing with a number of business-related tasks. We have developed a plethora of simple-to-use products that make running a business much easier and less stressful.
Do you need help registering your business name as a trademark? We have got you covered! Not sure how to write a convincing letter to request a small business loan? DoNotPay helps with that, too!
Use our app to get a perfectly generated chargeback rebuttal document, formally request payment from clients who breach the contract, and find out how your employees can file 83(b) election forms in a matter of clicks!
Check Out Our Other Nifty Products!
That is not all DoNotPay has to offer. Our awesome tools will make tedious administrative tasks easier to manage so you can concentrate on your business instead of wasting time waiting in lines and filling out forms. Rely on DoNotPay to:
Take care of DMCA agent registration and Privacy Shield program self-certification
Make sure no one else is using your trademark
Get rid of fake online reviews that harm your business reputation
Manage Employer Number Identification (EIN) registration
Enjoy the convenience of faxing and mailing from the comfort of your home or office