Small Business Loan Grants Explained
Are you thinking about starting or expanding your business? What expenses will you have to bear to improve your company's productivity?
If your budget is too tight to bear your business expenses or you do not have enough resources for the plans you have envisioned, you could explore different types of small business loans or credits. This article offers information about small business loan grants you could get to increase the productivity of your business.
What Are Small Business Grants?
An organization can award grants to small business owners for a specific purpose, such as:
Business expansion
Research and development
Unlike with small business loans, you do not have to:
Repay small business grants
Worry about the credit score (as grants do not affect it)
Keep in mind that you have to spend the received funds in the way the grant provider outlines unless you want to face penalties.
Types of Small Business Grants
The following table outlines different types of small business grants you can apply for:
Government Small Business Grants
Private Small Business Grants
To get government-funded grants, you could browse for:

State grants
Regional grants
Federal grants

You should set your search based on the:

State, municipality, or city your business is registered in
Industry that your company is in

These grants can be:

Corporation grants—This type of funding often has:

Less demanding application requirements
More competition

Foundation grants—You can apply for a grant from a charitable foundation
Government Loans and Grants for a Small Business
Government agencies are among the biggest business grant providers that:
Offer a good opportunity to grow your business
Support enterprises from different industries and sectors
Offer grants at the federal, state, and regional level
Federal Grants for Small Businesses
Here is an overview of several sources you can use to look for available grants on the federal level:
Grants.gov—This website offers information about various grants offered by different government agencies. To look for grant opportunities, you should:

Open the Search Grants page
Check the Small businesses box in the Eligibility section
Register an account to access all eligibility criteria for the grant you are interested in

Small Business Innovation Research Program (SBIR)—SBIR is a grant program you could join if you want to participate in research and development activities. Some eligibility requirements include:

Operating a for-profit business
Having less than 500 employees
Focusing on high-tech innovation

Challenge.gov—This website offers a list of different competitions whose main aim is to drive innovation. If you decide to participate in a contest, you will need to register for an account first
Regional and State Small Business Grants
If federal grants seem too competitive for you, you could browse through available state or municipal opportunities, such as:
Economic Development Administration (EDA)—This U.S. Department of Commerce agency provides grant opportunities to boost innovation and entrepreneurship. If you have any questions, you could get in touch with the regional EDA office that has jurisdiction over your state
Small Business Development Centers (SBDC)—You can find assistance with networking opportunities, financing, and other business matters through your local SBDC
Corporate Grants for Small Businesses
Some foundations, private corporations, and large companies offer small business grants to nonprofit and for-profit businesses and industries. The following table lists some of these grant providers:
Grant Provider
Details
FedEx
FedEx Small Business Grant Contest offers funds for business services with a maximum prize of $50,000. To qualify for this program, your company must:

Be a for-profit business
Not have more than 100 employees
Be in operation for a minimum of six months

National Association for the Self-Employed (NASE)
If you are a member of NASE, you can apply for:

A Growth Grants program for small businesses
An award of up to $4,000 every month

Visa
The Visa Everywhere Initiative is a program that provides grants for startups that provide solutions:

To payment challenges
For Visa's clients and partners
How To Apply for Grants and Loans for a Small Business
Getting free money is not an easy task and often involves:
A complex and time-consuming application process
Strong competition
To ensure your grant application stands out from the others, you should:
Fulfill all requirements—If you do not meet eligibility criteria or do not have a good credit score, you should not try to conceal the truth since you will only be wasting your energy and time. In case you are not sure about certain terms, you should contact the grant provider to confirm everything before starting
Draft the application carefully—To ensure you have filled out your grant application with complete and correct details, you need to follow the given instructions closely
Prepare a solid business plan—As you are required to provide a business plan, you should present why your business will be successful and how:

The grant funds will improve your operations
You plan to fulfill the grant's objectives
Ensure You Get a Small Business Loan
Aside from grants, you could also apply for small business loans to start a business or improve your operations.
If you are not sure how these loans work, you should browse through DoNotPay's website as we offer articles on:
Interest rates

Repayment terms
You can also to find the most suitable online lender and draft a convincing business loan request letter.
Prepare an Effective Business Loan Request Letter With DoNotPay
Our AI-powered app knows what information to include in a loan request letter to ensure your loan approval chances are high.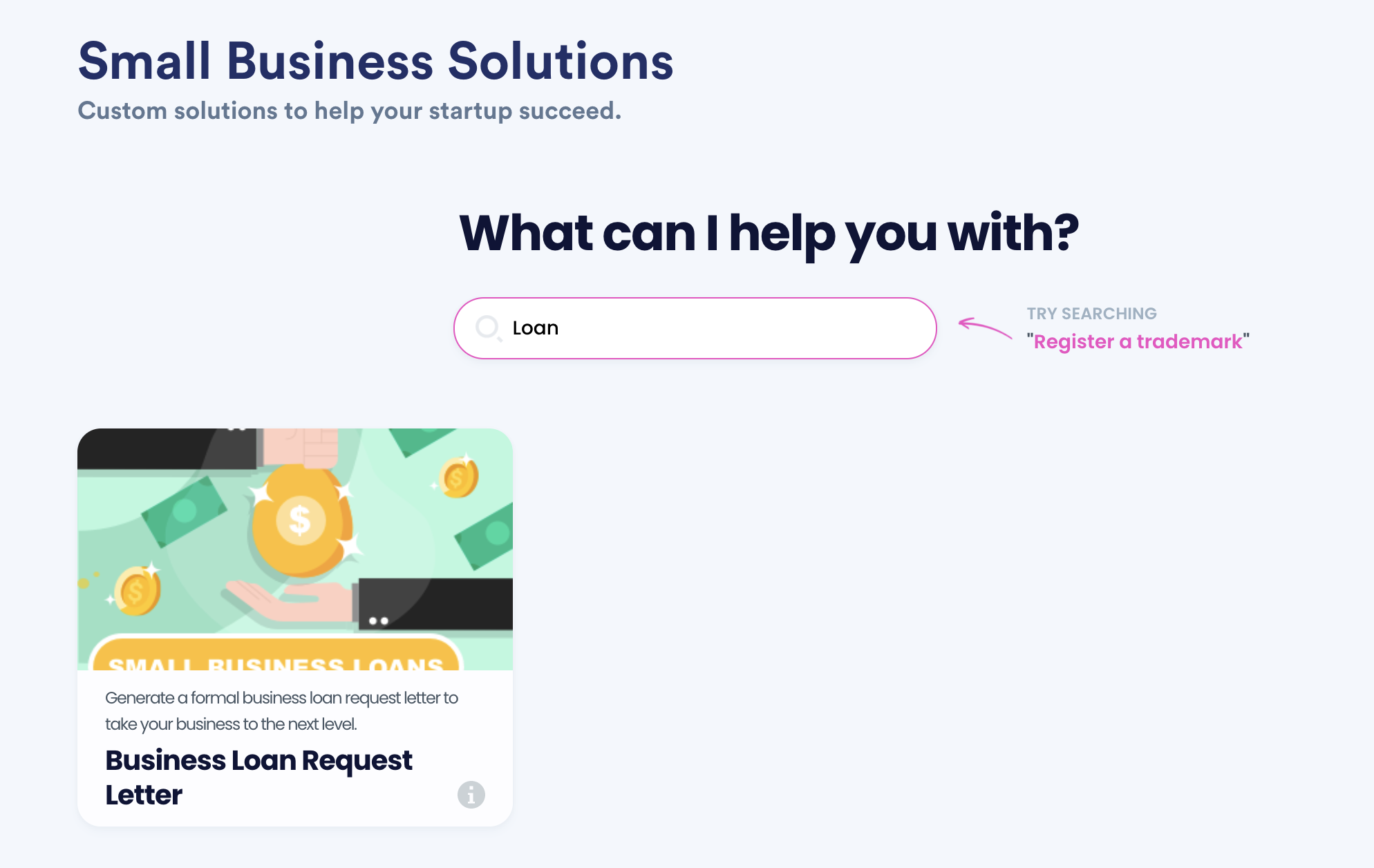 To get the assistance of our robot lawyer, you should first:
Collect your personal and business credit scores
Prepare any business financial statements, including the:

Profit and loss statement
Cash-flow statement
Balance statement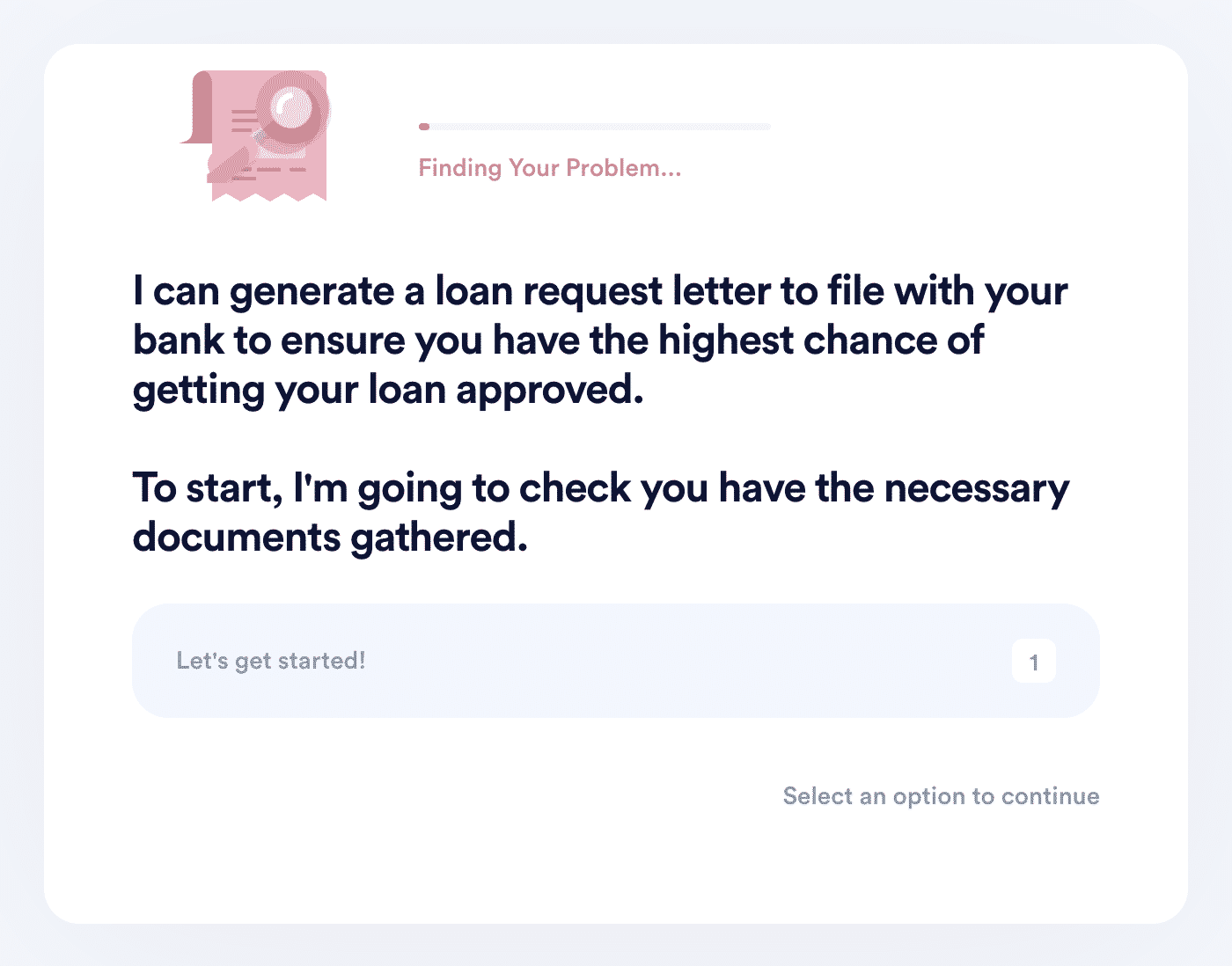 Once you have gathered the necessary documentation, and take these steps:
Navigate to the Business Loan Request Letter product
Provide information about your company
Let us know how much you are asking to borrow
Upload the collected documents
If you are not sure where to look for potential lenders, you can use our integrated Find Online Business Loan Lender feature.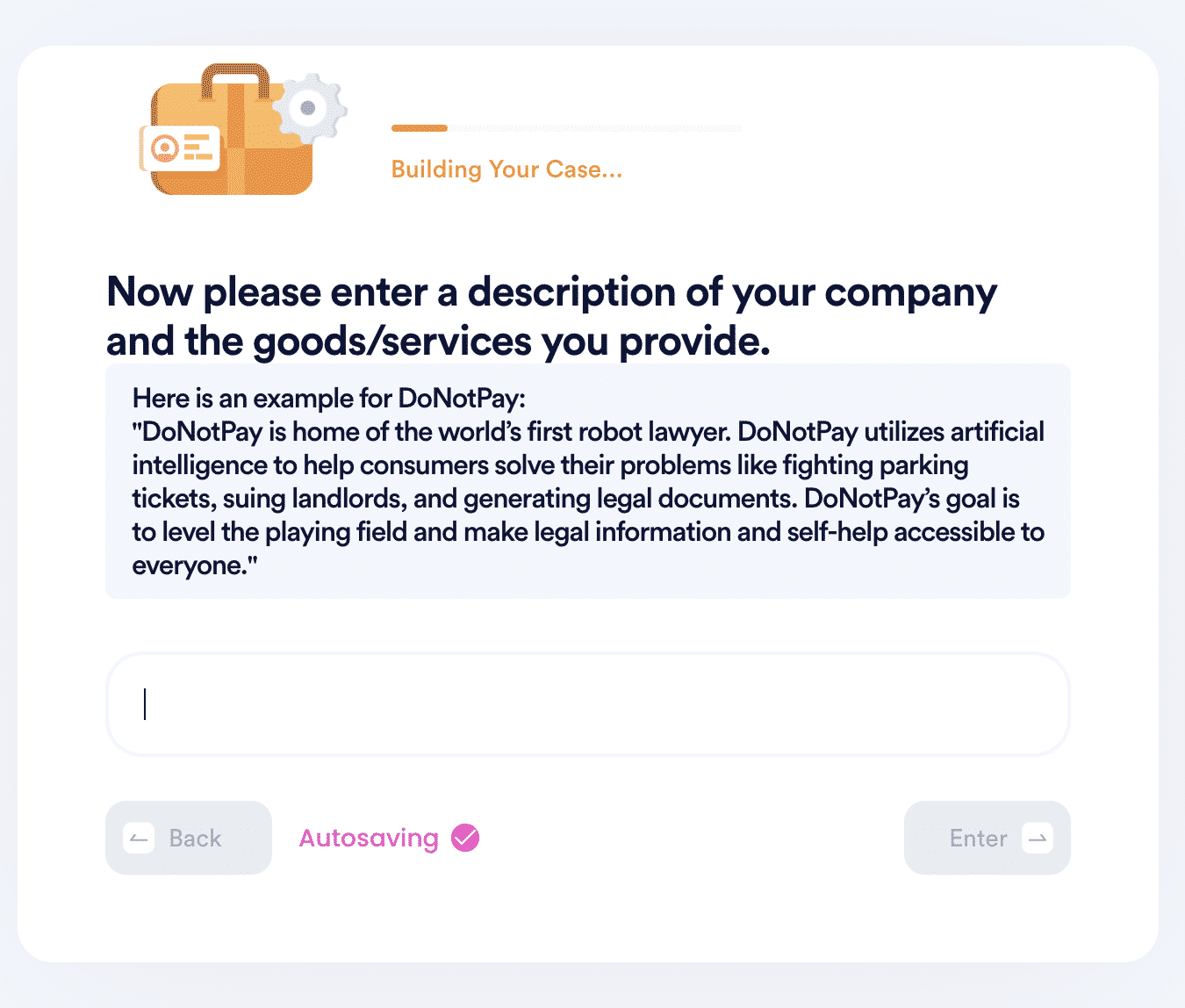 DoNotPay Offers More Help for Your Business
Running a small business is no small feat. When you're drowning in red tape, DoNotPay is here to lend a helping hand. Whether you need to register your trademark or protect it later on, we have got it covered. With our help, you will keep your logo, slogan, and business name safe.
Are you also yet to register for an Employer Identification Number (EIN)? Not to worry—our app can file the IRS SS-4 form in a few clicks. With the world's first robot lawyer at your fingertips, you will also be able to create your 83(b) election forms with ease—ready for your employees to sign them right away.
In case you are struggling financially, we can assist you with a business loan application.
Communication Has Never Been Easier With Our App
Keeping up with clients can be challenging, especially if each has a preferred method of communication. Luckily, our multifunctional app makes it easy to both fax and mail contracts, letters, and documents.
You can also count on our assistance when you need to:
Fight fake negative reviews online
Deal with a client regarding a breach of contract
Dispute fraudulent chargebacks
Thanks to DoNotPay, there is no need for back-and-forth communication. We will handle the necessary demand letters and forward them on your behalf.
We can also help you manage your DMCA agent registration and Privacy Shield program self-certification.