Small Business Loan Calculator and Its Role in the Business Loan Application Process
Many business owners often have to take out a loan to launch a business or inject an already existing one with funds to keep it going. While shopping for the perfect small business loan, it is essential not to settle for a loan that is too expensive for you to pay back.
A small business loan calculator can help small business owners calculate the monthly repayment plans for their intended loan amount. We will explain what a loan calculator is and how you can use it. If you're looking for a quick and efficient way to request a loan, sign up for DoNotPay, and we will help you out.
What Is a Small Business Loan?
Small business loans represent the sum a lender gives to a business owner to fund their daily operations or execute their business's launch or growth initiatives.
The financial needs of small businesses vary, so there's no one-size-fits-all loan solution. There are several loan types that business owners can qualify for depending on their company's needs and budget:
Business term loans—These are paid out to the borrower as one lump sum to be repaid in equal monthly installments over a predetermined period
Lines of credit—A credit line can come as a fixed or revolving credit limit that allows borrowers to withdraw money when they need it. Interest is paid only on the withdrawn amount
Equipment financing—This secured loan is used by borrowers to add new equipment to their asset base
SBA loans—These affordable loans are partially guaranteed by the Small Business Administration, lowering the risk for SBA-approved lenders
Merchant cash advances—Business owners borrow these short-term loans against their company's future profits and pay back daily, weekly, or monthly
Working capital loans—These loans are used to help business owners cover business expenses and maintain cash flow in their business
The Common Elements of a Small Business Loan
You can get small business loans from conventional providers, like banks and credit unions, or alternative sources, such as online lenders. Each source differs in the way small business loans are provided to business owners. They have different numbers and ranges for the following loan elements:
Loan amount
Speed of loan processing and funding
Amount of paperwork
Rates, terms, and credit score requirements
What Is a Small Business Loan Calculator?
This is a pre-programmed calculator that lets you analyze different loan scenarios quickly to ascertain how expensive a loan would be. While loan calculators are fundamentally similar, some offer more features and computational power than others.
Simple loan calculators can only show you your monthly small business loan payment for any loan amount you input. More complex small business loan repayment calculators allow you to factor in the loan fees and any extra monthly payments you would like to make. They also show you the amortization schedule for your loan.
How Does a Small Business Loan Calculator Work?
Many banks and alternative lenders have different loan calculators, each designed for specific loan types. These calculators will require you to input slightly different data to enable them to crunch the numbers for any loan. The required parameters across all loan calculators include:
The loan amount
The annual percentage rate (APR)
Repayment period—in weeks, months, or years
The table below shows an outline of the different loan calculators and their required parameters:
| Loan Calculator | Required Parameters |
| --- | --- |
| Business line of credit calculator | Loan amount (up to $2 million), estimated rate (7–24%), and loan term |
| Merchant cash advance calculator | Loan amount (up to $500,000), estimated factor rate (1–3%), estimated funding term, and payment frequency (daily or weekly) |
| Equipment loan calculator | Loan amount (up to $500,000), estimated rate (8–24%), and loan term |
| Business term loan calculator | Loan amount (up to $1 million), estimated rate (7–30%), and loan term (weekly or monthly) |
| SBA loan calculator | Loan amount (up to $2 million), estimated rate (6–15%), and loan term |
| Invoice financing calculator | Loan amount (up to $150,000), estimated rate (1–3%), and loan term (in weeks) |
| Startup business loan calculator | Loan amount (up to $2 million), estimated rate (6–24%), and loan term |
After inputting these numbers, your calculator will show the results for your loan. Some alternative calculators also show you lender options that may be able to meet your loan needs.
DoNotPay's Loan Request Solution Can Improve the Odds of a Successful Loan Application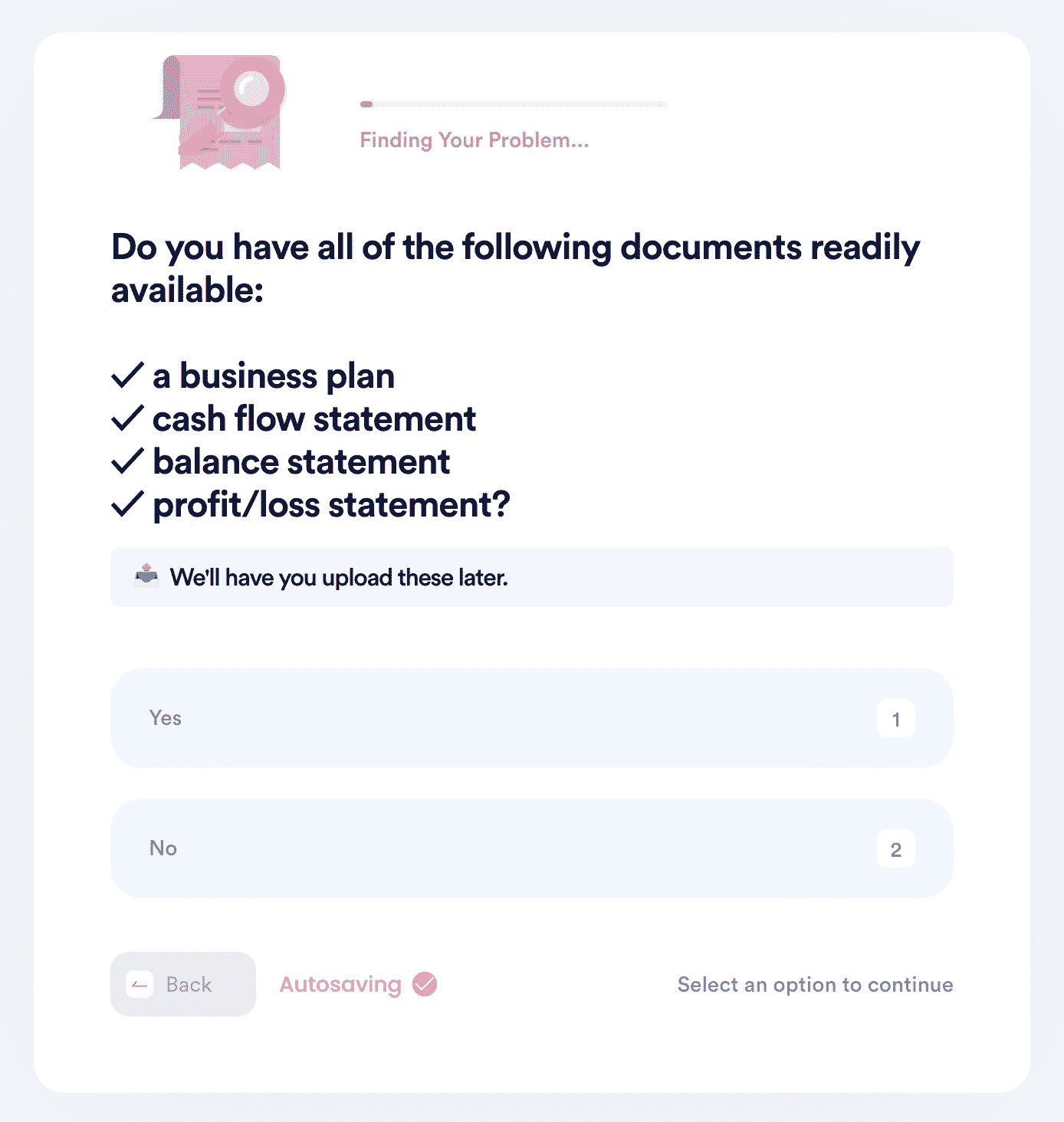 A loan application process can be a slippery slope—one wrong step can topple all the progress you've made. DoNotPay's Business Loan Request Letter gives you a leg up in the loan application process if you take the following steps:
Gather your financial statements and your business and personal credit scores
Select the Business Loan Request Letter tool
Provide answers to the chatbot's questions about your business and the required loan
Upload the requested documents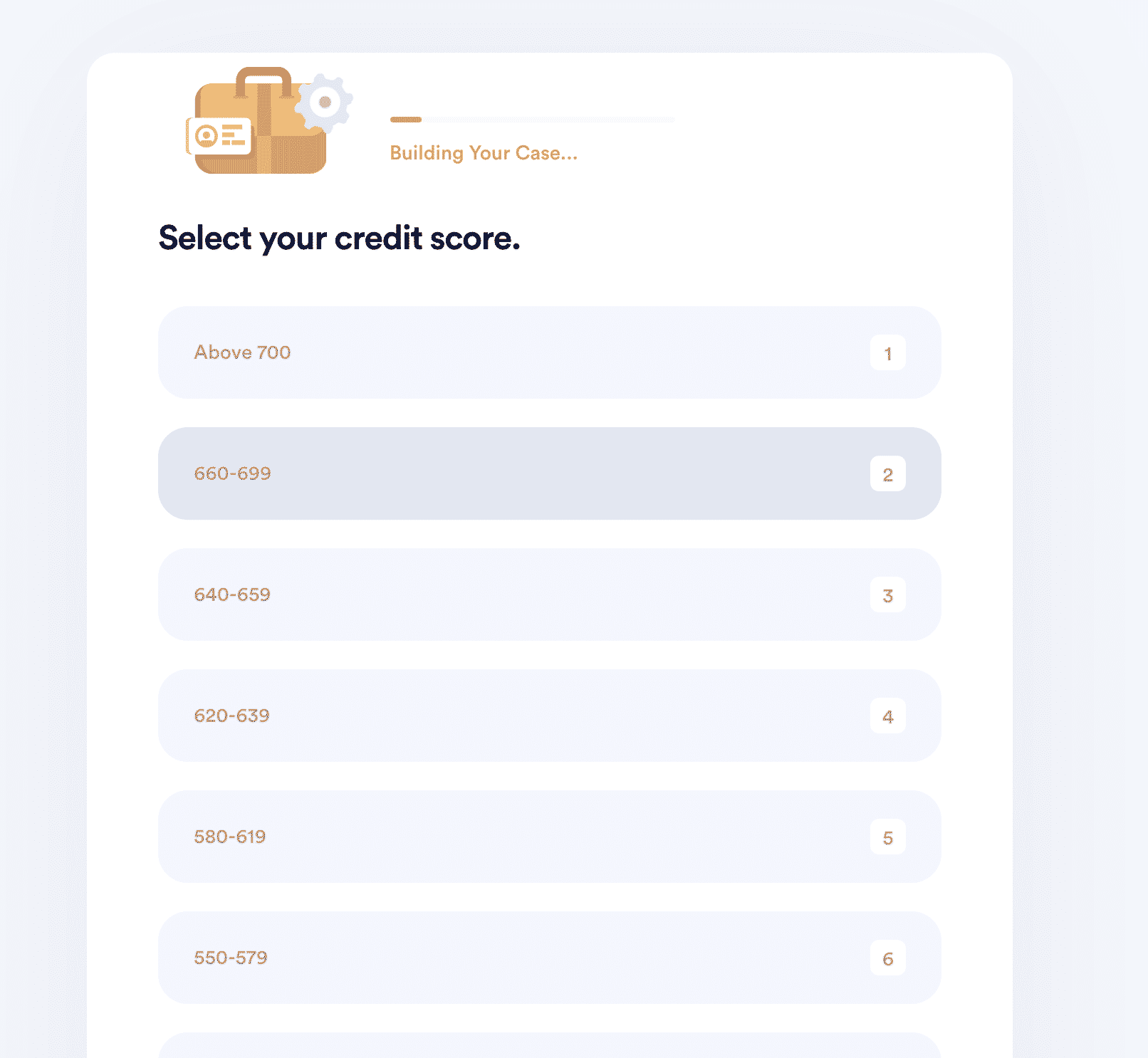 DoNotPay will use the information you provide to generate a solid loan request letter and send it out to your chosen lender. If you are at a loss about where to find the best lenders for your loan, check out DoNotPay's Find Online Business Loan Lender—this tool is designed to find the best online loan providers that are compatible with your loan needs.
DoNotPay Helps You Do Everything by the Book!
Are you confused by the numerous business-related laws and procedures? If you cannot seem to get the hang of all of the processes, you should rely on DoNotPay. Allow your robot lawyer to help you take care of Employer Identification Number (EIN) and DMCA agent registration in a matter of minutes!
Once you handle those tasks, you should consider using DoNotPay to register your business slogan, name, or logo as a trademark and protect your brand by allowing us to check for trademark violations regularly.
Not sure how to handle 83(b) election forms? Automate the entire process and have your employees fill out and submit the forms in a few clicks! We can even help you protect the privacy of your clients by filing a self-certification request with the Privacy Shield program on your behalf so your website complies with data protection requirements.
Running a Business Is Smooth Sailing With DoNotPay
DoNotPay has a solution for any business issue. We can help you:
Draw up a professional and convincing small business loan request letter and get the necessary funds for your business
Report unjustified negative reviews that could damage your brand until they are taken down
Request payment from clients who break the contract
Dispute chargeback requests when they are unfair
Send letters or paperwork without going to the post office