Do You Need a Small Business Loan Application Form?
Securing additional financing is a critical part of your small business' growth. You need to carefully carry out the loan request process, as any errors or omissions on your application form will likely result in a denial.
A poorly prepared small business loan application form will supersede whatever qualifications your new company may possess. Read our guide to find out what to include in your application—or let DoNotPay take care of the process for you.
What You Need To Know About Small Business Loans
Startup business loans help new companies pay for significant purchases or cover operating costs that exceed revenue. You may need some additional form of financing if your small business budget cannot accommodate one of the following critical expenses:
Equipment purchases
Property renovations
Seasonal wages
Both banks and the Small Business Administration (SBA) offer various types of loans, including:
Term loans—ideal for capital purchases
Lines of credit—additional financial resources covering month-to-month costs
Small business loans work by netting an additional return on the borrowed amount, allowing the lender to make money in the process. You may be required to present collateral as a security on your loan.
The best business loans offer terms that include low-interest rates and minimal additional fees.
Calculating Your Loan Request
The most important detail on your small business loan form is the amount you want to borrow. You cannot ask for a loan without presenting evidence that supports your need and a detailed explanation of the purpose for the funds.
In order to determine the amount of money you require, consider the following small business expenses:
| Expense | Details |
| --- | --- |
| Commercial rent | Monthly rate for your business space as determined by your lease |
| Insurance fees | Premiums for any necessary policies that protect your company against property damage, injuries, and more |
| Licensing fees | Expenses stemming from acquiring permits and other licenses associated with your services and goods |
| Salaries and wages | The costs of maintaining a staff (including benefits) |
| Property management and maintenance | Any changes or enhancements to your place of business |
| Line of business equipment | Tools and machinery needed to deliver your service or produce your goods |
| Working capital | Funds to cover primary operating costs before you start generating revenue |
Your Small Business Loan Checklist
To get a small business loan, you will have to file an application form to your lender of choice. While you'll be required to submit different information depending on the lender (banks or third parties), some sections of the form will remain the same.
Make sure you have the following information ready before filling out a small business loan application form:
| Business Information and Documentation | Details | Examples |
| --- | --- | --- |
| Borrower information | Your business' contact details, loan intent, and business principles | Borrower Information Form |
| Personal background | Contact information for owners, partial owners, guarantors, and managing members | Phone number, address |
| Personal financial statement | Personal credit score and declaration of financial assets | Financial statement from your personal bank account |
| Professional financial statement | Company income, expenses, and financial management plan | Balance sheet or monthly financial statement |
| Business license or certificate | Proof that the business is established as separate from the founder | C-corporation, S-corporation, and limited liability partnership documentation |
| Loan application history | Particulars of previous applications | Archived copies of past application forms |
| Income Tax Returns | Income tax records for the last three years | Form 1040X, Form 1120S |
| Partner work history | Previous employment, qualities, and skills | Resume |
| Business strategy | Business history, mission, and vision | Business plan |
| Lease | Information about your professional lease agreement | Copy of your commercial lease |
| Bank statements | Your business' financial history | Bank statements associated with your business' bank |
DoNotPay Will Guide You Through the Loan Application Process
Even if you understand the many parts of the small business loan application form, applying for a small business loan on your own is a complicated process. You do not want to risk being denied because you overlooked one minor step or forgot a single detail about your business history.
Are you looking for a guide to the process? DoNotPay will assist you each step of the way. We can help you find the best three lenders for your needs, generate a professional request letter, and apply on your behalf.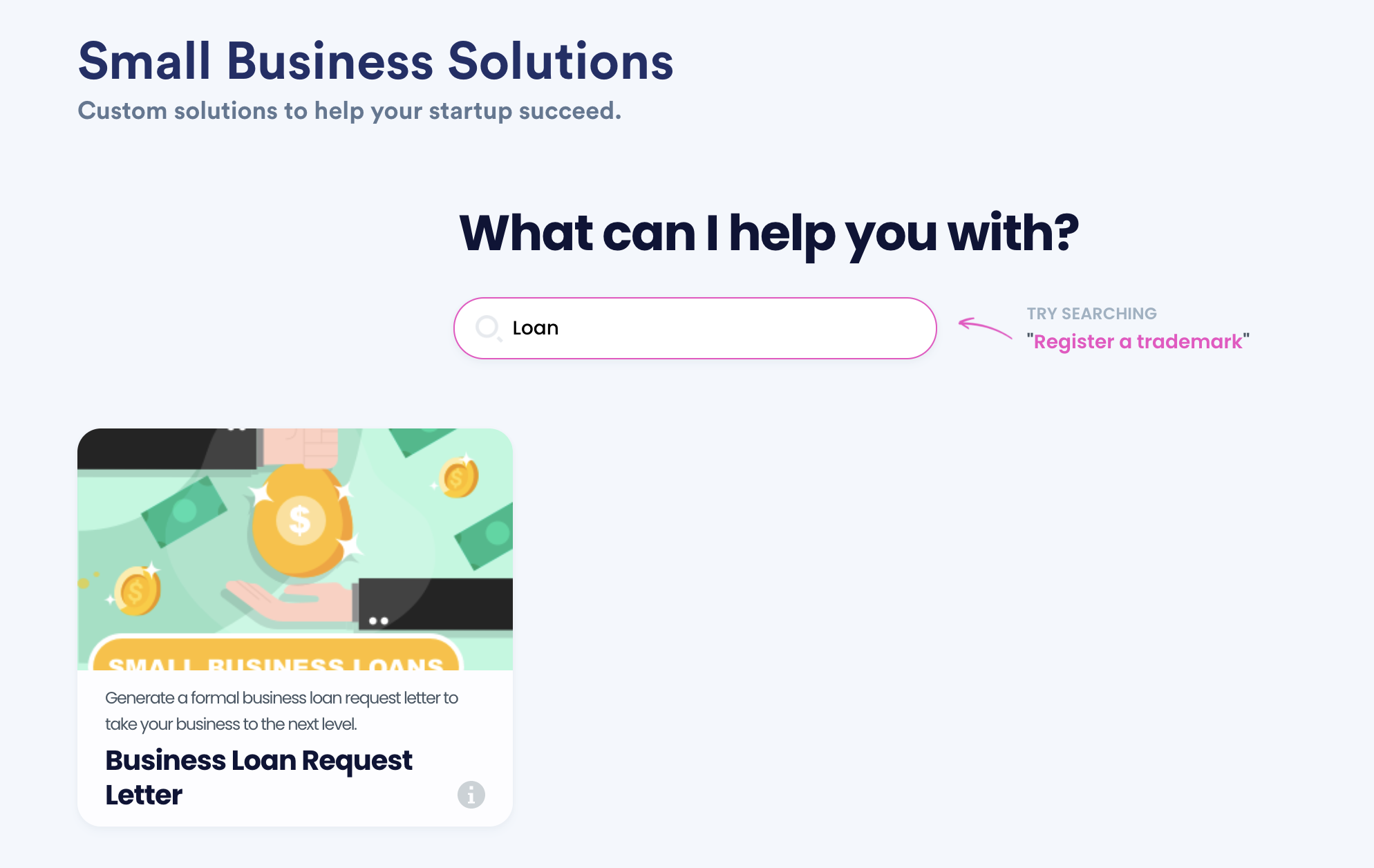 Our AI-powered robot lawyer offers two tools that specifically support the loan application process:
Find Online Business Loan Lender—helps you narrow down dozens of options and find the one that suits the needs of your business
Business Loan Request Letter Generator—provides a detailed checklist for necessary business and financial documentation needed to compose a comprehensive loan request letter
Once you find a lender, here is how to proceed:
Find the Business Loan Request Letter product
Input your business and loan information
Upload the necessary documentation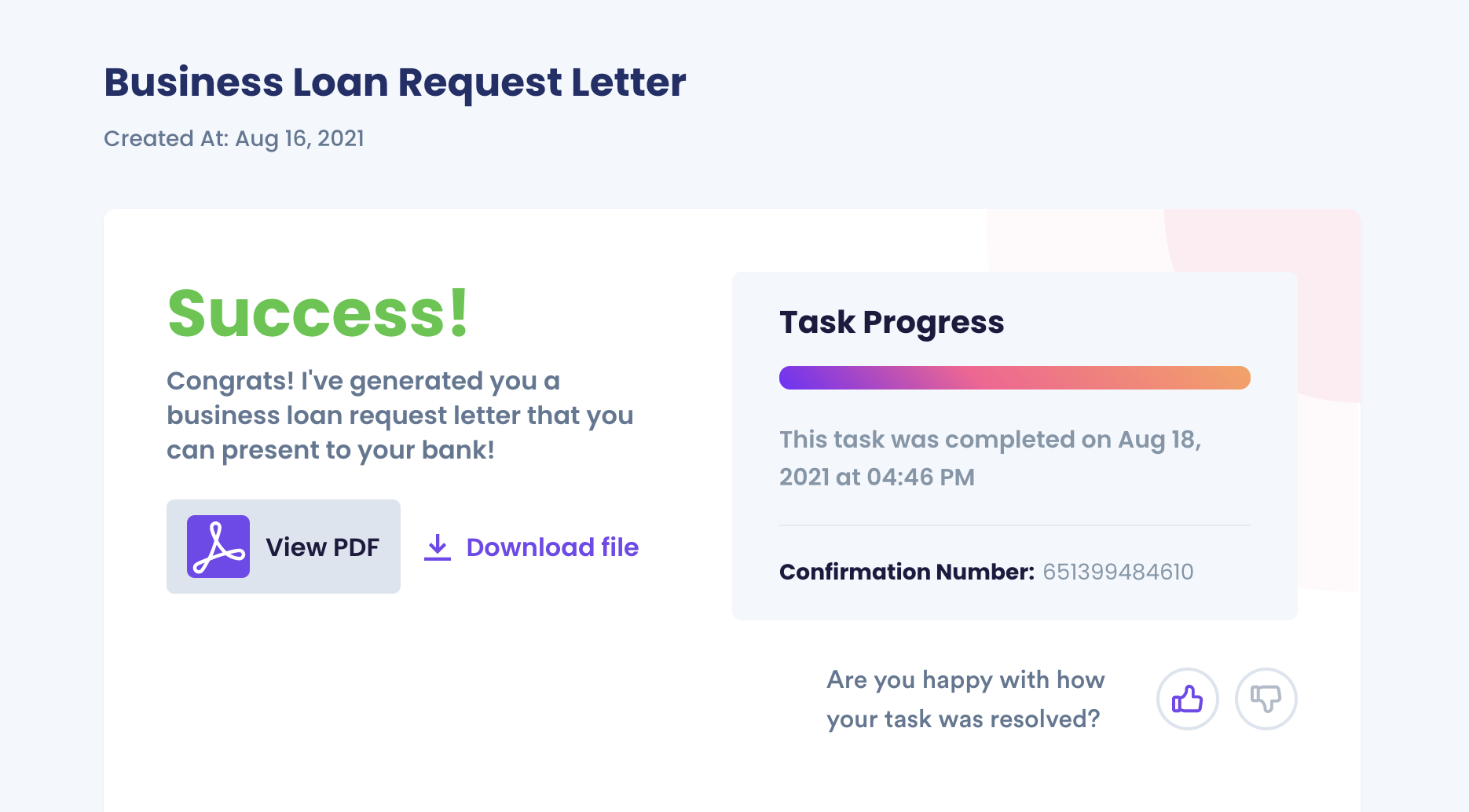 Let DoNotPay Help You With Boring Administrative Tasks While You Focus on Becoming a Business Mogul!
DoNotPay can assist you in dealing with a number of business-related tasks. We have developed a plethora of simple-to-use products that make running a business much easier and less stressful.
Do you need help registering your business name as a trademark? We have got you covered! Not sure how to write a convincing letter to request a small business loan? DoNotPay helps with that, too!
Use our app to get a perfectly generated chargeback rebuttal document, formally request payment from clients who breach the contract, and find out how your employees can file 83(b) election forms in a matter of clicks!
Check Out Our Other Nifty Products!
That is not all DoNotPay has to offer. Our awesome tools will make tedious administrative tasks easier to manage so you can concentrate on your business instead of wasting time waiting in lines and filling out forms. Rely on DoNotPay to:
Take care of DMCA agent registration and Privacy Shield program self-certification
Make sure no one else is using your trademark
Get rid of fake online reviews that harm your business reputation
Manage Employer Number Identification (EIN) registration
Enjoy the convenience of faxing and mailing from the comfort of your home or office