What Is a Small Business Line of Credit? DoNotPay Has the Answer
Are you thinking about borrowing some money to help you cover your startup costs? Getting a small business line of credit might be the solution you are looking for. Our article will explain how this type of loan works, break down the requirements, and show you what other loan options you can choose from. With our help, you can also draft a convincing loan request letter to submit with your application.
What Are Small Business Lines of Credit?
Business lines of credit (LOC) provide business owners with funds that they can use to cover various expenses, such as buying new equipment. LOC gives you a limited amount of money that you can spend whenever you want.
If you get a LOC, you can reuse it and repay it as often as you want, but your payments have to be timely, and you cannot exceed the credit limit. You will pay interest only on the amount you spend, not on the loan limit.
Getting a line of credit will help you:
Maintain cash flow during the off-season—A LOC is a great solution for balancing cash flow as it provides you with a decent budget during the slow seasons when your income might be low
Improve your business adaptability—By being able to spend borrowed money at any time, you will get a chance to afford limited-time offers and take advantage of opportunities
Build your business credit score—Replaying a LOC in a timely manner will help you improve your business credit rating
What Is the Difference Between a Secured and an Unsecured Small Business Line of Credit?
There are two types of lines of credit loans—a secured and an unsecured LOC. The difference is that you do not need to put up an asset as collateral for the former, whereas you have to for the latter.
Small Business Line of Credit Requirements
The requirements for getting a small business line of credit depend on the lender you opt for and whether you get a secured or unsecured LOC.
Typically, you must:
Have run your business for a certain period
Present financial statements with income tax returns for the last two years
Present proof of revenue and business health
Prove to have a solid personal credit score (above 600)
Best Small Business Lines of Credit
Various banks and other lenders offer business lines of credit. Consult the table below to find out about the best options:
| Small Business Lines of Credit Lenders | Details |
| --- | --- |
| BlueVine | If you want an easy-to-apply loan with a fast approval process, you should consider BlueVine. You do not need to have an excellent credit score to apply, and the maximum amount you can borrow is $250,000 |
| JPMorgan Chase | JPMorgan Chase offers $500,000 with an interest rate of up to 25%. To qualify for this loan, you need to have a credit score of at least 700. You can repay this loan in monthly installments |
| TD Bank | TD offers interest-only payments, which means that your monthly payments only cover the interest charges of the loan. At the end of the term, you will still have to pay the original amount you borrowed (up to $100,000) |
| Fundbox | Fundbox has short repayment terms (12 or 24 weeks) and offers a maximum of $150,000 |
| OnDeck | If you have a low credit score and have been in business for a short period, you should opt for OnDeck. You can borrow up to $100,000, and the average interest rate is over 35% |
How To Get a Small Business Line of Credit
Applying for a small business line of credit requires you to prepare certain documentation, such as:
Personal and business tax returns
Bank account information
Checking account information
Business plan
A copy of your ID or driving license
Loan request letter
Most people face difficulties when writing a loan request letter. This is one of the most important documents that you have to file as the lender will review it to check whether you would be a responsible client.
To draft a mistake-free and compelling letter without paying hundreds of dollars for a lawyer, you should subscribe to DoNotPay. We will generate a convincing request letter for you that will boost your chances of getting a loan.
Getting a Line of Credit for a Small Business Is Easy With DoNotPay
If you need help drafting a loan request letter, subscribe to DoNotPay! Our simple-to-use tool will generate a tailor-made loan request letter for you in a matter of minutes. To get the letter, you need to:
Find our Business Loan Request Letter tool
Provide important info by answering our chatbot's questions
Upload the required documents
We will process your request instantly, draft a loan request letter, and forward it to the lender in no time. Haven't found an adequate lender for your business? Use DoNotPay's Find Online Business Loan Lender tool to get a list of the best lenders for you.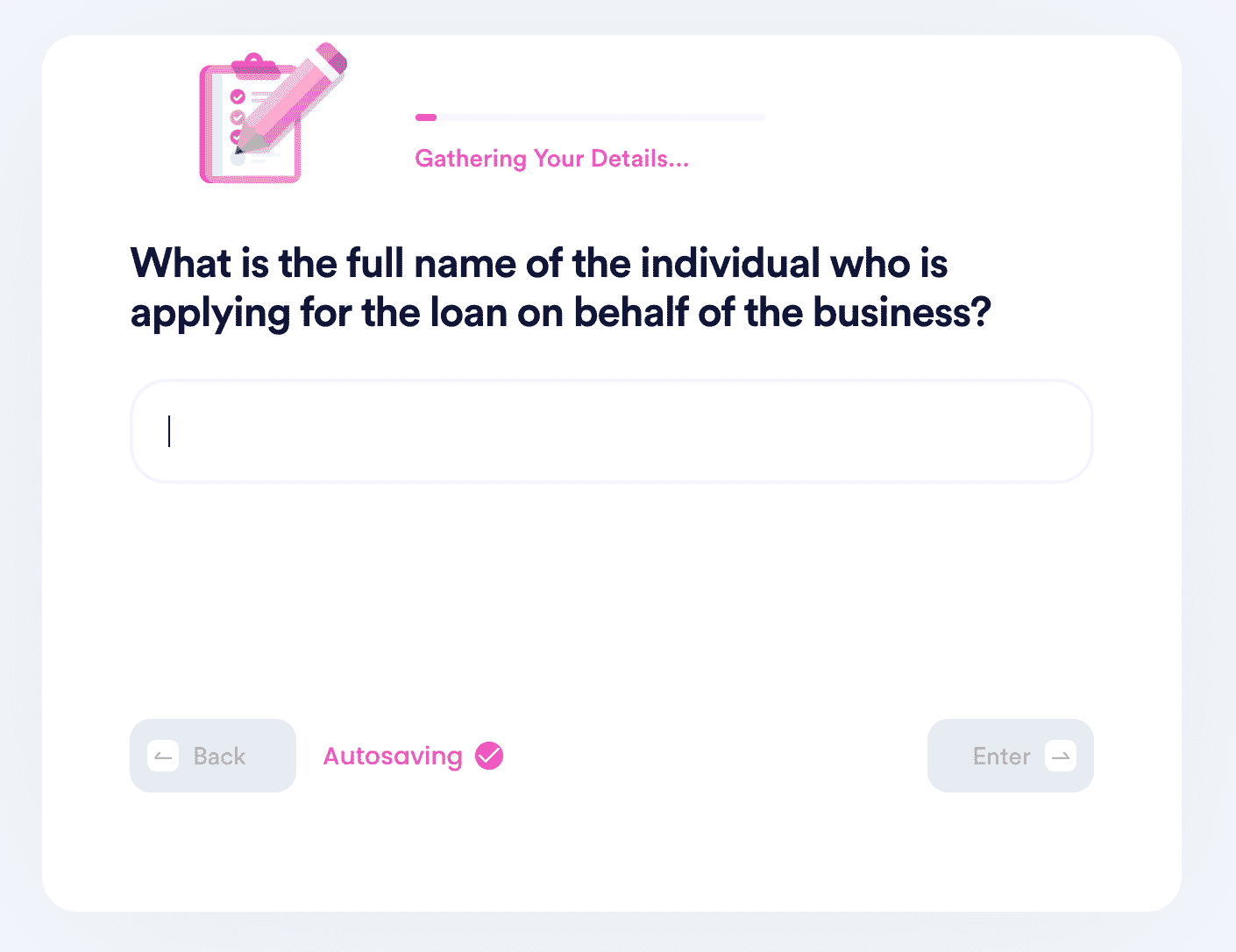 Other Loan Types Worth Checking Out
Not sure whether you qualify for a small business line of credit? Consider applying for the following loan types:
The United States Small Business Administration (SBA) loans—The SBA offers various loan programs through which you can borrow up to $5,5 million
Startup loans—Do you want to start a new business, but you don't have the means to cover all the initial costs? Apply for a startup loan, and get up to $750,000
Microloans—If your financial needs can be satisfied with a small amount of money, a microloan should be your choice
Resolve Various Business Problems With the Help of DoNotPay
Handling annoying administrative issues is the last thing you want to worry about while trying to build a business empire. The good news is that you do not have to! DoNotPay has developed many nifty products that make various pesky tasks easy to complete.
Some of the small-business-related matters we can help you with are:
Taking out business loans
Obtaining an Employer Identification Number (EIN)
Automating the filing of 83(b) election forms
Requesting your money from customers who won't pay
Registering a DMCA agent
DoNotPay can also make communication with your clients or business partners easier as we enable you to fax and mail your letters, forms, and other important documents without leaving your office.
Maintain a Good Business Reputation
It is no secret that building a trusting relationship with clients takes time and effort, so why have all that hard work ruined by negative online reviews that are fake? DoNotPay is here to help you remove illegitimate, fake reviews in a matter of clicks!
Want to dispute unfair chargeback requests but are not sure how to go about it? By using our Fight Chargebacks feature, you can have DoNotPay create a customized chargeback rebuttal document in a few minutes.
With our app, you can also protect your trademark from people trying to use it, file the self-certification request with the Privacy Shield program, and handle many other aspects of your business hassle-free!