Small Business Insurance Cost Breakdown
If you own a small business or a startup, you may be considering getting insurance to help you cover the costs of unexpected losses. Some events can even lead to costly lawsuits, which you must pay out of your own pocket without insurance.
In case you are wondering what the small business insurance cost is, this article will give you the numbers you need. We will also tell you how much money you need to prepare, and we can show you how small business loans work.
Factors That Impact the Average Cost of Small Business Insurance
The price you have to pay for your small business insurance is not fixed but depends on several factors, such as:
Your industry
The number of employees
Your location
The revenue of your business
Your business property
Your deductible
The types of coverage you need
Your Industry
You are more likely to get affordable insurance if your business belongs to a low-risk industry, such as:
If you need home care or construction insurance, for example, you will have to pay more because of the higher risk that comes with the nature of the work your business conducts.
The Number of Employees
The more employees your business has, the more room for error there is. That is why some insurance policy rates are based on payroll (e.g., general liability or workers' compensation insurance).
Your Location
Property insurance rates are also affected by the likelihood of natural catastrophes or weather-related occurrences taking place in your area.
The Revenue of Your Business
The higher your revenue is, the more you have to lose, so insurance companies will charge you based on that principle.
Your Business Property
The greater the property you need to insure, the higher the cost of your insurance will be.
Your Deductible
Before an insurance company gives the payout, you will have to pay a deductible, which is the amount you need to cover before making a claim. If you want to pay a lower deductible, the price of your insurance policy will go up and vice-versa.
The Types of Coverage You Need
The type of insurance policy you opt for will also have an impact on the overall amount you have to pay as each type comes with a varying rate range.
Average Small Business Insurance Cost by Policy Type
Check out the table below to find out the average monthly costs of the most common business insurance policies:
| Policy Type | Average Cost |
| --- | --- |
| Workers' compensation | $86 |
| Business owners' policy (BOP) | $84 |
| General liability | $53 |
| Professional liability | $46 |
Small Business Insurance and Other Costs—How To Cover Them
Insurance for your small business is not the only cost you will have to prepare yourself for. You also need to have a budget to cover expenses such as utilities and marketing. If you need assistance with such costs, you can get a small business loan.
You can borrow money from government organizations, such as the Small Business Administration (SBA), or from various banks and online lenders. The interest rate depends on:
Having your application approved by a lender is not easy—you need to meet rigorous criteria. Before you even send your application, you have to prepare plenty of paperwork, fill out various forms, and write a request letter. If you want to go through the application process more smoothly, subscribe to DoNotPay and let our AI-powered assistant help you out.
DoNotPay Helps You Get a Small Business Loan Hassle-Free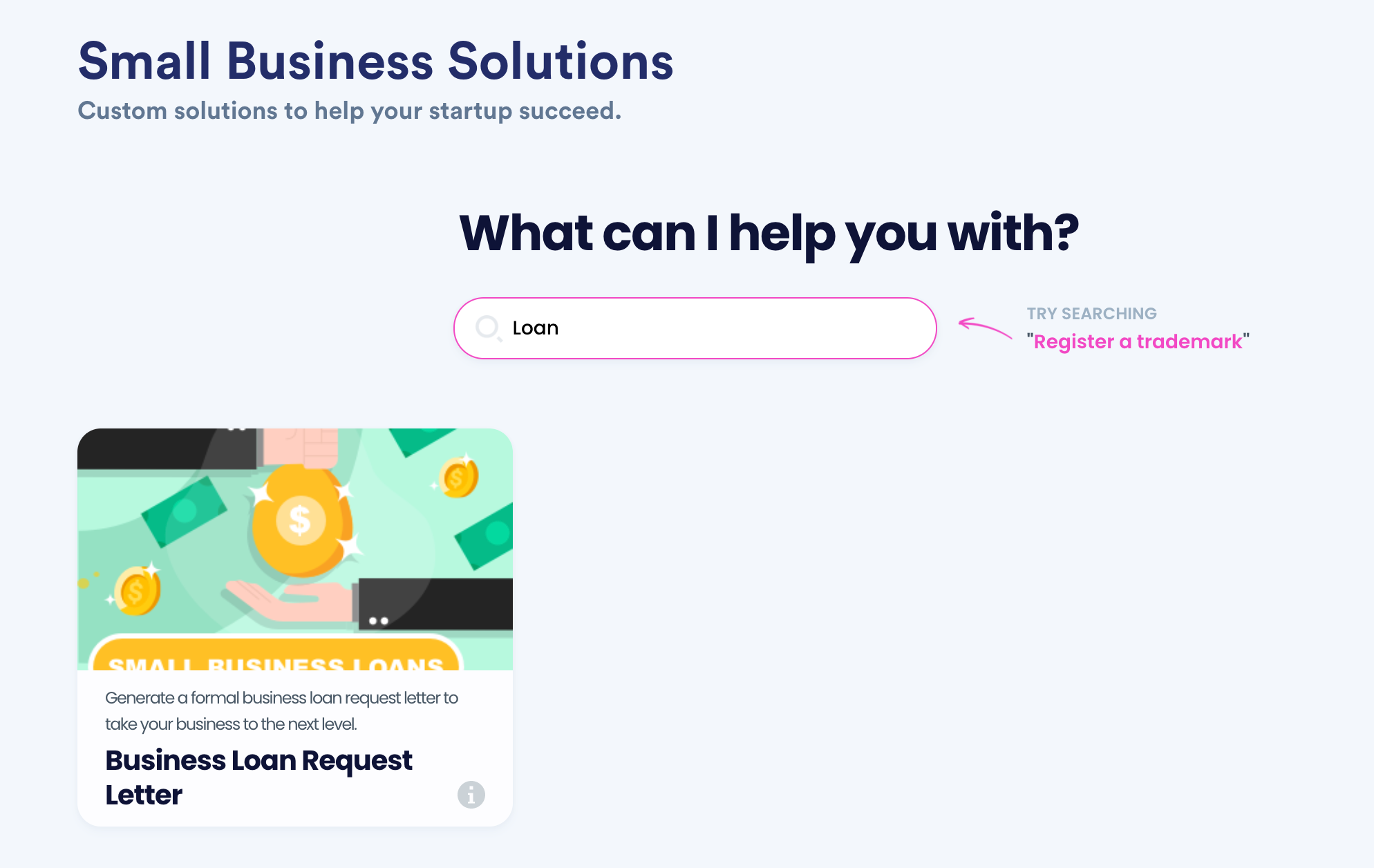 Whatever type of business loan you are after, you need to pay close attention to every step of the application process to ensure you do not leave out any relevant piece of information. This is often a tedious procedure that requires you to prepare the following:
Business plan
Business and personal credit report
Resume
Income tax returns
Financial statements
Franchise agreements
Commercial leases
Business licenses
Business loan request letter
Bank statements
Leases
If you want to ensure your application gets approved for one of the best small business loans, you can utilize DoNotPay's Business Loan Request Letter product as soon as you subscribe! We will help you collect all the necessary documents and gather key information that lenders look for. To get an airtight loan request letter, you need to:
Find the Business Loan Request Letter product
Gather your credit scores (both personal and business)
Prepare all the paperwork that proves you qualify
Answer our chatbot's questions
Upload the required paperwork
With our Find Online Business Loan Lender tool, you can also get a list of the best online lenders.
Resolve Various Business Problems With the Help of DoNotPay
Handling annoying administrative issues is the last thing you want to worry about while trying to build a business empire. The good news is that you do not have to! DoNotPay has developed many nifty products that make various pesky tasks easy to complete.
Some of the small-business-related matters we can help you with are:
Taking out business loans
Obtaining an Employer Identification Number (EIN)
Automating the filing of 83(b) election forms
Requesting your money from customers who won't pay
Registering a DMCA agent
DoNotPay can also make communication with your clients or business partners easier as we enable you to fax and mail your letters, forms, and other important documents without leaving your office.
Maintain a Good Business Reputation
It is no secret that building a trusting relationship with clients takes time and effort, so why have all that hard work ruined by negative online reviews that are fake? DoNotPay is here to help you remove illegitimate, fake reviews in a matter of clicks!
Want to dispute unfair chargeback requests but are not sure how to go about it? By using our Fight Chargebacks feature, you can have DoNotPay create a customized chargeback rebuttal document in a few minutes.
With our app, you can also protect your trademark from people trying to use it, file the self-certification request with the Privacy Shield program, and handle many other aspects of your business hassle-free!