Small Business Expenses—All You Need To Know
Having a small business of your own sounds like a great idea on paper, but the headache begins the moment you push yourself away from the employed shore and into the depths of entrepreneurial waters.
Startups come with many one-off and recurring costs. If you are new to owning a business, you will probably not be aware of all the expenses until they crop up. This is why it is necessary to have a healthy budget, either through personal savings or loans.
In this article, we will go through small business expenses and show you what elements your financial plan must include. We will also explain how startup and small business loans work and how you can use DoNotPay to obtain extra funds.
Small Business Expenses—What Are They?
Estimates show that a new micro business needs about $3,000 to begin to work. That does not include the expenses that come after you set up shop, meaning that you will need a greater budget to keep afloat.
Common small business expenses list as follows:
Payroll
Incorporation fees
Consulting
Equipment
Inventory
Office furniture and supplies
Payroll
When you hire an employee, the base salary is not the only expense you need to think about—there are also:
Paid time off
Overtime
Bonus
The payroll usually takes 25–50% of your overall budget, which is a daunting percentage, especially in the beginning when the profits are low or nonexistent.
An employee costs from 1.25x to 1.4x of their salary. You can lower that factor by being efficient with your money, such as choosing a low-cost 401k plan.
Incorporation Fees
When you open up a business, you will need to file articles of incorporation and obtain licenses to conduct business. The fees vary from one state to another, and they go from $50 to $725, with the average being below $300.
Consulting
Although you can have an in-house accountant or a lawyer, it might be more beneficial to get a consultant. This way, you only pay hourly rates and get a more experienced professional to help you out. Professional consultants charge $1,000–$5,000.
Equipment
Equipment is a necessary expense that you will have to cover immediately. The cost varies significantly depending on the industry you are in—it will not cost the same if you run a restaurant or a real estate brokerage. The equipment can cost from $10,000 to $125,000.
Website
You can hire a professional to be in charge of the design and maintenance of your website (up to $2,000 monthly), but you can also do it on your own and pay a subscription to a website builder (around $40 a month).
If you are tech-savvy, you can eliminate these costs and build a website by yourself without any additional costs.
Utilities
Utilities include paying bills for:
Internet
Gas
Water
Electricity
Phones
The average cost of a utility is $2 per square foot of office space.
Advertising
Depending on your business model, your marketing budget can consist of thousands of dollars, or you can rely completely on word-of-mouth marketing and do not spend money on ad campaigns and materials.
You can allocate zero to ten percent of your budget towards marketing.
Inventory
Inventory expenses are difficult to gauge, especially if you are in a manufacturing or retail business as you need to take spoilage risks and consumer demand into account. It usually takes up 17%–25% of the budget.
Office Space
Renting an office is a fixed cost that occurs every month. The size and price of the office space depend on your needs. If doable, you can avoid this expense by letting your employees work from home.
Office space will require an expense of $100–$1,000 per employee a month.
Office Furniture and Supplies
This category takes up ten percent of the budget and includes:
Desks
Chairs
Computers
Phones
Pens
Paper
Software
Insurance
Insurance can range from $400 to $5,000, with the average being $1,200. Some of the insurance types most startups pay include:
Errors and omissions
General liability
Commercial property
Employee compensation
Tax Categories for Small Business Expenses
Taxes for small businesses come at a flat rate of 21%. Luckily, many expenses are deductible, meaning you can write them off from your taxable income. Check out the following table to see what expenses are tax-deductible for small businesses and what are not:
Deductible Expenses
Non-Deductible Expenses

Advertising
Employee wages
Rent
Meals and entertainment
Gifts
Travel
Moving
Bank fees
Utilities
Self-employment tax
Charity
Startup costs
Mortgage
Software and books
Licenses
Employee loans
Insurance

Legal fees
Business requirements
Demolition expenses
Employee education
Lobbying
Governmental penalties
Illegal activities
Political contributions
Obtaining the Funds
The list of expenses can seem endless. If you cannot cover them on your own, that does not mean that you should give up on the idea of being a small business owner. You can get a small business loan from a bank, online source, credit union, and other lending institutions.
Some of the best small business loans come with agreeable terms—you can end up paying low interest rates with a repayment schedule that fits your business plans.
Depending on your business, the industry you are in, and the purpose of the loan, you can choose from various loan types. Some of the most popular ones include:
Obtaining a Small Business Loan Using DoNotPay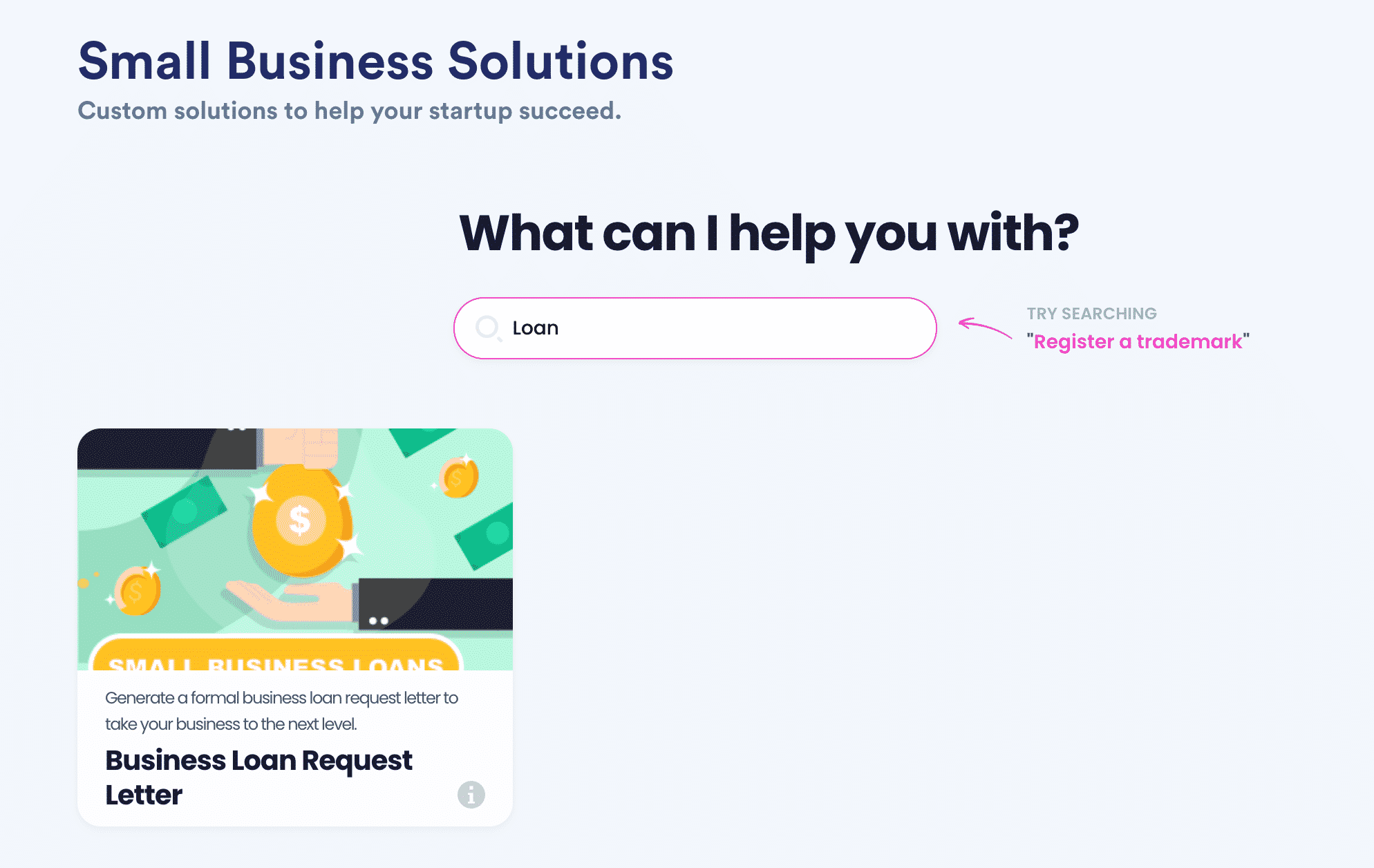 Getting a business loan is not as easy as walking into a bank and just requesting it. You will need to prove that you qualify for the loan and that your business is healthy enough to be able to repay the loan with interest.
To do so, you will have to gather several documents, such as statements on cash flow, profit and loss, and balance. Many business owners miss out on loans because their applications do not meet the necessary standard. Do not let this happen to you—use DoNotPay.
With our app, you will be able to generate a formal business loan request letter that will contain all the necessary details, descriptions, and paperwork. Once you sign up for DoNotPay, all you need to do is:
Gather your personal and business credit scores
Prepare business financial statements
Answer a few questions about your company
Upload all necessary documents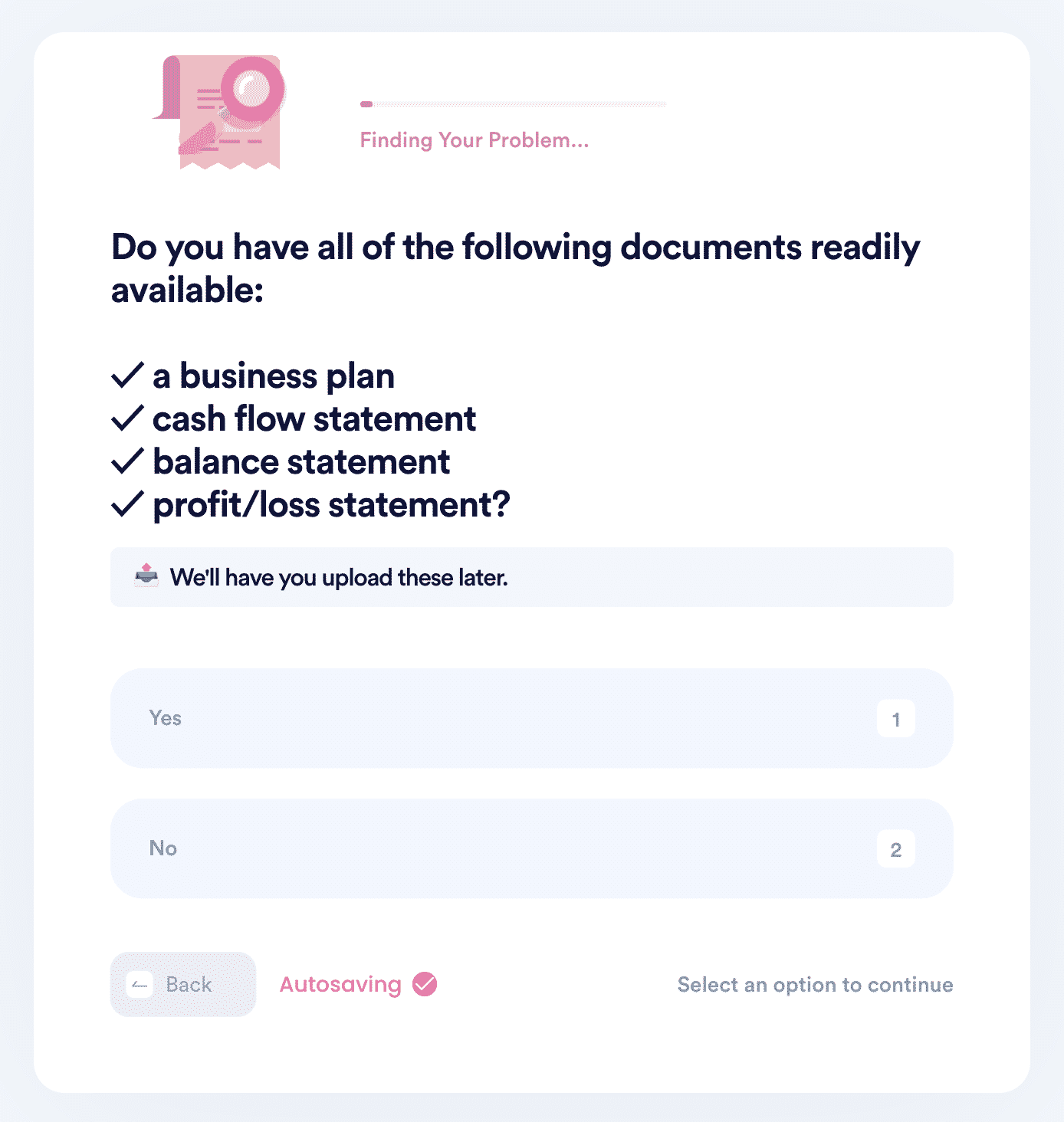 Take Care of Pesky Business-Related Procedures Effortlessly!
As a business owner, you are bound to deal with various complex processes. Luckily, DoNotPay can help you handle most of those procedures stress-free. Do you need to register your business name as a trademark, file the self-certification request with the Privacy Shield program, or report illegitimate and inappropriate negative reviews? Our app enables you to do it within minutes.
That is not all we can do for you! With our nifty products, you can make the filing of 83(b) election forms a breeze and take care of DMCA agent and Employer Identification Number (EIN) registration in no time.
Need a solution that will facilitate correspondence with your business associates or clients? DoNotPay has the right faxing and mailing product for you!
Don't Spend a Small Fortune on Lawyers—Draft Various Documents With DoNotPay's Help
Drafting legal documents does not have to be complicated or expensive. DoNotPay has a variety of tools that you can use to get a:
Letter requesting a loan for your small business
Cease and desist demand regarding your trademark (if someone tries to use your business name, logo, or slogan)
Formal demand letter requesting a client to pay for your services
Personalized chargeback rebuttal document based on the:

Chargeback reason
Chargeback code
Service you offer