A Guide to Securing Small Business Equipment Loans
It doesn't matter whether you have recently started a new business or are planning on expanding your existing one—equipment purchase is necessary in both cases. Small business loans—specifically, equipment loans—can help fund such purchases.
How do small business equipment loans work? What are the pros and cons of opting for one? What qualifications do you need to have? We are here to give you all the details. Use this guide to discover everything you need to know about equipment loans and learn how to write a loan request letter using DoNotPay.
The Basics of Equipment Loans for Small Businesses
Small business loans are used to finance the expenses of small businesses and startups, and one of the most popular subcategories is equipment loans.
The equipment you can buy, replace, or repair with your loan depends on the industry your business is in. Check out the examples in the table below:
Industry
Equipment
Hospitals

Hospital beds
MRI/CT scan machines
Ultrasound machines

Restaurants

Ovens
Stoves
Crockery
Cutlery

Software companies

Laptops
Desktop computers
Printers
You can finance almost 80% of your equipment with an equipment loan. When you buy equipment with a loan, you own the item from the day of purchase, and it can be used as collateral for the loan.
When Should You Consider an Equipment Loan?
You can request an equipment loan for one of the following reasons:
You need to buy equipment to start a business but do not have the funds to cover other startup expenses
You need to upgrade your equipment to stay competitive and meet consumer demands
The equipment has depreciated so much that buying new equipment would be more profitable than repairing it
Some business owners choose to secure loans to preserve their working capital, which is then used to cover payroll, utilities, and other expenses
Advantages and Disadvantages of Acquiring an Equipment Loan
Here is a list of advantages of an equipment loan to help you evaluate if it is the right funding option for your business:
Quick approval process—Equipment loans are typically approved quickly. Another way to speed up the process is to choose an online lender with more lenient requirements
Flexible payment schedule—Depending on your choice of lender, you can get flexible payment options, especially if you also need funds to operate your business
No collateral required—In most cases, lenders do not require collateral when offering equipment loans
Increased sales—Getting an equipment loan could improve your business's overall productivity. You will be investing in your business and earn profit in the long run
Reduced tax liability—If your purchase is eligible for Section 179 tax deductions, you can write off the equipment purchase as a business expense, even if you used an equipment loan to finance it. This will lower your taxable income and your tax liability
The most important disadvantages include the following:
These loans can only be used for equipment—As the name specifies, you can only use this type of loan to buy equipment. You can not use it to cover other business expenses
They come with higher interest rates—If you have a good credit history, the chances are that you can get a lower

interest rate

by taking out a term loan
How To Apply for an Equipment Loan
The first thing you need to do before applying for a loan is to check the requirements of the lender you're acquiring the loan from. Most lenders, including banks, require excellent credit ratings and a healthy financial standing. You can opt for a non-traditional online lender, who may have lenient criteria but will also offer a smaller loan amount.
Once you have confirmed that you are eligible, you need to follow these instructions:
Prove that you have good personal and business credit—Having a negative credit rating can not only be a reason for loan rejection, but it can indefinitely halt all sorts of credit approval. You should ensure a positive credit rating by:

Paying your credit card bills on time
Repaying your loans within the requested period

Have a solid business plan—Before lending the money, lenders want to know how you plan on using the funds and budget your cash flow to return the money. You should detail your current cash flow and set out a realistic roadmap for your future business growth. Your plan should be comprehensive and give a good overview of your business
Prepare your financial documentation—You need to have all financial documentation ready to prove that your personal and business finances are accurate and in order
Negotiate the terms—Work out the loan terms with the lender
Applying for Other Small Business Loans
If you feel that equipment loans are not the right fit for your business, you can choose from other convenient small business loan types, such as:
DoNotPay Can Draft a Loan Request Letter in Minutes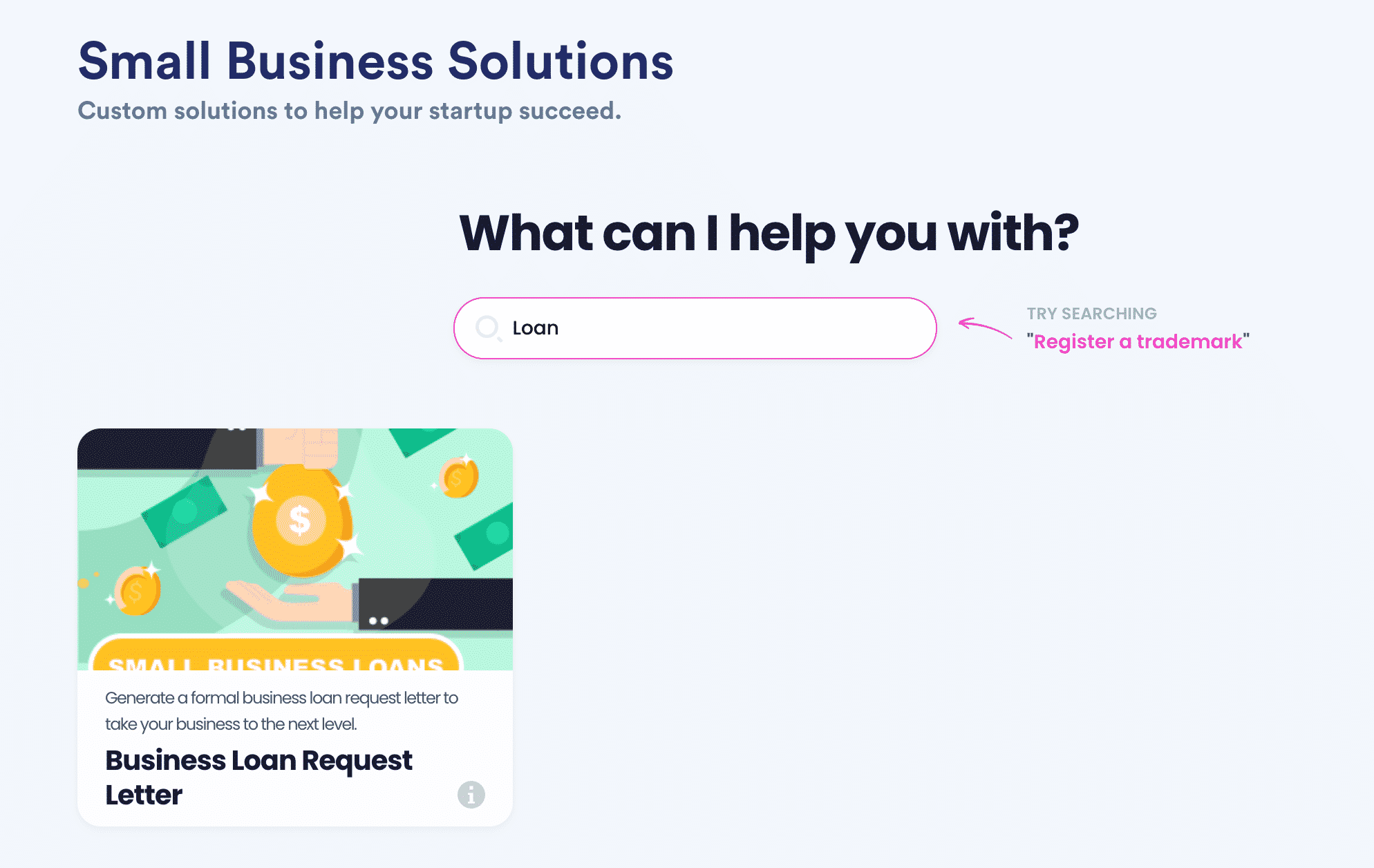 If you want to buy or replace equipment and need to acquire a loan, let DoNotPay increase your chances of approval. Our AI-powered app can help draft a formal loan request letter in a matter of minutes.
Once you sign up for DoNotPay, here is what you need to do:
Search for the Business Loan Request Letter tool
Provide details to us about your business and the amount of money you require
Gather financial documents, such as your bank statements and credit ratings
Upload the documents to our app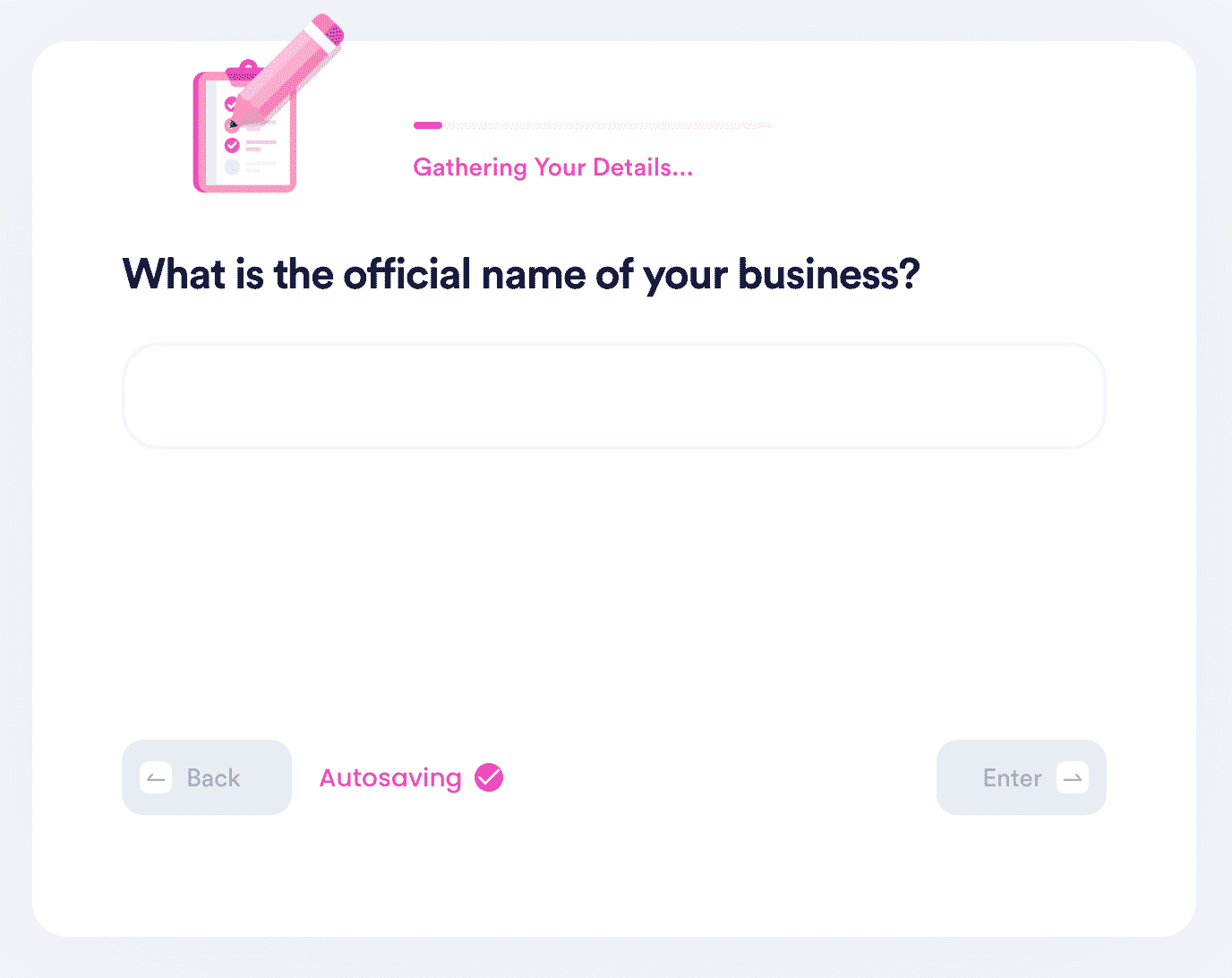 After you have completed all the steps, we will automatically generate a customized loan request letter.
Not sure about the lender yet? Use our Find an Online Business Loan Lender tool integrated with the questionnaire to identify the best loan providers for your needs.
DoNotPay Helps You Do Everything by the Book!
Are you confused by the numerous business-related laws and procedures? If you cannot seem to get the hang of all of the processes, you should rely on DoNotPay. Allow your robot lawyer to help you take care of Employer Identification Number (EIN) and DMCA agent registration in a matter of minutes!
Once you handle those tasks, you should consider using DoNotPay to register your business slogan, name, or logo as a trademark and protect your brand by allowing us to check for trademark violations regularly.
Not sure how to handle 83(b) election forms? Automate the entire process and have your employees fill out and submit the forms in a few clicks! We can even help you protect the privacy of your clients by filing a self-certification request with the Privacy Shield program on your behalf so your website complies with data protection requirements.
Running a Business Is Smooth Sailing With DoNotPay
DoNotPay has a solution for any business issue. We can help you:
Draw up a professional and convincing small business loan request letter and get the necessary funds for your business
Report unjustified negative reviews that could damage your brand until they are taken down
Request payment from clients who break the contract
Dispute chargeback requests when they are unfair
Send letters or paperwork without going to the post office