Everything You Need To Know About a Small Business Disaster Loan
Many small businesses are economically impacted by natural disasters and cannot carry on due to insufficient funds. For this purpose, the government has introduced relief programs to help businesses recover and operate normally.
In this article, we will tell you all you need to know about a small business disaster loan and explain how you can apply for it. If you face difficulties in the application process, and draft a loan request letter without breaking a sweat.
Small Business Loans in a Nutshell
Small businesses and startups often need financing solutions to keep their business running.
If you are a business owner and incapable of funding the business yourself, you can apply for a small business loan. A loan can help cover various business-related expenses, such as:
Machinery and equipment purchases
Business expansion
Business acquisition
Salaries, rent, and utilities
You can choose from a variety of small business loans, depending on what you need them for. If your business suffered great financial losses due to a natural disaster, you should consider applying for a small business disaster loan.
What Is a Small Business Disaster Loan?
The U.S. Small Business Administration (SBA) offers Economic Injury Disaster Loans (EIDL) to help businesses that have been affected by natural disasters cover their expenses.
EIDL Small Business Loan in Detail
Consider applying for an EIDL loan if your business has suffered damage due to a natural disaster, such as:
Flood
Wildfire
Hurricane
Earthquake
By applying for this loan, you ask for funding to:
Pay for daily expenses
Invest in working capital
Buy real estate, equipment, or machinery
Pay any business debt or overdue payment
Bear in mind that you cannot use the original EIDL to expand your business or pay for startup costs.
You can get a maximum of $2 million, depending on your budget and needs. Here are the basic loan terms:
Loan Terms and Conditions
Details
Repayment
30 years

Interest rate

3.75% for businesses

2.75% for non-profit organizations

Deferred payments
Two years
Prepayment penalty
None
Fees
Less than $25,000—none

More than $25,000—$100

Greater than $500,000—$100

Collateral
Required for loans higher than $25,000
Personal guarantee
Required for loans higher than $200,000
Who Is Eligible for a Disaster Loan?
Small business owners need to meet certain requirements to apply for the EIDL loan, such as:
Being located and running a business in the United States
Having been in business for at least two years
Having a credit score of at least 570
Providing documentation on the loss of working capital due to a disaster
Operating a business of fewer than 500 employees
Having a valid IRS-issued Tax Identification Number (TIN)
How To Apply for a Small Business Disaster Loan
You should follow these instructions to apply for a small business disaster loan:
Confirm that you are eligible for the loan
Complete the loan application form
Sign up on the SBA website
Complete all the steps to create your account
Upload all your relevant documents
Respond to the SBA's requests regarding documentations
The SBA takes several weeks to process your application. If you have already received a loan from the SBA and do not have any outstanding payments, you can apply for an increase in funds using the SBA portal account.
Other Disaster Loan Options
The SBA offers three other small business disaster loans, as follows:
Physical damage loans—These are available to homeowners and renters for the repair and maintenance of personal property and vehicles. You can also apply for this loan to repair a commercial property
Mitigation assistance—The loans help reduce property damage by protecting your business from forecasted or potential disasters, such as floods or earthquakes
COVID-19 Economic Injury Disaster Loan—The SBA has started offering the COVID-19 Economic Injury Disaster Loan to businesses that have been financially impacted by the pandemic
Other Types of Small Business Loans
If a disaster loan is not a suitable option for your business, here are some other options you can consider:
You are required to submit the following documents along with your loan application:
Income statement
Cash flow statement
Business and income tax returns
Business incorporation documents
Personal and business bank statements
Loan request letter
Whether you want to file your loan application with a bank or any other financial institution, you need to present a convincing loan request letter to increase your chances of receiving a loan. DoNotPay can help you draft one without breaking a sweat!
DoNotPay Can Help You Create a Loan Request Letter Instantly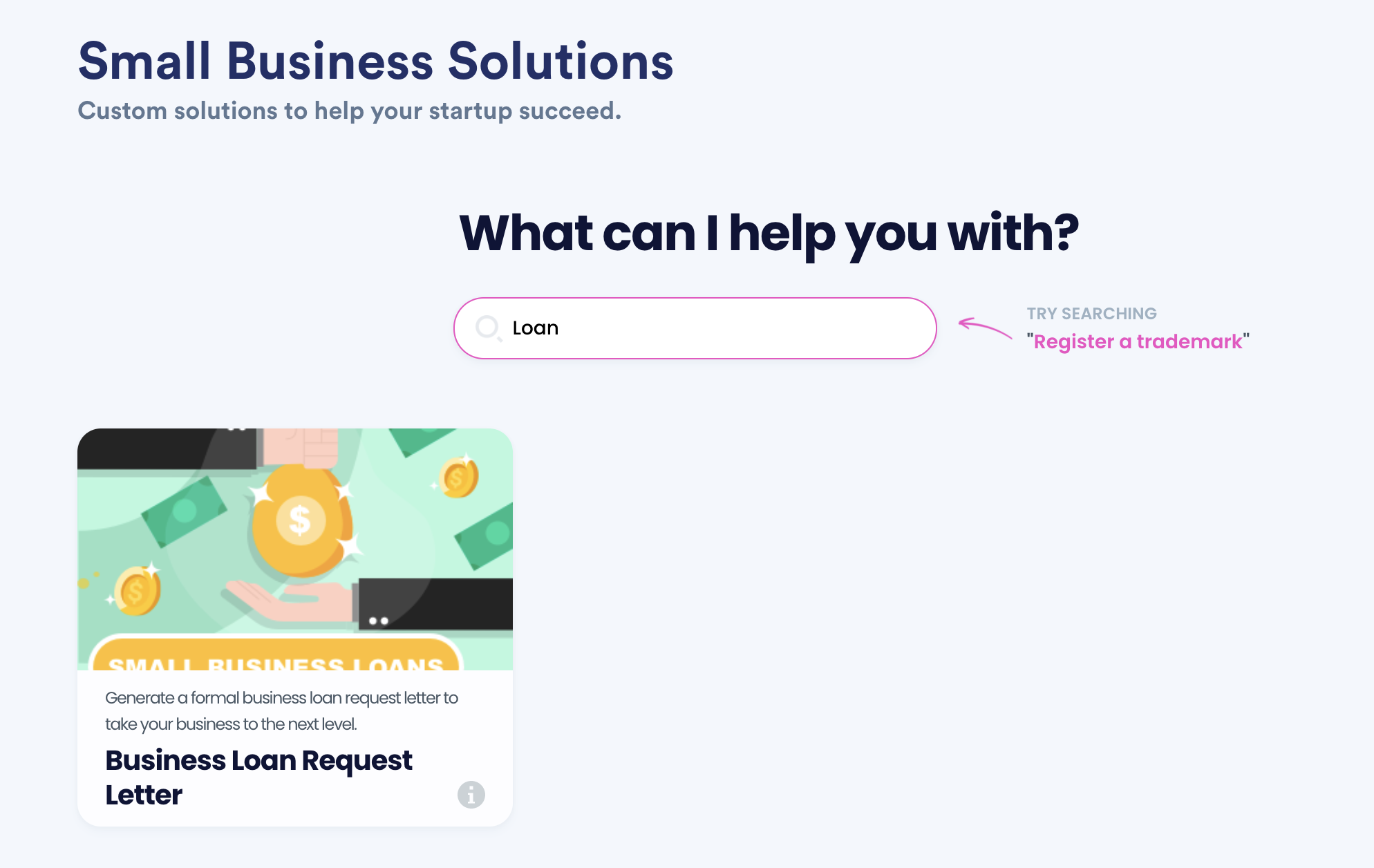 Not sure whether you can write a compelling loan request letter? Rely on DoNotPay and allow us to help you in a matter of minutes. All you have to do is follow these instructions:
in your web browser
Go to the Business Loan Request Letter tool
Enter your business and loan details
Upload the required documents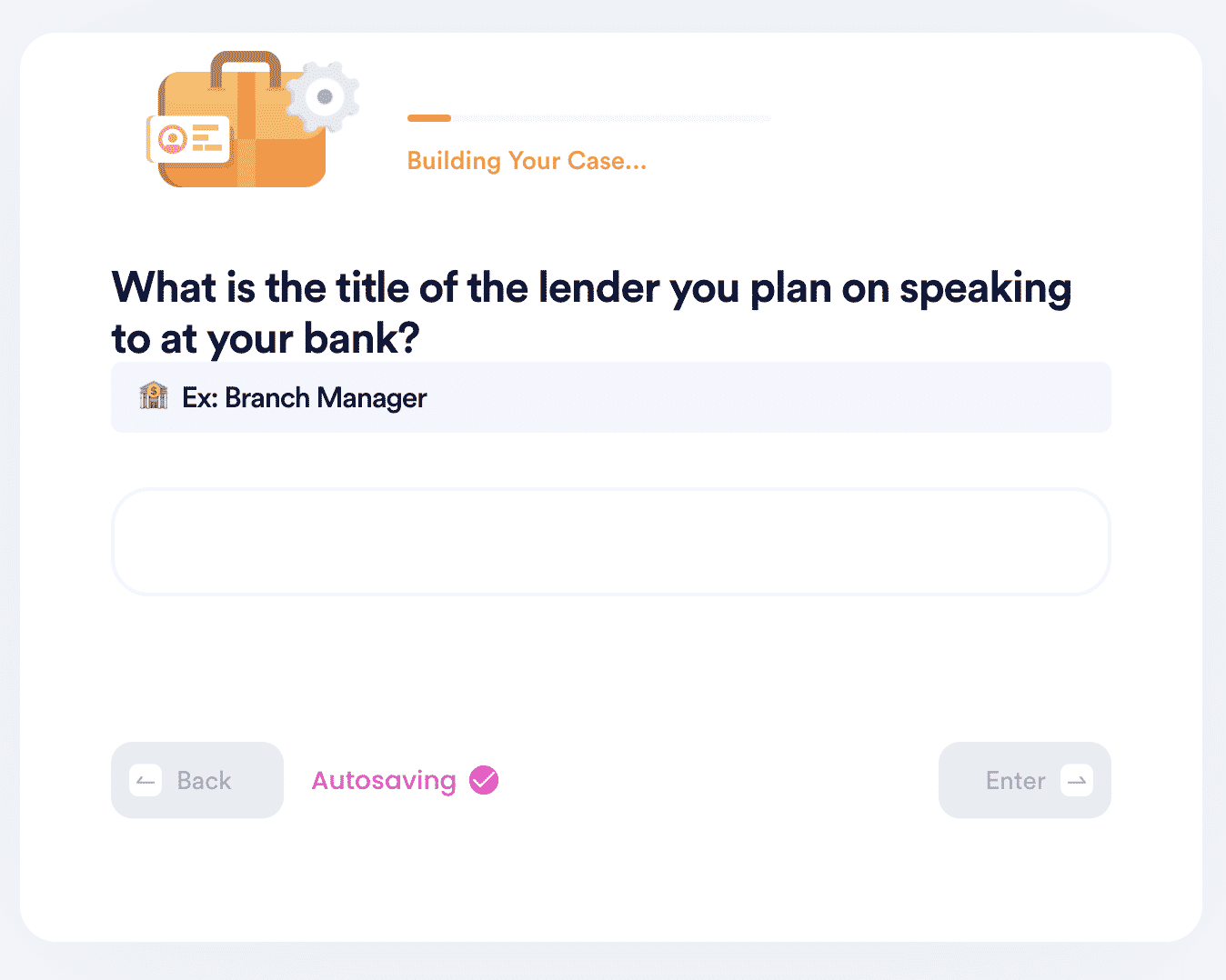 If you are having trouble finding a reliable online lender, DoNotPay's Find Online Business Loan Lender feature can provide the best suggestions.
Build Your Business From the Ground up With Your Reliable Pocket Assistant!
To make the running of your business less stressful, DoNotPay has created numerous handy products that can help you deal with any issue right from the start. With our assistance, you can:
Get the perfect letter requesting a loan for your business
Handle the Employer Identification Number and DMCA agent registration procedures in a few clicks
Manage Privacy Shield program self-certification to make sure your clients' privacy is protected while on your website
If you are considering completing trademark registration, DoNotPay will be your trusty companion and help you finish the whole process in no time! We can even make sure no one uses your trademark as their own by performing routine checks and sending cease and desist letters to the offenders instead of you.
Resolve Pesky Business Issues With DoNotPay
Our app boasts many other useful and easy-to-use products that will help you resolve an array of business-related problems. Whether you need help filing 83(b) election forms as effortlessly as possible or wish to communicate with your clients and business partners without heading over to the post office, we have got you covered!
DoNotPay can also help you remove bad, fake online reviews that could harm your business reputation, deal with clients who avoid paying for your services, and contest unjustified chargeback requests.
Rely on our app and stay on top of your work while we deal with business issues on your behalf!