Everything You Need To Know About a Small Business Debt Consolidation Loan
Many small businesses end up in a vicious circle of debt payments. If you lack the funds to cater to the countless business debts and loans, consider applying for a small business debt consolidation loan. What are debt consolidation loans, and how do they work? DoNotPay will give you all the info you need.
The Basics of a Small Business Loan
In small and medium-scale businesses, it is normal for cash flow to be inconsistent. Sometimes, you need to cover unforeseen expenses, which can reduce your cash flow significantly. If you do not have enough means to meet them, you should consider taking out a small business loan.
Depending on your budget, you can choose from a variety of small business loans. The most popular ones include:
Debt consolidation loans
Small Business Debt Consolidation Loans in a Nutshell
A business debt consolidation loan is a type of loan that you can use to pay off all the existing debts and loans. They are ideal for businesses stuck in a loop of debts and payments that are long overdue. With a consolidation loan, you will get a lump sum amount of money from the lender that you can pay off in monthly installments.
Why Should You Opt for a Business Debt Consolidation Loan?
Not sure whether taking out a debt consolidation loan is the best solution for your business? Here are some reasons why this option would be good for your business:
Manageable payment process—Do you find keeping track of different payments and due dates challenging? Debt consolidation loans streamline your payment process. One monthly payment is easier to follow, which will help you pay the debts in time
Improved cash flow—In case you manage to get a loan with a lower interest rate, you can increase your cash flow every month
Improved credit score—If you are able to manage your debts in a timely manner, your credit score will improve. This will be helpful in case you need to take out other loans in the future
Are There Any Disadvantages of a Debt Consolidation Loan?
While there are many pros of taking out a debt consolidation loan, you also need to consider the cons to make an informed decision. Here are some main disadvantages:
No guarantee of a low interest rate—If you do not get a loan with low interest rate, you might end up paying more than you normally would, which will reduce your business's cash flow
Additional fees—You might need to pay origination or prepayment fees on the loan
Where To Get Small Business Consolidation Loans
If you are sure that you want to take out a debt consolidation loan, you need to decide where to apply for it. Some options you can consider are:
Bank loans—Banks are the most accessible and popular option to get a debt consolidation loan
Small Business Administration (SBA) loans—The government offers loans to small businesses and startups to help cover their operating costs
Online lenders—Various online lenders offer loans to small business owners
Peer-to-peer lending sites—These sites act as intermediaries between borrowers and lenders
The Qualifications Required for a Business Debt Consolidation Loan
Although every lender has different qualification criteria, most of them look at the following factors:
Eligibility Criteria
Brief Details
Credit score
Most lenders require a borrower to have a credit score of at least 650. Some lenders specialize in giving loans to businesses with bad credit scores, even if their score is lower than 550
Financial documentation
Traditional lenders, especially banks, require the following documentation from a potential borrower:

Income statements
Balance sheets
Bank statements
Personal and business tax returns
Future sales projection
A list of all debts

Number of years in business
Typically, a business must be functional for at least two years before getting a loan
Collateral
In case you need a large amount of money, you might need to provide collateral. This could be any tangible asset that you can offer as security to the lender
Loan Application Process Explained
The loan application process usually looks like this:
Once you have submitted your loan application to the lender, they will check your credit score to confirm that you have paid all your debts in time
There will be an initial consultation to determine whether you are a good candidate for the loan
The lender will review your financial documentation and loan request letter
You will receive a prequalification letter outlining the terms and conditions of the loan
The lender will perform a background check to ensure that the information you provided is correct
If you feel that the terms and conditions need to be negotiated, set up a meeting with the lender
Once negotiations and background checks are complete, you can sign the final documents and receive the loan
Let us make the process a little easier for you! Subscribe to our app, and we will help you write a professional loan request letter that will increase your chances of approval!
DoNotPay Can Help Draft a Loan Request Letter for a Debt Consolidation Loan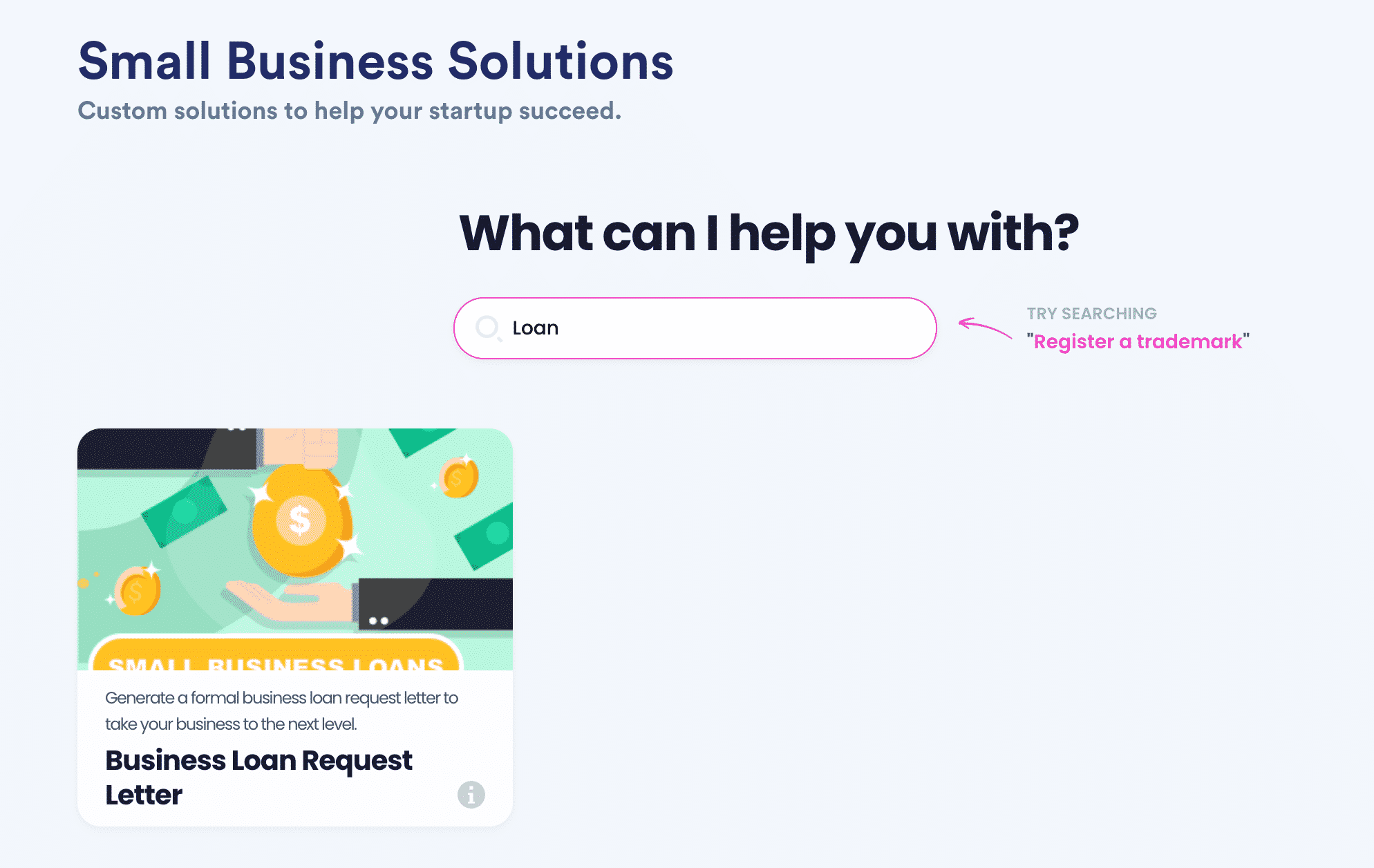 Are you having trouble writing a loan request letter on your own? Look no further because DoNotPay is here to help you out! Our AI-powered app can assist you in drafting a customized letter without breaking a sweat. Here is what you need to do:
Choose the Business Loan Request Letter tool
Enter details about your company and the amount you need to borrow
Upload all the necessary financial documentation
Once you are done, we will automatically generate your letter within minutes and send it to the lender in question and increase your chances of getting the loan approved. Our Find an Online Business Loan Lender feature is integrated with the questionnaire and will help you find a suitable lendert for your needs.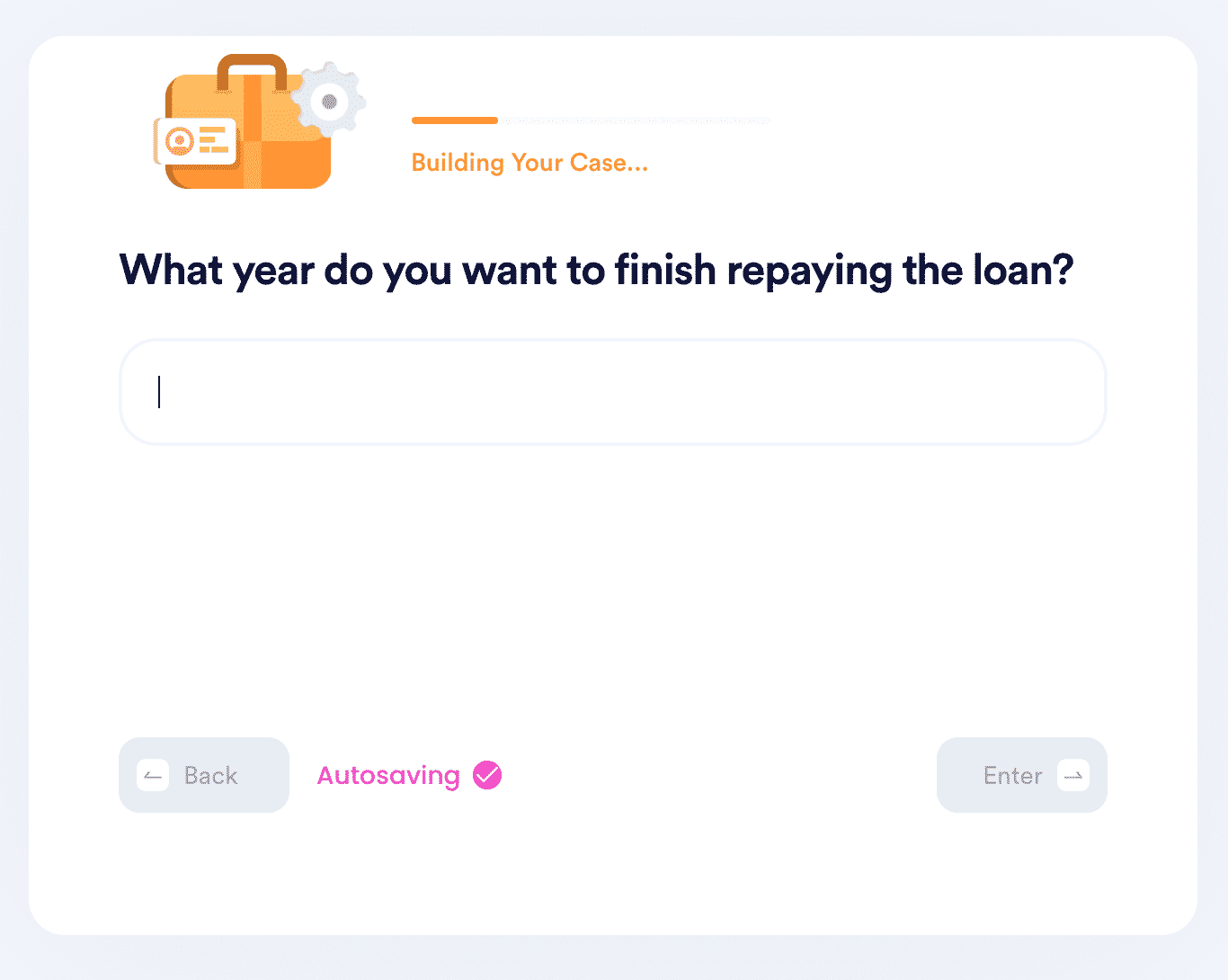 DoNotPay Has Everything You Need for Your Small Business
Navigating numerous business procedures can be overwhelming, especially if you don't have much experience. DoNotPay strives to make the situation easier for business owners, which is why we offer a number of simple-to-use products that can help you take care of various processes, including DMCA agent and Employer Identification Number registration, Privacy Shield program self-certification, and trademark registration and protection.
If you are not sure how to manage the filing of 83(b) election forms, DoNotPay has a solution that will automate the entire process and help you save time. Our app can even generate a convincing small business loan request letter for you. Don't feel like walking or driving to the post office to send the letter? Use DoNotPay to fax or mail any document in a matter of clicks!
DoNotPay Helps You Deal With Bad Clients
If you need help handling unpleasant situations with your clients, you can rely on DoNotPay. We have created various products to assist you in:
Making sure your business is free of negative, illegitimate online reviews—DoNotPay will analyze the review in question, estimate the best reason for reporting it, and report the review until it is deleted
Dealing with clients who breach the contract and refuse to pay—We will generate and send a demand letter requesting what's rightfully yours
Fighting unjustified chargebacks—Our app will create a personalized chargeback rebuttal document to help you keep your revenue
Resolve various business issues without wasting time or money—DoNotPay has got your back!