Small Business Auto Loans Explained
Does your business rely on vehicles? If so, you will want to know what small business auto loans are, especially if your business is running on a tight budget due to startup costs and daily expenses.
This article will tell you about the best small business loans—what types there are, how they work, and how to obtain them.
What Is a Small Business Auto Loan?
A business auto loan is also known as a commercial auto loan—it enables you to purchase vehicles for your business. Whether you have a startup or small business, it is easier to qualify for a car loan than a regular small business loan.
Business vehicle loans are similar to personal auto loans—check out the following table to learn the differences:
| Differences | Explanation |
| --- | --- |
| Vehicle is for business purposes | Business auto loans are meant for company use, which means that when you apply for a loan, the lender will want to know how the vehicle will be used. In addition to that, you will most likely need to provide documents such as a business plan or company financial statements |
| Car can be in your business's name | A lender will let qualified borrowers put their auto loan in their company's name. By doing this, the borrower can protect their personal credit and assets if the business is unable to repay the debt |
| Tax deductions are available | The borrower can deduct the ownership and operation costs if they buy or lease a business vehicle. An owner can also deduct the vehicles' depreciation. The borrower can resort to section 179 of the tax code, which allows the entire deduction all at once |
Who Offers Auto Loans for Small Businesses?
You cannot use Small Business Administration (SBA) loans for vehicles, which is why you should consider other options. The best auto loans are as follows:
Wells Fargo Equipment Express Loan
Ally Bank Business Auto Loan
Capital One Business Auto Loan
Bank of America Business Advantage Auto Loan
Wells Fargo Equipment Express Loan
Wells Fargo is the best option if you are interested in low-cost loans. The Equipment Express loan can help you finance or refinance passenger vehicles, including trucks and trailers. Fixed rates start at 4.50%. Wells Fargo loans range between $10,000 and $100,000.
The bank also offers semi truck financing through a separate commercial loan program in case you need a heavy-duty vehicle.
Ally Bank Business Auto Loan
If you want flexible auto leases or loans without having to provide personal guarantees, Ally Bank is the right fit for you. This bank offers multiple business auto funding options, including:
Specific loans for heavy-duty trucks
Vehicle modifications like towing equipment
If you need a traditional vehicle such as a passenger car, you can lease or purchase it through Ally Bank. Qualifying for this loan enables you to get business-name-only financing. This means that you will not be held personally responsible for the loan in instances of nonpayment.
Capital One Business Auto Loan
If your business is older than two years, you can apply for the Capital One Business Auto loan starting at $10,000. To be eligible for this loan, you need to open or have a business checking account with the bank.
Bank of America Business Advantage Auto Loan
The Bank of America is the best option for small business owners who need more time to shop for a vehicle because the bank locks in the loan rate offer for 30 days.
Interest rates start at 2.99%, and the amounts range from $10,000 to $100,000. You can take out a Bank of America loan to purchase or refinance cars, vans, or light trucks.
Alternative Lenders for Small Business Auto Loans
If you cannot qualify for a bank loan, check out some of the alternative options:
Balboa Capital—Balboa Capital is the best option for equipment financing and same-day funding for commercial trucks. You can get auto loans of up to $250,000 for vans, flatbeds, and other vehicles. The company provides faster funding than banks. To be eligible for a Balboa Capital loan, your business must be at least one year old and have annual revenue of at least $100,000
Crest Capital—Crest Capital offers loans of up to $1 million, and it is best for purchasing hard-to-finance trucks or specialty vehicles. Crest Capital does not have strict criteria regarding a vehicle's age or mileage. If the vehicle you want to purchase or lease does not qualify for traditional funding, Crest Capital is the right lender for you
National Funding—National Funding is the best option for borrowers with bad credit scores. You may take out a loan of up to $150,000, and their eligibility criteria are not as strict as other business auto loan providers'
What To Consider When Getting a Small Business Auto Loan
Consider the following when getting a business auto loan:
Finding the proper vehicle—Keep in mind that your lender must approve the vehicle you choose. If you want to finance a used car, most lenders will provide you with specific limits regarding its age and mileage. Some will not approve of a vehicle that is more than five years old because of depreciation
Terms—Consider the lender's annual percentage rate (APR) and repayment schedule when comparing offers
Application process—Each lender has a different application process, which can be complex and time-consuming. If you want to avoid all the unnecessary complications and be certain that your request is complete and error-free,
DoNotPay Helps You Apply for a Small Business Auto Loan
Applying for a loan can be a demanding process—loan providers may deny your application if you omit a piece of information or a document.
That is where DoNotPay steps in! Our app can draft a loan request letter that will make your request stand out and help you get your application approved.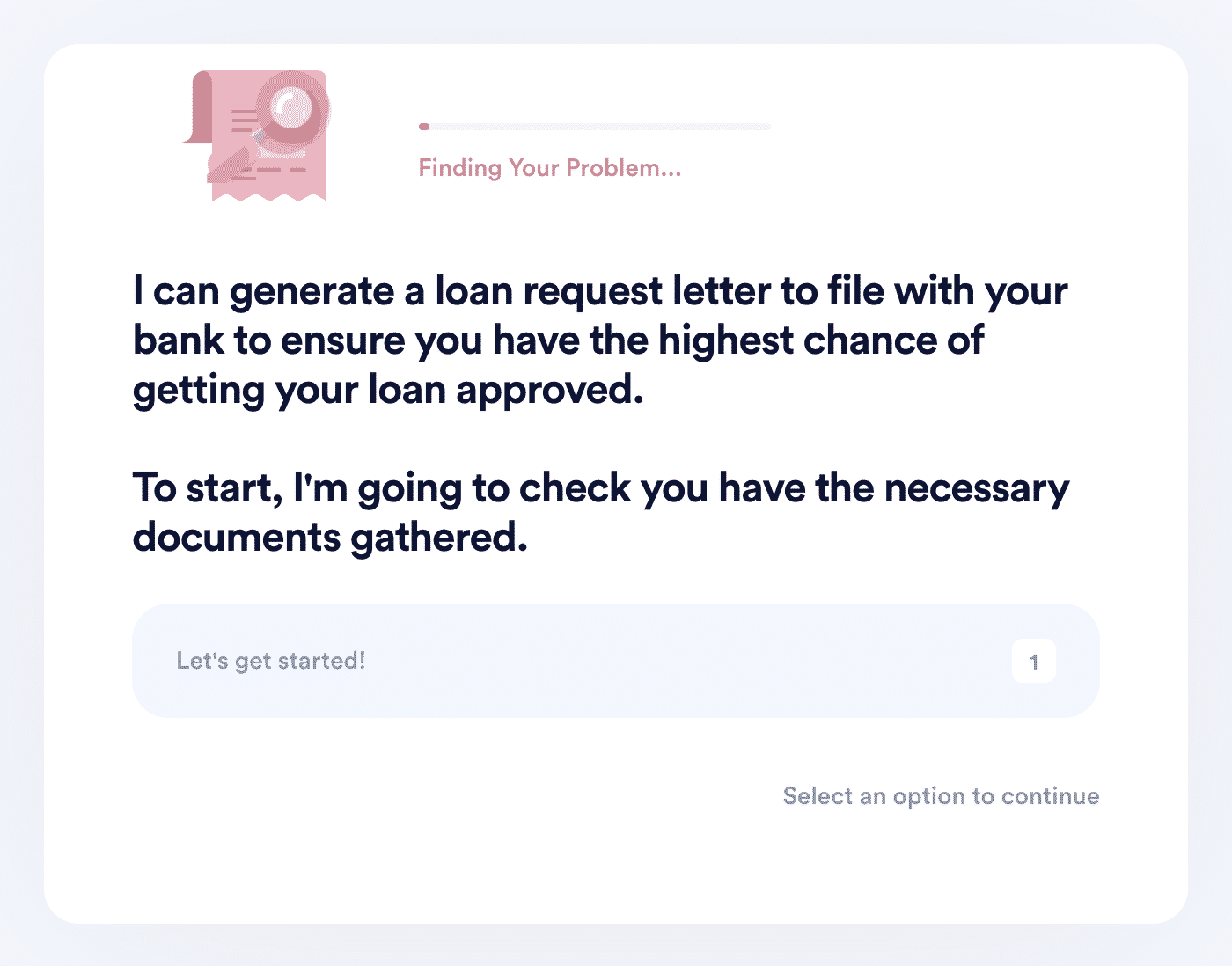 All you need to do is and follow these steps:
Collect all your personal and business credit scores
Provide documents that prove your qualifications
Add all the necessary information about your company and the reason for taking out a loan
Upload all the required documents
Don't have a lender yet? Use our integrated Find Online Business Loan Lender product to get a list of the top three loan providers most suitable for your needs.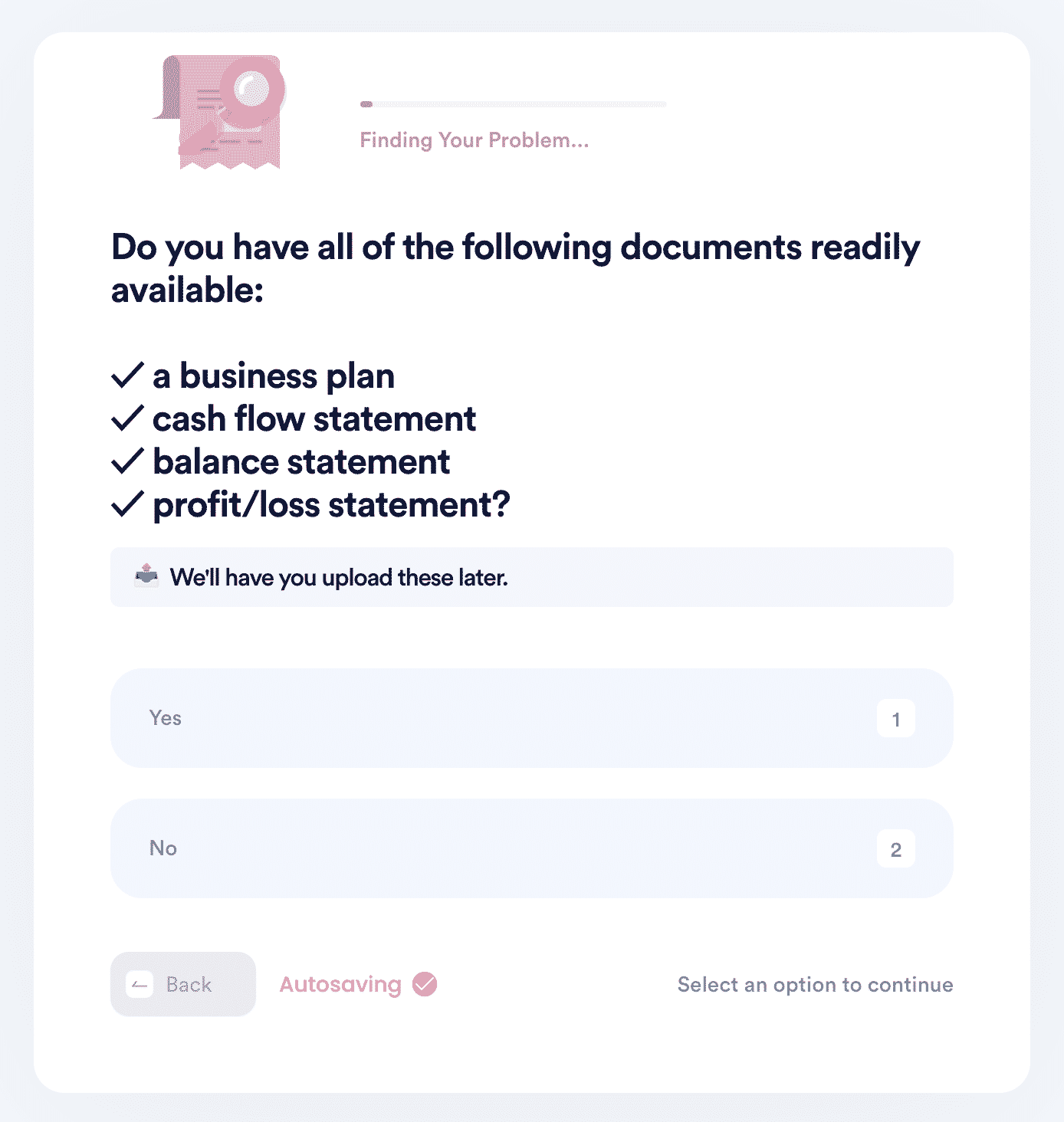 Get the Upper Hand With DoNotPay
The business world is extremely competitive—that is why it is always good to have some extra capital set aside when you need to invest in your company. You can leave the bureaucratic task to us—DoNotPay will draw up business loan request letters in your stead.
If your finances are taking a hit, rely on our app. With our assistance, you will be able to:
Fight fraudulent chargebacks
Remove fake negative reviews online
Register and protect your trademark
Send mail and faxes at no additional cost
Handle clients breaching contracts and get what you are owed
Whatever the task at hand, our AI-powered app will see it through successfully.
DoNotPay—The Assistant Every Business Needs
You cannot escape bureaucracy in business. What you can do is let DoNotPay deal with it. Whether you need to register a DMCA agent or complete an Employer Identification Number (EIN) registration, our app will lead the way.
Using DoNotPay, you will also not have to worry about 83(b) election forms or Privacy Shield self-certification. From generating to filing important documents and from dealing with employees to handling clients on your behalf, our AI-driven app is your go-to solution.
Grow and protect your business with the world's first robot lawyer!