Small Business Acquisition Loans—All You Need To Know
Looking into small business acquisition loans and how they work? We will tell you all you need to know about small business loans—how to get them, what the expenses are, what types there are, and what pros and cons they have.
If you sign up for our platform, we can also help you find the most suitable lenders and apply for a loan in a few simple steps.
What Are Acquisition Loans for Small Businesses?
A small business acquisition loan is used for buying an existing business or franchise. You can also use a small business acquisition loan to:
Eligibility Criteria for Small Business Acquisition Loans
The amount you can borrow and eligibility criteria vary depending on the lender. Before applying for a business acquisition loan, you will need to evaluate your qualifications and familiarize yourself with what the lenders are looking for. Lenders will take into account the following:
Personal credit score
Collateral and balance sheet
Business plan
Previous work experience
Personal Credit Score
Lenders will check how you deal with your personal finances to determine whether you would be able to make loan repayments. A credit score of 700 is most likely to make you eligible for a small business acquisition loan.
Business Credit Score
If you already have a business, lenders will review your business credit score to determine whether you can make debt payments for the new business on time.
Cash Flow
Based on your existing business' cash flow, lenders will determine whether you are handling your finances well. Even if your acquired business is not immediately profitable, the lender might decide to provide you with a loan based on your prior growth rate.
Collateral and Balance Sheet
The business you are buying will act as collateral, but the lender might require that you put up some other personal or business collateral. If you cannot provide the type of collateral that the lender requires, having a fixed budget on your balance sheet might help as it will give the lender a sense of your capacity to offer valuable fixed assets as collateral.
Business Plan
You will need to submit a detailed business plan for the new business you are acquiring to explain the business strategy. Make sure that your business plan includes future financial projections.
Previous Work Experience
Lenders will take your previous work experience as a business owner into consideration. Lenders might see the lack of experience in the industry in which you are buying a business as a bad sign. If you have experience as a business owner, they will consider how you might contribute to your future business after the acquisition.
What Are the Best Small Business Acquisition Loans?
For a successful business acquisition, you should do thorough research and find a loan that suits your business needs. Below are some of the best business loans you should consider:
Term loans
Small Business Administration (SBA) loans
Startup loans
Online term loans
What Are Term Loans?
Term loans offer a lump sum of capital that should be repaid at fixed installments over a period specified by the lender (usually five years). Rates may be fixed or variable for term loans.
SBA Loans
If you are unable to qualify for bank term loans, you could apply for an SBA loan. SBA isn't a lender—it is a government agency that partners with other lenders to secure loans for business owners. There are two SBA loan programs:
7(a) loan program—This loan program can offer up to $5 million in funding at competitive interest rates. The time to repay the loan can extend up to 25 years. 7(a) loans are issued by banks and credit unions
CDC/504 loan program—This type of program is meant for major fixed asset purchases, and it is difficult to qualify for
In both cases, the terms of these loans are long—up to 25 years—with low interest rates—about 6% to 8%—and large amounts of money—up to $5 million.
Startup Loans
Startup loans are similar to term loans but are easier to qualify for. To be eligible for a startup loan, you need to have a solid business plan and a good credit history. You might have to offer collateral or a down payment, depending on the lender. If you want to learn more about startup costs, DoNotPay has a useful guide in our learning center.
Online Term Loans
If you cannot qualify for a bank or SBA loan but you need your funding fast, online term loans are probably the right fit for you. Online medium-term loans are easier to qualify for, and they have terms of 12 months or longer, with amounts of up to $1 million. Interest rates could be higher than bank or SBA loans.
What Are the Pros and Cons of Small Business Acquisition Loans?
The pros and cons of small business acquisition loans are as follows:
Benefits
Downsides

You might expand your business faster
They have longer repayment terms
You might benefit from low interest rates if you are a creditworthy borrower
You might not need collateral to qualify

They are difficult to qualify for
You might have to give a personal guarantee to get your loan approved
You might have to make a down payment
Apply for a Small Business Loan Using DoNotPay
Applying for a loan is not the simplest endeavor—you need to make sure that you qualify for the loan and that you have all the necessary documentation. Many business owners get their applications rejected because they do not collect the right paperwork.
With DoNotPay, you do not have to worry about the application process because our app will do everything on your behalf. We will generate a watertight loan request letter and send it to your chosen lending institution.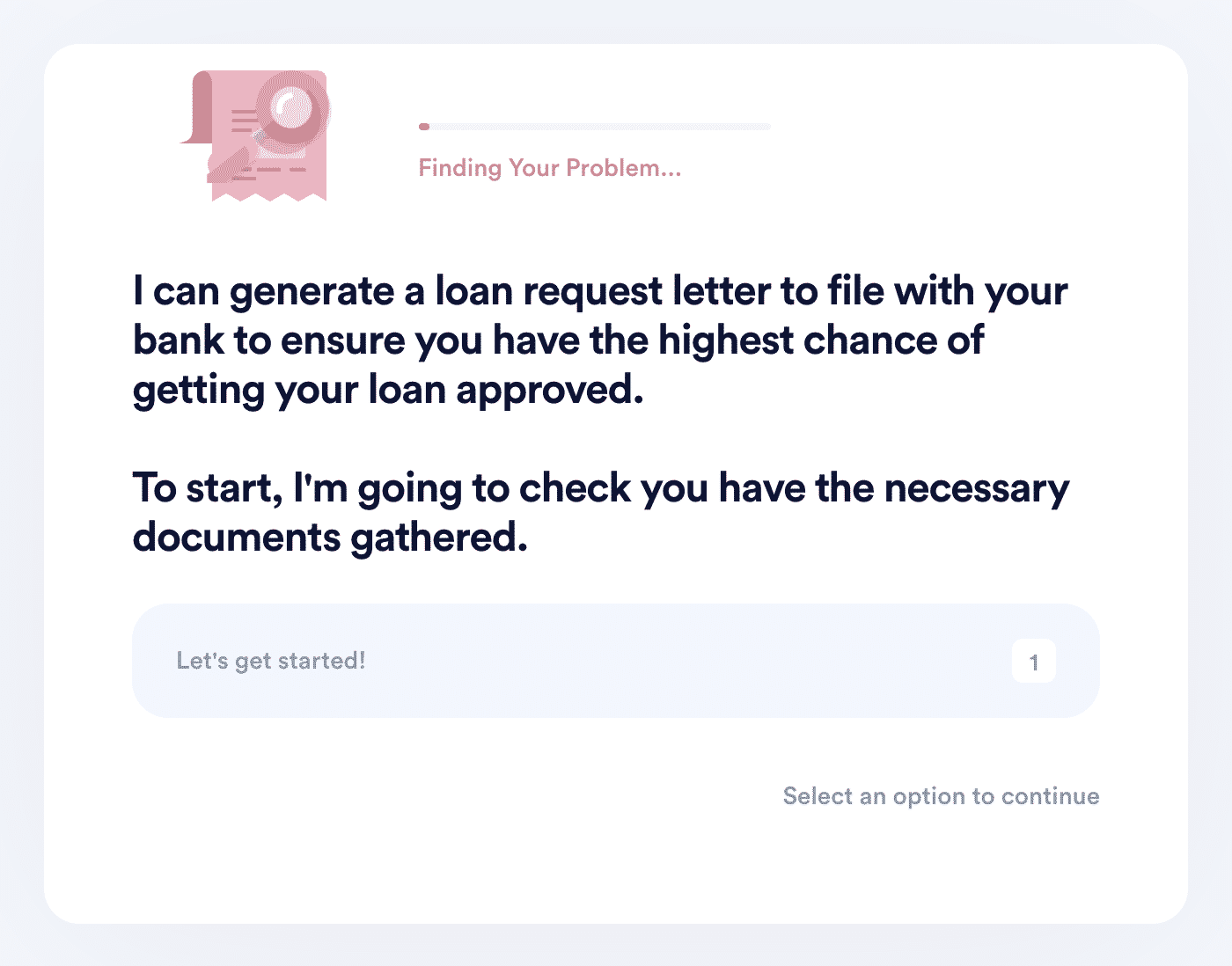 All you need to do is sign up for DoNotPay and follow the steps below:
Compile all your personal and business credit scores
Prepare the paperwork to prove that you qualify (DoNotPay will tell you which)
Provide information about your company
Upload all the required documents
If you do not have a lender in mind, DoNotPay can also help you find the best banks and online lenders via our integrated Find Online Business Loan Lender product.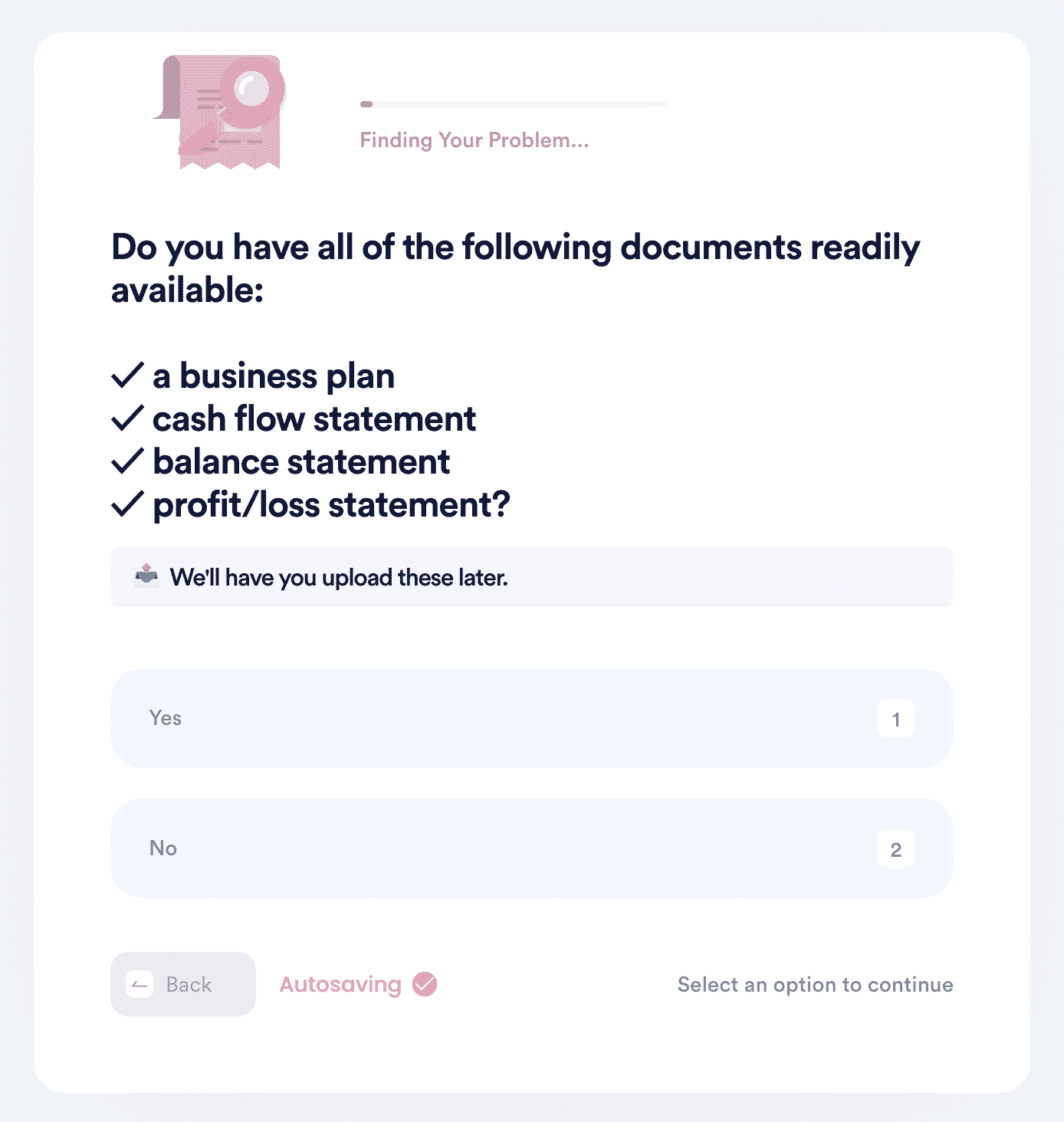 Get Down to Business With DoNotPay
If your to-do list is getting longer by the day, we offer numerous solutions. You can focus on growing your business while we handle the endless administrative tasks.
Here are some of DoNotPay's products and services that will assist your company tremendously:
DoNotPay Feature
Our App Will
Trademark Registration

Complete your company name, logo, or slogan registration application
Submit the application in your stead

Trademark Protection

Perform monthly checks
Notify you in case there is any trademark infringement
Help you file cease and desist letters

EIN Registration

Fill out and file your Employer Identification Number (EIN) application
Notify you of your new EIN

Register a DMCA Agent

Complete the DMCA agent registration process
Register the designated agent with the U.S. Copyright Office
There Is Even More We Can Do for You
Navigating the business world can be overwhelming. If your paperwork is piling up and disputes keep emerging, start using our app and declutter your workday from numerous chores.
The world's first robot lawyer can help you deal with the following:
Chargeback scams
Business loan applications
Faxing and mailing
Negative online reviews
83(b) election forms
Self-certification with the Privacy Shield program