Small Business 401(k)—Cost of Setting Up a Plan
Not that long ago, only large corporations could afford to have a retirement plan for their employees. Now, small businesses can get a 401(k) plan that works for them and does not make a massive impact on their budget.
Even if the initial costs of a 401(k) may be too much for you, you can take out a small business loan and get the money you need that way.
Having a 401(k) will decrease your employee turnover and give you a competitive edge—provided the investment is worth it. The question is—how much does the small business 401(k) cost? In this article, we will explain:
How much it costs to set up a 401(k) for a small business
How to get one with ease using DoNotPay
How Does Small Business 401(k) Work?
A 401(k) plan is a retirement savings plan that an employer sets up for their staff. The plan allows employees to take a pre-tax cut from their salaries and invest them in their retirement funds.
While an employee can choose the value of a monthly contribution, it may not exceed $19,500 per annum or $26,000 if they are 50 and older.
As a small business owner, you need to choose the plan you are going to make available to your staff, and you need to cover the expenses of setting it up and running it.
How Much Does It Cost To Set Up a 401(k) Plan for a Small Business?
When you decide to implement a 401(k) plan, you will need to cover the initial costs of up to $2,000 to set up the program and pay for your employees' education. After the plan is up and running, you will face additional expenses, as shown in the table below:
Type of Expense
Details
Administration costs

Recordkeeping
Statement filing
Trustee fees

Matching the contribution

The average amount is 4.7%, but you do not have to match it at all if your budget does not allow it

Hidden fees

Software integration
Plan redesign
Provider change
Plan termination
The average small business 401(k) cost per year goes from $5,000 to $10,000, depending on the plan and company's size. You can lower those numbers if you opt for a low-cost plan.
For instance, a simple $500,000-asset plan for a ten-employee company, where the employer has no matching fees, will come up with an asset-based fee of 1.85%, which translates to an overall cost of $9,250.
If you have a cheaper plan with $100,000 in assets, your total fee will rise to 3.97%, but the overall cost will decrease to $3,970.
If you decide to press on with a 401(k), you can get a tax credit and reduce your expenses.
Need Money To Finance Your Small Business 401(k) Costs? Get a Small Business Loan!
Covering startup costs and day-to-day expenses is not the only purpose of small business loans. You can also rely on them if you do not have enough capital to cover the cost of setting up a 401(k) for a small business. These loans go out in your business's name and will serve the purpose of setting up a 401(k).
Before you take out a loan, you should consider the terms it comes with, including:
Depending on your business plan, you may find some terms more agreeable than others, meaning that you should not rush into making a loan request. Instead, do your research and find the best one.
As loan terms vary, you have different types of loans to choose from, including:
Credit for small businesses
The United States Small Business Administration (SBA) small business loans
Merchant cash advance (MCA)
What you also need to consider is the source of the loan. While credit unions and banks offer better conditions, they have stricter requirements and are harder to get. For instance, many require companies to be several years in business and have a good credit score.
Online loans are not as strict, and you will be able to get them more easily, but they usually do come with higher interest rates.
How To Get a Small Business Loan Using DoNotPay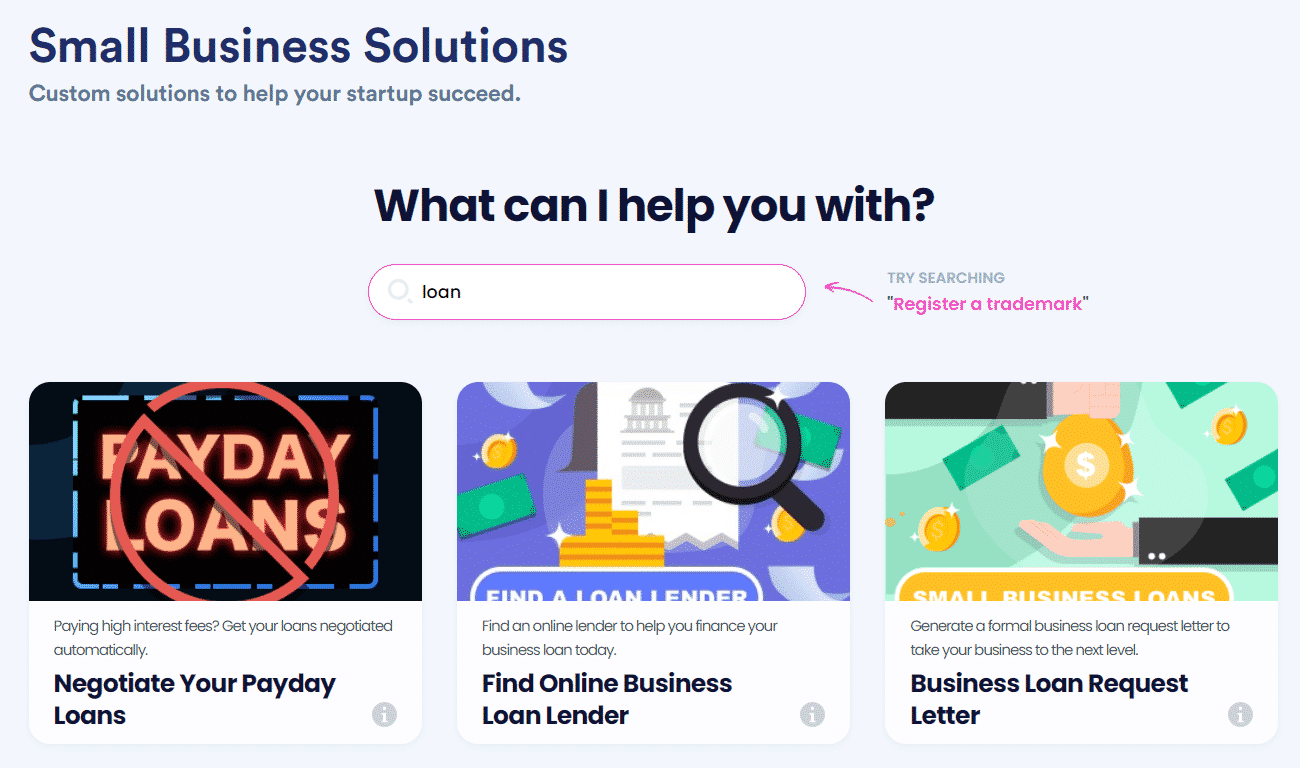 Obtaining a small business loan is a difficult task that many business owners fail to complete. Lenders will ask you to submit various documents, such as financial statements, budget sheets, a business plan, credit score reports, a loan request letter, and so on.
You will also need to provide information about you and your company to show the lender that you qualify for the loan. An incomplete or inaccurate application will result in the request being turned down.
DoNotPay can help you avoid this! Our app will guide you through the process, make sure you include every document and detail that the lender requires, and help you generate a convincing loan request letter. Once you sign up for DoNotPay, all you need to do is:
Select the Business Loan Request Letter feature
Gather your personal and business credit scores
Prepare documents to prove your eligibility
Answer a few questions
Upload all the required paperwork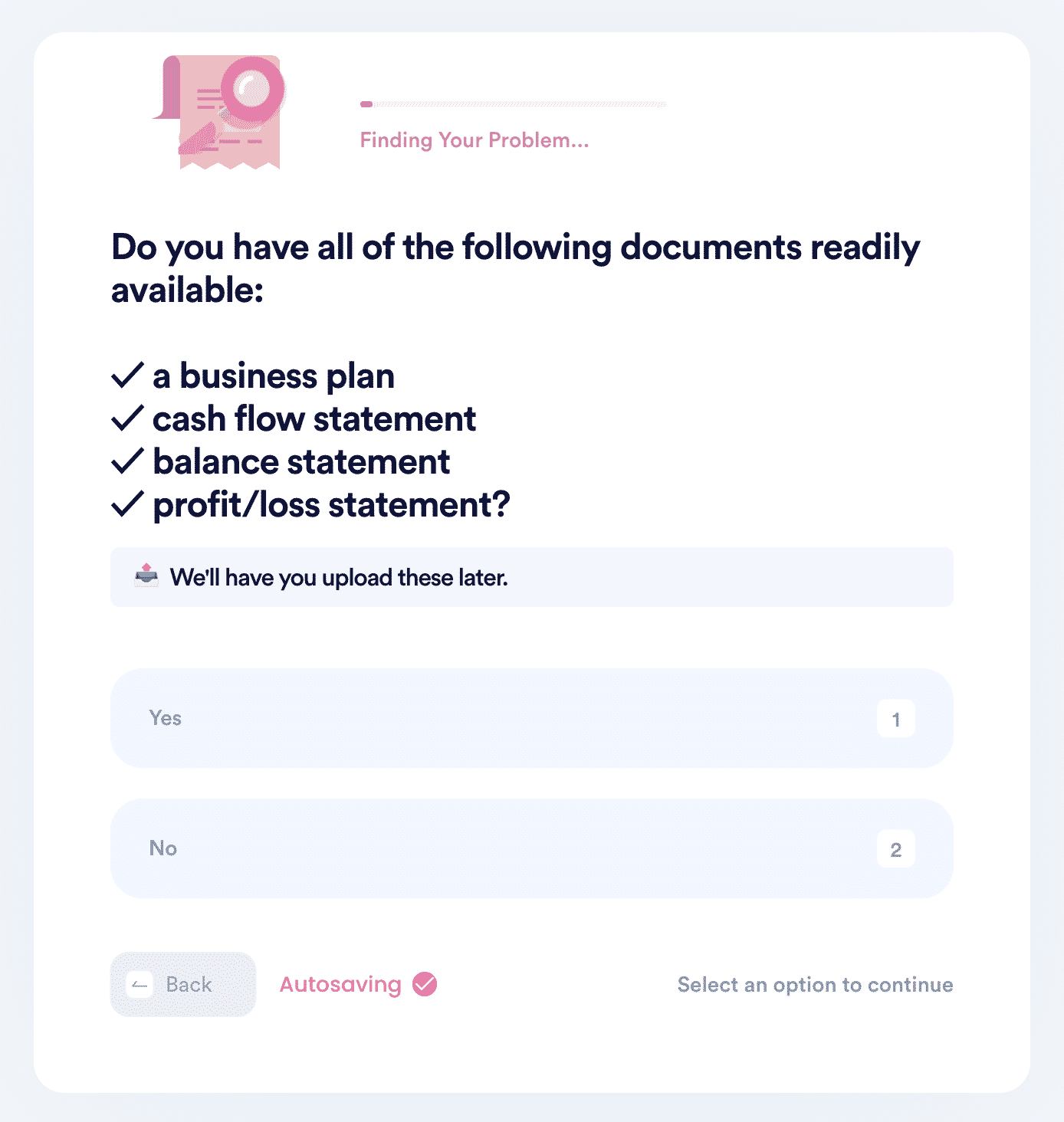 Our app also features the integrated Find Online Business Loan Lender product that will help you find the perfect source of loan for your company. The tool scans online lenders and provides you with a list of the most suitable ones.
Let DoNotPay Help You With Boring Administrative Tasks While You Focus on Becoming a Business Mogul!
DoNotPay can assist you in dealing with a number of business-related tasks. We have developed a plethora of simple-to-use products that make running a business much easier and less stressful.
Do you need help registering your business name as a trademark? We have got you covered! Not sure how to write a convincing letter to request a small business loan? DoNotPay helps with that, too!
Use our app to get a perfectly generated chargeback rebuttal document, formally request payment from clients who breach the contract, and find out how your employees can file 83(b) election forms in a matter of clicks!
Check Out Our Other Nifty Products!
That is not all DoNotPay has to offer. Our awesome tools will make tedious administrative tasks easier to manage so you can concentrate on your business instead of wasting time waiting in lines and filling out forms. Rely on DoNotPay to:
Take care of DMCA agent registration and Privacy Shield program self-certification
Make sure no one else is using your trademark
Get rid of fake online reviews that harm your business reputation
Manage Employer Number Identification (EIN) registration
Enjoy the convenience of faxing and mailing from the comfort of your home or office