How to Stop Slandering on Facebook
With the advent of Facebook and other social media platforms, millions of people have enjoyed the easier way to stay in touch with friends and family and share pictures and updates. Social media platforms have provided users with an avenue to publish information in a way that was otherwise impossible in the past.
While posting and commenting on Facebook may provide a sense of anonymity for the ability to hide behind a computer, there is some online content that can potentially be a basis for a slander lawsuit. In this article, we will go through different ways that you can sue someone for a Facebook post and what legal action to take against slander on Facebook.
Can You Sue Someone for a Facebook Post?
Although most online content is monitored and moderated, inevitably, some of them can still end up on the internet. Some of the most common situations where a Facebook post can be a reason for a lawsuit are as follows:
| | |
| --- | --- |
| Legal Grounds | Description |
| Invasion of privacy | This occurs when someone posts or makes a comment that would result in another person's embarrassment or revealing their sensitive information. |
| Breach of contract | Some companies have rules and regulations that specify what employees can and cannot post and discuss on online platforms. |
| Harassment | Some states have laws that prosecute online intimidation, cyberbullying, social media impersonation or creating fake online dating files. |
| Online defamation of character | Posting libelous articles and slanderous videos of another person can be legal grounds for a lawsuit. |
Slander vs. Libel
The term 'defamation of character' is a broad term that covers any act where someone publishes a false statement that will hurt an individual's or entity's reputation. Defamation is a civil tort and rarely a criminal case, although, in some states, libel suits can end up in fines and imprisonment once proven. There are two forms of defamation:
Libel – This is when the false statement is published via articles or blog posts and harms another person's or business's reputation.
Slander – This is when the statement is spoken towards a third party that aims to hurt a person's or business's reputation.
How to Prove Slander
The specifics of slander lawsuits may change depending on the state, But some commonly accepted standards make the lawsuit similar no matter where the case is filed or who the defendant is. For your slander lawsuit to win, your case must be able to satisfy the appropriate elements. These include:
Statement – Someone may have spoken false statements via a Facebook video.
Publication – A third party has seen, watched, or heard the slanderous statement.
Injury – The burden of proof lies in the plaintiff and proving injury is one of the most crucial elements of a Facebook slander lawsuit.
Falsity – True statements and statements of opinion cannot be considered defamation.
Unprivileged – Witnesses who testify at a trial and make a false and injurious statement cannot be sued for slander.
Writing a Defamation Cease and Desist Letter
Cease and desist letters, or demand letters, are documents that notify an individual or organization to stop an offensive behavior. These are suitable for acts such as stalking, libel, slander, or copyright infringement. In contrast to a cease and desist order, the letters are not legally binding documents and simply issue a written warning.
If after looking at different options and you believe that drafting a cease and desist letter is in your best interests, you can hire legal counsel to draw one up or download templates online. When writing cease and desist letters, there are some points that you need to take into consideration as follows:
Be mindful of the tone of the letter. Ensure that they are not too threatening or aggressive but not too soft either.
Avoid making empty threats. These include using language such as taking the recipient to court within a certain time, as this may force you to follow through on your threats.
Use language that is clear and accurate. You need to be thorough in your approach and research legal grounds that you can use to support your demands.
DoNotPay's Cease and Desist Letters
The best way to ensure the effectiveness of the slander cease and desist letter is to let a legal counsel draft or review the letter. However, this also comes with prohibitively high costs. That is where DoNotPay can help. We are the world's first robot lawyer and we can help you draw up a cease and desist letter quickly and cost-efficiently. All you have to do is:
1. Choose the Defamation Demand Letters service on .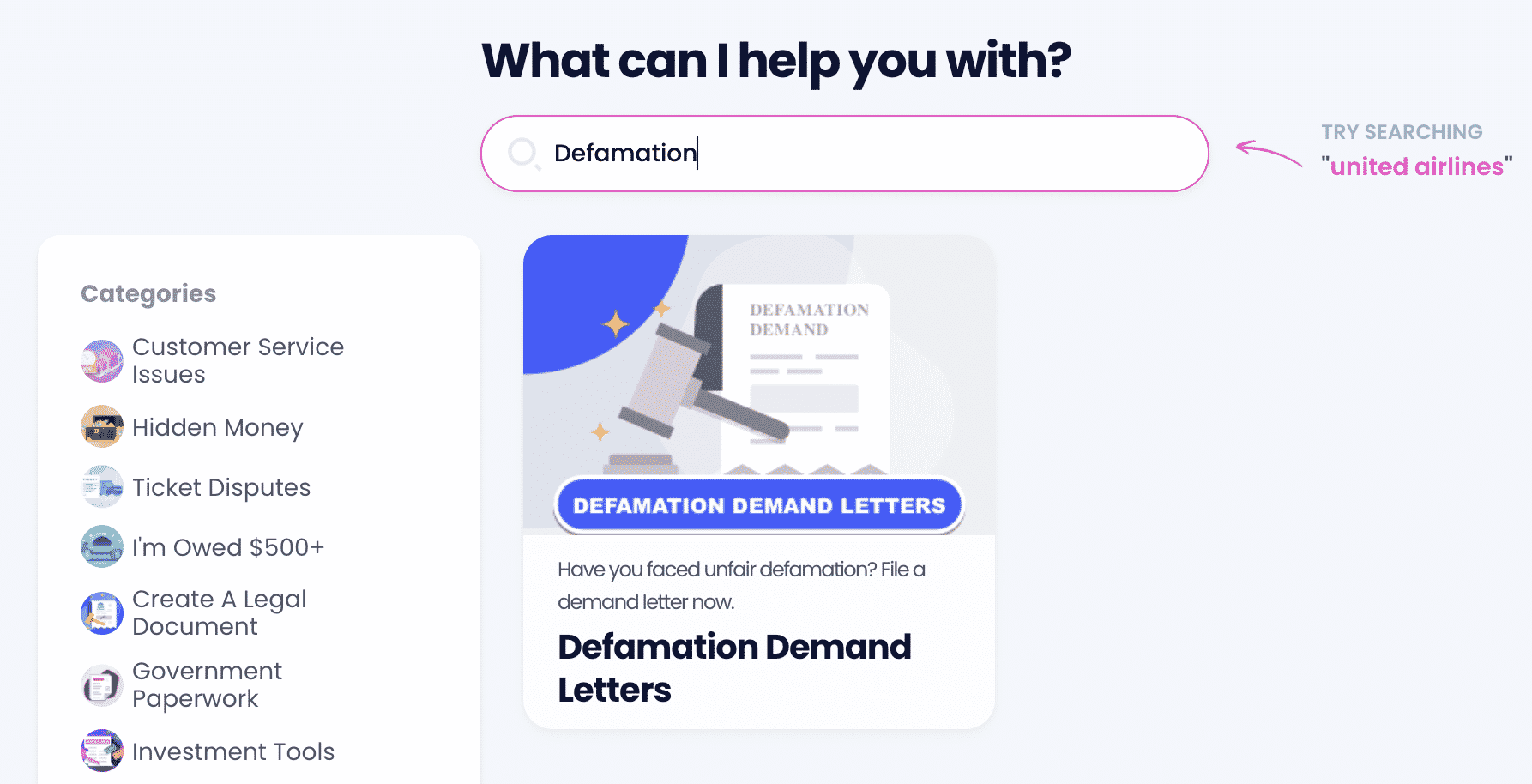 2. Tell us about your situation, including whether the statements were libel or slander, listing the statements that were made, explaining why they are false or misleading, and what consequences you have suffered as a result.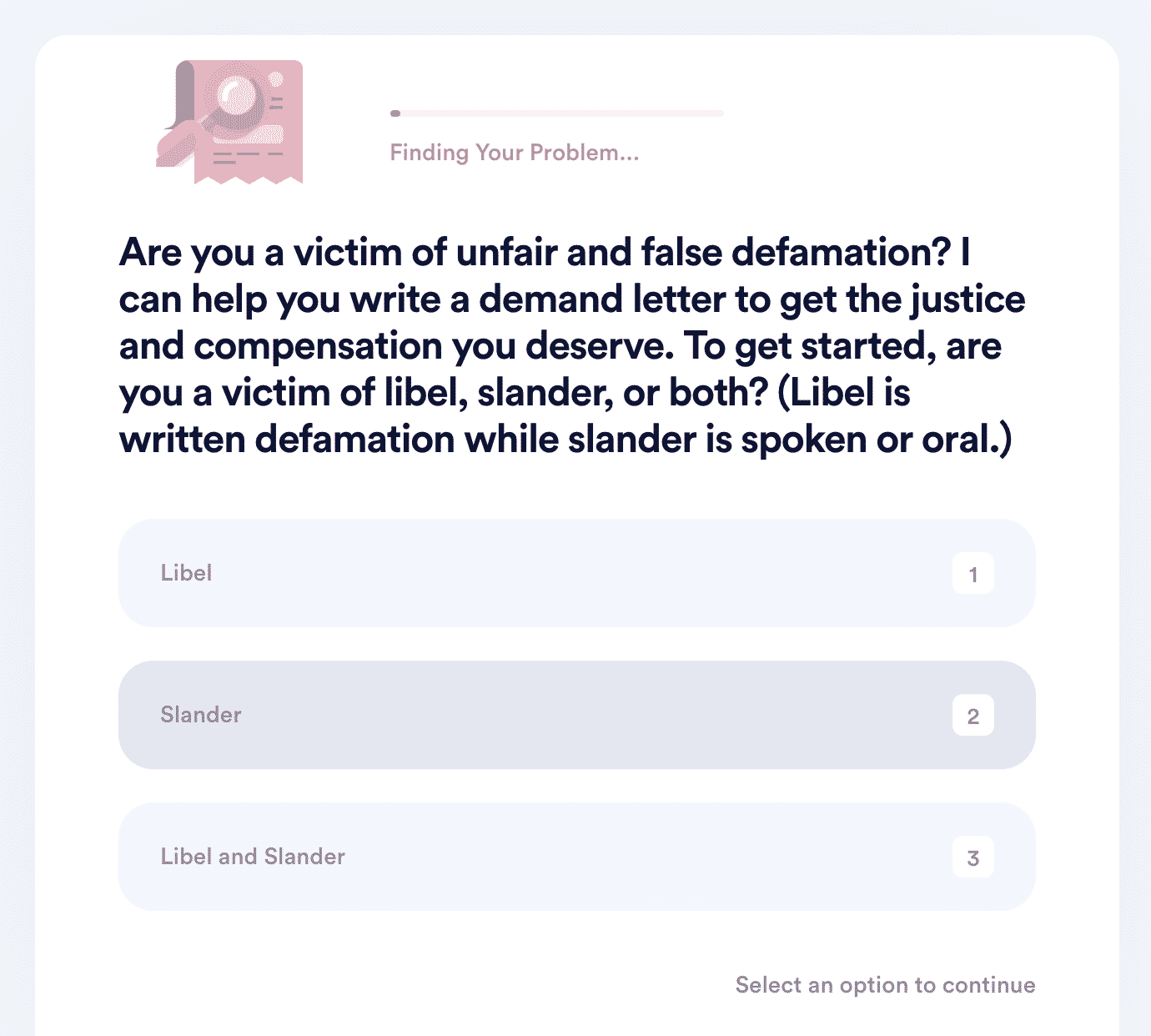 3. Based on your location, DoNotPay will generate a formal demand letter on your behalf with the most relevant state legislation regarding defamation.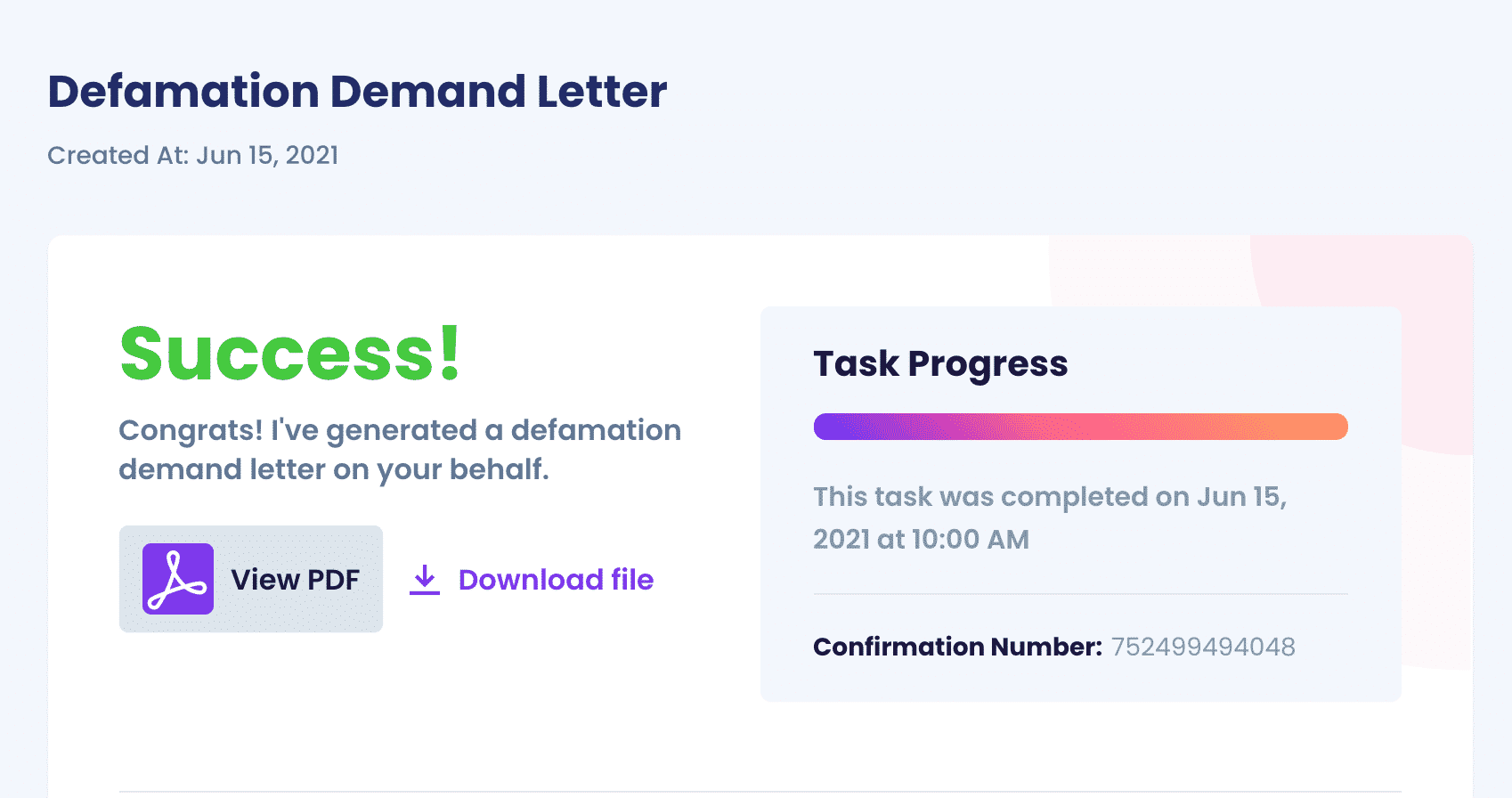 That's all! Sending the cease and desist letter is your first legal step in having a slanderous Facebook post against you taken down.
What Else Can DoNotPay Do?