Update Your Mobile Wallet With a Skrill Virtual Credit Card

It's estimated that nearly one in four people are shopping online and e-commerce is predicted to become more prevalent. In-store shopping is still important, but even that experience has changed. More stores are offering no-contact check-out experiences that require nothing more than a swipe of your phone. To do so, you need a mobile wallet that contains your payment preferences and other data.
You have several options when it comes to what you keep in your mobile wallet. For example, you may want to add your debit card, credit card, and perhaps even a virtual credit card (VCC) from Skrill or some other virtual credit card provider like DoNotPay. That way, you can choose the most appropriate payment method instantly.
What Is a Skrill Virtual Credit Card?
Virtual credit cards provide users with a temporary credit card number, expiration date, and security code. A Skrill virtual credit card works in much the same way as your real credit card. But, there are some distinct advantages to using a virtual credit card including:
No credit checks, everyone qualifies.
You don't need to remember a new PIN.
It can be used to shop online and at some in-store retailers.
Added security since the VCC is not directly connected to your accounts.
Are Skrill Virtual Credit Cards Free?
When you opt for a virtual credit card from Skrill, the first one is free and there are no transaction fees. However, you'll want to pay attention to the fees for additional VCCs you request.
Fees for Skrill cards include:
| | |
| --- | --- |
| Annual Fee | $10.00 |
| ATM Fee | $2.50 |
| New Card Application Fee | $10 (For Some Customers) |
| Fees To Fund Your Skrill Virtual Credit Card | $0 |
How Does the Skrill VCC Work?
Virtual credit cards, whether they're from Skrill or another provider, all work pretty much the same way as a real credit card. When you want to go shopping, either online or in person, just find a retailer that accepts Visa and use your Skrill VCC to pay. Anything you can use a Visa card to pay for can also be bought using a Skrill virtual credit card. You can use your Skrill VCC at:
At bricks-and-mortar retailers and restaurants
For online purchases of products and services
ATMs where you can take cash out of your Skrill account
How to Get a Skrill VCC Card
If you've ever applied for a real credit card and been denied, you know how frustrating that can be. But, getting a Skrill virtual credit card is fast and easy. You don't have to prove your income or worry about a credit check or jump through any hoops to be approved.
There are only a couple of simple steps:
Open your Skrill account, or register for a new one.
Fund your Skrill account from whatever source you desire.
Apply for the VCC and instantly add it to your virtual wallet and start spending immediately.
Does Skrill Guarantee 100% Safety When You Use Their VCC?
One thing that you have to keep in mind when using a digital credit card is that it protects your identity. Even so, you need to be diligent when it comes to protecting yourself. Although Skrill promises to provide the best possible security for your personal data, be aware that nothing is 100% secure. 
Is There a Good Alternative to the Skrill Virtual Credit Card?

If you're interested in getting free trials, subscribing to services without commitment, or getting trial memberships, the DoNotPay virtual credit card is a great option. You'll never have to worry about being charged for something you forgot you signed up for and that you don't want. Once you use the card to sign up for a free trial, it can't be used again.
How Do I Get a DoNotPay Free Trial Virtual Credit Card?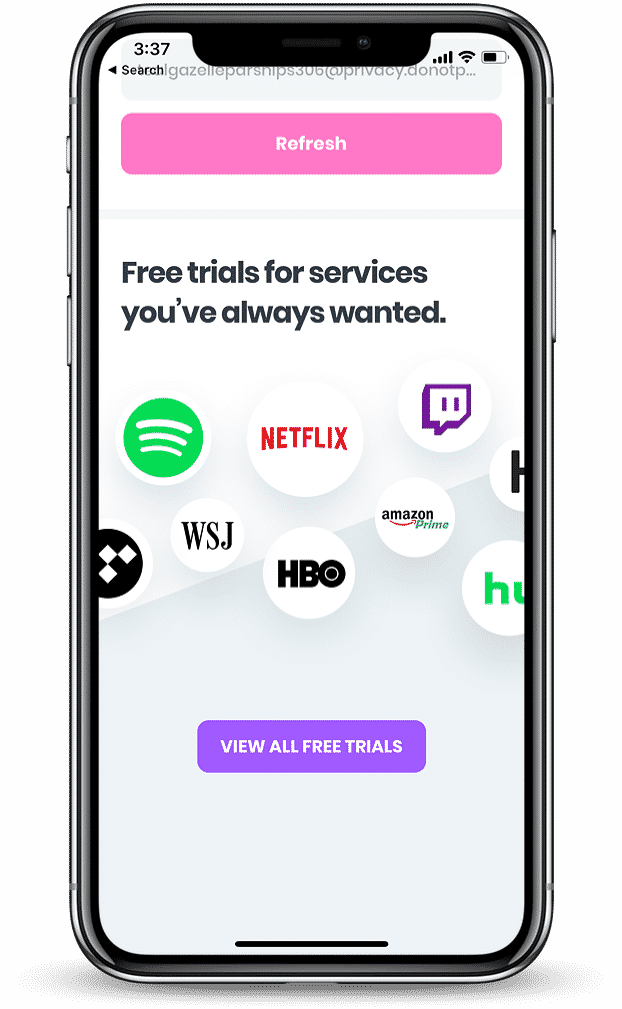 Don't have a lot of time? That's ok. Getting a DoNotPay free trial virtual credit card is quick and easy. It only takes moments to go through the process. That means you can start enjoying free trials, subscriptions, and memberships right away.
To apply for a DoNotPay Free Trial Virtual Credit Card, just:
Log on to DoNotPay through your web browser.
Choose the Virtual Card option.
In an instant, DoNotPay will generate a virtual card number that you can use just like a real credit card to get a free trial.
Now, you can sit back and enjoy without worrying about being charged for an automatic renewal because the card isn't attached to any of your real financial information.
Where Can I Use DoNotPay's VCC?
That's a great question! You can use the DoNotPay virtual credit card to sign up for free trials, samples, subscriptions, and memberships in all kinds of places. Just a few of the places that you can feel secure using a DoNotPay VCC for a truly free trial include some of your favorite services such as:
Can DoNotPay Do Anything Else for Me?
The world's first robot lawyer is capable of handling a huge variety of tasks for you. We think that you'll find this innovative tool to be completely indispensable in your everyday life. Just a few of the ways it can help you include:
Learn more about all the ways that DoNotPay can help you manage every aspect of your life so you can be more efficient, productive, and happy.