How to Get a Sketch Free Trial With a Virtual Credit Card  

Signing up for a Sketch free trial empowers teams to collaborate and design together. The platform is trusted by Stripe, Facebook, Google, and others to collaborate in real-time so that all ideas and stakeholders can work on their best ideas at the same time.
Getting started with  is easy, thanks to the platform's free trial option. 
Does Sketch Offer a Free Trial? 
Sketch has  for their Standard tier, which is recommended for individuals and teams. The free trial provides all of the same great features that the paid version offers. Users will have access to:
Unlimited projects and documents
Version history
Guests
Shared libraries
Real-time collaboration
Offline mode
Advanced layouts
Web app
Much more
However, there is also a Business version of the platform that doesn't have a free trial. The business tier is designed for larger organizations and requires 25 editors or more to use. As a member of the tier, you must pay for a full year of service upfront and will gain access to dedicated managers and priority support. Getting a  is easier with DoNotPay.
How Can I Get a Sketch Free Trial? 
Starting your free trial is simple and straightforward. Just follow the steps below:
Navigate to the official site here
Add in your information, including Name,  Role, Email, Password
Check off that you've read the Terms of Service and Privacy Policy
Finish registering
Click on the verification email you receive and follow the link
When you sign up for the , you don't have to provide a credit card. Instead, you can cancel any time without concern that your credit card will be charged.
Does the Sketch Free Trial Automatically Renew Into a Paid  Subscription? 
Sketch has an impeccable free trial option that empowers you to try the platform without needing to add in any of your financial information. When you sign up, all of the platform's features are unlocked.
The trial ends after 30 days.
However, the end of the trial doesn't mean that your workspaces and projects are gone. Instead, the Workspaces will go inactive after 90 days. If you use the Mac app, you'll no longer be able to use it.
At the end of the trial period, you'll have the option to sign up on a monthly or yearly basis.
Avoid Automatic Renewal With DoNotPay Virtual Credit Card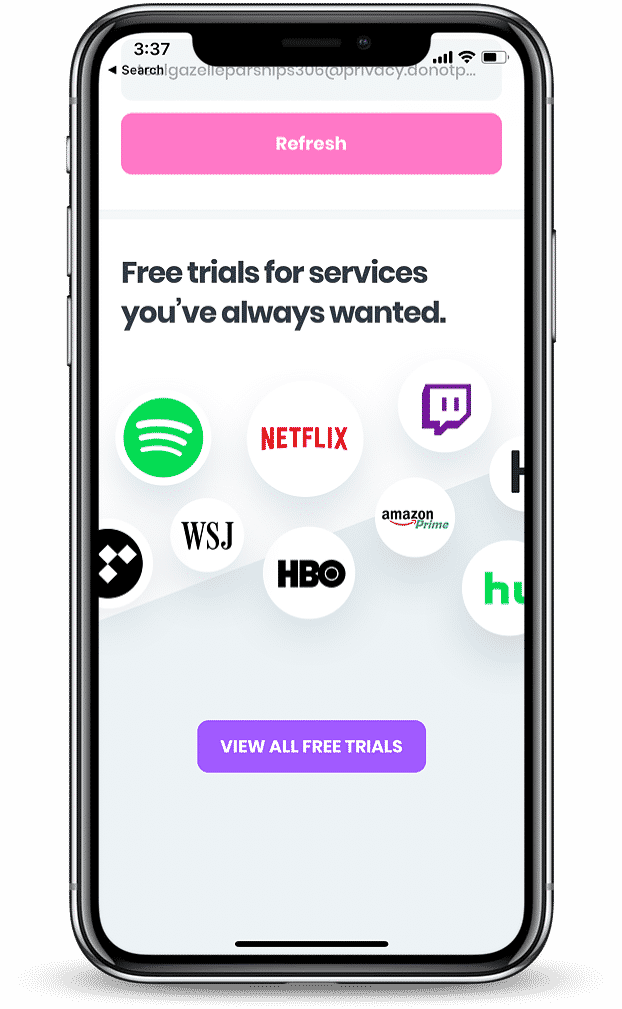 If you're like most people, there are a few subscriptions that you've forgotten to cancel. Many of these subscriptions are for services that ask for your credit card when you sign up, and then if you forget to cancel before a certain deadline, the subscription automatically begins.
Many people forget to cancel free trials and end up paying for services that they never use.
The Sketch app free trial is a rare exception because there is no financial information provided that will allow the company to charge you for their services if you forget to cancel.
But what about those times when you do sign up for a free trial that automatically converts to a subscription? You now have the option of using a free virtual credit card to avoid unwanted charges.
Our virtual credit cards:
Do not have money on them
Can't automatically renew
Instead, we generate a random credit card that you can use to subscribe to any service without fear that a random charge will be assessed. Virtual credit cards are the best way to sign up for free trials. 
How Can I Get a Free Trial and Avoid Getting Charged on My Own? 
It is easier to forget to cancel your free trial and end up paying for a subscription service you don't enjoy. Here are a few ways you can cancel a free trial and avoid getting charged:
Cancel payment once you sign up for the free trial.
If you cancel a free trial after signing up, you will still use it for the entire trial period without getting charged. It is one of the best and easiest ways to ensure you don't get billed.

However, remember that not all free trials operate in the same manner. Some services will stop your trial immediately if you unsubscribe, e.g., Hulu and Apple Music.

Set a reminder a few days before your trial period ends.
Don't wait until your free trial ends to cancel your subscription. That's because you may take forever to find instructions on how to unsubscribe, and this could push you past your deadline.

Another reason why you shouldn't wait till the last minute is that most services will still charge you if you cancel less than 24 hrs before your free trial period ends.

Go virtual.
If you signed up with a free virtual credit card and forgot to cancel your subscription before your trial period ended, you can never get charged.

DoNotPay's Virtual Credit Card works by generating temporary credit cards that expire when you please. Some advantages of virtual credit cards include:

Reducing costs
Increasing security
Managing cash flow better
More convenient than physical credit cards
Protecting you from fraudulent activities
Helping you manage subscriptions

Speak with Customer Support.
Do not disregard how powerful personal appeal can be. If you thought you canceled your subscription before your free trial ended or your request was unsuccessful, you can contact Customer Support to help you out. Just ensure you remain humble and courteous in your request.
How Much Does Sketch Cost After the Trial? 
Sketch will charge you the following after the free trial period: 
$9 per month if you go month-to-month
$99 for the entire year if paid upfront
The Business tier prices require you to contact the team behind Sketch and are based on multiple factors.
What Will Sketch's Charges Look Like on My Statement? 
Sketch is the name of the platform created by Sketch B.V. If you're trying to determine whether the company has charged you, you'll want to look for both of those names on your credit card statement.
Additionally, you can log into your Sketch account and look through your invoice tab to view all recent payments.
What Are the Most Popular Alternatives to Sketch? 
Sketch is a unique, powerful platform. However, if you don't like Sketch or the features that they have to offer, you have the option of trying one of the many alternatives available: 
Each of these platforms has its advantage, and some are free, one-off payments, or also follow a subscription model.
What Else Can DoNotPay Do? 
Solving your free trial issues is one of the many things DoNotPay can help you do. DoNotPay can help you solve several problems you're facing including: 
Fighting speeding tickets
Disputing traffic tickets
Want to enjoy the benefits of free trials without worrying about unwanted charges? Contact DoNotPay.