Start Your MY.SIZE PRO Free Trial Securely With a Virtual Credit Card

My Size Pro is a UK condom company, featuring some of the smallest condoms available. These condoms have amazing reviews, with most buyers claiming the condoms fit nicely without any discomfort. They even have a five-star rating on BritishCondoms! That being said, can you get a free trial pack for My Size Pro condoms?
Does Size Pro Offer a Free Trial?
No, My Size Pro does not offer a free trial. However, you can purchase a trial size pack.
It's cheaper than buying an entire pack of condoms without knowing they're right for you. So, what are you waiting for?
Here are the My Size Pro packs:
Trial 3-Pack
10-Pack
20-Pack
36-Pack
You can also order in bulk. My Size Pro offers many sizes of condoms, including 45mm, 47mm, 49mm, 53mm, 57mm, 60mm, 64mm, 69mm, and 72mm. Whatever size you need, My Size Pro likely has the right fit for you.
How Can I Get a My Size Pro Trial Pack?
Getting a trial pack from My Size Pro is fairly easy, as you can order it online through their website. It only takes a few steps. 
To get a My Size Pro trial pack:
Go to www.britishcondoms.uk.
Search for My Size Pro.
Find your size and click on the link.
Add the 3 condoms (trial) pack to your cart.
Go to checkout.
Scroll down and click the button that says "checkout".
Sign in if you have an account, otherwise, enter your email address and checkout as a guest.
Enter your shipping information.
Enter your billing and payment information.
Review your order and finish the process.
Wait for your discreet package to come in the post!
Avoid Automatic Renewal With DoNotPay's Virtual Credit Card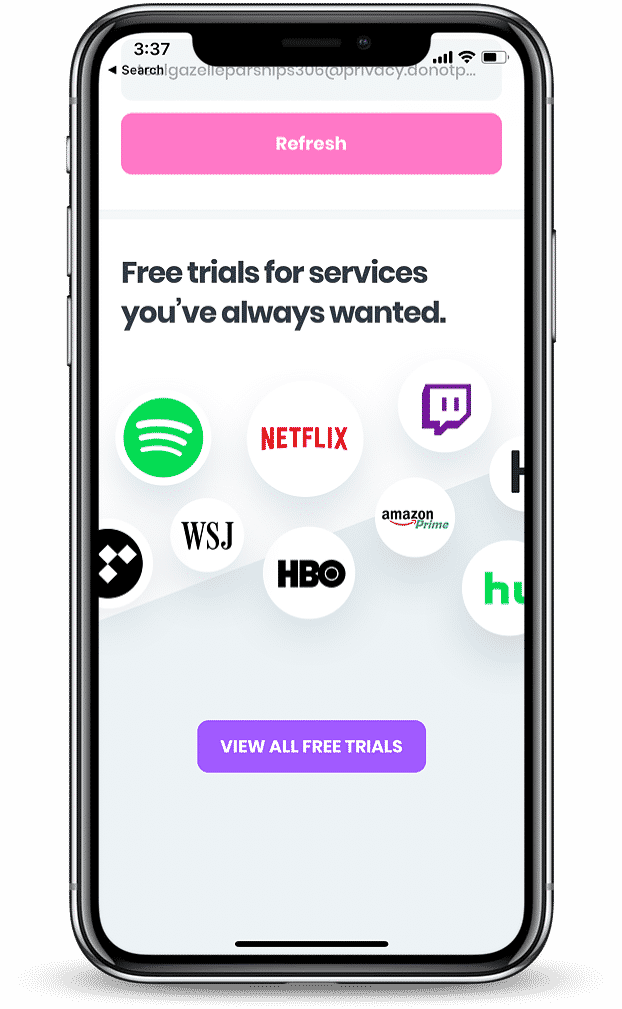 Although My Size Pro doesn't offer a free trial, DoNotPay can still help you avoid automatic renewals with other free trials. It's not uncommon for people to forget they've signed up for a free trial and then get charged for an extra month or year, but DoNotPay can help you avoid that with their Virtual Credit Card product. That way, you have nothing to worry about!
All you have to do is:
Search free trial on DoNotPay and enter the company you want a free trial for.
We'll automatically generate a free virtual credit card for you to use with that merchant. Copy the card details shown on your screen.
Use the card to sign up for your free trial and sit back to relax and enjoy!
How Much Does My Size Pro Cost?
It depends on the pack of condoms you purchase. It's usually cheaper per condom to buy them in a bigger pack as opposed to one at a time.
| | |
| --- | --- |
| Package | Price |
| Trial pack | £3.49 |
| 10-pack | £10.99 |
| 20-pack | £18.99 |
| 36-pack | 24.99 |
What Are the Most Popular Alternatives to My Size Pro?
When it comes to condoms, you can find several popular alternatives if you find My Size Pro isn't right for you. Condoms are typically readily available whenever you need them, so don't be afraid to try something new if My Size Pro isn't available!
Brand
Prize
Features
Skyn Elite Condoms
£9.89/10 condoms
thin; non-latex;

available in bulk

Durex Invisible
£9.99/12 condoms
Ultra-thin;

available in bulk

Durex Mutual Climax
£9.99/12 condoms
textured/dotted/ribbed; performance-enhancing; available in bulk
Durex Real Feel
£9.89/10 condoms
thin; non-latex;

available in bulk

Lelo Hex Respect
£12.99/12 condoms
large/strong; thin;

available in bulk

Durex Extended Pleasure
£9.99/12 condoms
performance-enhancing; available in bulk
Durex Performax Intense
£9.99/12 condoms
textured/dotted/ribbed; performance-enhancing; available in bulk
Sky Cocktail Club
£8.99/9 condoms
flavoured; non-latex;

available in bulk
If you don't quite fancy any of these condoms either, you don't need to worry. British Condoms UK has plenty more condoms to choose from, so you'll be able to find something that satisfies both you and your partner. 
DoNotPay Works Across All Companies

DoNotPay may not be able to secure you a free trial for My Size Pro, but they can help you get a free trial from almost any other company offering one. Some of these companies include:
And so many more!
What Else Can DoNotPay Do?

DoNotPay can do just about anything you can think of, like:
No matter what needs to be done, let DoNotPay help save your day.