Create Your Single-Member LLC Operating Agreement With Ease
Starting a business is overwhelming in itself, let alone if you're doing it by yourself. If you're planning on forming a limited liability company (LLC) or you've already founded your business, drawing up various legal documents is vital. One of those legal documents is an operating agreement.
The first step toward drafting a single-member LLC operating agreement is understanding it and its importance. The next step is putting pen to paper. Follow our guide and kill two birds with one stone! With DoNotPay, googling "how to write a contract" and "contract templates" will be a thing of the past.
What Is an Operating Agreement?
An operating agreement is a legal document any LLC creates to define its rules, regulations, and responsibilities—essentially, how the company operates and what the members' roles are. This agreement is usually optional—in Florida, for example—and you should draft it for your own benefit. Some states require LLCs to draft this document, including:
Maine

Missouri

California

New York

Delaware
While certain state laws stipulate that your LLC must have an operating agreement, you do not need to file it with the authorities—it's enough to keep a record of it.
The Operating Agreement for a Single-Member LLC Explained
An operating agreement for a single-member LLC isn't that different from the same document for any other LLC. The key difference is that the single-member LLC operating agreement describes a business of only one owner, while the LLC operating agreement is in certain aspects like a partnership agreement.
You may be confused as to why you need this agreement since you're the sole member. Even when it's not required by law, your operating agreement will build your company's foundation and officially state that you're running a business.
The Importance of an Operating Agreement for a Single-Member LLC
Tailoring an operating agreement to fit your needs and vision of your company will go better if you understand the why behind it. Here's an overview of the reasons why an operating agreement is important for your single-member LLC:
Reason
Brief Explanation

The business-owner separation

The saying

don't mix business with pleasure

exists for a reason. You need to separate yourself from your company officially in case of any tax or liability issues

Description of your company

Your operating agreement will be your blueprint for how you want to run your company, which is important for yourself and for any future members

Your rules vs. default rules

Without an operating agreement, your LLC is subject to the default state rules that may not coincide with your intentions for your company

Business succession

A succession plan is a vital part of your operating agreement. To avoid future legal battles, you should decide who would take over your company in case you're no longer able to run it
Should I Get a Single-Member LLC Operating Agreement Template for Free?
Since the single-member LLC operating agreement seems like a simple document, you may consider downloading a free template and filling out the blanks. This is a bad idea even for the most boilerplate legal documents because templates may:
Not be grammatically correct

Have a watermark

Not have up-to-date clauses

Not cover everything you want to include in your agreement
If the alternative to an unreliable template is a pricey lawyer, you might find yourself between a rock and a hard place. Fortunately, our AI-powered app has the best of both worlds—it's professional and inexpensive, and it will draft your LLC operating agreement in no time!
Use DoNotPay To Draw Up a Single-Member LLC Operating Agreement in a Couple of Clicks
DoNotPay is the perfect choice when you want to create your single-member LLC operating agreement and many other legal documents.
Here's how our app works:
Visit DoNotPay in a

web browser

Type in

Operating Agreement

in the search bar

Answer several questions
The app will generate your agreement in a few minutes!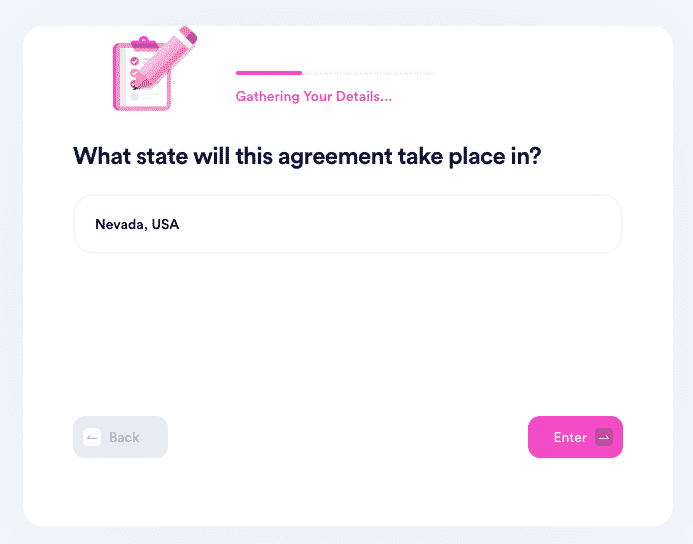 As your business grows, you can also turn to DoNotPay to draft a non-disclosure agreement or a non-compete agreement. Our app is also well-versed in creating the following documents:
General business agreement

General affidavit

Promissory note

Intent to purchase real estate

Residential

lease agreement

Estoppel certificate

Quitclaim deed
Another benefit of drawing up legal documents with DoNotPay is that you can easily e-sign them and fax them to the other party, with the help of our Online Fax feature.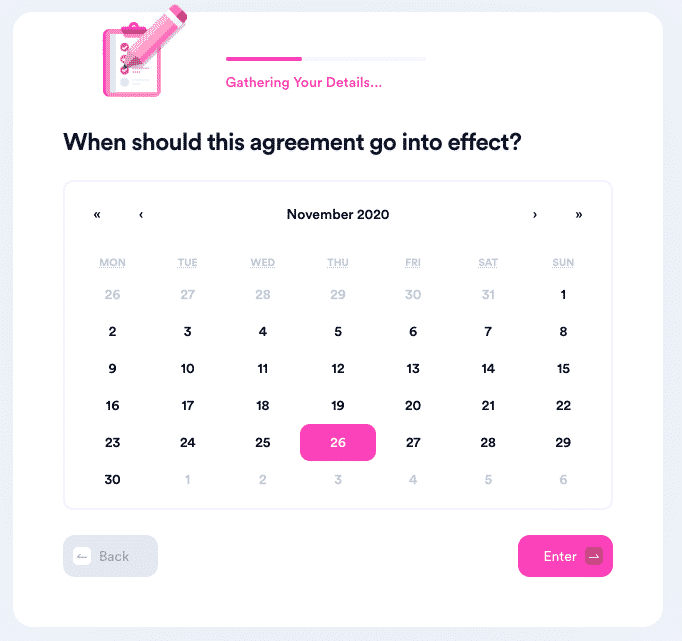 What Other Legal Documents Can DoNotPay Help Me With?
Aside from creating agreements for you so that you don't have to hire a lawyer and waste your time and money, we have also created a growing legal-document knowledge base where you can learn about:
Admin Issues Giving You a Headache? Resolve Them With DoNotPay!
Scheduling a DMV appointment, applying for clinical trials, requesting refunds from companies, and getting in touch with your loved ones in prison are all difficult and time-consuming tasks. You have to take many steps before you can get any of these over with, and that's why our robot lawyer app is here to help.
No matter if you need assistance with appealing parking tickets, signing up for free trials, canceling various subscription services, or maybe preparing for government tests, DoNotPay will provide you with easy solutions.
Having Financial Struggles? Rely on the World's First Robot Lawyer
Many Americans struggle to make their ends meet at the end of each month. With that in mind, we've created plenty of features that will save you both time and money in the most efficient way. 
Using our AI-driven app, you can get help with bills, get refunds from airlines, find unclaimed money in any state, or earn off annoying robocalls or stalkers and harassers. If you want to fight for your right, DoNotPay will also assist you in suing any person or company in small claims court.
No matter the admin task at hand, our robot lawyer will provide swift and effective assistance.