Singapore Tourist Visa From the USA—All You Wanted To Know
Looking forward to your upcoming trip to Singapore must be fun, but have you already checked all the criteria you must meet to visit the country? Most world destinations require a visa to let you pass the borders or at least provide a list of entry requirements you should comply with. For this reason, it's necessary to keep up with the latest updates when it comes to these regulations.
If you don't know whether you need a Singapore tourist visa from the USA or can't find reliable information online, we're here to help you! Besides learning everything about entering this marvelous country, you can use DoNotPay to ensure a smooth tourist visa application for any destination. Read this article and find out how!
Do You Need To Apply for a Singapore Tourist Visa for U.S. Citizens?
Singapore doesn't require travelers from the USA to have a tourist visa when visiting the country and staying for less than 90 days. If you are a U.S. citizen, you can pass the borders with a valid passport only, provided that it:
Remains valid for at least six months after your trip
Has at least two blank pages at the moment of arrival
What Are the Singapore Entry Requirements for U.S. Travelers?
Besides a passport, you also need to provide several other documents to enter Singapore, including:
Booked flight confirmation—a copy of your return or onward airplane ticket
Evidence showing you have sufficient financial assets to maintain yourself during your trip
Yellow Fever vaccination evidence—if you are coming from one of the high-risk countries
Visa or suitable entry permission for the next destination you want to visit—if you are traveling to multiple countries
Are There Any Entry Restrictions Due to COVID-19?
Here are some COVID-19 restrictions and regulations in Singapore you must be aware of:
Obtaining a SafeTravel pass is mandatory for U.S. citizens due to the rising number of COVID-19 cases. Generally, the officials at the airport won't let you enter the country if you don't present this permission or an approval letter of entry issued by the Immigration and Checkpoints Authority
Showing a negative COVID-19 PCR or serology test conducted within the last three days is mandatory
Getting a stay-home notice (SHN) proposing a quarantine that lasts for 14 days is likely to happen, and you must get tested once again during your stay in quarantine facilities. Failing to comply with the quarantine rules and other proposed restrictions is punishable under Singaporean law. Fines you may be subject to if you breach your SHN can reach $10,000, or you can go to jail for six months or more
Getting other health screening checks during your stay isn't necessary if both of your tests come out negative
Adhering to movement restriction rules that some other countries have doesn't apply to Singapore as it currently doesn't have an active curfew, nor does it propose any delays in commercial flights or public transport operations
How To Contact a Singapore Embassy or Consulate in the USA
Depending on your location, you will need to contact an appropriate visa-issuing authority, such as a Singaporean embassy or consulate, for all your concerns and queries. Besides extending and issuing visas for travelers who need them, these institutions can also help you get updated info about the travel propositions.
The table below lists all existing authorities that can help you, their locations, and contact details:
| Institution | Location | Phone Number |
| --- | --- | --- |
| Embassy of Singapore | District of Columbia | (202) 537-3100 |
| General Consulate of Singapore in Los Angeles | California | (310) 373 7622 |
| Consulate of Singapore in San Francisco | California | (415) 543-4775 |
| Consulate of Singapore in New York City | New York | (212) 826-0840 |
| Permanent Mission of Singapore to the United Nations in New York City | New York | (212) 826-0840 |
| Honorary Consulate General in Miami | Florida | (305) 858-4225 |
Having Trouble Filing Your Tourist Visa Application? Use DoNotPay!
Whether you are applying for a tourist visa for the first time or struggling with the validity of the available info, you may face quite a few bumps in the road. Using DoNotPay will help you make the application process simpler and avoid mistakes that may cause the rejection of your visa request.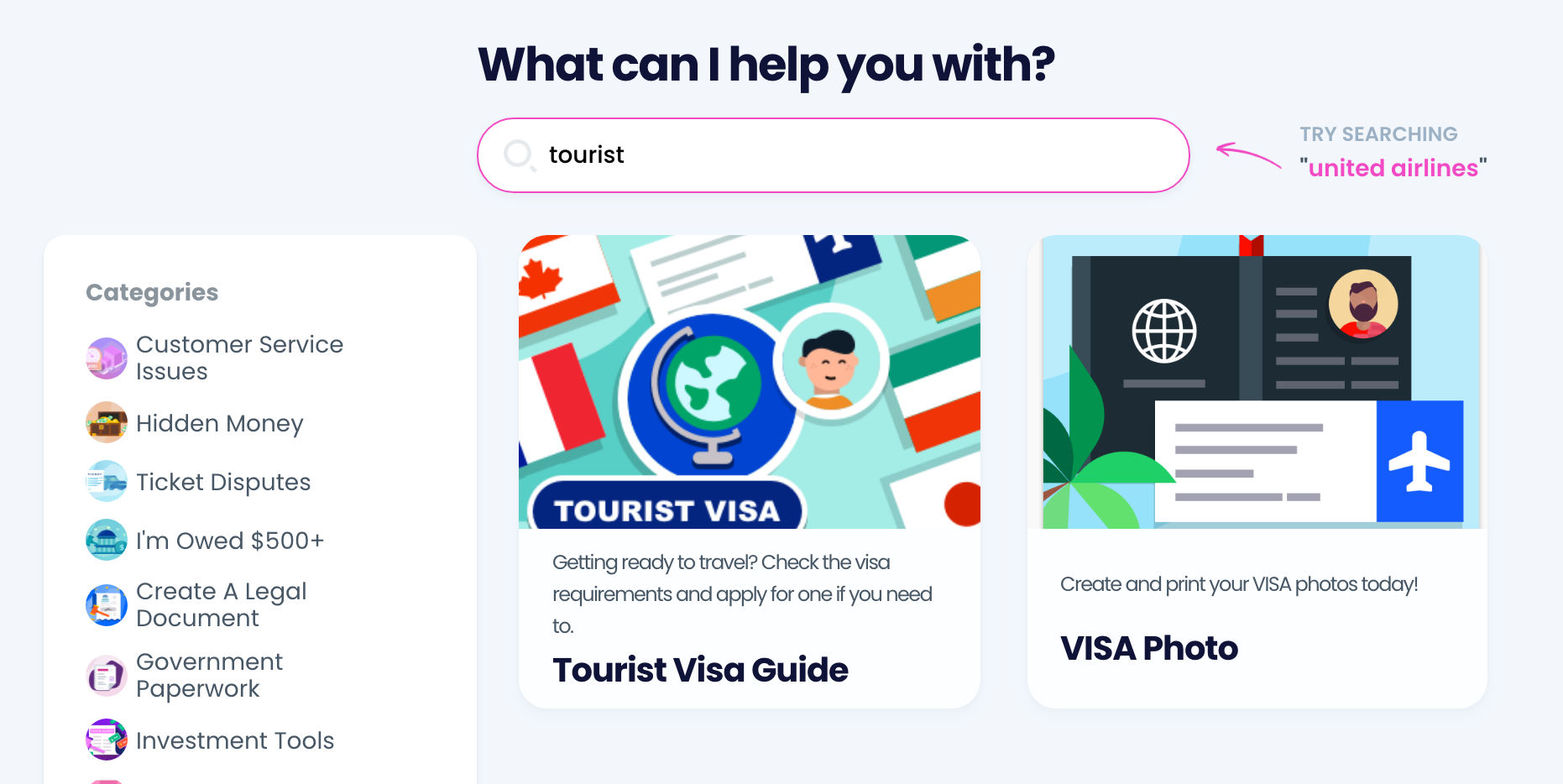 To get our assistance, follow the simple procedure described below:
Navigate to the Tourist Visa Guide feature
Confirm that you have a valid U.S. passport or that you are a U.S. citizen
Adjust the name of the country you are visiting
Our system can help you find out if a tourist visa is necessary for your trip and guide you through all the steps you should complete to get it! Besides telling you what paperwork you should gather, our chatbot will also send you a direct link to your application or a PDF request you can print out and complete. You may also avoid traveling to the embassy or consulate as DoNotPay can contact the visa-issuing authority in your stead and check if you can apply via email!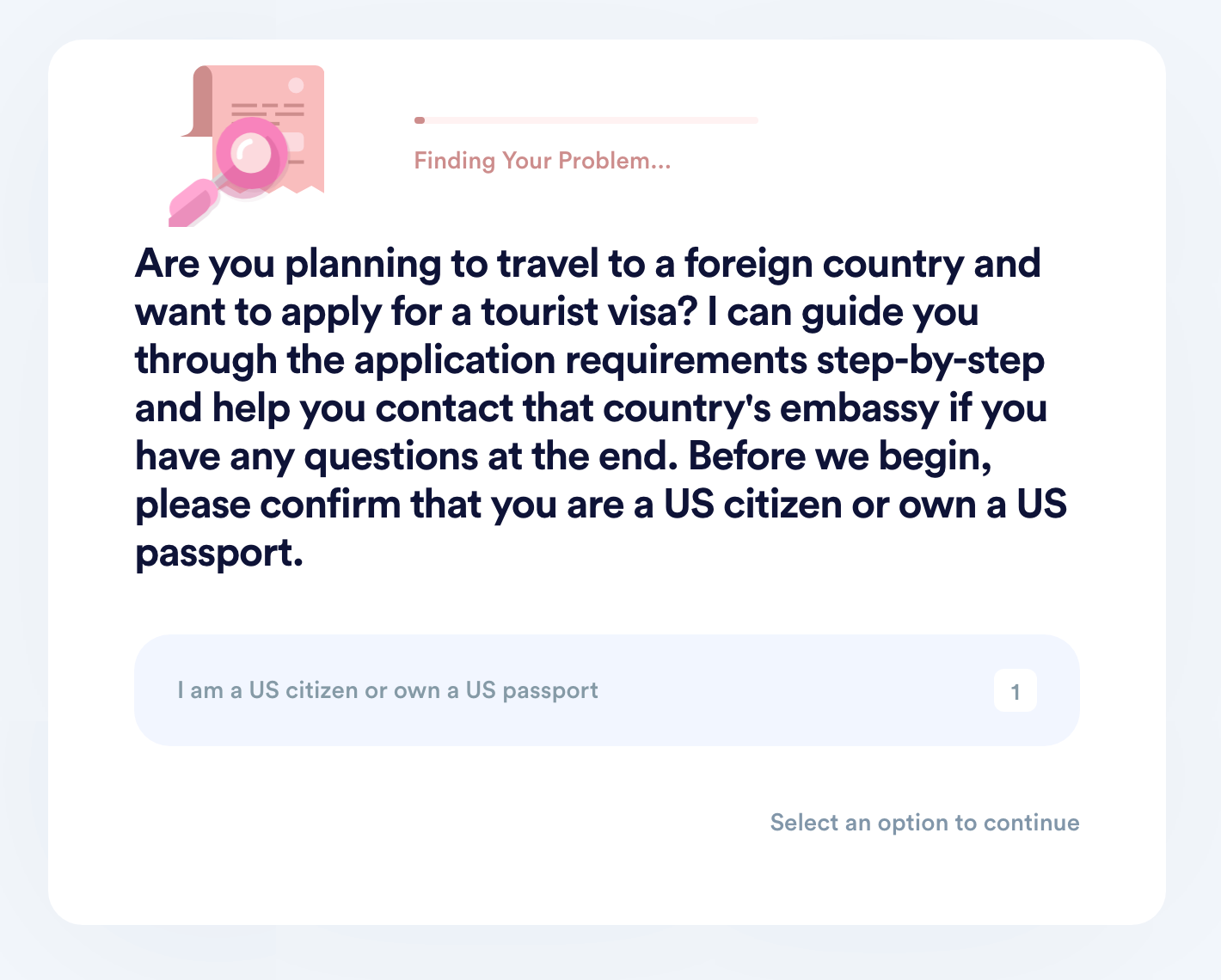 Our Tourist Visa Guide product can help you request tourist visas for any Asian destination you prefer, including:
DoNotPay Is the Best Solution for Your Bureaucratic Problems!
A wide range of handy features DoNotPay offers can assist you in resolving administrative issues without breaking a sweat! Our app provides the easiest way to:
Get What You're Owed in a Few Taps!
Shopping is fun, but retailing companies can sometimes be difficult to negotiate with, especially when things go wrong. With DoNotPay, you can reach their customer service without spending hours on hold and get a refund fuss-free! Should the merchant refuse to collaborate, we can help you get justice by suing them in small claims court.
Our app can also file an insurance or warranty claim in your name, request gift card cash back, or initiate returns for dissatisfying products.
If you want to check whether you have any unclaimed money in old bank accounts, using DoNotPay is the easiest way to do it!